Spider-Man Gets His Own Armory Display with Hot Toys
Spider-Man is taking a page out of Tony Starks's book and is getting his own wall of armor thanks too Hot Toys. This armory set is based on the Marvel's Spider-Man video game and is showcasing a wide variety of fan-favorite costumes. This is a very small collectible as each container holding the costumes is only 4.5 inches tall. This small collectible is packed with detail and is perfect small collectible to light up any office or Spider cave. Prices and release dates are not known just yet. Pre-orders are not live either but you will be able to find them here when it goes live.
"Mine was like this, but take away the jeep, the plane. Imagine it way smaller. Imagine a futon. I feel sad for this guy." Peter B. Parker – Into the Spider-Verse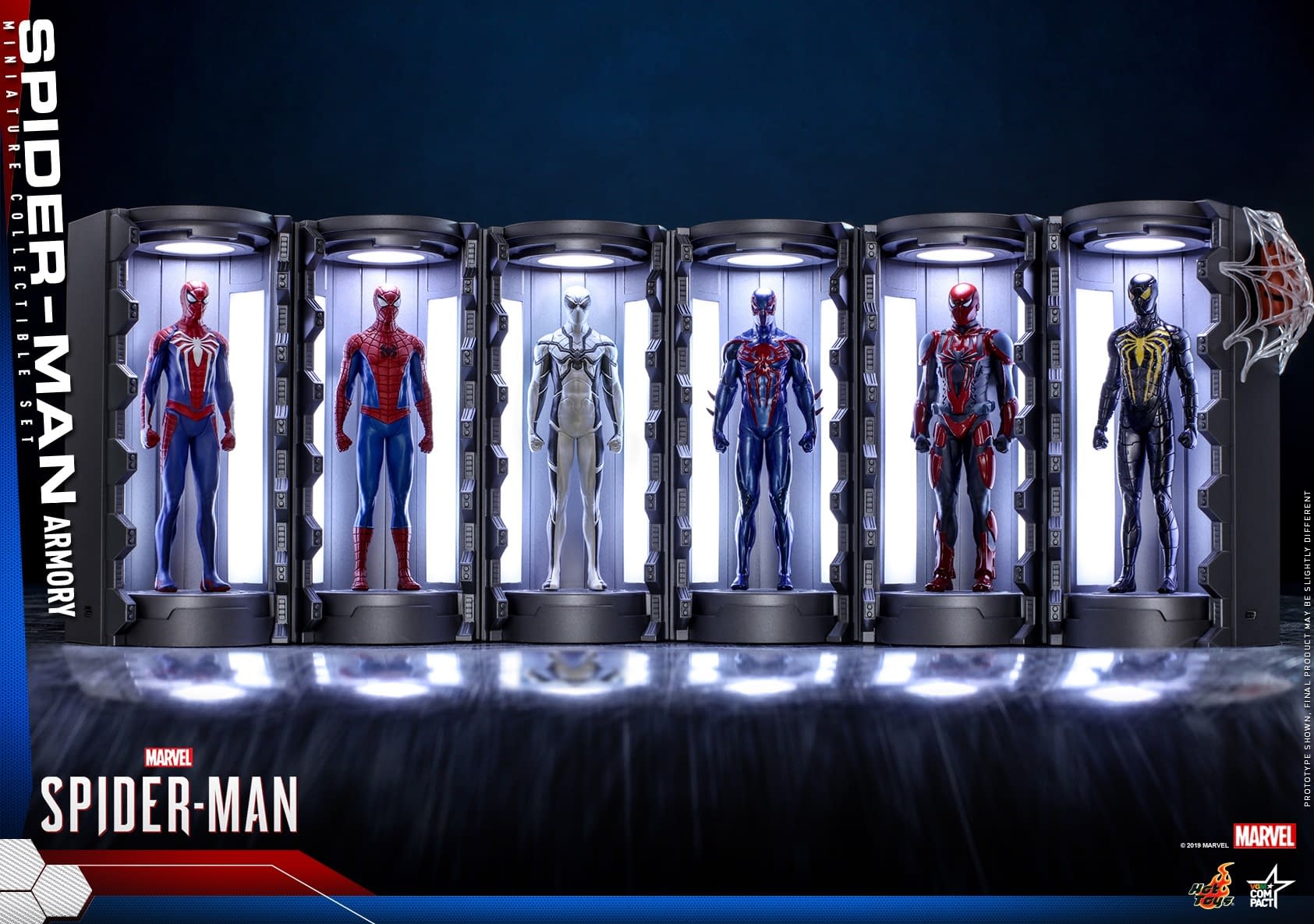 Marvel's Spider-Man – Spider-Man Armory Miniature Collectible
Inspired by the concept of our Iron Man Hall of Armor Miniature Collectible, the Hot Toys team has flexed our creative imagination by creating a newly designed armory, highlighting the multitude of suits in Marvel's Spider-Man, to accommodate our friendly neighborhood Super Hero in miniature size.
Turning Spidey's highly stylized suits, as they appeared in the critically acclaimed and bestselling video game, to unique displays, Hot Toys latest LED light up Marvel's Spider-Man Spider-Man Armory Miniature Collectible line-up features the fan-favorite web-slinger in the Advanced Suit, Classic Suit, Future Foundation Suit, Spider-Man 2099 Black Suit, Spider Armor – MK III Suit, and Anti-Ock Suit with luminous reflective patterns as Spidey suits are displayed heroically upright in the reimagined armory. Each Armory Collectible measures approximately 12cm tall, whereas each Spider-Man mini-figure is approximately 8.5cm tall. Collectibles are available individually.
Moreover, the Marvel's Spider-Man Spider-Man Armory Miniature Collectible Set, available only in selected markets, includes a backpack and a web effect accessory exclusively for fans to place around the diorama setting. Good luck gathering all the in-game backpacks to unlock suits and upgrade gadgets!
This spectacular collectible is an ideal addition to boost your amazing Spider-Man displays!