Spider-Man Has his Upgraded Suit Ready for Action with MAFEX
Spider-Man: Far from Home has swung into theaters and has already left. It was a fantastic film featuring an amazing portrayal by not only from Tom Holland as Peter Parker but from Jake Gyllenhaal as Mysterio too. I can't wait to see what Marvel Studios has in store for this famous web-slinger. Until then we have collectibles and this one is MAFEX newest Spider-Man: Far from Home upgraded suit Spider-Man. The suit is based on the suit Peter Parker makes in Tony Stark plane on his way to London to stop Mysterio. This Spider-Man suit is a little bit different than the rest as it is black and red and carries a different vibe from the blue and red. The figure stands at 6 inches tall, as detailed as they could be and is fully articulated. The figure is set to come with swap out hands, interchangeable eyepieces webbing effect pieces, and even a poseable figure stand. I like the color of this figure, the red and black is something you don't see. This could be a prototype as the figure doesn't look like it would be worth what they want but only time will tell. Spider-Man is ready for some web kicking action soon and is ready for all you Spider-Man fans out there.
The MAFEX Spider-Man: Far from Home upgraded Spider-Man suit from Medicom will be priced at roughly $72. Pre-orders have already gone live and you can find them located here. This figure is scheduled to enter at your webs July 2020. Don't forget to check out all the other amazing MAFEX figures coming out soon like Black Manta and Chucky.
"You're all alone. Your friends are missing. Your tech is gone. What are you going to do?"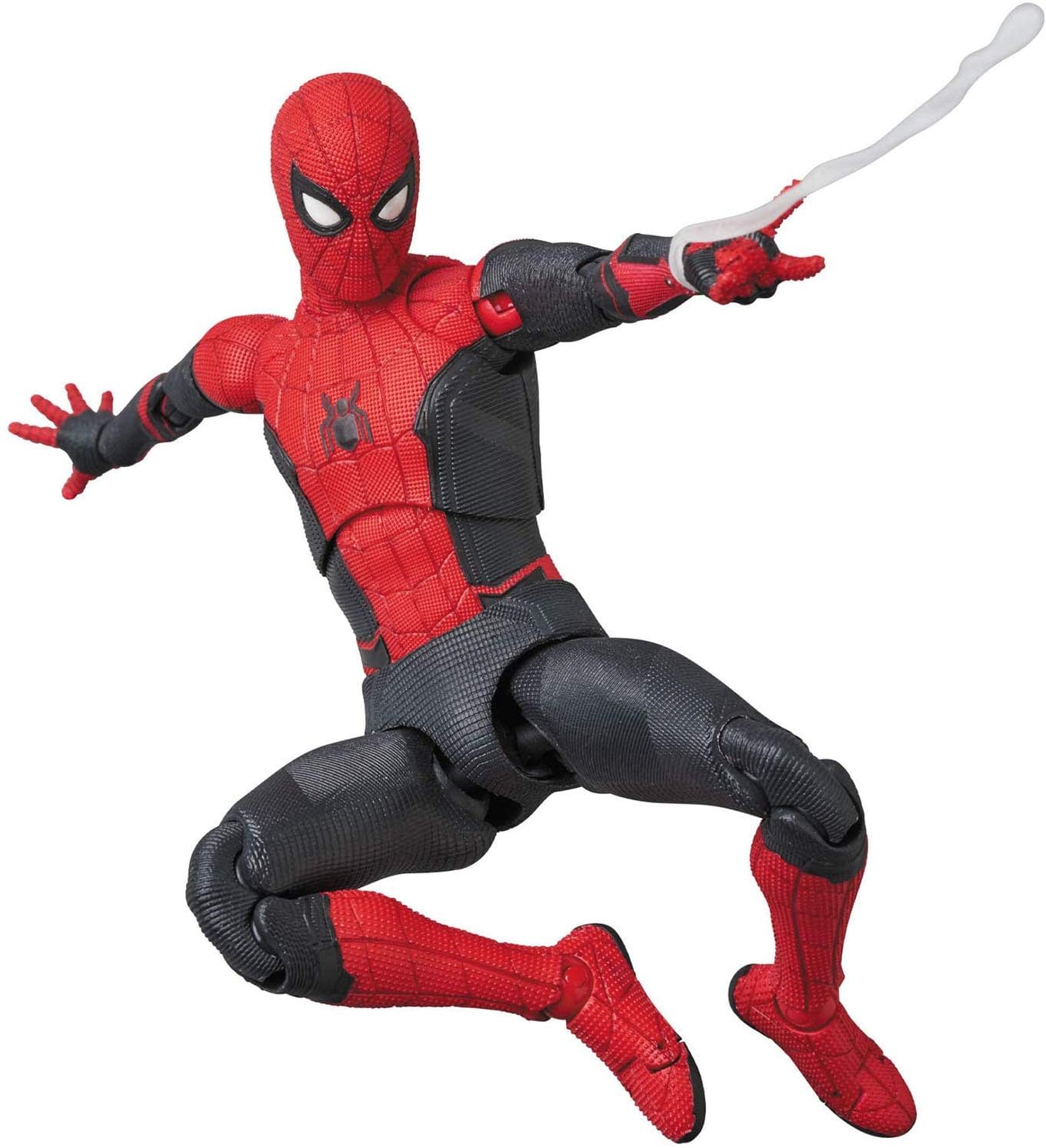 Marvel MAFEX No.113 Spider-Man (Upgraded Suit)
Product Description
Spider-Man joins the MAFEX line one again, this time in an upgraded suit. Spider-Man stands about 6 inches tall and features newly designed joints for maximum posing options. He includes several interchangeable accessories, including several pieces of webbing.
Product Features
5.90 inches (15cm)
Made of pastic
Upgraded Suit
Highly articulated
Several accessories
Box Contents