Diamond Select Toys, part of Steve Geppi's great Diamond comics, collectables and games producing and distributing empire, has bought one of the major producers of collectable statues, Gentle Giant.
Specifically, Diamond Select Toys is purchasing what they describe as 'select assets of Gentle Giant, taking over manufacturing and distribution of many of the company's key lines.'
There has always been some inherent conflict of interest, as Diamond distributes Diamond Select Toys items alongside items from other producers, this move is likely to exacerbate that.
At the beginning of the month, Diamond Select Toys and Collectibles assumed operations for all of Gentle Giant's existing licenses, and previously developed and newly created busts, statues and scaled-up vintage action figures. And stating that 'any in-progress and future products will be offered to retailers through the Previews catalog, published by DST's sister company Diamond Comic Distributors.'
However Gentle Giant Studios is not part of the acquisition, and they will continue creating products and designs. That won't be confusing at all, will it?
Diamond states that Gentle Giant's collector club, the Premier Guild, 'will continue to operate, with exclusive items for members and reserved access to certain products. DST has pledged to fulfill any outstanding exclusives and rewards to current members, and to expand on the club's scope going forward.'
The man who owns it all, Diamond President and CEO Steve Geppi is quoted as saying "The unification of many of Gentle Giant's licenses and built-in fan base with DST's sales and distribution channels is a recipe for success. Two wonderful companies uniting talents to produce the best of the best. I am confident the final product will be well received by both companies' wonderful supporters and customers."
Karl Meyer, VP of Entertainment at 3D Systems is quoted as saying "It is a great honor for Gentle Giant to continue our strong creative relationship with Diamond. With great pleasure, I am personally thrilled to have DST uphold the Gentle Giant Ltd brand and work with our artists in bringing entertainment magic from the screen to the collectors' hands."
While Diamond Select Toys president Chuck Terceira is quoted as saying "I have been a longtime fan of Gentle Giant's products, and I am excited to continue their legacy. Once we're up and running, we plan to deliver seamless service of existing product lines, so expect to see the same level of quality, with the added bonus of DST's broad distribution."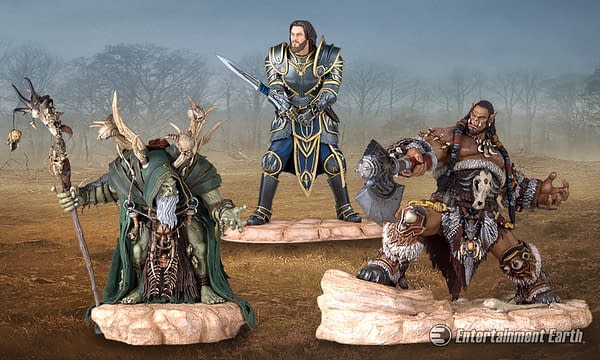 They also run an FAQ for likely questions to be asked about this purchase:
What will change when DST takes over Giant Gentle?
Very little. Most products already developed will move forward, and new products will be developed to follow them. Many of the existing designers, sculptors, painters and factories will continue to be involved. You can expect to see some new artists that DST has worked with in the past start to work on traditional Gentle Giant Ltd. products. Convention attendance will remain largely the same, and the Premier Guild will continue to operate as it did.
Will Gentle Giant be changing its name?
Gentle Giant Studios are not involved in this acquisition and will continue to operate, performing sculpting services for a variety of clients, including DST. The Gentle Giant Ltd. brand will be joining the DST family.
Will DST take over Gentle Giant's licenses? Including Star Wars?
Yes, DST will take over the majority of the Gentle Giant Ltd licenses and will continue the existing lines that Gentle Giant has started, releasing already-developed items and developing new items. Each license will be reviewed and discussed, and we will update you as soon as possible on their status.
What should fans of Gentle Giant look forward to?
A continuation of everything that they know and love about the company, with the addition of some new product categories, an injection of new artistic talent, and more ways to get the products they care about.
Enjoyed this article? Share it!