Supergirl is ultimately one of my favorite superheroes. The reason I like her is that she had to find her own place in this world and not be consumed by her cousin's shadow. She might be older and remember more of her time on Krypton, but she is more of an outsider than Superman. That presence of standing on her own is brought to life with the new Supergirl Returns statue from Kotobukiya. This statue is coming in their Bishoujo series, stands a little over 9 inches tall and is made of PVC. The statue is coming back by popular demand and finally going back up for sale after 7 years! The statue gives us an old school look at her short skirt and short top costume and that is not surprising coming from his line of statues. The blues and the reds definitely shine here and her gold hair brings the statue to a beautiful full circle. If you're a fan of Supergirl then this is a great statue that would should add to your collection before is disappears again.
The DC Comics Bishoujo Kotobukiya Supergirl Returns Reproduction Statue is priced at $85 and set to release June 2020. Pre-orders for her are already live and you can find them located here.
"I know how hard it is when everything we know to be true changes. But sometimes all we can do is just accept the way things are, and make the best of that."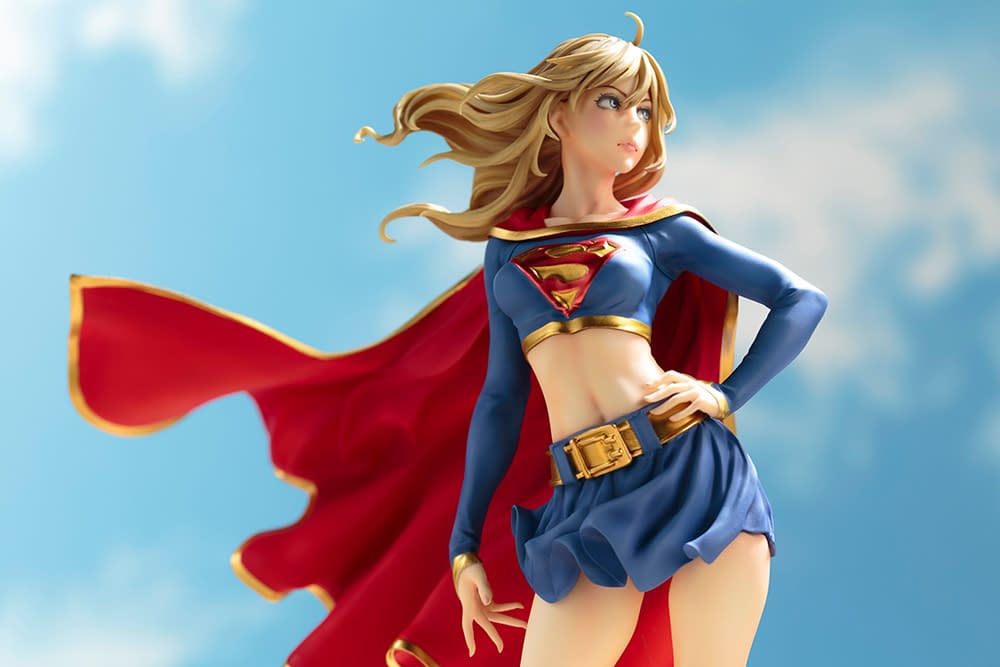 DC Comics Bishoujo Supergirl Returns from KOTOBUKIYA
A KOTOBUKIYA Japanese import!  Coming up next in the DC Comics Bishoujo Collection (combining DC's superheroines and villains with traditional Japanese stylings) is a brand new take on everyone's favorite Kryptonian girl of steel with SUPERGIRL RETURNS!  Reintroduced to the world in 2004, Kara Zor-El is the Kryptonian cousin of Superman and has all of the same superpowers.  After adjusting to life on Earth she became a hero of great renown, fighting alongside various teams including the Justice League, Teen Titans, the Legion of Super-Heroes, and more. Now due to popular demand she's back after seven years with a completely new design illustrated by Shunya Yamashita!
A bit more down to earth than her predecessor, the returning Supergirl is faithfully replicated from Shunya's illustration as she poses confidently on guard for any threat to her adopted planet. Everything about Kara is tough yet feminine starting with her stance, hips cocked with legs apart for balance while she leans on one hand on her hip.  The mighty heroine is of course dressed in her super cute two piece blue, red, and gold outfit consisting of a very short skirt and midriff-baring top along with knee-length boots with high heels.  Every detail is highlighted from the metallic paints on her costume's "S" logo and gold trim to the incredible sculpt work on her fluttering hair, cape, and skirt. And to top it all off Supergirl has a stunningly beautiful Bishoujo-styled face captured in a serious yet cute expression. Supergirl Returns stands over 9 inches tall (1/7 scale) on a specially designed display base. Get your hands on the Girl of Steel before she flies right off the shelves!
SUPERMAN and all related characters and elements © & ™ DC Comics.
(s17)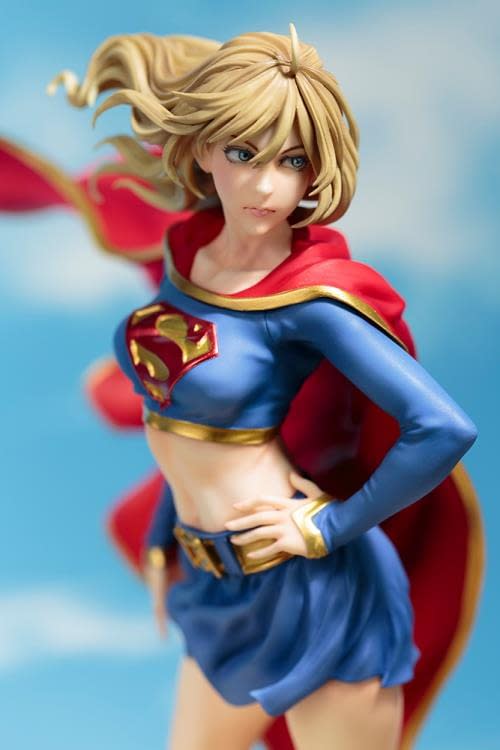 Enjoyed this article? Share it!