Taskmaster Makes His "Black Widow" Debut with S.H. Figuarts Figure
Taskmaster is making his way to the big screen this summer with the debut of the new Black Widow film. It is always nice to see some of our favorite heroes and villains get big-screen adaptations too. This time it seems fans are split on Taskmaster's character design and wish Marvel Studios stayed with a. More comic book look. Honestly, I love this costume they gave him as it gives him more of a modern day tactical mercenary look. A guy running around with a white cape and has a skull for a face seem like a stretch but this gives his look a more dated approach and I dig it. S.H. Figuarts have shown off their second Black Widow film inspired character with this his newest figure release. Just like the recently revealed Black Widow figure, he comes with a nice set of accessories like a sword, shield, and bow. It does look like his hood is fabric based with is a nice plus for a figure like this. It is not a lot of fabric to get annoying but its the right amount to add enough of a dynamic feel to this figure.
The Black Widow Taskmaster S.H. Figures Figure will be priced at roughly $69. Pre-orders are pretty scattered as this is a Japanese company and but you can find more info located here. I'm sure these won't be the last figures from the movie and I would love to see a Red Guardian come out from them soon.
"Do you have any idea who I am? I'm Taskmaster. I can counter anything you throw at me. I can mimic and adapt to any move you make. I can anticipate any blow."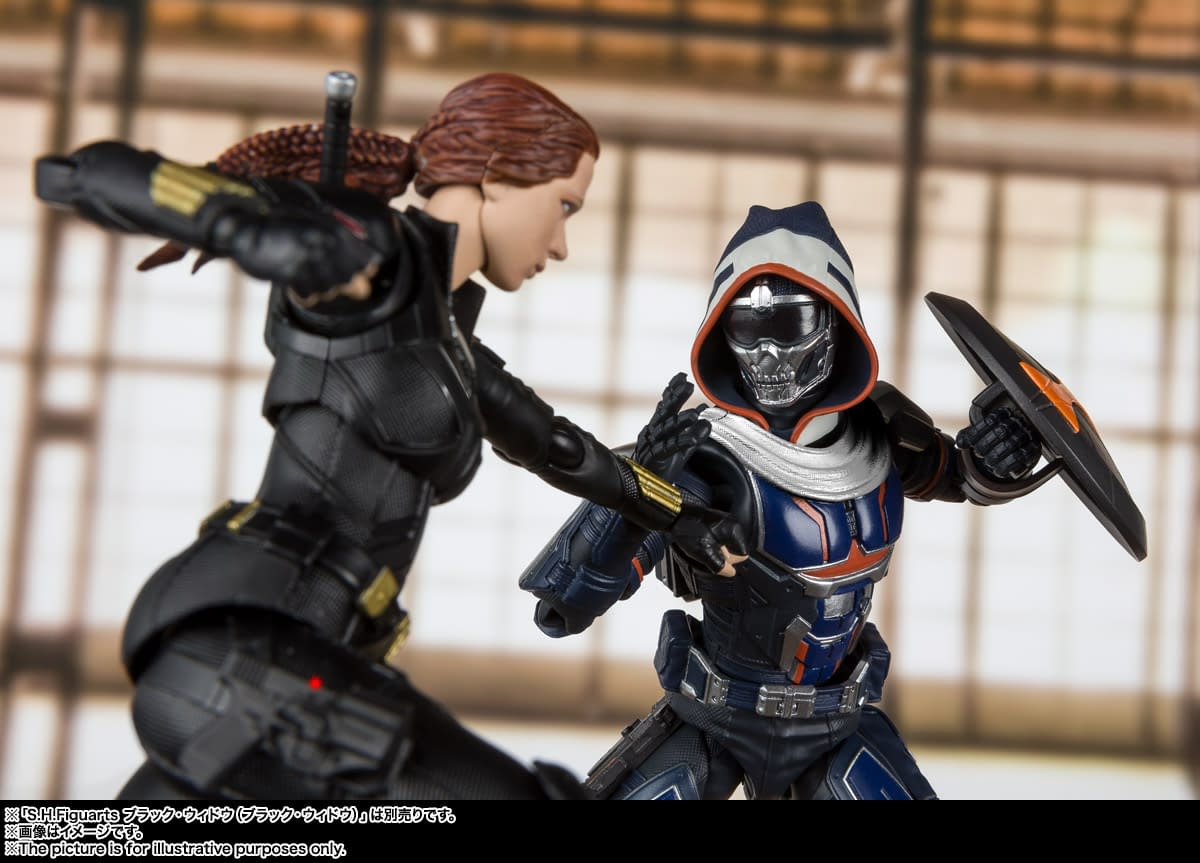 S.H. Figuarts Taskmaster
Marvel Studios latest work! From "Black Widow"
Mysterious enemies taskmaster first appeared at the movie release timing
Taskmaster first appeared at S.H.Figuarts. In addition to the magical battle style that is attracting attention in this work, guns, swords, shields, and bow equipment are used to reproduce numerous fierce battles with Black Widow!
Includes removable hood and replaceable goggles.
Plenty of weapon parts are included to match the taskmaster's battle style.
Reproduce the charm of the new character with great care.
The protagonist Black Widow (sold separately) is released at the same time. Together, they realize a fierce battle like in a play.
Product Specifications
Height: about 150mm
Material: ABS, made of PVC
Set Contents
Body
Replacement wrist Left 3 types Right 5 types
Replacement hood parts
Replacement goggle parts
gun
sword
shield
bow