Transformers Botbots are the perfect combination of ordinary objects in the beloved transformer franchise. The idea behind these toys is what would happen if Energon hit a shopping mall. These are all the creations that were given life and became Transformers. So when Hasbro sent over some of the Botbots Series 3 for us to review I couldn't wait to dive on in. Don't forget to check out our Transformers holiday guide here where Botbots made the list for perfect stocking stuffers this holiday season.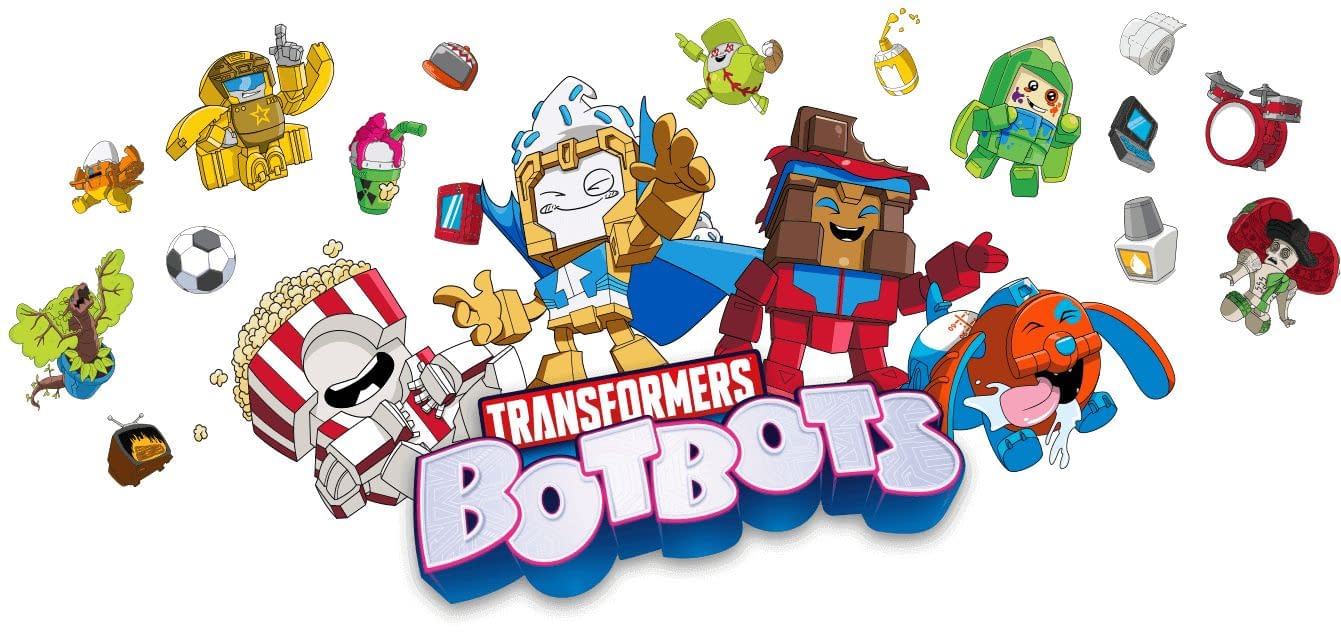 Right off the bat, we are greeted with a letter stating some bad news. It seems that not all Botbot groups will stay for the ride and will be discontinued. The first three groups to be discontinued will be Shred Heads, Backpack Bunch and Techie Team. This does give these figures a more elusive vibe to the Botbots franchise and makes some of these bots harder to find in the future. We are also greeted with a preview of some of the bot groups in series 3, some Googoo Groupies, Season Greeters, Playroom Posse, and Fresh Squeezes. Each one brings something unique and exciting to the Transformers line and I can't wait to see who we have.
If you're unfamiliar Botbots there are three separate versions of packaging you can get. You can get a single bot that comes in a special ball like mystery box. You then can get special five packs where you can see four of the figures in the packaging but one of them is mystery. Lastly, there is an eight pack where you can see seven of the Botbots but one of them is hidden. The mystery figure is revealed by a pull tab on the back to reveal the prize inside.
Now onto Series 3! There are a little over 70 different Transformers Botbots you can collect this wave. We were able to get around 40 of them and they're still some other ones I would love to collect. Each bot is specified in a specific shop group and each group varies bots between common, uncommon and rare. So let's look at each of these groups of the ones we got. The first group is the last box this is a series of miscellaneous objects they have all found each other. Of this group, Grave Rave is the rare but we were unlucky to get him. However we did manage to get Nanny Mcbag who is a uncommon and is a toolbox. My other favorite one from this group is Fail Polish who does have attached a gun to him.
Next, we have the Jock Squad witches and her John hitting a sports store. The rare of this group is ranked stink which is a simple backpack that is very well-designed. I love how to transform him you actually have to unbuckle the straps. Each Transformer Botbot in this group is unique and special and transformations vary from bot to bot.
Next we have the Fresh Squeezes. This is a group about bites that simile hits a café or fruit smoothie store. Latte Spice Whirl is the rare of the group. However there are some unique designs in this group from Sensei Spiney who is a pineapple who comes with a removable sword accessory. Avocando has a Unique style and looks to him and Bunches, the grapes, is cool but it was hard to stand up on its own.
Next, we have a Music Mob which is a group of musical instruments. The rare figure from this group is a Dingledeedoo, the bell. However, one of the best figures in this group is easily Axwell. This guitar transforms into what is seemingly an Elvis look like and it is just absolutely amazing! Designs on these little Botbots transform well are colorful and cannot only please a kid but any adult collector too.
Next we have the Playroom Posse. So where from this group is D-pad Chad which is a tablet device. I really like the color of this guy in the blues and the reds really are nice for this little mini transformer. There are two other characters in the group that we did not get, one being a teddy bear which we would've loved to see.
Now we have Sugar Shocks. These delectable Transformer Botbots are a group of sweet treats that are ready to give a shock to your system. The rare here is tree elite which is a bag of chips. However sugar saddle is a common in a bowl of ice cream and that turns into a unicorn. And the transformation of this one is pretty unique and cool.
Moving onto your favorite baby store we get the Googoo groupies. We were lucky enough to get the salsa and the rare this group is the drippy pup. This water bottle turns into a nice water bottle dog and has amazing color. Where my other favorite from this group is the pacifier transformer. The transformation is simple but is that cool and unique little design. The crib in the stroller have a cool bar box designs but the transformations look odd when they are fully together.
We now have a season greeters which is another new Group of black box this series. These are nice and sweet holiday-themed Transformers Botbots that are perfect for the holidays. Three of this group is Meltzdown and Wizengreen. Meltzdown has an interesting transformation from a snowman and is kind of hard to stand up on his own. A great mention is the Halloween Knight transforms a pumpkin into a great transformer bite. Sugar Breath is cool too as a candy corn turns into a little zombie dinosaur.
Swag Stylers is our second to the last Botbots group. We were only able to get three out of five of these, one of the coolest ones from it is a simple watch that transforms and I will be looking for him on my collecting travels. The Perfumigator is my favorite of this bunch because of the added crown and the rotating eye heart.
The final bought by in the Series 3 wave is Spoiled Rotten's. These moldy and toxic foods have come to life and there are no rares in this group. However, Slimy Slurps is my favorite of the bunch, the color and design of this character is pretty amazing. His transformation is pretty simple but the design really makes up for that.
Transformers Botbots is an amazing collectible toy. They are small sweet and simple and can fit almost anywhere. You could have a pal in your pocket or collectible on your shelf it doesn't really matter. There's so many different variations of so many objects that anyone could be a fan of these. Some of the designs are just updated versions of series one and two. A lot of the newer objects are fresh takes of some unseen transformations in the Transformer world. Botbots are available at most retailers and would be perfect for this holiday season. Whether a stocking stuffing or load them under the tree, any Transformers fan should jump on the game of Transformers Botbots.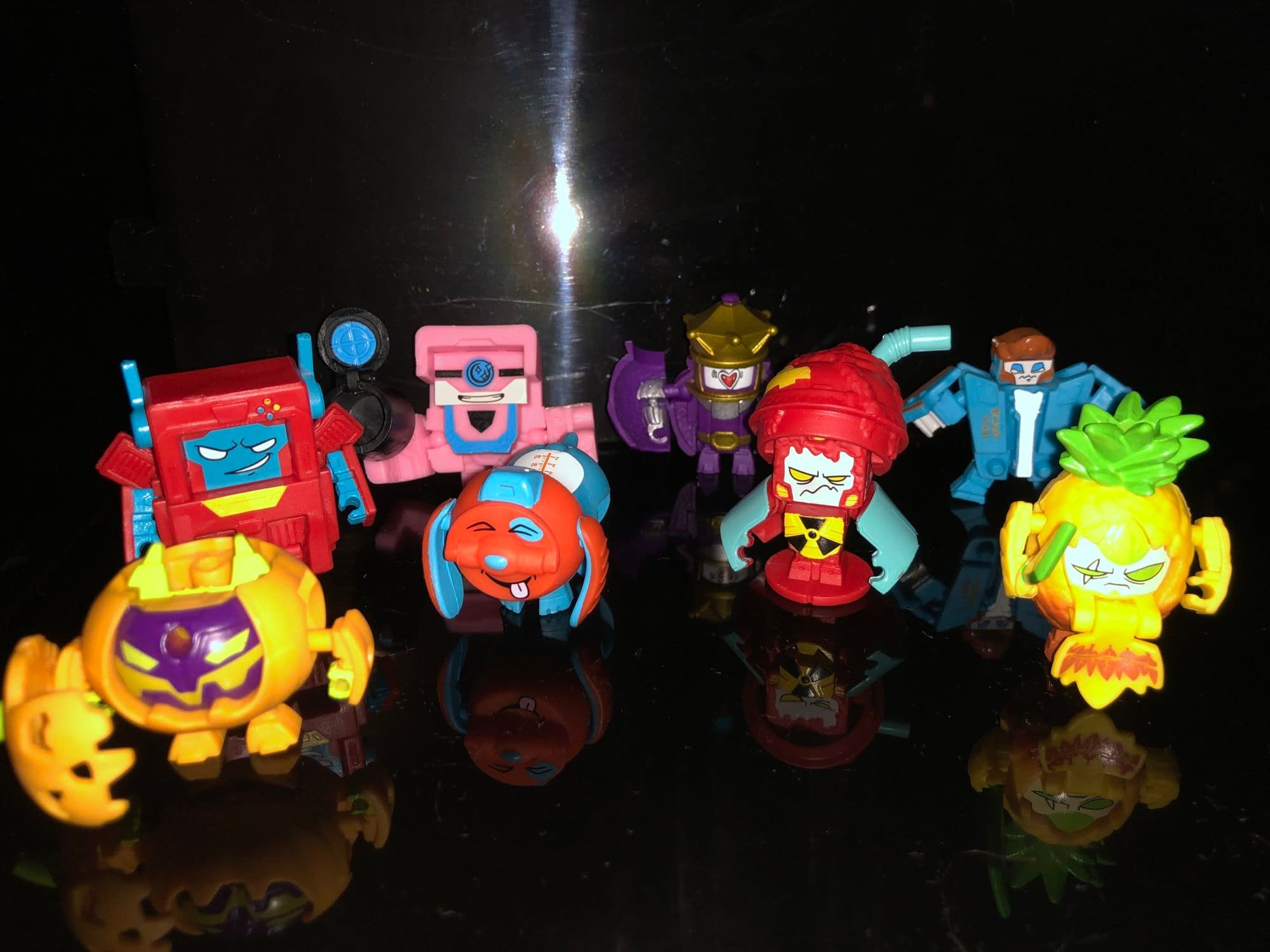 The last teaser we can dish out thanks to Hasbro, is we were greeted with a special look at the upcoming Series 4 and some of the gangs coming. Magic Tricksters, Movie Moguls and Science Alliance are ready to enter the Transformers BotBot world in 2020. You can find your own Transformers BotBots at your local retailers or get them online here!