"The Fiend" Bray Wyatt Custom Title by Tom Savini Available Now…For $6,499
The Fiend is the hottest thing in wrestling in quite some time that wasn't created by Chris Jericho. The evil alter ego of Bray Wyatt, it is clear that when the WWE lets someone run with an idea for a character and turns them loose without interfering that it can and will be a complete success. The Fiend wears a mask by Hollywood special effects wizard Tom Savini and his creative team that is truly unnerving, and now to match he has his very own title belt. Revealed on this past Friday's WWE SmackDown on Fox, the new Universal Title belt features the face of The Fiend on the front, with his "Hurt" and "Heal" catch phrases on the sides. If you have a spare $6499.99 you can even own one yourself.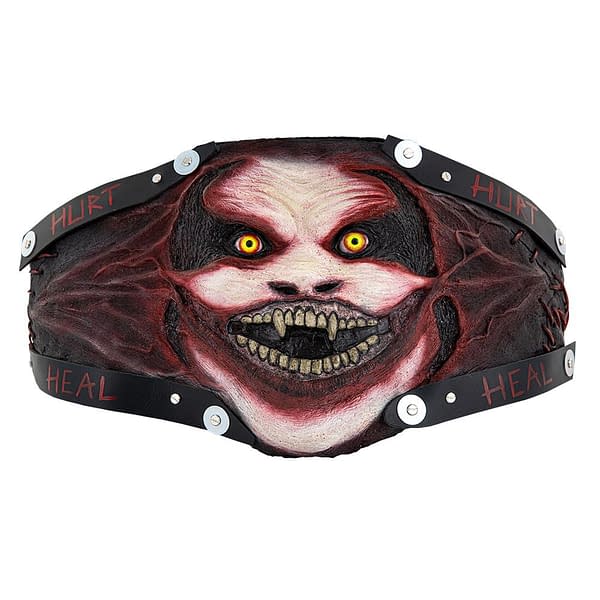 Now available on the WWE Shop, preorders are being taken for a limited time for an authentic, custom belt of your very own. Each belt is hand-painted and crafted, so no two belts will be exactly the same. The mask on the front plate is made of latex skin. The belt measures 64 inches long and weighs almost 8 pounds. You can check out more details below, and if you are so inclined you can preorder one for yourself right here. They ship on December 20th.
Product Details:
Designed & Hand crafted by Tom Savini Studios

From the "Godfather of Gore" Tom Savini's Special Effects Studio (@thetomsavini)
Sculpted with meticulous detail & care
Highly detailed mask made of a latex skin and acrylic eyes that capture the intense stare of "The Fiend" Bray Wyatt.

Length: 64 inches
Height (Chin to Forehead): 12 inches
Weight: 7 lbs, 8 oz.

Individually Numbered & Certified Authentic

Each title will be numbered and includes a Certificate of Authenticity hand-signed by Tom Savini.

Truly Rare & Unique

Due to the hand-made sculpting process, no two titles will be identical. Each will be a truly unique collector's item!

Genuine Leather Strap

Each title is crafted on a genuine leather strap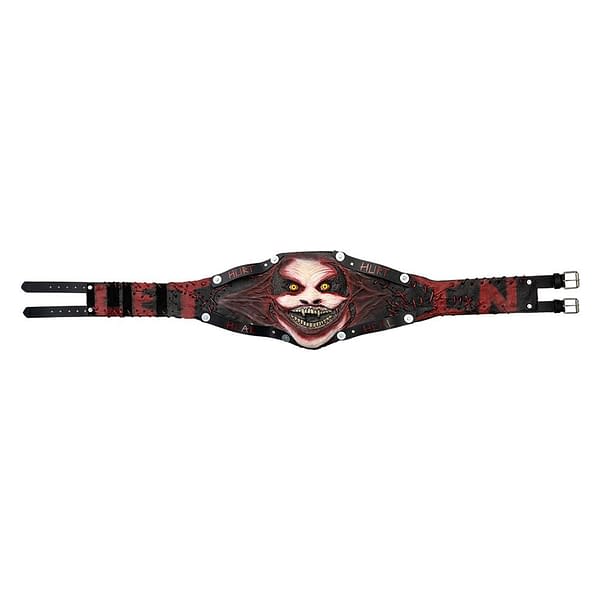 Special effects artist, actor, director, stunt man, teacher, mentor – all these things could easily describe the career of special makeup effects legend Tom Savini (@thetomsavini), but none of them do justice in describing his influence on the horror genre and cinema as a whole. Horror classics like Friday the 13th, Dawn of the Dead, Creepshow, Day of the Dead, and Texas Chainsaw Massacre 2 are but the first rung on a career ladder that has spanned over five decades and continues to thrill genre audiences around the globe.
Tom's previous collaborations with WWE span from crowns and masks for Triple H and Stephanie McMahon, to the Wyatt Family sheep masks, to hammers and masks for the the Bludgeon Brothers and of course "The Fiend" Bray Wyatt's mask, lantern and Firefly Funhouse puppets.