One of the most interesting parts of hitting a convention is the Artist Alley section. It is usually filled with custom drawings, books, art, and unique collectibles that are made by fans for fans. They bring their own ideas to life and it's great to support that passion of theirs. Recently, I found Vile Consumption who creates drawings featuring the combination of horror and pop culture. These usually consist of a mash-up of some of your favorite slashers like Freddy Kruger, Michael Myers, Ghost Face, and much more. The horror community always needs some good collectibles and Vile Consumption delivers just that. One of my favorite things of theirs is the collectible pins that can really enhance any collectors outfit. I had the pleasure of snagging up quite a few in-person and with recent online drops just to highlight some awesome stuff you can get. The first three are slasher mash-ups with Marvel Comics bringing us Murder Comics collectible pins. These designs bring back that classic retro comic book title box, but with a deadly twist.
Each of these pins comes in some awesome comic book style packaging. Vile Consumption art that inspired the pin is located on the front of the pins book. The date the horror film debuted is located at the bottom of each pin. Each of these three pins shows off a different homage to classic Spider-Man Marvel Comic title boxes. Vile Consumption has plenty of pins to choose from with multiple variants of each pin changing the vibe of each. From the ones I was able to get, Scream's Ghost Face had a green and original black and white styled pin design. For Friday the 13th, there is a classic Jason and retro NES Blue and Purple Jason all taking on a classic Spider-Man pose. The Halloween ones are my favorite from this set of pins as Michael Myers runs at you imitating classic Marvel title boxes. For fans who variety Vile Consumption has that as Michael Myers has a normal suit, red suit variant, and my personal favorite, the pumpkin variant. All of these pins are very well done and created with a passion for art and horror and it shows. Whether you're just a pin collector or just want to spice up your wardrobe with some horror, these pins are perfect for you.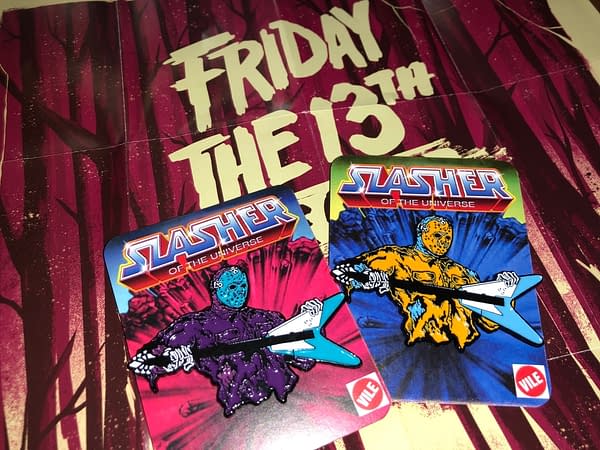 The last two pins are from the most recent release from Vile Consumption. One of his most popular prints comes to life with these three new enamel Jason pins. Combining Friday the 13th with Masters of the Universe we get The Slasher of the Universe. Inspiration was taken from Friday the 13th Part VIII: Jason Takes Manhattan. One iconic kill was with a guitar and that moment was captured with these badass pins. The three versions of this collectible pin are normal Jason in white mask and with a red guitar, a "Fake Out" orange Jason with the blue guitar, and of course an NES blue and purple Jason. Both Fake Out and NES versions of this pin are very limited edition with only 50 being made which is awesome. They all come on special action figure blister style backings too which only adds to the aesthetic. These pins might seem random but they are unique and that is something that really pulls me into Vile Consumption and hopefully you too.
The combination of horror and pop culture is super unique and you can now take your love for horror as you go with these pins. The passion behind these designs is there and it's nice to finally add some collectibles whether its pins, prints, or shirts. Vile Consumption creates even more amazing things from Star Wars Horror inspired helmet pins, a huge variety of art prints covering many franchises, tees, and much more. Each of these designs is beautifully done and any horror fan should add these to their growing horror collection. I personally would recommend the pins as they are short, sweet, and combine two great loves comics and horror. You can find all of the pins that Vile Consumption makes here and they vary between $8-$11 and check out the rest of the store while you are at it. The pins are constantly coming in and out of stock with new prints and pins going up on. Stay up to date with all the newest prints and pin news from Vile Consumption here.
Enjoyed this article? Share it!