WWE Thrills at Mattel Panel, Reveals New Ghostbusters MOTU Crossovers
WWE and Mattel held their action figure panel just now in Room 6 at SDCC, and it was a lively crowd. Hosted by Zack Ryder and Curt Hawkins, the panel featured the Mattel design team and WWE Superstars Becky Lynch, Kofi Kingston, and Rey Mysterio. Kofi got the loudest cheers, and he responded by twerking on top of the table on stage.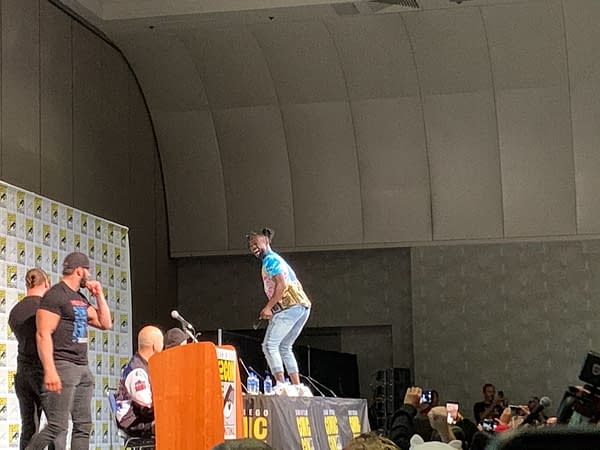 The reason we were all here though were the figure reveals. I come to this panel every year, and I can safely say this was the most revealing they have ever done. Two new WWE crossovers are coming. First, WWE Ghostbusters featuring Stone Cold Steve Austin, Shawn Michaels, The Rock, and John Cena as Ghostbusters. The jumpsuits are removeable, and they face off against a ghost version of the Undertaker. The other crossover revealed was fittingly introduced by a video of The Game HHH claiming that "He has the Power". We all knew what that meant. Continuing Mattel's Masters of the Universe push, WWE MOTU figures are on the way! Quite a few were shown, including a Castle Grayskull ring for them to battle in.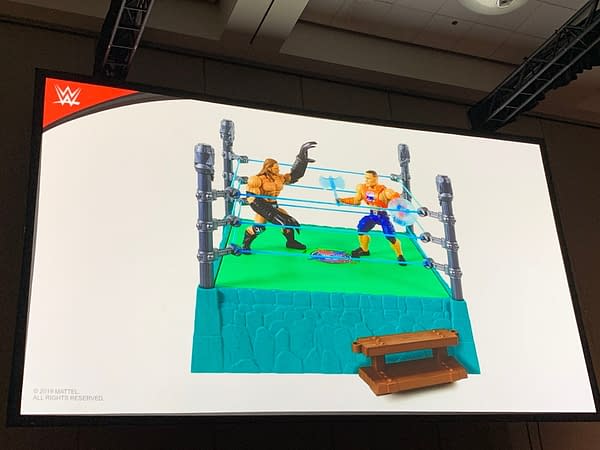 After that, we got a look at a ton of new Basics, Elites, Elite two-packs, Ultimate Editions, and more Flashbacks than you can shake a stick at. For the #1 selling figure line, and after years and years and waves of figures, you would think they would be reaching the end of the road. I think this years WWE Mattel panel proves that they have a long way to go.
Check out all the pics below!