Yoda is getting a new statue for Star Wars fans to drool over from Iron Studios. Running collectors $599, the polystone statue is in the 1/4 scale and features tons and tons of easter eggs for fans to discover. Two different Yoda bodies are included, one with him standing there, and another with his eyes closed and lifting the rocks. The animals and insects of Dagobah come to life as well, with many coming with the statue to place all around the place. The translucent base also provides a stunning water effect, the rest of the base features excellent sculpting. And that is not even getting into the box of accessories that includes a lightsaber hilt, a holocron, and more.
This is an amazing offering, and will for sure sell out. I wish I could get my hands on this thing, but it is priced a little out of my range. I can dream though. Check out pics and details below, and if you can afford one, place a preorder here. This one will ship in summer 2019.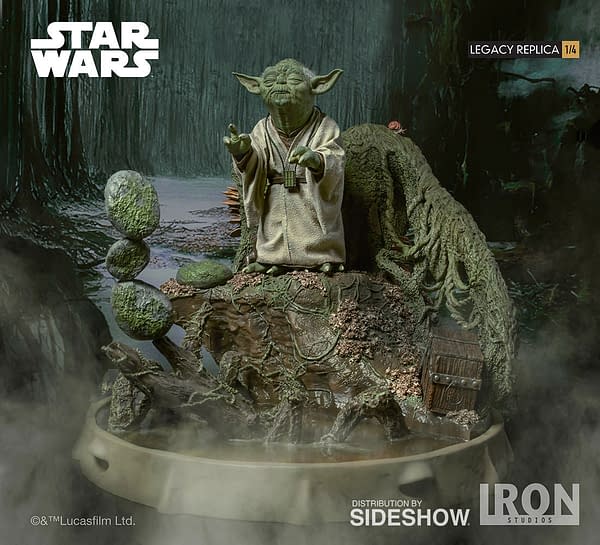 Sideshow and Iron Studios are proud to announce the latest from the Legacy Replica 1:4 Scale line – Master Yoda! Based on references from the film, this statue includes insects and animals to place around the base, a box of included accessories as well as two body positions for Yoda!

Star Wars Collectible fans, don't miss your chance to add Yoda to your collection.

The Yoda 1:4 Statuefeatures:

Limited Edition Worldwide

Based on movie references provided by Lucasfilm

Made in Polystone

Hand-Painted

Includes box of accessories (Lightsaber, Holocron, Flashlight and ComLink)

Includes base with translucent water effect

Includes insects and animals to place around the base

Two (2) body positions for Yoda: one with his eyes closed using the Force, the other with his eyes open holding the walking stick
Enjoyed this article? Share it!