A Writer's Commentary: Corinna Bechko talks the grand finale of Lords of the Jungle #6, on sale now from Dynamite. Cover by Felipe Massafera, interiors by Roberto Castro.
Page 1 Here we pick up right where we left off at the end of issue 5, with a big decision about to be made. Will Tarzan and Sheena follow Laine into the future?
This is a big point of contention for the two heroes, and one of their only true arguments. When scripting, I'm never interested in conflict for the sake of conflict. In my opinion having characters fight or argue just because they are both strong is usually boring. But I felt this was a good place for them both to voice their contrary points of view, before we get into the meat of the action and the grand finale. Fortunately Roberto Castro does a wonderful job conveying how convinced they each are of their position through expression and body language. They each state what they want, but it's through the art that we discover how invested they each are in what they're doing.
Page 2
The point where Sheena questions Tarzan's read on the situation and calls him out on it is important to their entire dynamic. Tarzan is older and more experienced than Sheena, but then again, she's from the future and knows a thing or two about how things unfold. I wanted to be explicit about how they both viewed their "right" to make this decision.
Page 3
And here's another point I felt it was important to make. In essence, Tarzan and Sheena are doing things that have big repercussions, and not only for themselves. It was time for someone to step up and call them both on this fact – and to break the stalemate.
Pages 4 & 5
This sort of montage spread is a bit of a challenge. You're dealing with something that doesn't exist at all (a time portal) along with the need to get information across while still orienting the characters. Easy to write down in the script, not always easy to bring to life. I think Roberto did an excellent job here of focusing on the characters while still drawing the reader's eye where it needs to go, from the top of the left-hand page to the bottom of the right-hand page.
Pages 6 & 7
The future! It's not that bright. In fact, it's rather gloomy. I thought it was important to immediately show that we are no longer in a lush jungle. Or even in a vibrant city, for that matter. No, this place is a mess.
Page 8
As our protagonists search the city, they finally see some things that are out of place in their own times. But even so, it takes Pete the Parrot to really alert them to the danger. I like the idea that Tarzan is not at all impressed by any of this.
Page 9
Here we have the central irony of the future: the jungle has been so diminished it's inside. Not only that, it's considered a luxury.
I love the way Roberto showed Sheena interacting with Pete in panel five. Sheena's tough, but she still cares deeply about what happens to her friends and to her home and isn't afraid to show it.
Pages 10 & 11
There's a lot going on here as the leopard man from Tarzan's time tries to talk sense to the men from the future. But all of course, there's gotta be some action too, because not everyone is reasonable.
Pages 12 & 13
I like how freeform Roberto allows these pages to become. We never lose track of where the gun is, or what our heroes are doing, just as we remain aware of where they are, and that all of this is happening inside a glass-walled fortress.
Page 14
The big turn that everything hinges on happens here. Everyone is united now against Laine's crazy vision of how to save the world – violence won the day, but it's backed up by reason. Hopefully, the message that comes across isn't one of "might makes right" but one of action backed up by reason and understanding.
Page 15
Tarzan and Sheena see that things are turning, and decide not to interfere. They're made averting this apocalypse possible, but have seen enough to know that imposing your will on others to support your vision isn't enough – everyone has to be invested for their own reasons. They decide to let the people involved do the right thing. In this case, that means leaving a member of their party in the future. It's his choice to make, and it's clear that he can provide a necessary link to the past in this troubled time.
Page 16
It's time to head home, and for a little fun. Honestly, if you could ride on top of a flying car, wouldn't you do it?
Page 17
And now it's time for goodbyes. Tarzan and Sheena know they won't see each other again, so it's a bit melancholy. But there is hope here too.
Pages 18 & 19
I really like how Alex handled the colors here. Everything is so vibrant compared to the future, and that's really important from a storytelling point of view. The Jungle is unharmed, the animals are healthy, and the village is just as Sheena knew it, before the horrors she saw in issue 1. In short, you can tell immediately that her trip into the past and future was successful.
Page 20 & 21
The arrow of time normally only moves one direction, so Tarzan could get a note to Sheena, even if she can't ever get one back to him. This works for our purposes here though, since we do want to learn what happened to Tarzan in the past, even as we need to bookend the miniseries with Sheena's story.
Page 22
This is probably my favorite page in the whole arc. Roberto did a wonderful job making Sheena look resolute and hopeful, surrounded by her animal companions and obviously carrying on the work that Tarzan began. When I saw the art for this page I was so happy that Dynamite gave me the chance to work on a book like this, with collaborators as good as Roberto and Alex.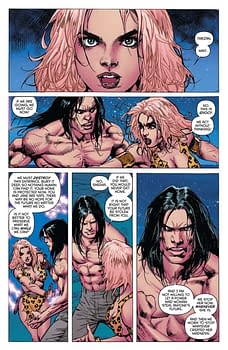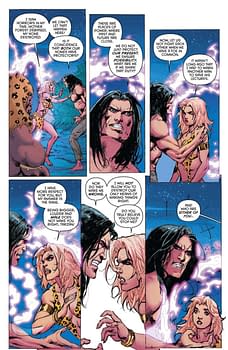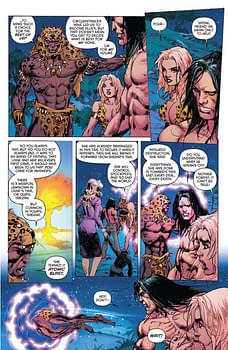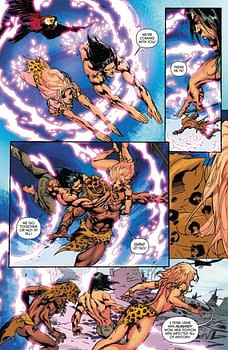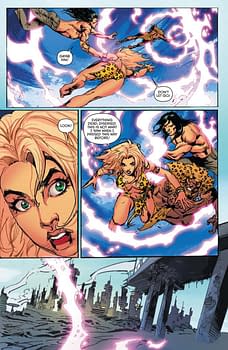 Enjoyed this article? Share it!