Advance Review: Past Aways #2 Channels Lost In Space My initial reaction to the series Past Aways from Dark Horse Comics, was to be very impressed by the hybrid of bright, popping, quickly-moving settings and plot elements in combination with the underlying seriousness of a situation this fractured team of stranded time-travelers finds themselves in. It's a kind of strange mental torture for them to be millions of years from home, and if they can't hold it together, they'll never stand a chance of making it back. Issue #2 of what will be the first 3 issue mini-arc of the series takes us much closer to the characters, their original disrupted mission, and their coping mechanisms.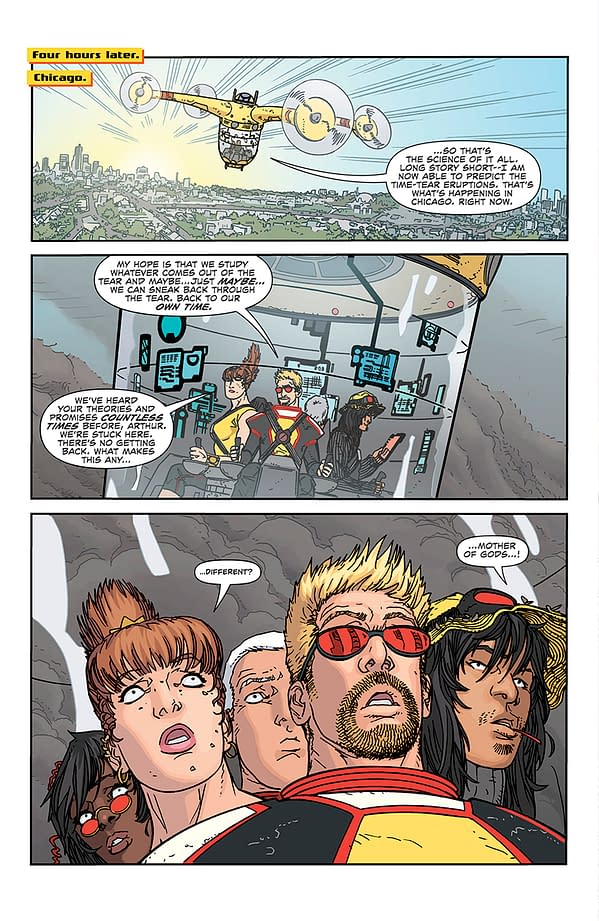 I realized just as I was reading Issue #2 in advance that I had an assumption about Past Aways so basic and profound that I wasn't even bothering to call it out—and that was that the comic has something of the skeletal structure and flavor of the TV show I watched so much growing up in syndication—Lost in Space. That made me remember the last conversation about Lost in Space I had with a comics creator friend, where he said, and I very much could see what he was getting at, that the show was so much more terrifying than you give it immediate credit for. It's unsettling because there is no sense of safety or refuge and the people—despite their familial ties can and do turn against each other. It's such a hostile environment and such an uncertain story. By contrast, Past Aways, seems quite cheery! But in all seriousness, there is something similar at heart between the show and this new comic and that's the team dynamic, the stranded sense of potential hopelessness, and the way in which redemption seems to rest on human kindness—which might be in short order.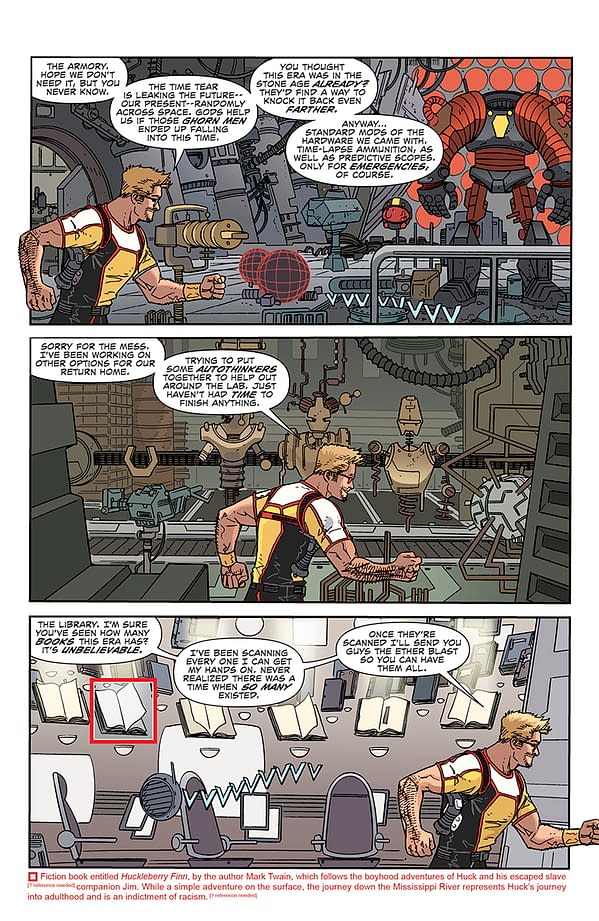 We learn in Issue #2 that there's a "time rift" which object, aka "artifacts" fall through and Art has been collecting them, thereby preventing various apocalypses. But does he get any thanks for that from his dysfunctional, circling-shark-like team brought back to their remarkable headquarters? Nooooo. Because they hate him, and they hate each other, and they don't really believe in their own future. Not yet. Whether they will remains to be seen.
It's natural to want them to succeed to keep their own sanity and personalities from falling apart, also natural to want them to somehow resolve their differences, but it occurred to me that even if they didn't, Matt Kindt and Scott Kolins have created an interesting story through the character drama alone. If they didn't succeed, why not? Would it just be all of physics and scientific knowledge working against them? Much more likely would be that their own tiny foibles, compounded, were somehow responsible. Not being able to sit down at a table together and have a discussion, for instance, would probably be enough to tip that balance.
But Past Aways #2 as a single issue of a series is remarkable in its own way because it's going to take us on a mental tour of each of the characters' pasts—just snapshots of a particular moment for each. But those moments are highly representative of the depths of loneliness and conflict they already carried. You might come to the conclusion that they are all pretty much terrible people, so it's no surprise they are even worse "now". More likely you'll just kind of stare into the depths with them and think that maybe this devastating thing that happened to them—their exile—could somehow change their trajectories and hopefully produce better lives for them. If there's one thing we can learn from Lost in Space, it's that changing your setting doesn't change your problems and if you can't work them out in exile, then you've lost something of your humanity that you won't get back just because you make it home again. One final comparison to Lost in Space: that show, too, used humor and quirkiness, as well as rather lavish design elements to offset the big existential weight of the plot. And it worked. And it works here in Past Aways, too.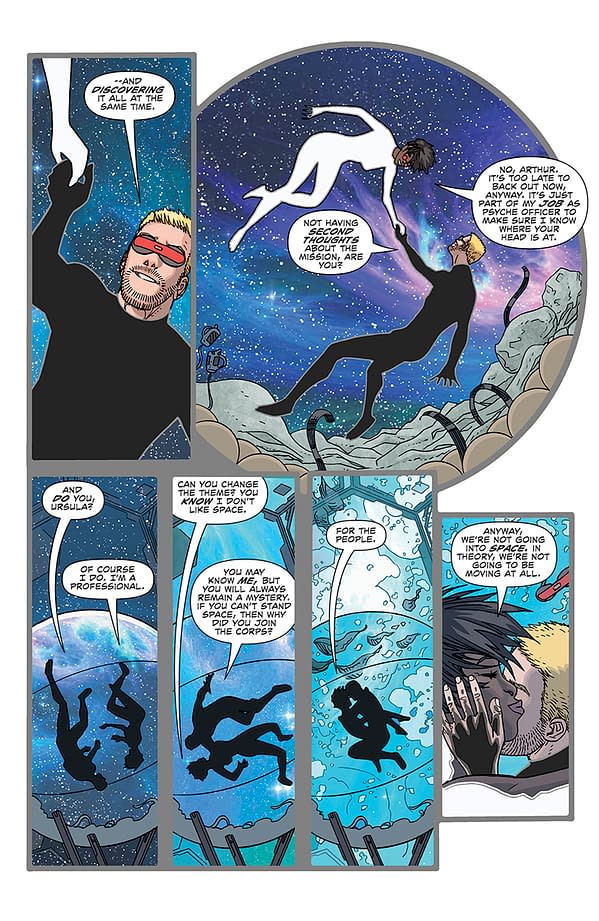 Tune in for plenty of surprises in Past Aways #2, with plenty of wild, exotic, and inventive art from Scott Kolins as well as Bill Crabtree's lush color palette. Like Issue #1, it also has meta-material margins, a journal entry in prose to back things up, and a diagram showing off even more cool features of the Past Aways base. Matt Kindt always seems to not only construct his comics carefully, but to take them apart from the inside out for the reader, show them how it's done, then reassemble it. Past Aways definitely brings you inside the guts of the narrative in a similar way.
Past Aways #2 arrives April 29th, is currently listed in Previews World with item code: FEB150019, and reaches FOC today, April 6th.