Astonishing X-Men #12 Review: A Good-Enough Ending to Charles Soule's Story
The Shadow King has returned to sew havoc and terror across the world. Spawned from the head of X and using Proteus' reality seeds for additional power, he quickly dispatches the Astonishing X-Men by vomiting liquid despair upon them — except for one. Psylocke still stands, but can she defeat the Shadow King alone?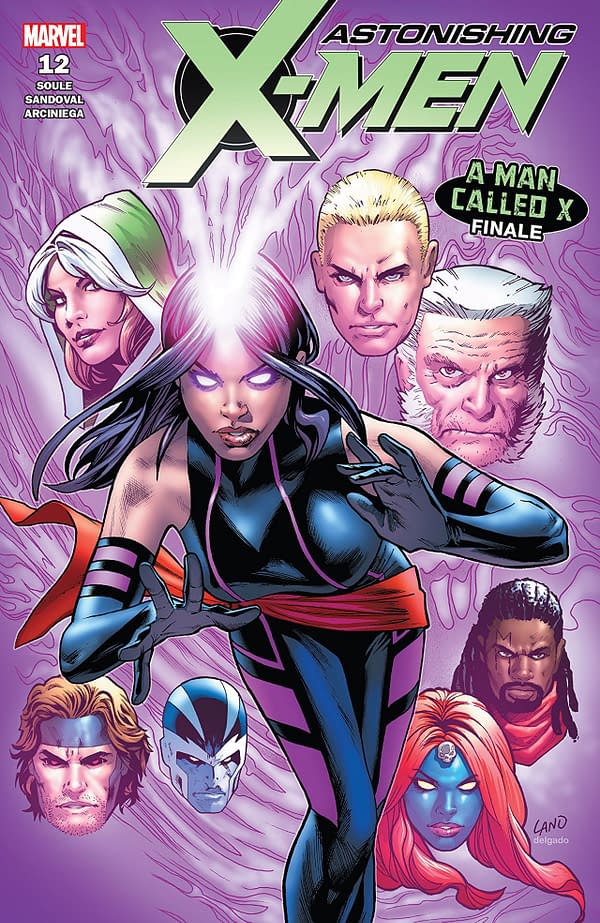 Charles Soule's tenure on Astonishing X-Men ends with this installment, and, to its credit, it brings together all the elements that have been present throughout his run on the series.
Admittedly, this is partly because everything that has happened over the past year seems to have taken place in a single day. That said, this was a decent ending to "A Man Called X," even if there were some significant drawbacks.
The big one is that every member of the Astonishing X-Men outside of Psylocke and X quickly become irrelevant to the story thanks to Shadow King's "despair." Other problems come from the finale, which I will try not to spoil too badly.
The team, apart from Psylocke and X, are mind-wiped at the end of the story. They are given "gifts" from X, but then they forget all that happened that day. That undermines the story a lot. X himself is a frustrating character, as he is a halfway resurrection of Charles Xavier with a personality that's quite hard to tolerate. Also, Fantomex is still around? Kind of? That's left ambiguous.
Those are some big criticisms and would be enough reason to understandably write the book off. However, I can't dislike it outright. The "gifts" given to the X-Men are a neat way of progressing the characters even if other writers disregard the idea. The attempted suicides caused by Shadow King are harrowing scenes. I dig Psylocke a lot, so I'm happy to see her take the lead with this finale. Shadow King is a great villain. Plus, Hummingbird from Christopher Yost's Scarlet Spider and New Warriors is shown in a splash page of all the world's psychics, so that means someone else remembers that awesome character exists.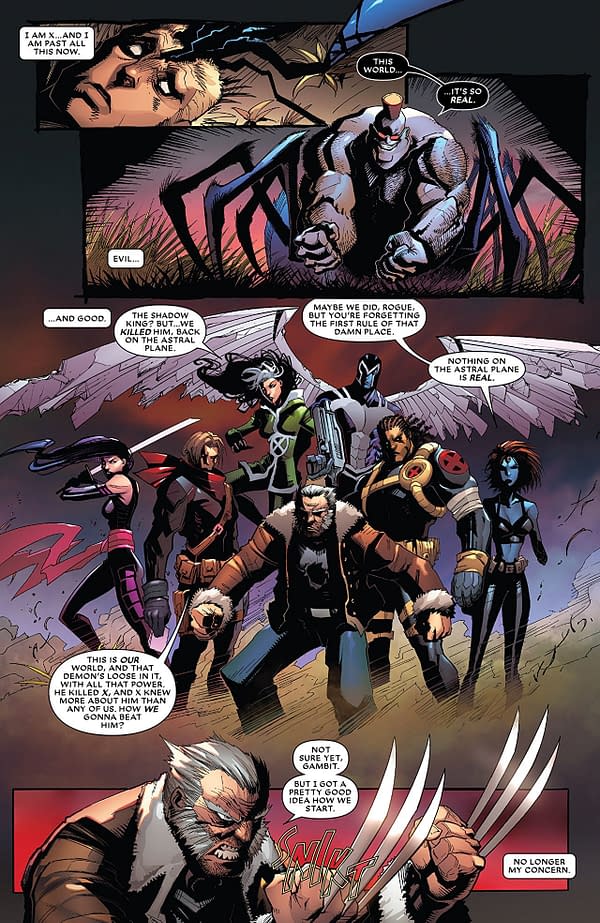 Gerardo Sandoval provides some solid artwork to the comic. It's highly stylized with shifting figures angled more towards action than photorealism. This works very well for the likes of Shadow King, Archangel, and Old Man Logan. Psylocke is left looking like a 1990s character, but that's not entirely a criticism. She still looks like a badass. Erick Arciniega brings some good color art too, giving the palette a dower and apocalyptic motif that fits the story very well.
Astonishing X-Men #12 is a good enough finale to Soule's stint on the title. It's decent and has enough good points to mostly drown out the bad. The art looks solid too, and I can recommend the comic. It's not a must-read, but feel free to check it out.