Batman #46 Review: Time-Travelling Deadpool
[rwp-review-recap id="0"]
Booster Gold returns to this alternate version of Gotham a year later (in local time). His new plan is to introduce Catwoman to Bruce Wayne and convince him to accept the "true timeline." However, this version of Catwoman is…a little different. Meanwhile, this iteration of Gotham worsens, and Thomas Wayne develops health issues.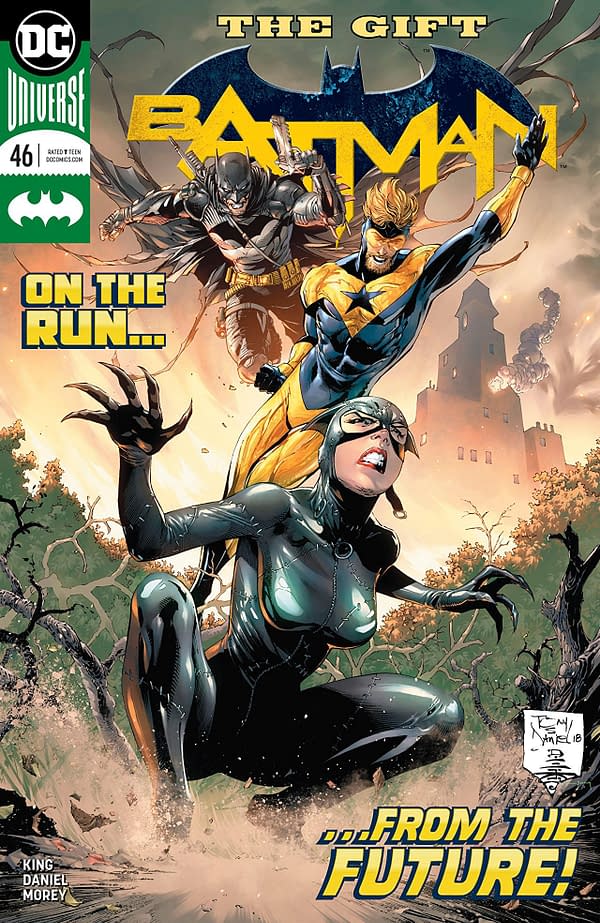 You may have questions at that premise. Why is Booster Gold going through all this trouble to get Bruce to accept the alternate reality? Why does Booster think this will fix everything? Those are good questions. The comic seems to think Booster Gold is time-traveling Deadpool, and that makes for a frustrating read.
The comic is oddly brutal too. Like the Green Lantern suicide scene from the first issue, this comic turns into an extended bloodbath in the final sequence. It seems outright gratuitous. It also works to create a disparate tone with how goofy the behavior of Booster Gold.
Maybe this review is even more subjective than usual, but I know I'm not the only one disappointed with this arc. This story gleefully displays the suffering of its protagonists, and it's contrasted by a premise which comes off like a joke.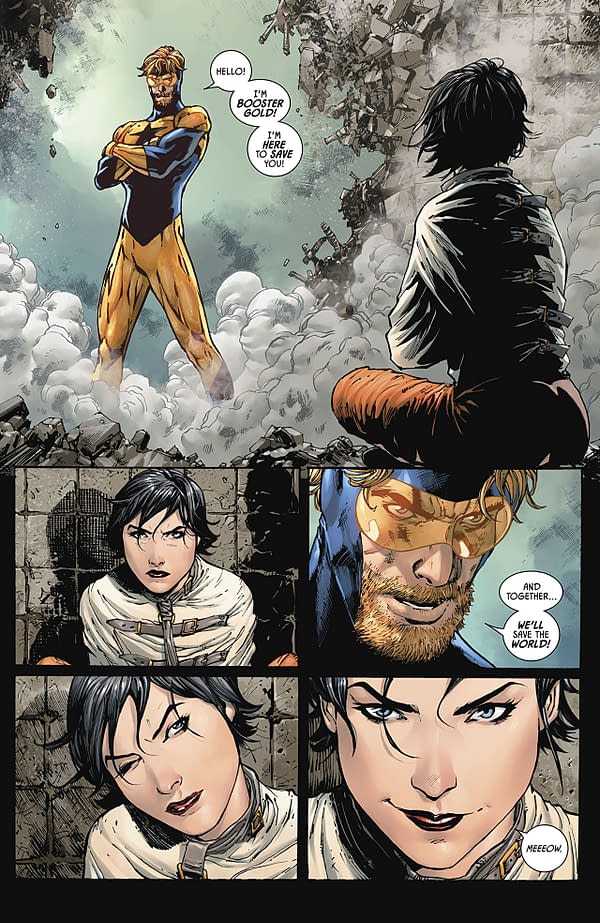 Tony S. Daniel's artwork doesn't disappoint. His usual highly detailed style coupled with his play with shading and texture create a distinct and visually appealing world. Booster Gold looks good with a beard, and the lankiness is a nice touch. I dig the reference to Catwoman's costume from Batman Returns, and Grayson's Batsuit looks quite good too. Tomeu Morey's color work is atmospheric and jives with the darker tone of this version of Gotham. The comic looks great.
Batman #46 is even more frustrating than the previous issue. I had hoped that this arc would become more engaging after the setup, but it's only gotten worse. Booster Gold behaves like Deadpool. There are extreme tone issues, even if they're intentional. The art is good, but it doesn't make up for the narrative. Give this one a pass.
[rwp-review-ratings id="0"]
[rwp-review-form id="0"]