[rwp-review-recap id="0"]
It's the night before the secret wedding of Bruce Wayne and Selena Kyle. Selena is spending time with Damian before going to her bachelorette party. The young Robin then goes to play at the arcade, but he is ambushed by a young rogue calling himself Aion. He claims to be the son of Bruce Wayne and Selena Kyle.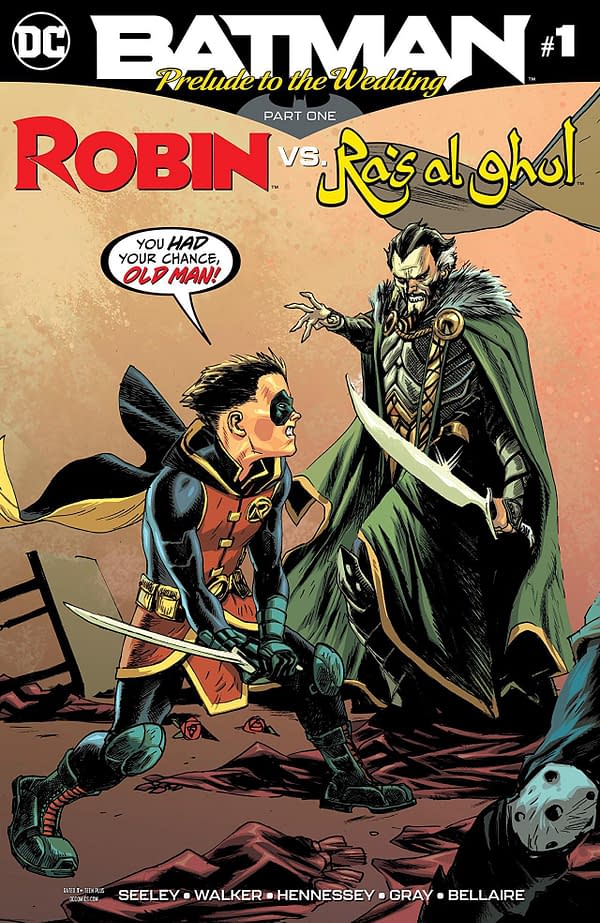 Robin vs. Ra's al Ghul provides a fun diversion with Damian Wayne while gearing up to the wedding and setting up some of the story elements. It highlights the two sides of Damian that make him a unique and fun character: his arrogance and his immaturity. He talks down to Selena, but he really just wants to play arcade games.
The encounter with Aion takes some trippy turns, and perception of reality is played with in a surprisingly effective manner. This all builds up to an encounter with Ra's al Ghul which plays on Damian's insecurities. Those insecurities tie back into the personal conflict Robin has with Selina, and, well, that's just good storytelling.
It's a very real conflict too, and it is something that families like the one Bruce, Selina, and Damian are building do have to deal with. Real and compelling; that's a good way to start this story.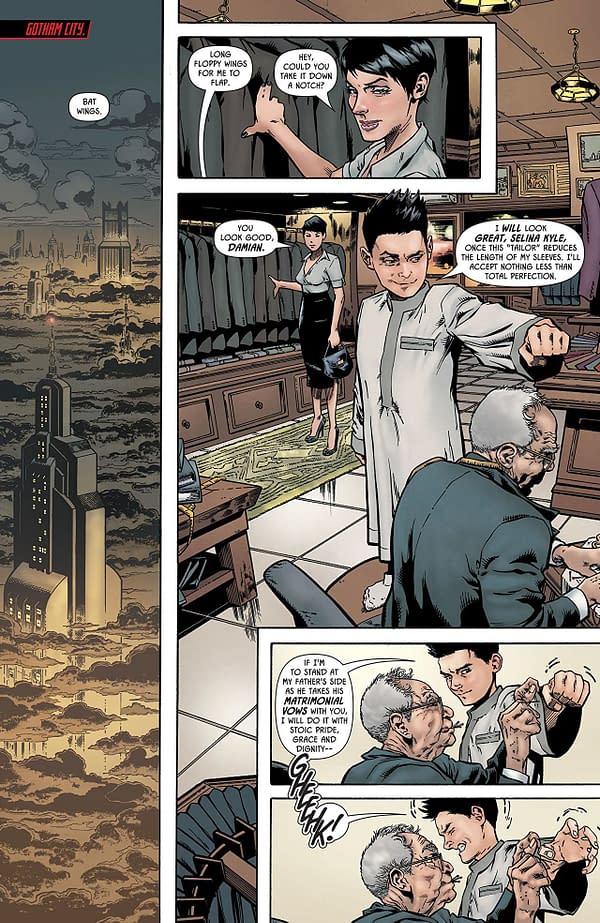 Brad Walker's artwork looks good for most of the comic, and he plays with body language and subtle expression very well, especially in the conversations between Damian and Selina. The figures can look oddly severe in spots, but that is a rare problem in the comic. Jordie Bellaire, as is often the case, provides excellent color work to add that extra life to the proceedings. Otto Schmidt provides art to an epilogue section which looks good as well.
Robin vs. Ra's al Ghul is a nice start to the "Wedding" Batman story arc. We get to see how all of this is affecting Damian, and he faces down a member of the extended family who has a stake in this wedding too. The art is solid to boot, and this comic earns a recommendation. Give it a read.
[rwp-review-ratings id="0"]
[rwp-review-form id="0"]
Enjoyed this article? Share it!