Tom King has been talking about the upcoming Batman #45 at the Batpanel at C2E2 — and has been giving massive spoilers. No, seriously, he has no issues with that. Good to know.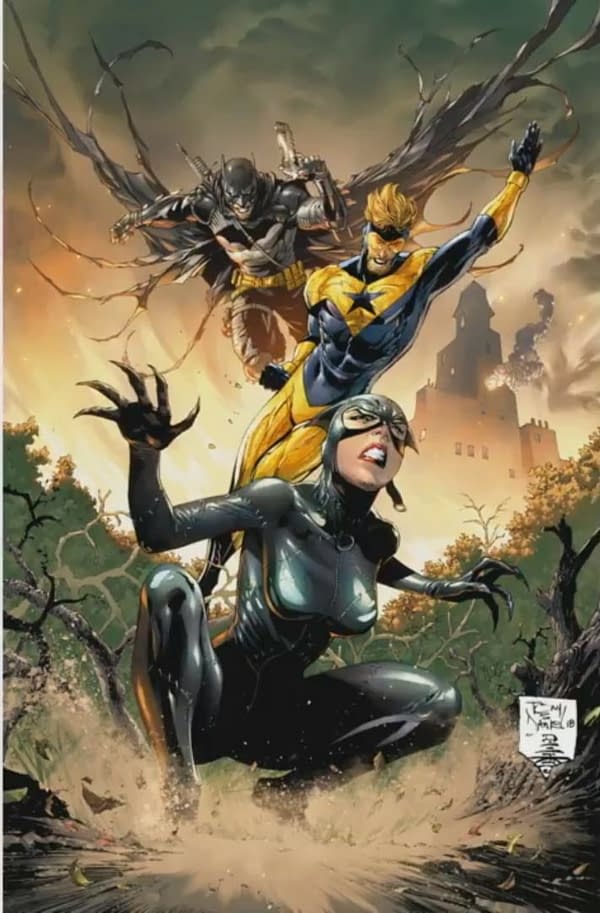 So Booster Gold wants to give Batman and Catwoman the ultimate wedding present. He remembers The Man Who Has Everything, and how Superman got the flower that gave him a Krypton that never exploded, his parents lived, a Superman who never left Krypton who never was. He saw the problems with that and escaped his fantasy.
So Booster gives Bruce Wayne that — a world in which his parents never died and Batman never was, to show Bruce the need for Batman. Which… hang on, wasn't that also in The Man Who Has Everything for a little bit?
Thought so. Anyway, that was a few panels — this is a few issues. And we have pages. Hal Jordan committing suicide… infected by the Joker? With Gotham in flames?
A Bruce Wayne with a boring, parent-filled life. Although is this Tim Drake? Appears to be… with Bruce as his office manager? It's a life…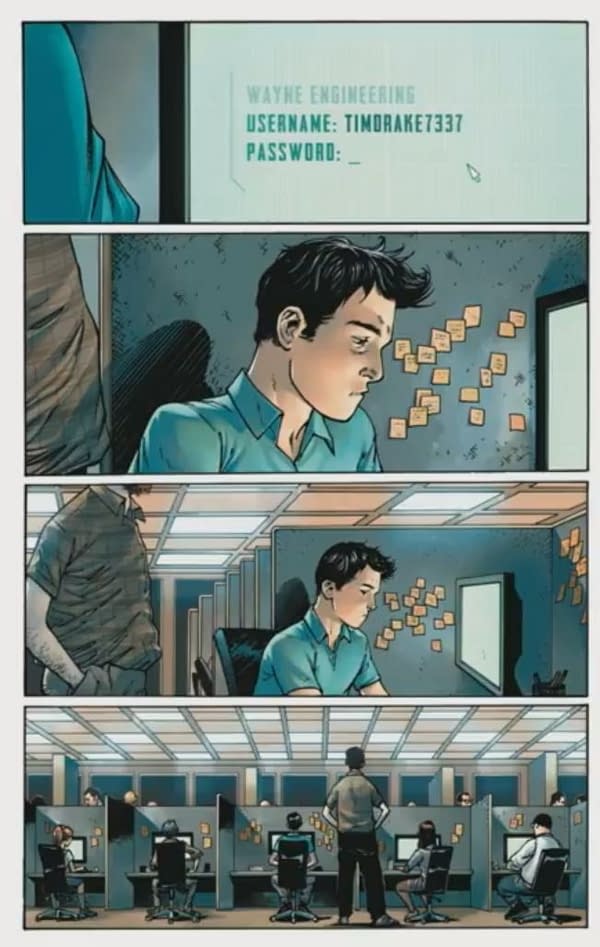 And we get a Batman anyway…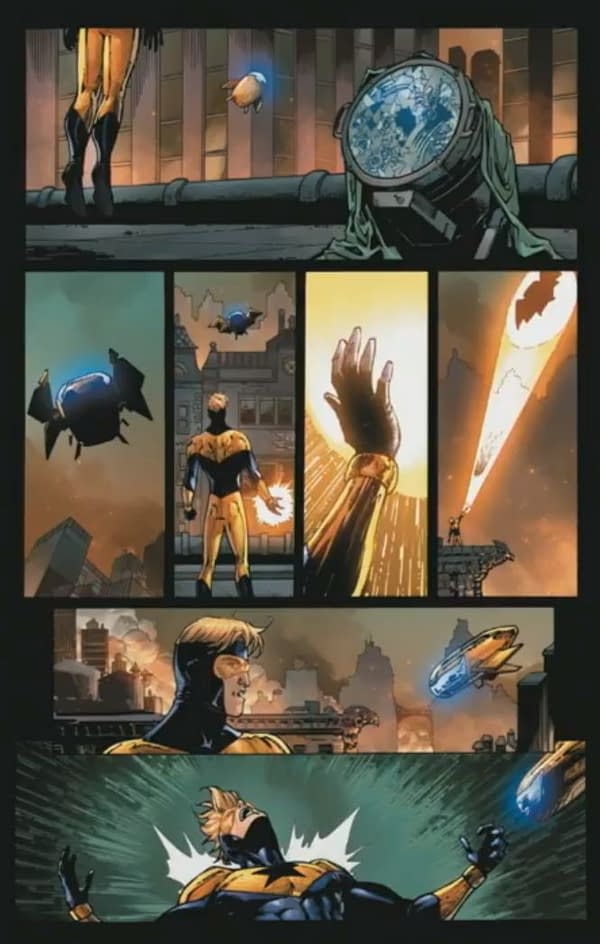 …with Dick Grayson.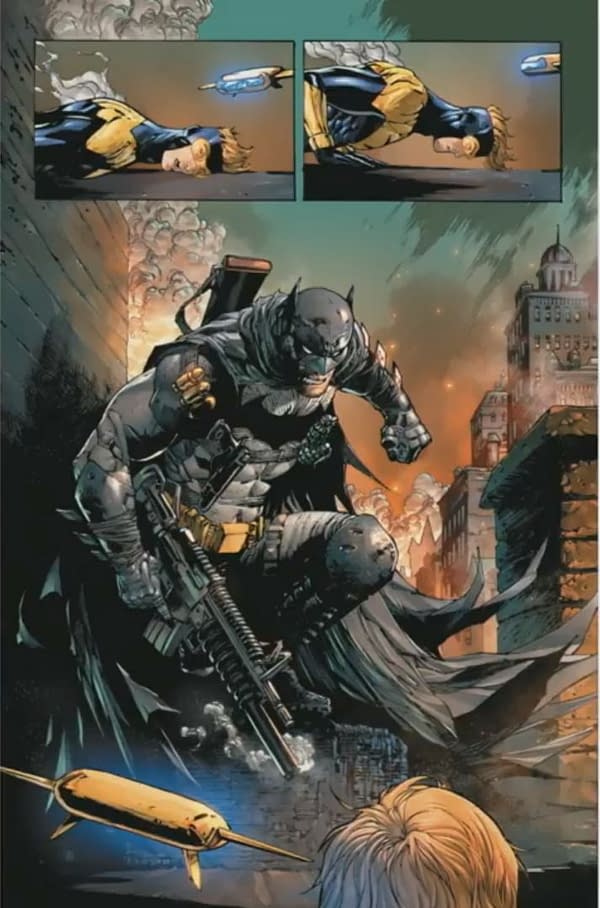 …and this is a Batman with a gun. He has no problems with guns — or shooting Booster Gold.
We also got a glimpse of the Batman story from DC Nation, with the Joker waiting for his wedding invite. And hanging out with a random guy called Roger at his house waiting, for no reason, of his wedding invitation will be sent to this random house. And he won't kill Roger if he gets it…
Lots more to come from the event.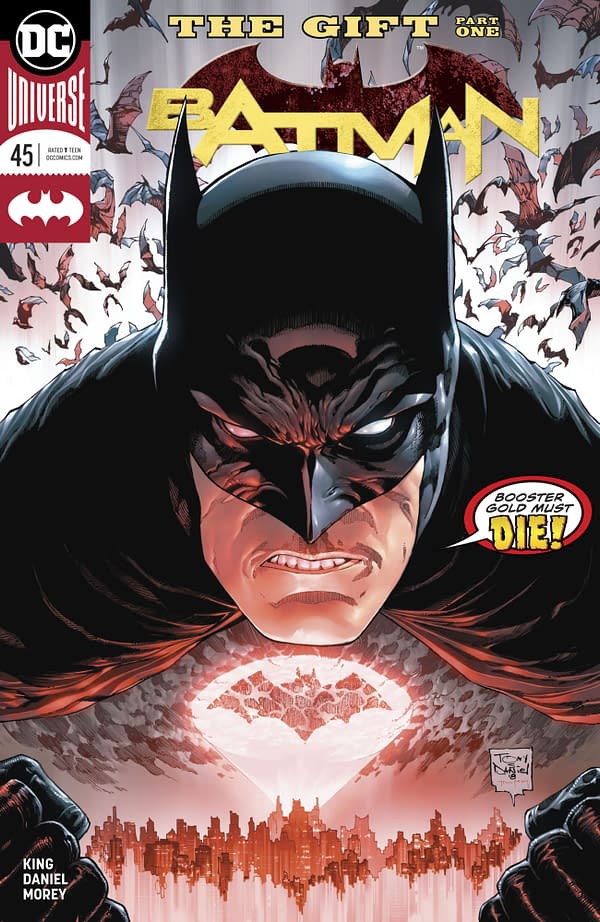 BATMAN #45
(W) Tom King (A) Sandu Florea (A/CA) Tony S. Daniel
"THE TRAVELERS" part one! Booster Gold has come to Gotham City, and he's enlisting Batman and Catwoman to go on a time-traveling mission to rescue…Booster Gold! It seems a younger Booster Gold has gone back in time to kidnap an even younger version of himself, and to rescue his own past, Booster must pursue both of his previous incarnations through Batman's history to find out what is going on. The start of a new story that will sow the seeds for a whole new epic to come-and also the return of Master Class artist Tony S. Daniel (DAMAGE) to BATMAN!In Shops: Apr 18, 2018
SRP: $2.99
DC NATION #0
(W) Tom King, Scott Snyder, James TynionIV, Joshua Williamson, Brian Michael Bendis (A) Clay Mann, Jose Luis Garcia-Lopez (A/CA) Jorge Jimenez
These stories will appear only in this comic book and will not be reprinted in another comic book before each series' collected editions. Only the first printing of this issue will have a cover price of $0.25. This issue will ship with four covers. Please see the order form for details.
Just in time for Free Comic Book Day, this special comic priced at just $0.25 US features three brand-new stories from a lineup of superstar talent-and each tale serves as a prelude to some of the biggest DC events of 2018!
First, find out how The Joker reacts when he discovers Catwoman has turned her back on crime and plans to marry his archnemesis. Can the Clown Prince of Crime stand to see Batman happy? Writer Tom King and artist Clay Mann set up the events that lead to BATMAN #50!
Then, DARK NIGHTS: METAL shook the DC Universe to its deepest foundations-now it's time to rejoin legendary writer Scott Snyder, along with all-star artist Jorge Jimenez and co-writers James Tynion IV and Joshua Williamson, for the prelude to JUSTICE LEAGUE: NO JUSTICE! Discover what universe-shattering mysteries have emerged from the most wondrous and chaotic corners of the cosmos to hunt the Justice League in DC's summer blockbuster event!
And get your first glimpse at Superman's new world in this exclusive preview of the upcoming six-issue miniseries MAN OF STEEL, written by Brian Michael Bendis with art by José Luis García-López. With Truth, Justice and the American Way all under attack, both Superman and Clark Kent find there's never been a more important time to stand up for what they believe in.In Shops: May 02, 2018
SRP: $0.25
Enjoyed this article? Share it!