An Exclusive Look Inside Flash #750 from C2E2 – and the Story That Will Change the DC Universe (If They Let It) SPOILERS
On the floor of C2E2, Graphitti Designs are selling special foil-covered versions of next week's Flash #750 a week early – and for $25. Well, I've just paid a Bleeding Cool reporter that very sum and to pick up a copy. We'd previously said that the story within by Scott Lobdell and Brett Booth – which will have an expanded version for DC's Free Comic Book Day title Generation Zero: Gods Among Us – may do a smashing job of sorting out DC Comics' current continuity woes, set up the DC Timeline and prepare for 5G. If it's allowed.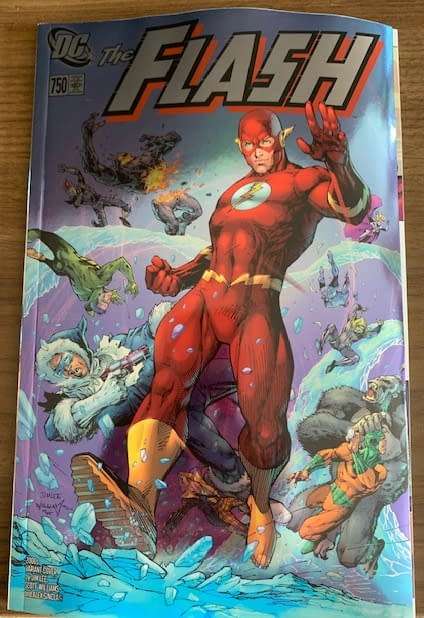 Because right now in Young Justice, we have Conner Kent and Impulse living in worlds that shouldn't be able to remember them, Linda remembering her husband Wally and her children, now returned to her.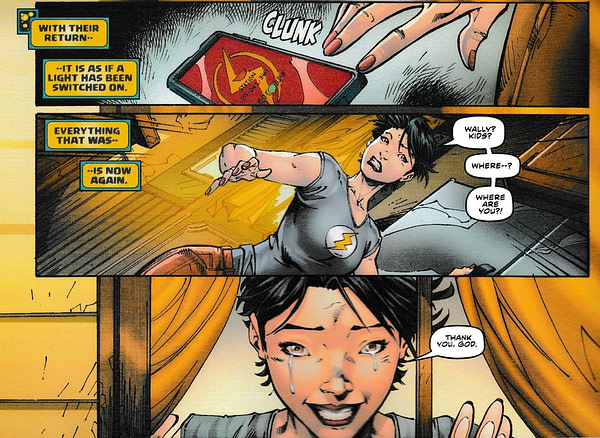 Wonder Woman's timeline suddenly stretching back to World War II rather than coming to the land of men five years ago – but Steve Trevor still remembering the New 52 version in Leviathan Dawn.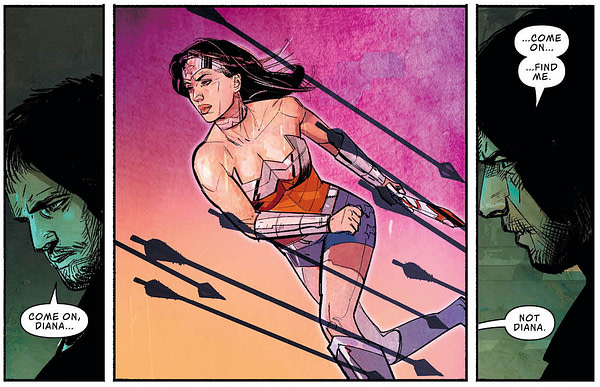 And in next week's Superman: Villains, the return of Ma Kent and Pa Kent, as seen in Doomsday Clock, despite them having died and having Superman recently visit their graves.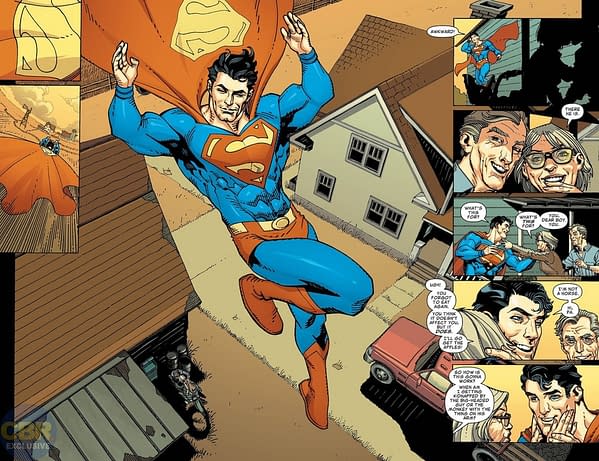 Oh and as well as all those contradictory versions of the Legion and Justice Societies. But Flash #750 is coming to kiss all of that better, courtesy of Scott Lobdell and Brett Booth.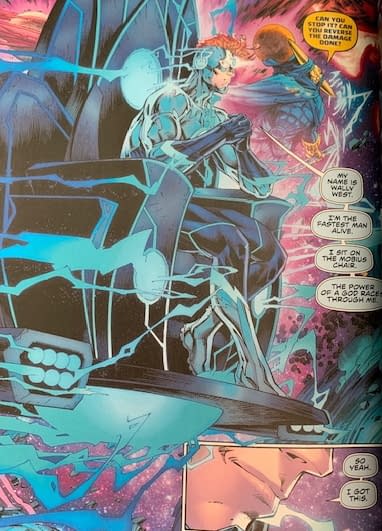 But the Fast Forward epilogue in Flash #750 takes all those problems and turns them into features, Benefits, even. And so we have Wally West, now with the powers of Dr Manhattan (Geoff Johns, you opened this particular Pandora, no objecting to it now) trying to fix the universe.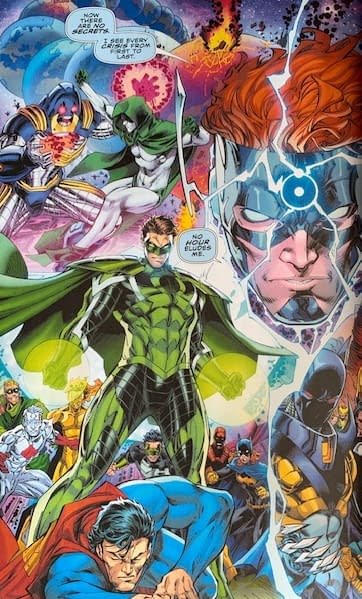 And so he has a look about. backwards, forwards, at everything and anything. The power of Dr Manhattan, remember, is the power of the comic book reader. We can read a comic, many comics, in any order we like. Even Zero Hour. Do you see what he did there? Read the latest, read the oldest, we are in control, more so than many other media. Who watches the Watchmen? We do.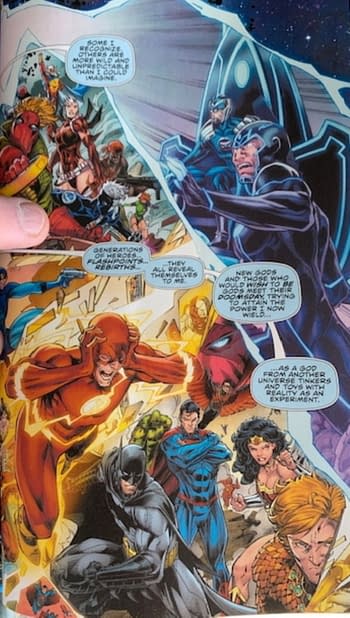 We get Jim Lee's WildCATS, we get Jim Lee's Justice League. And Wally West watched Doomsday Clock happen and make more changes.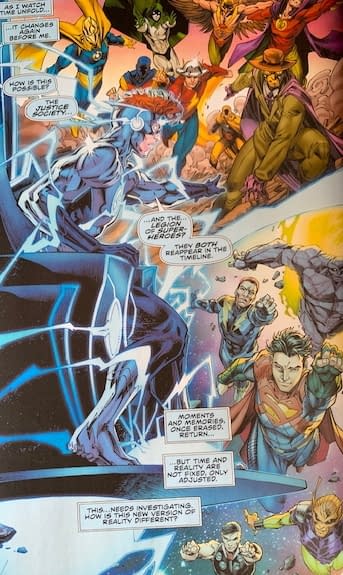 And if some of those events are no longer meant to be in DC canon, well. We have contradictory versions of Teen Titans too.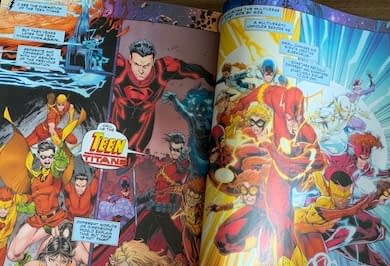 All sitting alongside each other in the same timeline – somehow. Even two versions of Wally West's origin.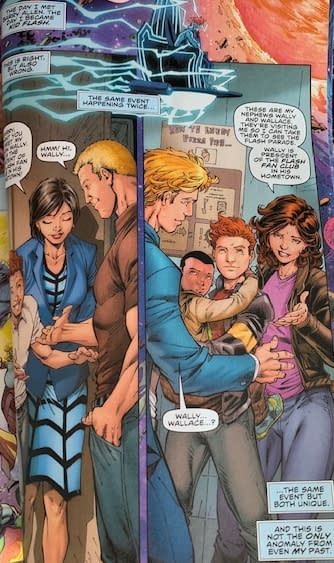 Everything happened. Everything matters. Whether it contradicts of not. Now obviously this is all going to have it be sorted out somewhere, and maybe the added pages for Free Comic Book Day's Generation Zero will do the trick. But Flash #750 creates a canon out of contradiction and just says, it doesn't matter. It all happened. They're imaginary stories, but then again, aren't they all? It's not often that Scott Lobdell's writing reminds me of Alan Moore, but this is that moment. Early-eighties Alan Moore, when he was writing things like Twilight Of The Superheroes – which also brought everything back into continuity, courtesy of Time Trapper event called 'the fluke', where everything that didn't or couldn't fit in continuity, still happened, just happened in the fluke. It's also Grant Morrison's Hypertime of course, again, where everything was meant to happen but that DC ditched pretty shortly after it was introduced. And maybe this Manhattan-powered Flash will be able to sort it all out. We will get a much bigger timeline – if DC Comics allows it. After all, this is Dan DiDio's Timeline and there are changes afoot. But for now… it's glorious.
Flash #750 is published this Wednesday. Generation Zero: Gods Among Us is published the first Saturday of May.
FLASH #750
(W) Francis Manapul, Geoff Johns, Michael Moreci, Mary Wolfman, Various Others, Joshua Williamson (A) Rafa Sandoval, Jordi Tarragona, Scott Kolins, Stephen Segovia, David Marquez, Bryan Hitch, Francis Manapul, Riley Rossmo, Various Others (CA) Howard Porter
Beginning: "The Flash Age"! The story we've been building toward since issue #50 comes to a head! While a supercharged Speed Force wreaks havoc on Barry Allen's life, a new threat appears on the horizon in the form of the deadly Paradox. Destined to destroy the Flash's legacy, Paradox sends his herald, Godspeed, to trap the Flash family! Plus, in this special anniversary issue: tales from across the generations of super-speedsters by an all-star lineup of writers and artists!In Shops: Mar 04, 2020 SRP: $7.99