Champions #21 Review: Take Off to the Great White North, It's a Beauty Way to Go
The Champions and Alpha Flight are at odds. The Master, a known villain, is using his advanced technology to repair the polar ice caps up north. Alpha Flight, led by Captain Marvel, believe that this is a ploy, and even the Master admits this is for the benefit of his later plans for world domination. However, Ms. Marvel, Ironheart, and the Champions believe that, so long as he is helping now, he should be allowed to continue. Plus, Kamala still bears a grudge against Carol for the latter's actions during Civil War II. Elsewhere, Spider-Man (Miles Morales) is about to make a discovery that will completely change the conflict.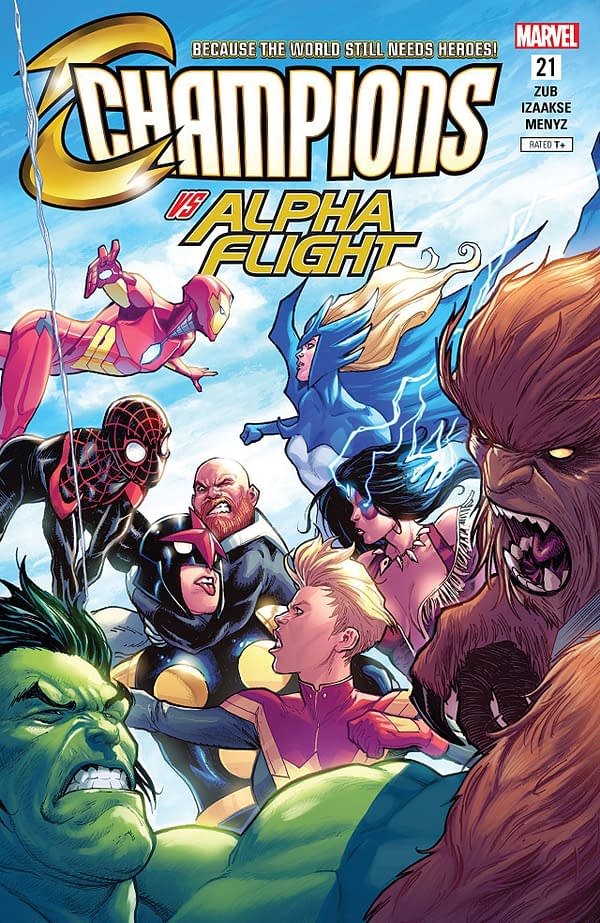 Champions #21 continues the "new guard vs. old" narrative that has been a through-line in the series since the beginning. It supports the concept well, with the main driving force of the conflict being what Captain Marvel assumes based upon past conflicts against Ms. Marvel and Ironheart having faith in the capacity for good and the need to better the planet.
The personal conflict between Carol and Kamala strengthens the tension with personal conflict and a powerful one at that. Kamala has been dealing with the "don't meet your heroes" lesson since Civil War II.
The comic arguably undercuts itself midway through, but it pulls back into the black by the end with a new character with a good backstory and introduction.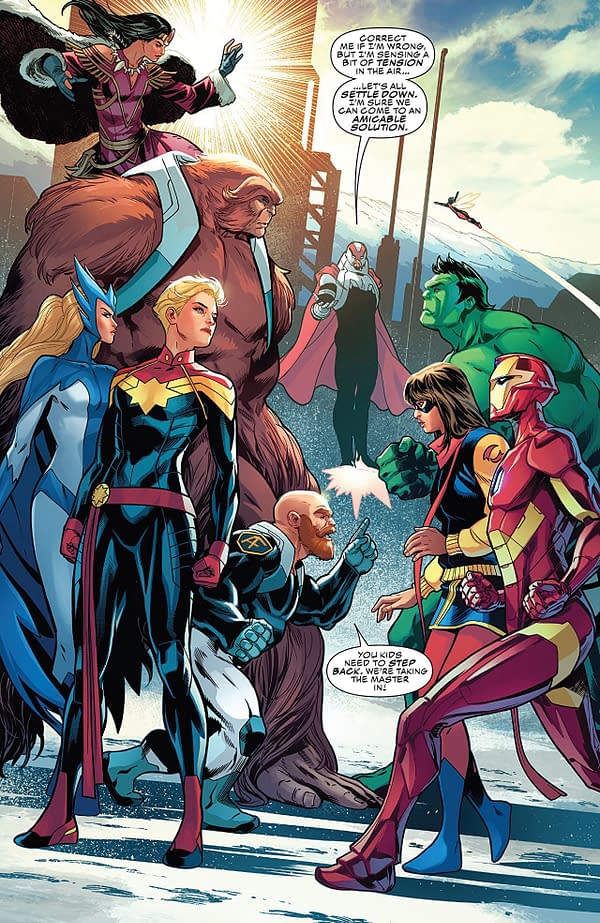 Sean Izaakse puts in good work here, crafting a visually flowing and energized book with a good sense of style and flare. The cold weather gear additions to the Champions' costumes is a nice touch. Marcio Menyz is the color artist, and he keeps things bright and appealing throughout, fitting the title and characters well.
Champions #21 is a fun and action-packed issue with a compelling conflict with intriguing implications. This is an all-around strong issue giving the reader conflict and character, and Izaakse and Menyz do a good job on the art. This one earns a recommendation. Give it a read.