A Very Big Change in Today's Aquaman #49 (Spoilers)
Today sees the publication of Batman #73, Aquaman #49 and Justice League #26. And while Superman – now a parent to Jonathan Kent – has rediscovered his now-very-much-alive father Jor-El and all the complications that entail, everyone else appears to be catching up. Batman – now also a father – and now with a transdimensional father adds to that complication today.
In today's Justice League #26 we catch Hawkgirl bemoaning her current sutuation, looking after a child from a possible future marriage of her and J'onn J'onzz. With the words 'no pressure' hanging over them like a Damocles sword. Mera, Queen of Atlantis has some swift words for her.
Now normally, I would not be the kind of person who would go straight to dismissing such stringent statements as 'hormones'. But when read in conjunction with today's Aquaman #49, which reveals what went down with Aquaman and Mera before Aquaman lost his memory and ended up living on an island with a bunch of demi-gods in hiding…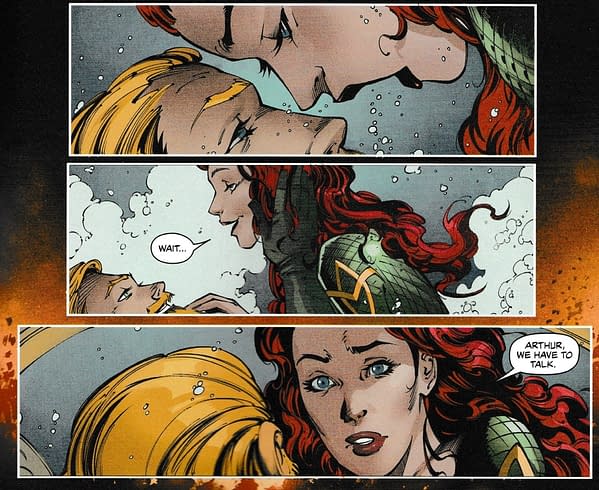 And a certain revelation set before any of the current events in Justice League…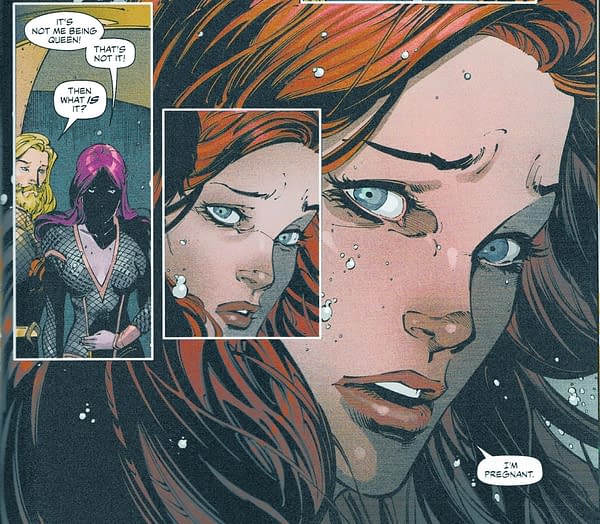 …might one be forgiven for going there? It's all down to the order in which you read today's comics.
Do the Halls Of Justice have a daycare section?
And it may give August's Aquaman #50 a little push. And hey, now that Jonathan Kent has aged up, up and away, maybe someone for Damian to play with? Or possibly Shayne Shan'zz or whatever his name is? Wally West looks to be trying to get his kids back too…
AQUAMAN #49

(W) Kelly Sue DeConnick (A) Viktor Bogdanovic, Jonathan Glapion (CA) Robson Rocha, Danny Miki
The truth about how Aquaman lost his memory is finally revealed! But can Arthur handle the shocking truth? Whom will Queen Mera decide to marry? And how will Arthur escape the jaws of the terrifying Mother Shark? The tides of changes are upon us, and it all leads to next month's landmark AQUAMAN #50!
RATED T In Shops: Jun 19, 2019
SRP: $3.99

JUSTICE LEAGUE #26

(W) James TynionIV (A) Javi Fernandez (CA) Francis Manapul
After being off-planet for so long, the Justice League must try to pick up the pieces of their lives-but Lex Luthor has other plans. If he has his way, he'll show all of humanity that the Justice League will never be there in the world's time of need!
RATED T+ In Shops: Jun 19, 2019
SRP: $3.99