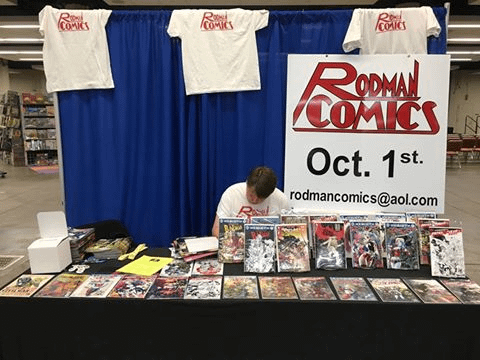 Rod Lamberti of Rodman Comics, writes regularly for Bleeding Cool. Seriously, we let him say whatever he wants, as today's column will underline. Find previous columns here.
I was stunned. On Friday, May 12th, I received a call saying Wizard World would like Rodman Comics to be at their Des Moines show. I explained the reason we hadn't signed on was because roughly with just a month to go there were only two guests signed on according to their website. They were Micky Dolenz from the Monkees and James Marsters from the Buffy the Vampire TV show. Even the local creators weren't listed as guests then. There were more vehicles listed at the show then guests at the time. They were the DeLoren Time Machine, the Mach 5 from Speed Racer, and Rufus the Supernatural Impala.
After some discussion I agreed to have a booth at the show. I figured it would be too late to get an actual booth ready for selling material so we agreed I would just be there to give away comics and have raffles. Free Comic Book Day all over again! The guest list was increasing. Charlie Sheen made a splash in the papers as a guest for the Des Moines show but cancelled beforehand. Which by no means was I surprised.
The Rodman Comics booth would have raffles for rare exclusive comic variants. With less than seven days to the show, I wasn't sure how we would be able to do much more. Just to be at the show I ended up hiring another person for staffing. With our remodeling at the store the following week and being closed for four days straight for the first time in the store's history, I knew being closed more during the month wasn't an option.
Rushing to get ready for the Wizard World show, making sure the store was staffed while the booth was also staffed and getting everything ready in less than seven days along with knowing I would be working the following week getting the store ready for new carpet was a lot to get ready for. I didn't hire anyone to move the stuff out of the store. It is me, some employees, and a group of friends for the move. Wizard World emailed us to post on our Facebook page a chance to win tickets for the show. I saw in a few days, thousands had seen the post. It was by far the most popular post for the year and we didn't even spend any money boosting it. I started thinking this might be really popular. Wizard World's first year in Des Moines was really popular. It had a huge and popular guest list. The second one not nearly as big of a guest list or as popular as the first one. How would this third year go? Then with just days to go, Wizard World announced Stan Lee was making it. The flood gates of excitement opened. I was happy I agreed to have a booth. Even though we weren't going to be selling anything, the exposure for the store should be more than worth it I thought. During the less popular second year Wizard World was in Des Moines, we had a crowd when we opened up Saturday morning at the store with no presence at Wizard World.
Then I was emailed that we were going to be moved and be in Artists' Alley. The area we were going to be at, filled up. When I was a kid up to before I hit twenty I thought I would become an artist. Then reality hit and I focused on making money. My wife once did buy me drawing supplies after my family told her about how much I drew in my younger days but sadly I never once used them. It was something I had enjoyed but I put all my creative energy into the store and whatever energy I had left into work. I figured what the heck. Free sketches along with free comics and raffling should work. Even if the sketches weren't that good, they would still be free.
The day before the show I saw the map for the floor plan and we weren't in Artist's Alley. We were placed behind a vendor named Total Party Kill Games. Interesting I thought. So back to giving away buttons and comics and having raffles.
Friday was brutal. Not much traffic. The person behind me didn't sell anything. Though he turned out to be quite pleasant to talk with. The show itself looked iffy.
Saturday, was busy. The noon hour was very busy. I thought alright this is cool. Though after the noon hour it did level off. Still much better than Friday. Person behind me was a lot happier. He was selling.
I had low expectations for Sunday. I figured it would be like Friday. Luckily even though it wasn't as good as Saturday it was better than Friday. I even bought some games from Total Party Kill Games to stock at my store.
Stan Lee was easily the big draw for Wizard World. People stopped by and showed us their pictures they had with Stan Lee. Lots of happy people. I did not get an autograph since $100 or more was a bit more than I was willing to pay. I heard multiple price points. According to one local TV station "A guaranteed autograph from Stan Lee will run cost $400."
Not saying he shouldn't charge what he can get. He should get what people are willing to pay. I totally understand that. I was glad he made it.
Lots of people did tell me that had they known more than a few days before the show that Stan Lee was going to be showing up they would have saved up money to get an autograph.
Most common question on Friday and Saturday? People would see actual comics at our booth and wonder why no one was selling comics. I was amazed also. A comic con with no comic vendors selling comics? One comic vendor said their truck broke down with the comics they were going to have for the show. They did have comics there at their booth Sunday for sale I saw.
Since I had comics to raffle and give away, people thought I had the answer to why there no one was selling them I guess. At the first Wizard World Des Moines, I remember being surprised how few vendors there were selling comics. I didn't think that would happen again. Or have even less vendors selling comics. We did give out comics for free at least so people were getting comics.
Most annoying question at the show? Aren't you going out of business? Friday I was asked that a few times and didn't think nothing of it. Saturday I was asked multiple times again. I had joked at the store before that people would take our announcement about closing for four days straight to remodel and start rumors that we were closing for good since two other stores recently did. Little did I know how right my joke would be. I just resigned our lease. We are remodeling because I am investing back into the store.
People brought up my writing for Bleeding Cool at the show. That surprised me. All positive feedback.
Did get to talk to local comic artist Ant Lucia. He is easily approachable and a down to earth nice guy. Bought a 3D Batgirl print from him that a customer had shown me. Ant was nice enough to do a signing at my store last year. Couldn't ask for a better pro in the business.
Was the show perfect? No. It was different than it was the first year. No idea how the show was the second year, since I didn't go. The first year was, if my memory holds, a huge rectangle. Artist Alley on one side. Vendors in the middle and towards the back and so forth. Could walk around and explore. Felt big. This time we were away from the entrance towards the back. The celebrities were by the entrance along with the live music. There was a hall in the middle of the front and back parts of the show. It was a wide hallway but it was dimly lit and slightly weird to walk through. Naturally, most people want to hang out where the celebrities and most excitement is. Gaming was stuck clear at the back. I felt bad for the people with the vehicles at the show which were also in the back. I did not see many people paying to get their picture in them. Often times it would be crowded in the front half but not in the back half of the show. The Artist Alley was also in the back part of the show.
A cos player dressed up as Gwenpool  came over and knew my employee at our booth. Her friend was dressed up as Spider-Man. People started gathering around. She texted some of her follow cos players to come over. People were taking pictures of them and a small crowd was gathering in front of our booth. I told her and her Spider-Man friend they could have all the comics they wanted if they would hang at our booth for a while. It really helped us out.
A few months ago I had started asking customers if they would be interested in a mini con in Ankeny, Iowa since that is where we are located. Being at Wizard World got me thinking about it again. Talking with various cos players at the show they seemed interested. The two biggest hang ups are I have never been in charge of a con before. The second is, I believeit would need one comic pro that has never been in central Iowa before to get people excited. Someone people haven't seen at all. And that is the million dollar question. Who could I get that hasn't been to central Iowa before?
It has only been a few hours since Wizard World ended. I am very tired. Even got a text after posting the pictures from the show on our Facebook page saying dang you must be tired judging by the bags under your eyes.  I had a lot of fun for doing something work related. Will us being there have helped the store? The raffling seemed to be very popular. Come Tuesday we will start calling the winners to let them know what they won. Hopefully they will stop in and pick up the comic they won. Did have a lot of interest about us from people who were customers of the two stores that had closed. They are looking for a new comic store. Hopefully I talked them into using us.
Will Wizard World return to Des Moines? I heard from various people different answers so I am not sure. Nothing is perfect. Some of the issues should be easy fixes. Such as announcing the guest list farther in advance. Part of the reason I wanted to go to the Planet Comic Con in Kansas City was because the Des Moines guest list looked so bare with just a month till the show. I looked at Wizard Worlds in other states further down the calendar and they had bigger guest lists.
I personally hope it does return for a fourth year.
Got an email for Wizard World Philadelphia. Sounds tempting. But a little bit far for us.