Writer's Commentary: Amy Chu Talks Green Hornet #2
Dynamite has sent us a new writer's commentary from Amy Chu where she goes through issue #2 of the Green Hornet series she is doing with artist German Erramouspe. The covers are by Mike McKone and Sean Chen.
* * * * *
Hello, and sorry I'm late on this one. I started writing it over the weekend at the ever growing C2E2 in Chicago but, as you can imagine, it was bananas trying to get work done. As you probably know, Century City is modeled after Chicago so I was really feeling the vibe as I was working on the script for Issue #5 at my table. I can remember my first time tabling at that show six years ago and it's truly a behemoth of a show now. Thanks to all the fans who stopped by and told me how much you were enjoying this run, and a special shout out to those who donated so generously to the Hero Initiative charity at my table.
Before we dive into the interiors, please, if you will, take a moment to admire the two covers by veteran artists Sean Chen (XO Manowar, Iron Man, and Wolverine) and Mike McKone (who has drawn just about everything in comics). If you are picking this series up for the first time, I do hope that's what drew you in! I've collaborated on stories with both of them, so it's wonderful that Dynamite got them to do covers for this issue.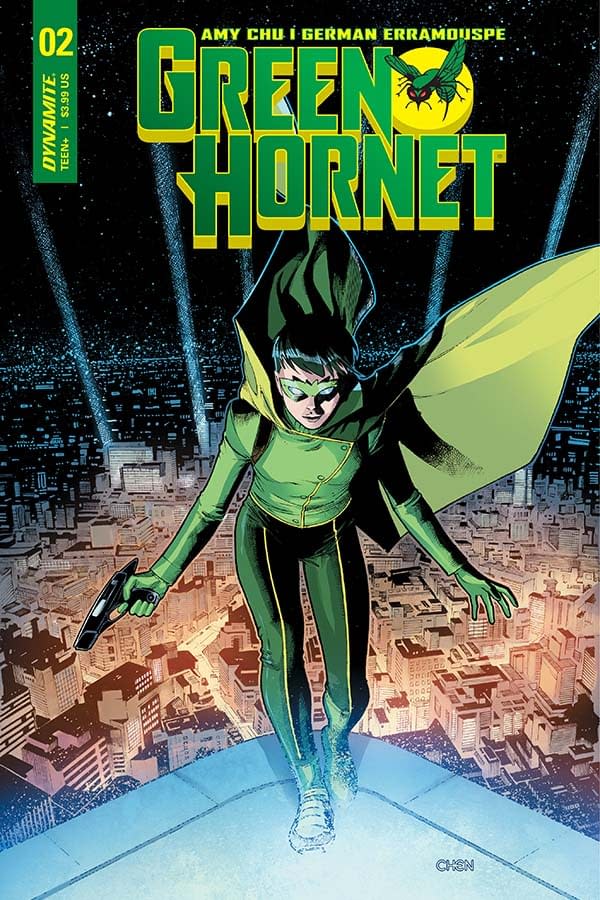 PAGE 1:
Ready, Set, ACTION! I am trying something new here – switching narrators. There is a method behind my madness. If you remember, Kato narrated the first issue. Well, now it's his daughter Mulan. If you've read my other comics, I'm not the biggest fan of inner monologue, but I think it would be difficult to get all the nuances of the character without doing it this way.
I had some of the same problems while writing Poison Ivy in setting up the scene. Like Gotham City and many fictional places, the geography of Century City is not clearly defined. I believe at some point Scott Snyder created a map for Gotham, but there is no such thing for Century City as far as I know. Maybe that will be my next project! So my Century City Chinatown resembles more New York City Chinatown than Chicago's — part of a diverse community that includes Little Italy and Little Odessa.
Besides creating new neighborhoods, the other fun part of writing this series is creating new toys — like the Black Beauty 3.0 (a bulletproof Tesla…). Okay, you can turn the page now…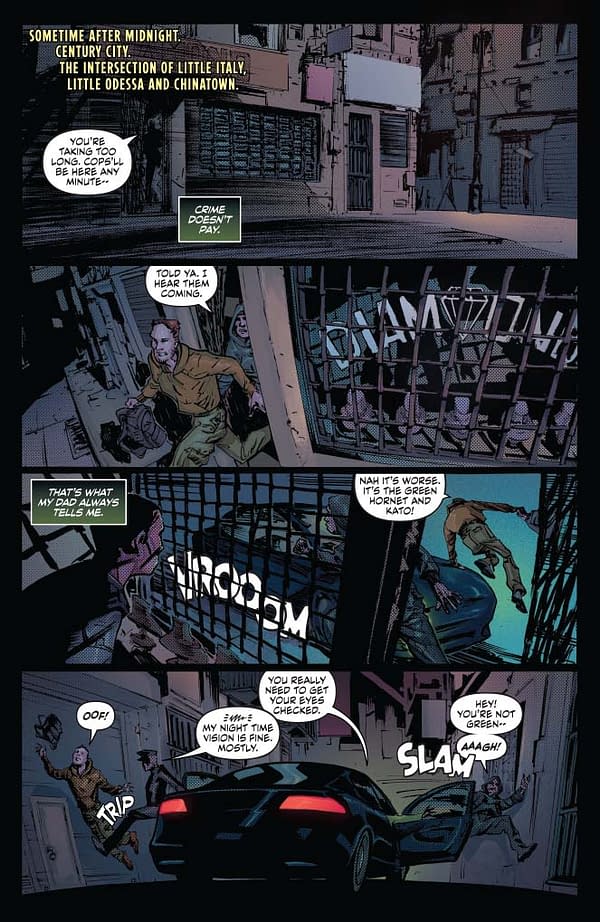 PAGE 2:
The Green Hornet is back! The Green Hornet/Kato — Father/daughter bonding is an important part of this story. Funny note here — I can usually tell who the letterer is now by their SFX. Tom Napolitano tends to have more of a cartoony approach. Simon Bowland on Red Sonja has a different feel entirely.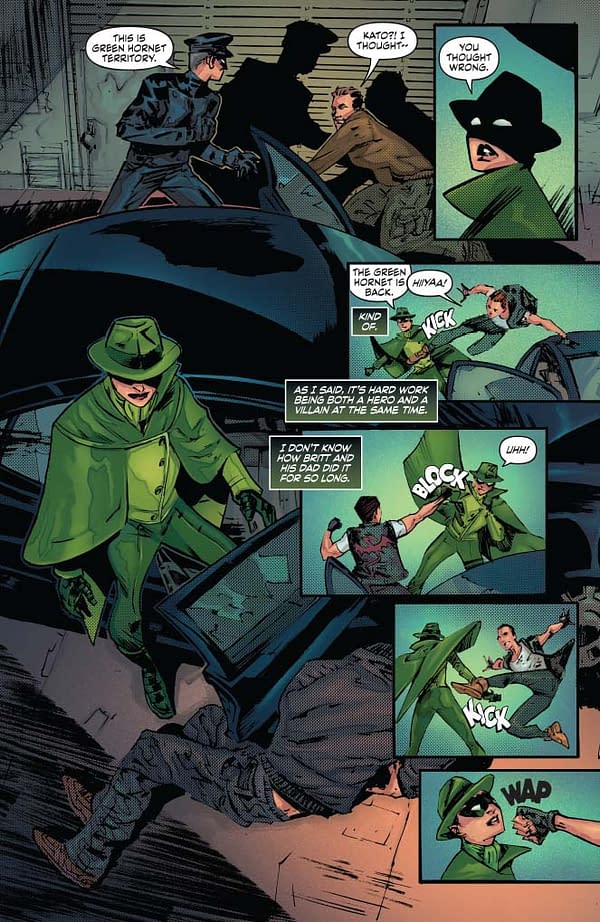 PAGE 3:
Okay, that's a little joke there. I actually took tae kwon do as a kid. My dad, worried about us being picked on as Asian kids, made me and my brothers take lessons. Fortunately I never had to use it. For whatever reason tae kwon do is more popular here in the U.S., but wushu is the Chinese form of martial arts. If you watch Jet Li, Donnie Yen or even Ray Park as Darth Maul you'll recognize wushu moves. (If I wanted to be more faithful to the legacy of Bruce Lee, there would be more wing chun in there, but it doesn't translate well to comic books.) Wushu is more flashy and theatrical.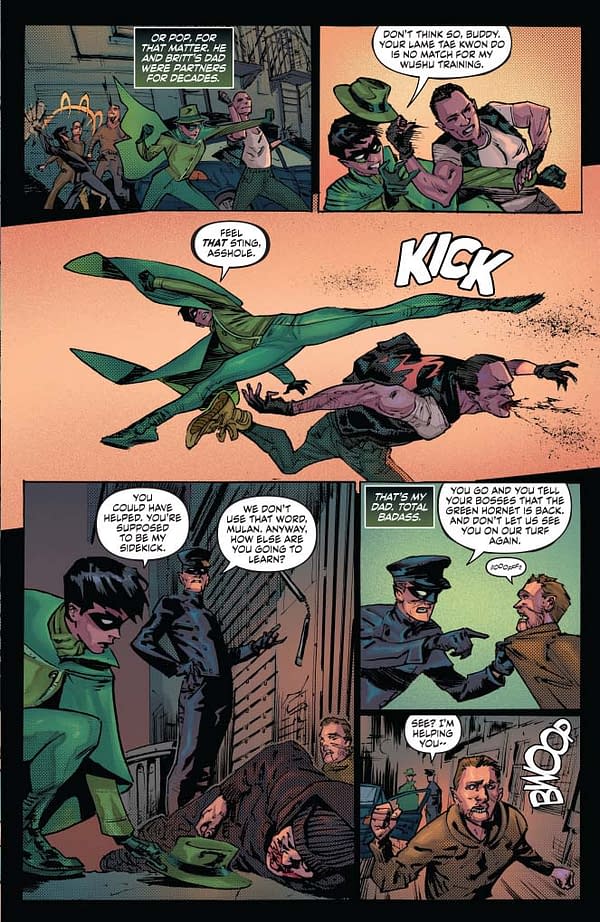 PAGE 4:
One of the things I feel I need to hammer home early, and the reason I like this character so much, is the unique dual identity aspect of the Green Hornet character, a hero that, in order to do good, must take on the role of a criminal, like an undercover cop.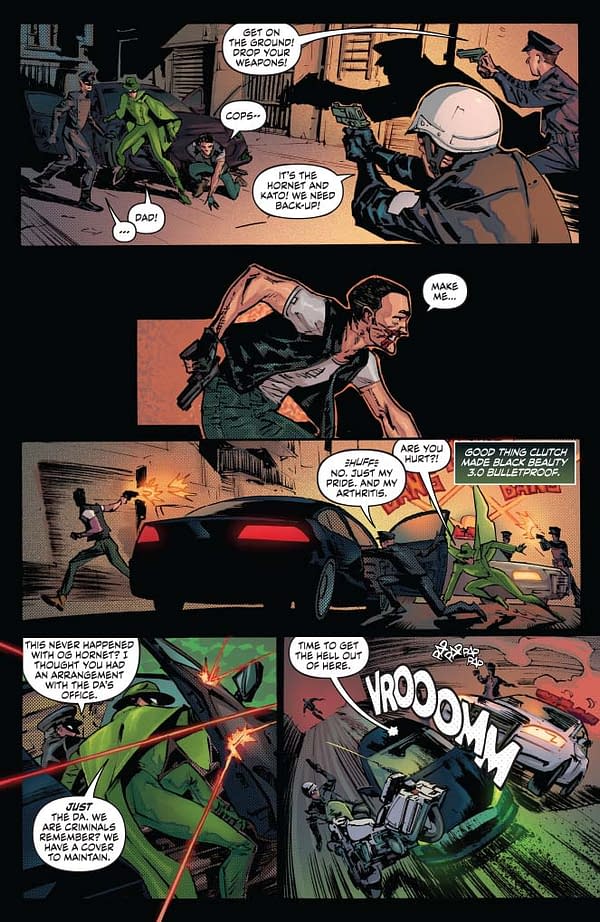 PAGE 5:
Clutch and Kato have a unique relationship — not exactly father/son — I'm still working this out…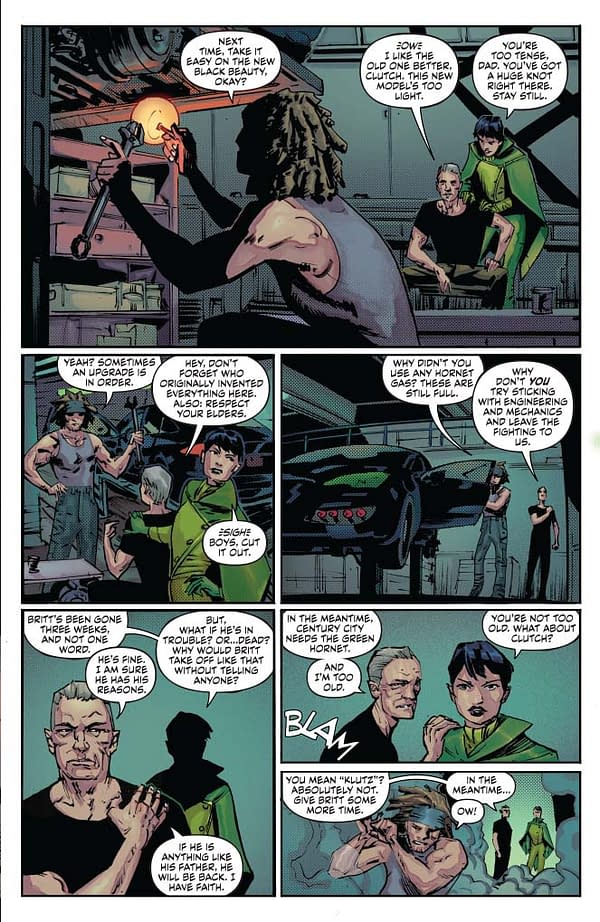 PAGE 6:
Fortunately or unfortunately, this is a very interesting period of time for journalism and newspaper/media industry so it definitely makes good fodder for fiction. In some ways the Daily Sentinel is a character in itself in the Green Hornet universe.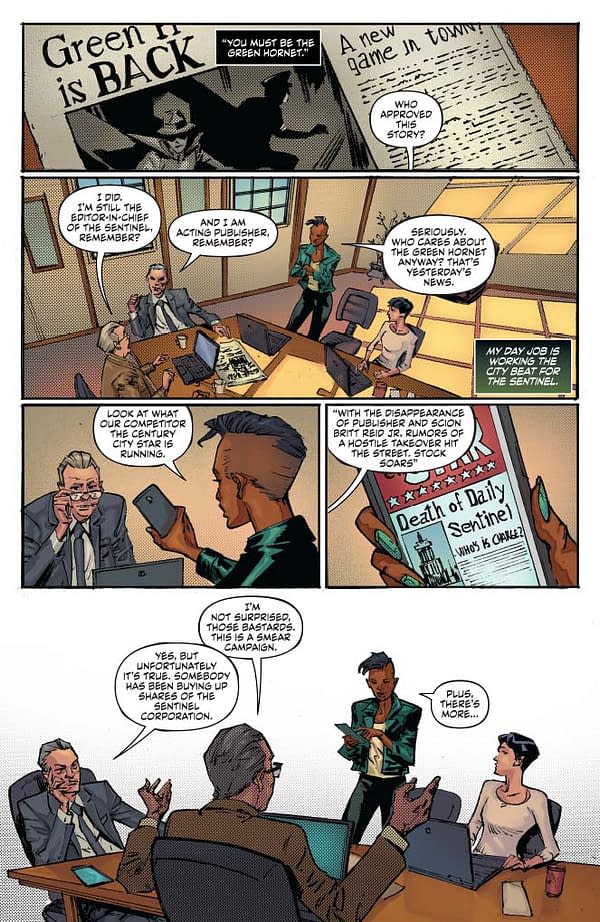 PAGE 7:
Introducing a mysterious new character, The Oko. Who is this new hero? Trust me, you'll be seeing more of this individual later…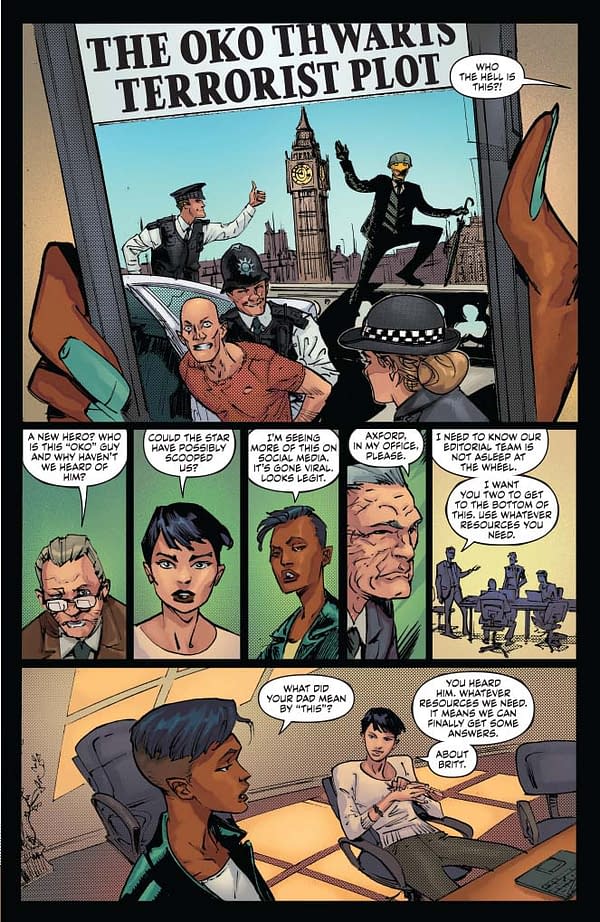 PAGE 8:
Okay, this is where we get to recap the mystery of what happened to Britt. You and I both know he didn't drink too much and fall overboard…
PAGE 9:
Introducing the Espada Society. Some of this is based on the real life traditionally all-male clubs at Harvard, Yale and Oxford like Skull and Bones, the Porcellian and the Bullingdon Club.
PAGE 10:
Finally, I get us out of Century City. So why not? Let's go to… Istanbul! Perhaps you've noticed a trend in my writing — characters traveling is fun — get's them out of their typical environment and I think it's fun for the artist to draw.
Istanbul is a fascinating city- – full of history and amazing architecture. Nice semi-splash rendering of Istanbul. I can't say enough about this beautiful city.
PAGE 11:
Oops, I just noticed a little lettering error here… Anthony, can we fix this in the trade? (smiles)
PAGE 12:
"That's no moon, it's a space station." I fully admit that line kept going through my head …
PAGE 13:
Impressive, so much so it deserves a semi-splash page, hee!
PAGE 14:
And here's the owner of the boat. And huh, turns out he's kind of a cad …
PAGE 15:
This is a job for Lying Cat! Oh, wrong series… sorry…
PAGE 16:
The hornet drone was a late addition to the script after chatting with German a bit — I'm glad we managed to get it in there. The original idea was to use a forensic UV light to show the room had been scrubbed which maybe works in a prose detective novel, but just doesn't work visually here.
PAGE 17:
Ramping up the action — writing this I seriously thought about signing up for some local martial arts classes. Never too late!
PAGE 18:
Brittany Pezzillo gets to show off her coloring chops here with lots of reds. Nice blood!
PAGE 19:
Things that go BOOOM
PAGE 20:
Big lettering for a big reveal…! Stay tuned for issue #3.
A final shout out to the OG Green Hornet fan, Mike Zapcic of the AMC TV show Comic Book Men, for his help. I got to see some of his Green Hornet collection at Shared Universe PodcaStudio near the famous Secret Stash store in Red Bank, New Jersey.