Daredevil #598 Review: The City is Ablaze… with the Art of Muse-ic
Muse's massive pro-hero graffiti begins to pop up in places across the city, and it is starting to run against Mayor Wilson Fisk's hardline stance against vigilantes. This, naturally, enrages the former Kingpin. He wants Muse brought in, but Matt Murdock knows this could only end in a bloodbath with Muse.
Matt hopes Daredevil can get to the murderous artist first, but he also has to keep tabs on Wilson Fisk's dealings with the underworld.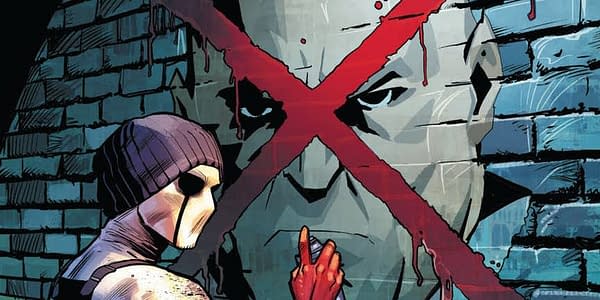 The "Mayor Fisk" arc takes a welcome turn with the reintroduction of Muse, someone sure to become a new classic villain for the Man Without Fear. The pacing to this comic is quite nearly perfect, and it actually coincides with the pacing from much of Daredevil season one.
The majority of the comic deals with Matt trying to figure out what exactly the Fisk is up to. This moves slowly, but it picks up as Daredevil begins tracking Fisk's dealings across the city. Then, things ramp up to the extreme when the ever-unnerving Muse actually shows up, leaving the comic with a shocking finale.
It's been a minute, so I actually forgot how frightening Muse is, myself. I do wish they had kept the moniker "Vincent Van Gore", though.
This portion of "Mayor Fisk" pleasingly resembles a noir tale, with subversion and detective work being the main tool at Daredevil's disposal. This isn't new, of course, but writer Charles Soule clearly has a strong grasp on how to best make this work with his Daredevil.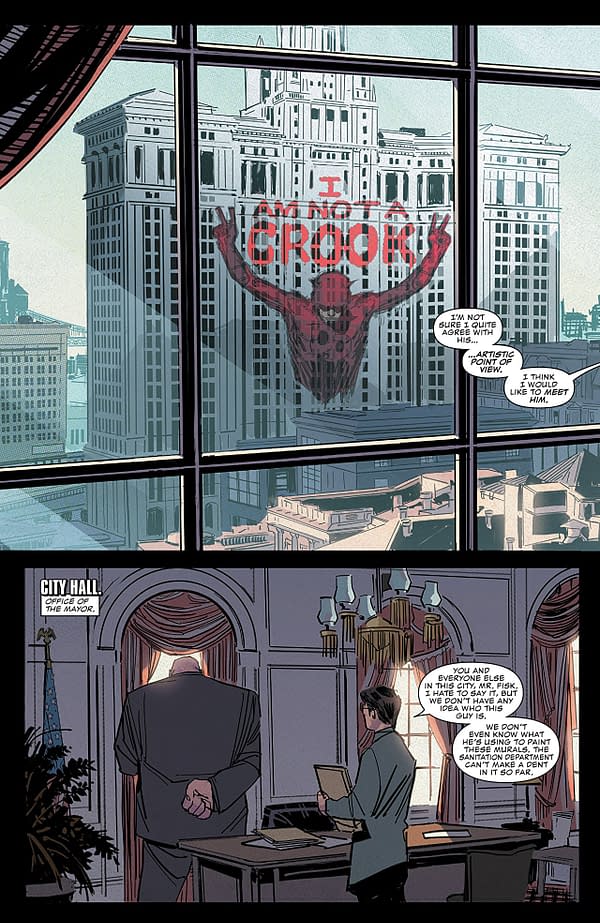 Artist Ron Garney, and his ultra-gritty style fits the noir tone perfectly. This world is misshapen, dark, and unnerving, and it's beautiful in its macabre way. Matt Milla complements it all with a color palette that starts somewhat balanced but gets darker as the comic nears its brutal conclusion.
There is a moment towards the middle of the comic where other characters are introduced and given a strangely caricature-like appearance, and even the color seems a little off at this moment. Thankfully, it corrects itself as soon as the following page.
Daredevil #598 is a gloriously horrific installment to Hornhead's series. With its noir-by-way-of-a-horror-movie pacing, an enthralling plot, and wonderful artwork by Garney and Milla, this comic becomes an easy recommendation for those with the stomach for it. Give it a read.