Daredevil #600 Review: A Climactic Twist to 'Mayor Fisk'
Daredevil and his allies assemble to spy on Mayor Fisk's criminal allies in the hopes of gaining enough information to depose the Kingpin. Things don't go quite as planned, and Daredevil leaves to confront Wilson Fisk once again.
Elsewhere, Blindspot's battle with Muse is complicated by Sam's connection with the Hand returning to haunt him.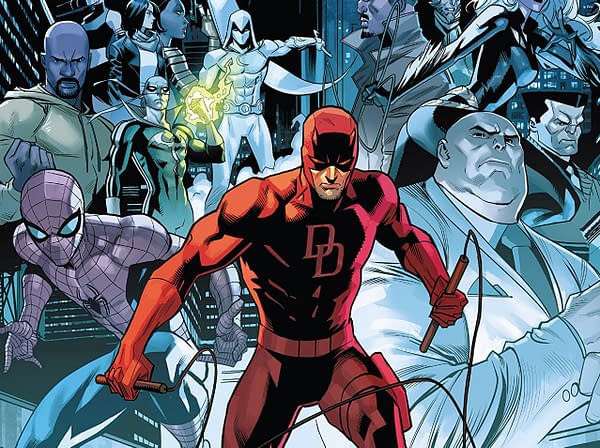 Similar in some ways to DC's Dark Nights: Metal #6 this week, Daredevil #600 is something of a celebration of Marvel's street-level heroes and their antagonists. Luke Cage, Spider-Man, Moon Knight, Jessica Jones — almost all of Matt's associates pop up in this issue. Plus, they stand opposite the Owl, Diamondback, Black Cat, Hammerhead, and, of course, Kingpin himself.
The story is surprisingly focused given the size of this 600th issue. It doesn't introduce any sudden plot threads to detract from the "Mayor Fisk" story or Blindspot's battle with Muse.
There is a last-act twist that hijacks the story significantly, but it's a shocking turn for the story. Unfortunately, it prevents a true feeling of closure in this comic, which is the same problem I had with Peter Parker: Spectacular Spider-Man #300. There's no true ending to this book, and it arguably closes the its prior story less than Spectacular Spider-Man #300.
However, I was never lost, disinterested, or bored. The comic has some dramatic turns which make this story fitting for a landmark issue. The confrontation between DD and Kingpin is especially quite awesome.
There's a short follow-up story from Christos Gage, Mike Perkins, and Andy Troy. It's about Foggy Nelson, and it's a nice little celebration of one of comic's best supporting characters. As always, Perkins and Troy make it look quite awesome.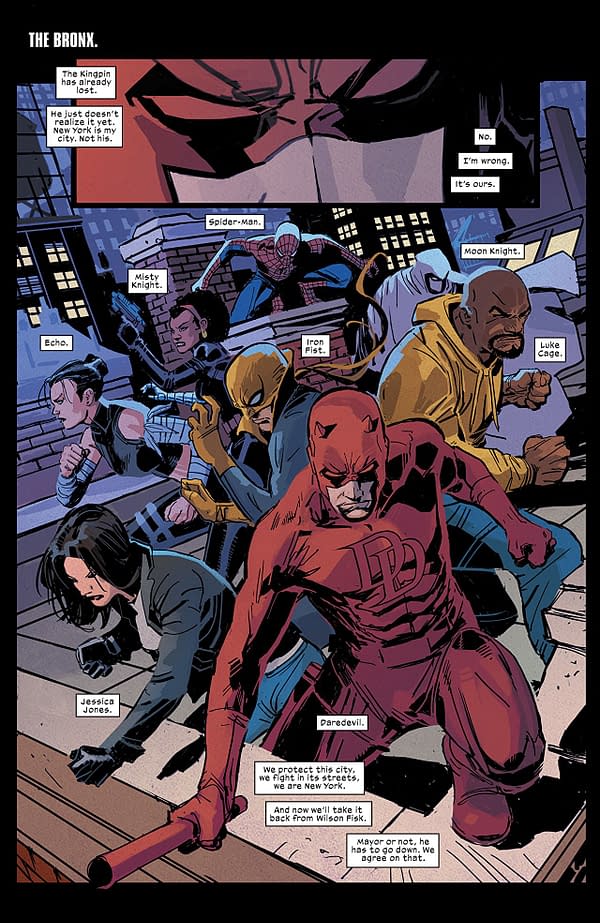 Ron Garney and Matt Milla make the A-story look as gorgeously noir-esque as ever. The gritty roughness of the world and its characters perfectly fit Daredevil. Some pages look oddly faded, both in terms of the line art and the color art, but those cease early in the book. Milla's color work is a little brighter than usual in this one, but it's a nice change that accentuates the costumes.
Daredevil #600 is another excellent issue in Charles Soule's run of the series. The lack of a complete ending does detract from the book, but the overall story is often fun, at times intense, and always compelling. The B-story is a nice little love letter to Matt's best friend, and the overall comic earns itself a strong recommendation, even if the $5.99 price tag is frustrating. Give it a read.