Beneficiaries of Disney's clear policy of sending licensed IP for younger readers out to comic book publishers that they don't own, Dark Horse today announced a new comic book starring Mickey Mouse himself. Disney Treasure Island is a graphic novel adaptation of the book by Robert Louis Stevenson starring Mickey, Goofy, and Pegleg Pete, by writer Teresa Radice and artist Stefano Turconi. A press release has the details:
For as long as he can remember, Jim Mousekins has dreamed of a life of adventure. In Disney Treasure Island, starring Mickey Mouse, Jim's dream is suddenly realized when a mysterious man known only as "The Captain" takes up residence at Jim's family's inn, has the boy on the lookout for "the cat with one hind paw," and tells frightening stories of wild places, disappearances, and the wicked sea-faring pirate, Blot! After finding a treasure map in the captain's wooden chest, Jim, friends, and a hired crew set out on an ocean voyage looking for the island that hides the fortune. But trouble strikes as they reach land: a gang of scheming pirates, hidden among the crew, forces Jim and his friends to flee for their lives! The race is on, as they rush to find the location of the treasure, make it back to the ship, and out to sea—before the pirates capture them and force them all to walk the plank!
Disney Treasure Island, starring Mickey Mouse will be in stores on Halloween, in time for Mickey's 90th anniversary, as the press release notes, and in celebration of Disney's successful efforts to retain a tight grip on him by ending the public domain through lobbying. The book is 104 pages for $10.99.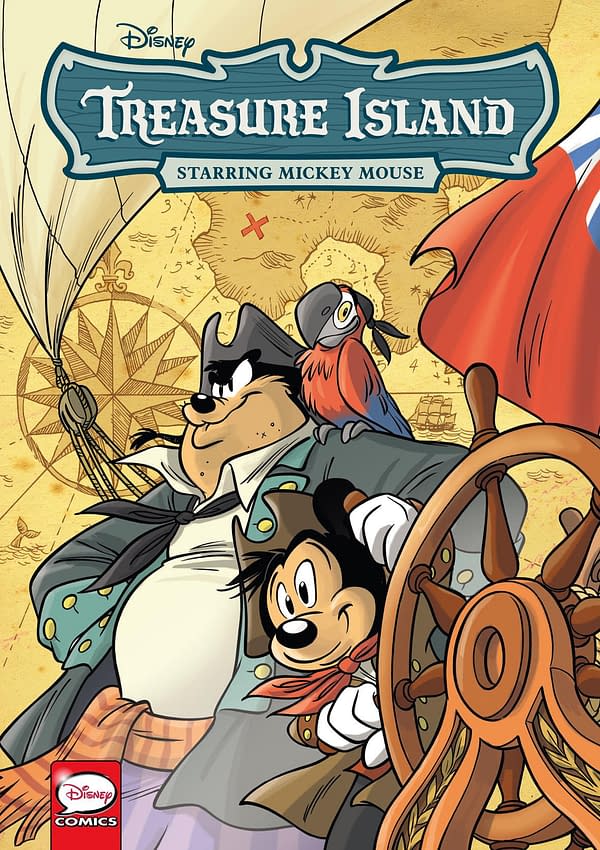 Enjoyed this article? Share it!