DC Comics Cut Pay For Writers On Event Crossover Comics?
DC Comics published plenty of event crossover comic books. But it seems that some new payment policies for those working on them have not gone over well.
---
Bleeding Cool gets the DC Comics gossip coming out of the Pasadena Comic Con from a very reliable source, that involves event crossover comics. Something that have become more and more popular of late. Where a story is told over multiple titles and spinoff comics, all tying into one central narrative. In recent years we have seen a greater creative lead at DC in these, rather than editorial, such as Scott Snyder and Greg Capullo running the Death Metal event, James Tynion IV running The Joker War, Josh Williamson running the Infinite Frontier and Dark Crisis events, and Mark Waid and Gene Luen Yang running the current Lazarus Planet event. It's a way to give crossovers a sense of cohesiveness from the central creators rather than relying on an editor who might not match the central vision. It's been working for TV, now comics are doing the same.
Except maybe not for some of the creators. We've heard there are complaints from writers who have discovered that, after writing such a spinoff book for a DC Comics event, they are then told that their agreed amount to write the book will be cut, halved in some cases, as the fee has to be shared with the instigator and showrunner of the event. To make up for the extra work they are doing show running the event in question. Rather than, you know, DC paying the showrunners more money directly.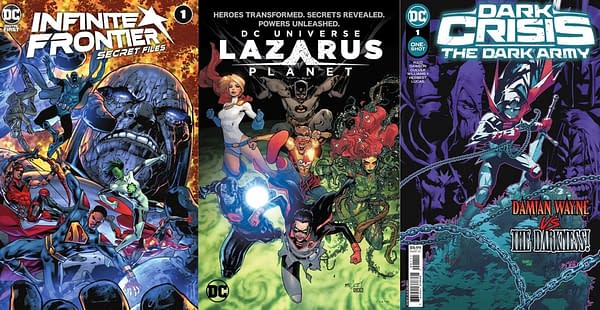 Now, this kind of thing is not entirely new, and payment ratios on a project are often amended between creators. But firstly, these are generally decided ahead of time so creators can decide whether they are happy with this relationship. Or afterwards, if someone had to do more work to make up for someone else. I am also aware of projects in the comics industry where a writer was expected to do all the work but to have the credit and payment shared with a higher profile writer, who would do none of the work but whose public presence would lend the project more credos. The first writer decided it wasn't worth it and pulled out. But it would have been a very different matter if that share had been decided after the work had been done.
What is also galling about this DC Comics situation is that I have heard from some that they were happy with the deal, as they considered it a shared creative endeavour, but certain individuals writing such comics had no interaction with the showrunner at all, they just wrote the comic to the best of their ability, saw it published as written, only to be paid half after the fact. It is also possible that the showrunner has no idea that DC Comics has been robbing Peter to pay their Paul, and would be just as incensed…
UPDATE: I was talking about event comics in general. However, Mark Waid has asked that I clarify that neither the not Gene Luen Yang are taking any sort of advantage of anyone, and I am happy to state that, to my knowledge, that is indeed true.