DC Relaunch: Duane Swierczynski And Batman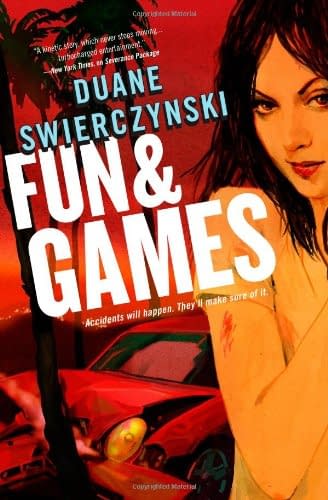 Bleeding Cool understands that novelist Duane Swierczynski will be writing a Batman ongoing comic for DC, with issue 1 starting in September. Whether that's with Greg Capullo or not, I don't know.
But it's the perfect opportunity to mention that to promote Duane's novel Fun And Games, he's going to send a postcard from his summer road trip to anyone who pre-orders the book (and tells him via his website) and also give away the following;
*A set of signed copies of Duane's five previous novels (Secret Dead Men, The Wheelman, The Blonde, Severance Package, Expiration Date), personalized to your liking;

*A pulp fiction grab bag, straight from own library of vintage paperbacks (x2);

* A copy of Rockstar's smash hit video game, L.A. Noire (X-Box version);

* The GRAND PRIZE: the right to name a minor character in the third Charlie Hardie novel, Point & Shoot, which will be published next March.
Apply here. And while you're doing it, why not ask him about Batman?
Duane's PR people wouldn't comment on this story, saying that Duane had signed a DC Comics NDA. Thanks for that…