The Evolution of the Territories Explained in Exclusive Pages from 'The Comic Book Story of Pro Wrestling'
Earlier this year, on January 30th to be precise, the 114th anniversary of when George Hackenschmidt defeated Ahmed Madrali to become recognized as the first World Heavyweight Wrestling Champion, we learned about a new pro wrestling history comic set to come out later this year, to be precise again, on October 9th, the 18th anniversary of the time Rikishi told the WWE Universe that he "did it for The Rock."
Continuing that fine tradition of marking pro wrestling's most important moments with news on the book, we figured that today, on the 19th anniversary of the night The Rock threw Stone Cold Steve Austin and his Smoking Skull title belt off a bridge on Monday Night Raw, would be the perfect time to unveil these EXCLUSSSIVE pages from The Comic Book Story of Pro Wrestling: A Hardcore, High-Flying, No-Holds-Barred History of the One True Sport, the upcoming graphic novel by Aubrey Sitterson and Chris Moreno (available for preorder now).
Meanwhile, Sitterson and Moreno have relinquished these three gorgeous pages from the book that harken back to an earlier time: the heyday of the pro wrestling territorial system and the founding of the NWA. In addition, the pair answered a few of our questions about the book and pro wrestling history in general.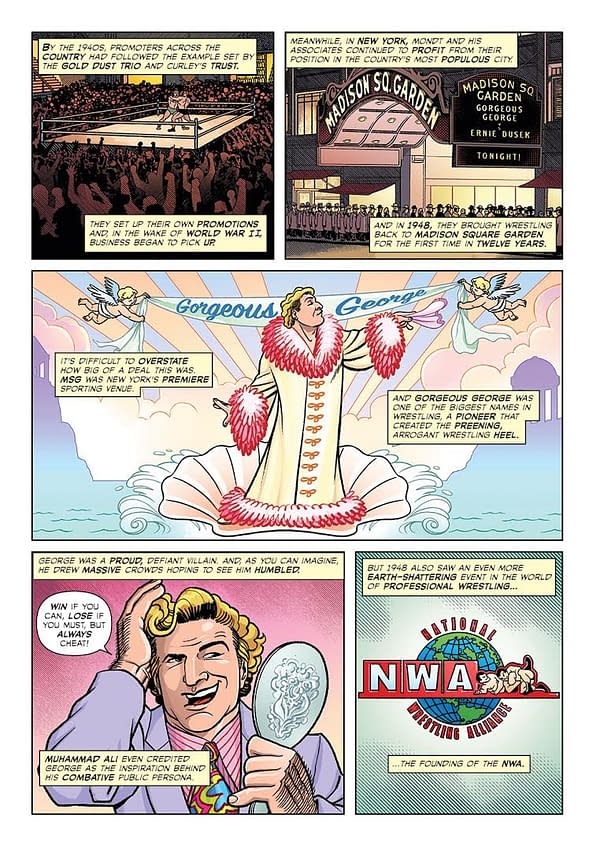 We wanted Sitterson's opinion about how the modern era of pro wrestling compares to those days. He told us:
"It's not uncommon for folks to talk about the present-day wrestling industry in terms of being a rebirth of the old territory days, and in some ways, they're right: There are far more viable wrestling promotions now than there were even five years ago. High tides raise all ships, you know? So when WWE does well, it allows other local promotions to crop up, aided by newer platforms like social media, YouTube and Twitch. There's even a growing awareness of wrestling promotions in other countries, especially Japan and the UK.

Where I think the comparison breaks down, however, is the scale of what most of these promotions are doing. In the height of the territory days, every major NWA territory (and the more tenacious outlaw territories) were doing shows at least weekly. Even in less populated areas like West Texas, promoters would put on 'loops' of shows, bouncing around from town-to-town. This provided everyone with a lot more opportunities to work and perfect their craft, which led to there being a ton of skilled journeyman type wrestlers, guys who had been around for decades, never achieving more than regional fame, but knowing their craft inside and out, oftentimes making a good living for themselves in the process. These days, things are a lot more feast-or-famine, where if you want to make a good, sustainable living for yourself, you kinda need to be at WWE or NJPW, maybe ROH or Impact depending on the individual wrestler's contract. There are, of course, outliers, but they're exceptions to the rule.

Ultimately, I think it comes down to the world getting smaller. Television made it easier for promoters to stretch into each other's territories, cable and transportation improvements made a national promotion feasible, and the internet has put every promotion in competition with every other one, making a system with multiple, distinct territories pretty much impossible in 2018."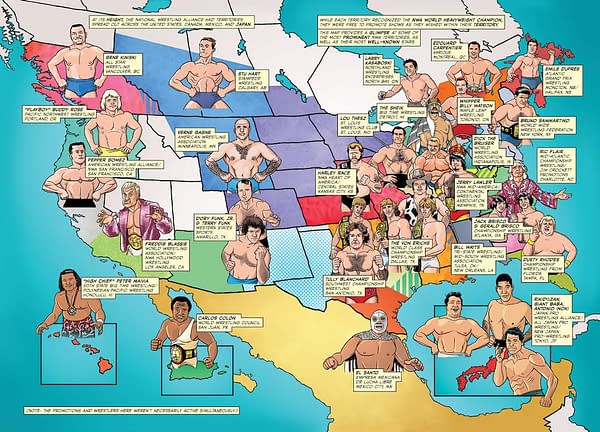 Looking at a page like the one above, it's remarkable how much detail about the wrestlers is crammed into a single page, most of it conveyed in the colorful costumes and poses of the wrestlers as drawn by Chris Moreno. Sitterson said:
"I'm a dyed in the wool wrestling fan, so I did my best to hit Chris with a ton of reference, stuff specifically keyed to the time period we're depicting. Of course, there's not photos of everything, especially when you go further back, so there was a lot of 'This guy, but at this age, doing this move, but against that guy, and using the other arm.'"
Moreno agreed:
"Reference was a big challenge early in the book, since there is very little photographic material on early wrestlers, or if there was, it was very grainy or low resolution. In those instances, where I've only got, say, one black-and-white, blobby photo of a person, I relied more on cartooning a consistent version of the character, rather than trying to nail a 100-percent accurate likeness. It got easier and easier as we moved through the book, especially once we hit the advent of television to today, where I can find every angle of a wrestler's body. Then, the challenge became the time it takes to draw all their tattoos and all the intricate details of their ring gear. At that point, I'm reminiscing fondly of the wrestlers of previous pages where they all just wore simple, single-color trunks."
But it wasn't just robes, tights, and piledrivers Moreno had to effectively depict in such a wide-spanning epic. Moreno told us:
"There was also time period research — architecture, clothing, etc. One page I'm drawing a turn-of-the-century American logging camp, the next I'm drawing Arena México with 1950s crowds. For the colors, I discussed with our colorists, Len O'Grady, Brad Simpson, and Allen Passalaqua, about evoking certain time periods by matching color films and photo looks of the different time periods, or how certain fabric colors might not have been available at certain times for guidance on coloring character trunks when only black-and-white reference is all there is to go by. That opens us up to do all kinds of cool, stylistic things. For example, we do a fun Wizard of Oz type color pop on one of the early pages when we introduce the sideshow origin of the pro wrestler to the rural 1800s landscape."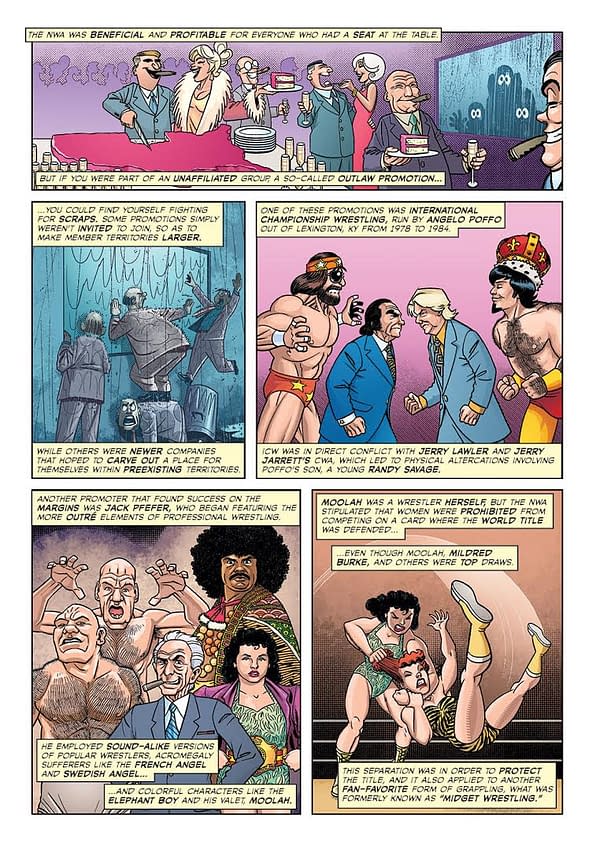 Just as in comic books, the world of pro wrestling is full of shocks and surprises. What else can readers expect from The Comic Book Story of Pro Wrestling when it hits stores in October? Sitterson was happy to answer:
"I came into writing this thing with a few different thesis statements – an attempt to make the book more than just a list of anecdotes (a pet peeve of mine with a lot of nonfiction work). And one of these was actually blowing up this notion that WWE (then WWF) was this horrible, unprecedented monster, which, under the guidance of Vince McMahon, broke old truces and agreements to gobble up the territories. It's a pervasive idea, one that even WWE has played into with the villainous McMahon family character, but while the things the company did were indeed ruthless and cutthroat…they weren't anything that other promoters hadn't been doing for years prior."

Verne Gagne led the AWA out of the NWA and made his own World Title before Vince's dad did the same with WWWF, Fred Kohler weaponized television on the Dupont Network in Chicago well before WWF started buying up time slots on TBS, and promoters have been poaching talent from one another going back to the Gold Dust Trio in the 1920s. What McMahon and the WWF did wasn't any different or worse than what his rivals had been doing for decades. He just did it better and more effectively than anyone else."
Moreno added:
"For me, I didn't realize how rich the history of pro wrestling was as a whole. I think the public tendency when looking at any industry is to only think of the biggest company in it as the industry itself. I've got relatives that call all animated movies Pixar movies, for instance. But, where the industry of pro wrestling is today is the cumulative effect of centuries of evolution that spans across the world. And that it's still connected to that past, with wrestlers being trained from these long lineages that can connect all the way back to wrestlers from those original days, is pretty amazing. That sense of legacy, as opposed to replacement was unexpected to me."
For readers new to the sport of professional wrestling, or for those who consider themselves wrestling historians in their own right, it sounds like The Comic Book Story of Pro Wrestling has something for everyone. The comic will be available on October 9th.

From the host of the critically acclaimed pro wrestling podcast Straight Shoot, this graphic novel-style history of wrestling features the key grapplers, matches, and promotions that shaped this beloved sport and form of entertainment.

As a pop culture phenomenon, professional wrestling–with its heroic babyfaces and villainous heels performing suplexes and powerbombs in pursuit of championship gold–has conquered audiences in the United States and around the world. Now, writer/podcaster Aubrey Sitterson and illustrator Chris Moreno form a graphic novel tag team to present wrestling's complete illustrated history. Featuring legendary wrestlers like Bruno Sammartino, Hulk Hogan, and The Rock, and modern-day favorites like John Cena, Kenny Omega, and Sasha Banks, the book covers wrestling's progress from the carnival days of the Gold Dust Trio to the dominance of the WWF/WWE to today's diverse independent wrestling scene, and it spotlights wrestling's reach into Mexico/Puerto Rico (lucha libre), the U.K. (all-in), and Japan (puroresu).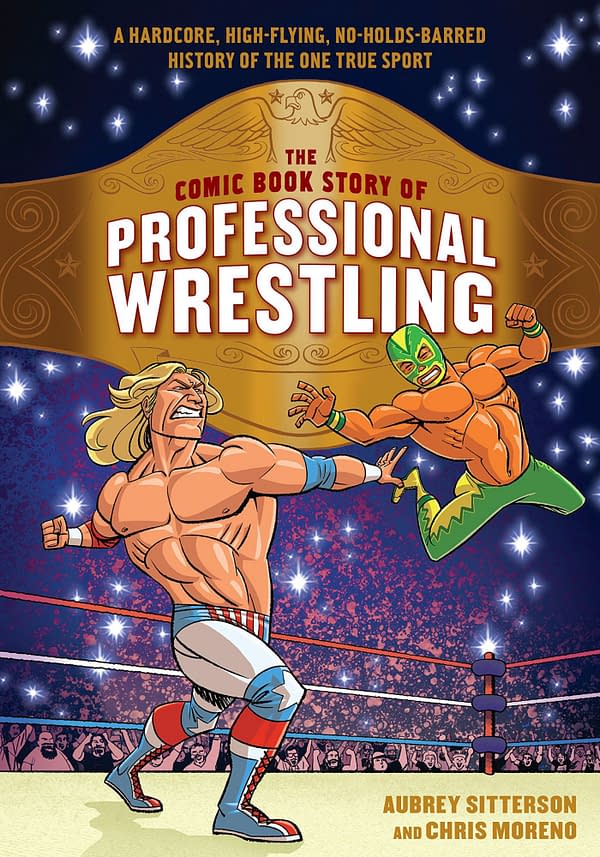 ---
---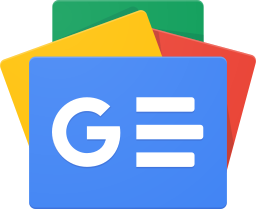 Stay up-to-date and support the site by following Bleeding Cool on Google News today!