Fourteen Thoughts About Villain's Month – Week Three – Eclipso, Dial E, H'el, Lex Luthor, Arcane, Clayface, Ra's Al Ghul, Cheetah, Penguin, Scarecrow, Deathstroke, Shadow Thief, The Rogues And Black Hand
Fourteen books. A record Villain's Month Week as a small amount of slippage occurred last week. Let's have a flick through all the 3Dness…
Charles Soule writes Lex Luthor, my favourite of today's Villains Month books, filling in the blanks between Luthor-in-jail and Luther-in-helicopter in Forever Evil. It also may give us the ultimate view of Superman from Lex Luthor and how he wants the rest of the world to see him… Charles Soule is a lawyer, everyone. Arcane, also by Soule, doesn't tackle lawyers, but does see Arcane ripping apart a bunny. Which is probably what lawyers do after work. And again, Arcane's version of hell, and his seizing of an opportunity to escape it, in part, is as beautifully structured as Lex Luthor. Okay, now this is my favourite Villlain's Month title of the week.
Forever Evil Relevance: 0
It's hard not to want to read the life of Dan DiDio into the Eclipso comic he wrote. Especially how he might see his relationship with Comic Book Resources… Forever Evil Relevance: 0 But enough of such nonsense, we also get to see Jeff Lemire return to The Underwater Welder, briefly, in Dial E, as we meet The Bends if only for a page.

Forever Evil Relevance: 0 H'El gives us a continuation of that particular story that's been running in assorted Superbooks, and a little bit of early Kryptonia, including one scene that shows Jor-El has been a conspiracy theorist since he was a kid. Just that he happened to be right…
Forever Evil Relevance: 0 Clayface looks like he'll be a founding member with Black Manta of the Villains-Who-Hate-The-Secret-Society group. Ra's Al Ghul And The League Of Assassins reveal how the only way you'll get a Batman story this month is in flashback. But at least it's topless Batman. In fact, it shouldn't be too hard for someone to post this as a topless Batman Vs Wolverine pic, surely?
Forever Evil Relevance: 0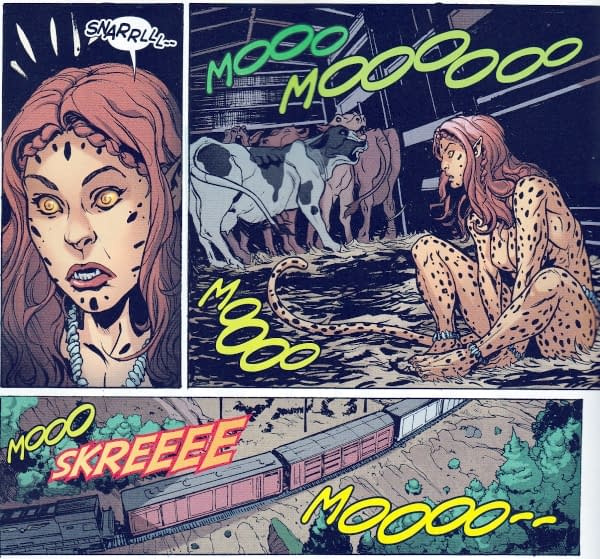 Never lock a Cheetah in with cattle. Basic animal management 101. Mind you, Cheetah is lucky that one of the cows wasn't Bat Cow. May have been a whole different story. Cold Penguin! Freezing cold Penguin! Child killer penguin! Yes, this issue does its best to reestablish the flappy one as the real deal, ahead of his mayorship of Gotham…
Forever Evil Relevance: And while Gotham is being carved up among the big name costumed criminals in Scarecrow, we also see that during such darkened times, some criminals really don't have much ambition at all. Isn't embarrassing when you turn up to a hit to find someone already there with exactly the same suffix to your name?
Forever Evil Relevance: 0 Shadow Thief, written by Tom DeFalco. Who used to write Spider-Man's first tales in his black costume, who pointed out that it was sentient too and the bond was getting closer, far too close between superhero and costume.
Well, looks like he's got the chance to do it all over again. Venom was originally meant to be a woman as well…
Forever Evil Relevance: 0 No, Captain Cold of The Rogues. Because the police know all about jokes.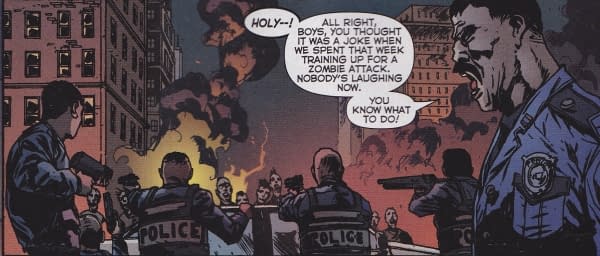 Told you. Black Hand there, causing the police to realise that doing this kind of thing might have been more than just a complete waste of time. Mind you, in the DC Universe, I'm sure minimum police training is a little more involved, what with alien immigration through dimensional portal issues, repeated stolen Pandora's boxes and actual vampires. Zombies aren't much of a stretch.
Forever Evil Relevance: 0
Comics courtesy of Orbital Comics, London. Currently running Sophie's World, an exhibition highlighting the photographs of Sophie Aldred by Steve Cook.