Grass Kings is an American modern murder-mystery, borrowing elements of fantasy and the Old West to tell the story about three brothers and the dissident slice of land they call home.  As an Eisner nominee for 2018's Best New Series, this release from Boom Studios is a tempting trade to add to your collection, especially if you're already fans of Jason Aaron's Scalped or Brian Wood's Briggs Land.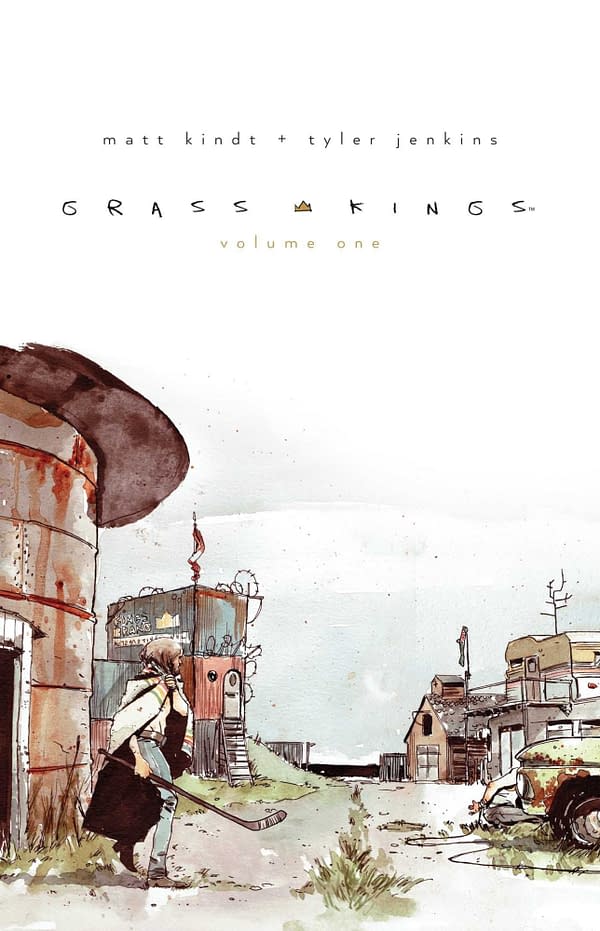 Matt Kindt (Pistolwhip) weaves a dystopian tale surrounding the land called The Grass Kingdom.  Its violent history comes up time and time again with bitter batters spilling generations of blood into the land these societal outsiders call home.  Robert, the eldest of the three brothers, holds the symbolic throne of king, however his past has plunged him into a nightmare of regret and alcoholism as he torments over the disappearance of his daughter.  His rage is further ignited at the neighboring town's sheriff, who dismissed her case as an accidental drowning.  This feud finally reaches its boiling point when the problematic sheriff's wife escapes to the Grass Kingdom and is taken in and hidden away by Robert himself.
The "us vs. them" mentality reaches more than two neighboring peoples refusing to peacefully coexist together and goes further into societal breakdown and conflict.  Missing these undertones would be nearly impossible however, as Kindt beats the point nearly to death with his dialogue.  Unfortunately, this nominee struggled to establish real disassociation between the off-the-grid kingdom and surrounding towns without the use of redundant discourse.  This is evident in other areas of the book, with two pages being designated to a pair of boys generically reviewing movies they like.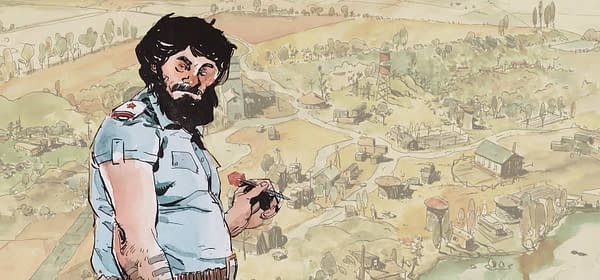 Unfortunately for readers who picked this up as single issues, I assume the first few issues would not have been enough to garner further interest into finishing part one of Kindt's work.  This bland writing style paired with Tyler Jenkins' (Peter Panzerfaust) watercolor art medium almost felt too soft for this modernize western story, and ultimately the comic ached for some real grit.
Grass Kings is not without some action however, because when Sheriff Humbert learns his wife has run into the home of his enemy, he is prepares a gun-toting army to bring her back dead or alive.  These scenes carry the story as Kindt successfully creates tension where Robert has flashbacks of his daughter and simultaneous visions of dragons burning down the town's landscape.  Overall, there is enough mystery surrounding Robert's daughter's disappearance to warrant reading into the second installment of Grass Kings…unfortunately, if you are not a fan of drawn out and meaningless dialogue then this is not a story that will hold interest long enough to get to the part where Kindt really shines.  Jenkins creates a lovely style that emulates the typical Vertigo vibe which is a nice change in the typical Boom lineup.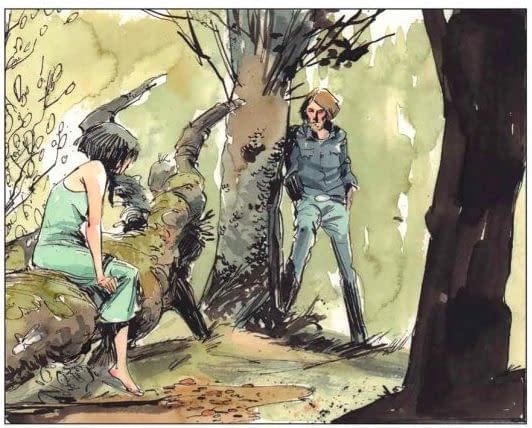 Overall, Grass Kings felt like that artsy movie where the critics rave about its brilliance but the general audience leaves feeling a little underwhelmed and bored.  Although there is enough here to pick out a well-written story, the fluff sections just slowed the interest and made the first chapters rough to push through.  All in all, I won't sway or discourage anyone away from this comic if they are generally interested but altogether, I give it a solid "meh."
Enjoyed this article? Share it!