Hal Jordan and the GL Corps #39 Review: A Disappointingly Slow Issue with Endless Text
Hal Jordan is still being held on Jekuul by General Zod. Kyle Rayner made it to Sector Zero to report what happened to John Stewart. John takes this matter to the newly-reformed council of the Guardians of the Universe. Unfortunately, they are indecisive on how to respond to this crisis. Guy Gardner, true-to-form, is less patient than John and gathers a cadre of Green Lanterns to save Hal.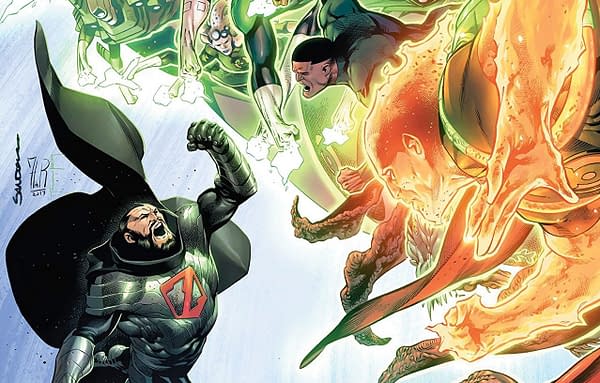 Given how deep we are into this story already, Hal Jordan and the GL Corps #39 is an oddly slow-moving and ponderous installment for the series. We are given another monologue about the pain of losing Krypton from General Zod. Kyle's report to John is oddly long-winded. The deliberation of the Guardians is fully conveyed with lengthy dialogue digressions.
I do get the reasoning behind this. It further humanizes General Zod to have him plead his case to Hal Jordan, even when he has no logical reason to do so. Showing the Guardians' deliberation makes the reader as impatient for action as John and Guy.
The problem is, just when the climactic battle seems to be kicking off, the issue ends. This comic has all this buildup with no payoff. Hal Jordan and the GL Corps #39 is far from the first comic to do this. However, it's out of character for this series. Even when an issue is set aside for plot or character development, it's usually far more interesting than this. Also, this book usually knows when it's time to good and well deliver the action.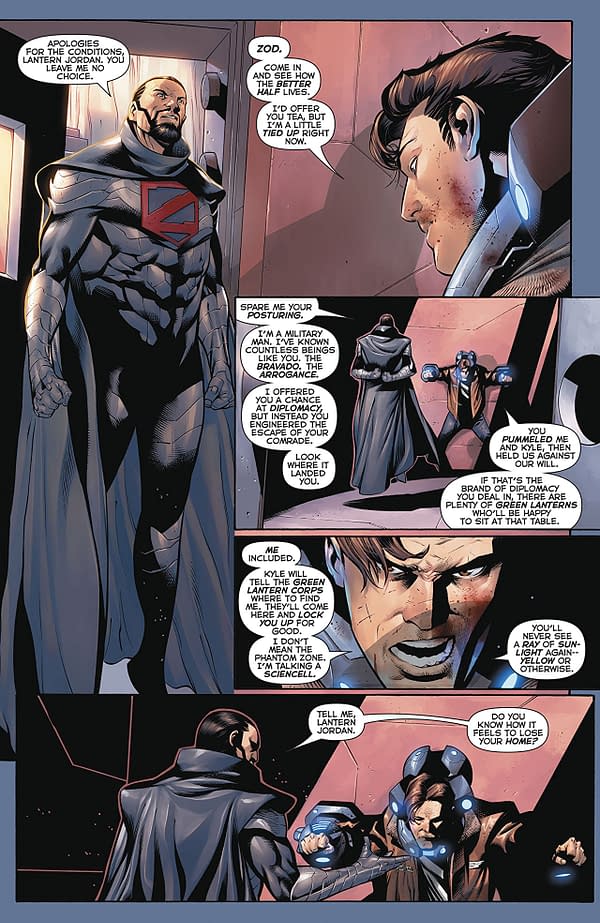 Rafa Sandoval returns to this issue, delivering his always-captivating sleek and kinetic hyper realistic art styling. He continues to be one of the primary driving forces that make this book gorgeous. Jordi Tarragona's inkwork is tight and neat. Tomeu Morey's color is brilliant and eye-catching. This is another beautiful issue of the Hal Jordan series.
This installment isn't a complete self-destruction. There is some entertaining dialogue, we get a little action from the Green Lantern Corps, and the cast is all-around solid. Sandoval, Tarragona, and Morey bring another gorgeous issue to life. However, this is not what I would call a good jumping-on point unless you're dedicated to this series and its characters. I can recommend it to a Green Lantern fan, but, if you fall outside this category, there's no reason to grab it.