Image Comics January 2018 Solicits: Walking Dead's New World Order
Image Comics is debuting a number of new projects in January 2018.
Dissonance by Singgih Nugroho and Samra Basri, The Further Adventures Of Nick Wilson by Eddie Gorodetsky, Marc Andreyko and Steve Sadowski, Ice Cream Man by W Maxwell Prince, Martin Morazzo and Chris O'Halloran, a new Postal series, Postal Mark by Matt Hawkins and Raffaele Ienco, Days Of Hate by Ales Kot, Daniel Zezelj and Jordie Bellaire and the Get Naked OGN by well, everyone.
While, for Invincible, it is time for things to come to an end – as Walking Dead hits its 175th issue and things start anew…
INVINCIBLE #144
STORY: ROBERT KIRKMAN
ART: RYAN OTTLEY, CORY WALKER, NATHAN FAIRBAIRN
COVER / VARIANT COVER: RYAN OTTLEY, NATHAN FAIRBAIRN
JANUARY 24 / 56 PAGES / FC / M / $5.99
"THE END OF ALL THINGS," Conclusion
Final issue.
Everything since issue one has been building to this. Nothing can prepare you. THE WALKING DEAD #175
STORY: ROBERT KIRKMAN
ART: CHARLIE ADLARD, STEFANO GAUDIANO, CLIFF RATHBURN
COVER: CHARLIE ADLARD, DAVE STEWART
JANUARY 03 / 32 PAGES / BW / M / $3.99
"NEW WORLD ORDER," Part One
NEW FRIENDS.
NEW ENEMIES.
NEW THREATS.
IT'S A WHOLE NEW WORLD. DISSONANCE #1
STORY: SINGGIH NUGROHO
ART: SAMI BASRI
COVER: VARSAM KURNIA
JANUARY 10 / 32 PAGES / FC / M / $3.99
In an alternate world where Earth is populated with powerful human-spirit hybrids called Fantasmen, Folke and Roisia Herviett, two siblings with opposing worldviews, are challenged to prove their worth and take up their parents' positions in a devious group who secretly run the world. Meanwhile, Seraphim, a Fantasmen warrior guard, is sent to prevent a catastrophic event from affecting the Earth and its own universe.
From designer MELITA CURPHY, writer SINGGIH NUGROHO, and featuring the art of SAMI BASRI (Power Girl, WITCHBLADE), comes a fantasy drama set in a sci-fi world unlike any other. THE FURTHER ADVENTURES OF NICK WILSON #1 (OF 5)
STORY: EDDIE GORODETSKY& MARC ANDREYKO
ART: STEVE SADOWSKI
COVER: PETE WOODS
VARIANT COVER: IAN CHURCHILL
JANUARY 24 / 32 PAGES / FC / M / $3.99
"THE FURTHER ADVENTURES OF NICK WILSON" From Eisner and Emmy-winning writers! For a few years in his early 20s, Nick Wilson had super powers and all the acclaim associated with them. When those powers vanished, so did his fame, sending him from national hero to late-night punchline. By the time we pick up his story, he is not yet 30 and barely an answer in a trivia contest. Faced with a life in a rear-view mirror full of lost powers, faded glory, former enemies, ex-girlfriends, and forgotten grudges, Nick struggles to figure out who he is today. Packing on an extra 20 pounds and peering through a medicinal marijuana haze, he is trying to build a future when all that's left is just a man who hasn't been super for a very long time. These are THE FURTHER ADVENTURES OF NICK WILSON. ICE CREAM MAN #1
STORY: W. MAXWELL PRINCE
ART / COVER: MARTIN MORAZZO, CHRIS O'HALLORAN
VARIANT COVER: FRAZER IRVING
JANUARY 17 / 40 PAGES / FC / M / $3.99
OVERSIZED FIRST ISSUE!
Chocolate, vanilla, existential horror, drug addiction, musical fantasy…there's a flavor for everyone's misery.
ICE CREAM MAN is a genre-defying comic book series featuring disparate "one-shot" tales of sorrow, wonder, and redemption. Each installment features its own cast of strange characters, dealing with their own special sundae of suffering. And on the periphery of all of them, like the twinkly music of his colorful truck, is the Ice Cream Man—a weaver of stories, a purveyor of sweet treats. Friend. Foe. God. Demon. The man who, with a snap of his fingers—lickety split!—can change the course of your life forever. POSTAL: MARK #1
STORY: MATT HAWKINS
ART / COVER: RAFFAELE IENCO
JANUARY 31 / 32 PAGES / FC / M / $3.99
After the stunning series conclusion to the regular POSTAL series, this one-shot story shows Mark's fate in the town one year later. DAYS OF HATE #1 (OF 12)
STORY: ALES KOT
ART: DANIJEL ZEZELJ
COLORS: JORDIE BELLAIRE
COVER: DANIJEL ZEZELJ, TOM MULLER
JANUARY 17 / 32 PAGES / FC / M / $3.99
The United States of America, 2022.
The loss that ripped them apart drove one into the arms of the police state and the other towards a guerrilla war against the white supremacy. Now they meet again. This is a story of a war. COWBOY NINJA VIKING DELUXE EDITION TP
STORY: A.J. LIEBERMAN
ART / COVER: RILEY ROSSMO
JANUARY 10 / 304 PAGES / FC / M / $19.99
This giant, oversized, deluxe trade paperback collects the entire run of the critically acclaimed, fan-favorite series, complete with extensive extras & bonus material.
It started with Dr. Sebastian Ghislain—rogue psychotherapist / covert op / DJ. Tasked with creating a counterintelligence unit, he turned to those long thought useless to society: patients with multiple personality disorder. These agents became known simply as Triplets. Misguided? Yeah. Impractical? Sure. But did it work? Absolutely not!
Now someone has located each Triplet and created a band of ridiculously disturbed but highly effective assassins. Our only hope? A Triplet known as Cowboy Ninja Viking. We are so screwed! CROSSWIND, VOL. 1 TP
STORY: GAIL SIMONE
ART / COVER: CAT STAGGS
JANUARY 24 / 128 PAGES / FC / M / $9.99
Goodfellas meets Freaky Friday in this mind-bending new ongoing series from fan-favorite creators GAIL SIMONE (Wonder Woman, Batgirl, Deadpool, Secret Six, Birds of Prey) and CAT STAGGS (Adventures of Supergirl, Smallville Season 11, Wonder Woman '77). A slick and ruthless Chicago hitman. A smart but downtrodden Seattle housewife. When an inexplicable event strikes these two random strangers, their bodies, souls, and lives are switched—to potentially deadly effect. Collects CROSSWIND #1-6 GET NAKED OGN
STORY: STEVEN T. SEAGLE
ART: EMEI OLIVIA BURELL, TINA BURHOLT, PATRICIA AMALIE ECKERLE, CHRISTOFFER HAMMER, ANDRADA-AURORA HANSEN, REBEKKA DAVIDSEN HESTBÆK, HOPE HJORT, ANGELICA INIGO JØRGENSEN, BOB LUNDGREEN KRISTIANSEN, SILJA LIN, SIM MAU, INGVILD MARIE METHI, THORBJØRN PETERSEN, ASKE SCHMIDT ROSE, ERLEND HJORTLAND SANDØY, MADS ELLEGÅRD SKOVBAKKE, CECILIE "Q" MAINTZ THORSEN, FRED TORNAGER, THOMAS VIUM
COVER: MADS ELLEGÅRD SKOVBAKKE
FEBRUARY 07 / 280 PAGES / FC / M / $24.99
In the spirit of essayist David Sedaris and monologist Spalding Grey, SEAGLE and 19 emerging global cartoonists take drawn storytelling into the world of the "graphic essay." 19 stories of global attitudes about the naked body balance raw comedy, raw emotions, and raw cartooning. SEAGLE honestly chronicles his place as an undressed metaphorical fish out of water on different continents—from not recognizing a famous naked celeb in Hollywood to being naked and eaten by actual fish in Tokyo. SCALES & SCOUNDRELS, VOL. 1: INTO THE DRAGON'S MAW TP
STORY: SEBASTIAN GIRNER
ART / COVER: GALAAD
FEBRUARY 07 / 128 PAGES / FC / E / $9.99
It's hard to make an honest living in a land brimming with magic and mystery, and treasure hunter Luvander is tired of being a penniless adventurer. Ever in search of gold and glory, she sets off for a fabled dungeon, "the Dragon's Maw," an ancient labyrinth at the bottom of which slumber endless wealth…or certain doom!
A loner by nature, Luvander is forced to team up with a group of scraggly adventurers, each hoping to find a treasure of their own in the forbidden tomb. There is Prince Aki, of the Scarlet Sands Empire, anxious for his first taste of adventure, yet blind to the consequences; his royal Shadow, Koro, whose very honor hangs in the balance of her prince's quest; and Dorma Ironweed, a stocky young dwarf whose journey will take her deeper into the darkness than she ever dared to tread.
What starts out as a road to riches becomes the first step on an epic journey to destiny, for Luvander holds a secret in her heart that will shatter the chains of fate and bring light to a world encroached upon by an ancient darkness. Writer SEBASTIAN GIRNER (SHIRTLESS BEAR-FIGHTER!) and artist GALAAD are proud to present SCALES & SCOUNDRELS, an exciting new fantasy adventure from Image Comics, for scoundrels of all ages!
Collects SCALES & SCOUNDRELS #1-5 SPY SEAL, VOL. 1: THE CORTEN-STEEL PHOENIX TP
STORY / ART / COVER: RICH TOMMASO
JANUARY 24 / 72 PAGES / FC / T / $12.99
Journey into the thrilling world of international espionage as one of Britain's most covert MI-6 divisions, the Nest, recruits a brand-new secret agent to their team: Spy Seal! Follow the newbie spy and his furry colleagues on exciting train rides, high-speed car chases, high-flying air adventures, and down secret underground tunnels, all in an effort to hunt down a dangerous British-turned-Soviet double agent—a slippery spy who poses as an upscale art dealer while covertly killing off important figures of Parliament. What is the reasoning behind this double agent's terrorist actions? Why are three masked bunny rabbits vandalizing paintings at every London gallery? And just what is this elusive Corten-Steel Phoenix anyway? Check out this deluxe format edition to decipher the answers to these and other puzzling questions in RICH TOMMASO's (SHE WOLF) latest series, visually reminiscent of such classic comics as The Adventures of Tintin and Usagi Yojimbo.
Collects SPY SEAL #1-4 https://bleedingcool.com/wp-content/uploads/2017/10/ https://bleedingcool.com/wp-content/uploads/2017/10/
Angelic-05_cvrA.jpg
KILL OR BE KILLED #15
STORY: ED BRUBAKER
ART: SEAN PHILLIPS, ELIZABETH BREITWEISER
COVER: SEAN PHILLIPS
JANUARY 17 / 40 PAGES / FC / M / $3.99
The next arc of BRUBAKER and PHILLIPS' bestselling series is a blockbuster! Dylan is forced to confront the reality of his violent actions and his sanity…and nothing will ever be the same again!
And remember, each issue of KILL OR BE KILLED contains extra content and articles only available in the single issues.
Collects KILL OR BE KILLED #11-14 KILL OR BE KILLED, VOL. 3 TP
STORY: ED BRUBAKER
ART: SEAN PHILLIPS, ELIZABETH BREITWEISER
COVER: SEAN PHILLIPS
JANUARY 17 / 120 PAGES / FC / M / $16.99
The third book in the bestselling KILL OR BE KILLED series from crime comics legends ED BRUBAKER and SEAN PHILLIPS. As Dylan tries to get his life back and confront the truth about the demon, he's caught in the crossfire between the Russian mafia and the NYPD.
Collects KILL OR BE KILLED #11-14 SEX CRIMINALS #21
STORY: MATT FRACTION
ART / COVER: CHIP ZDARSKY
JANUARY 24 / 32 PAGES / FC / M / $3.99
"FIVE-FINGERED DISCOUNT," Part One
Up is down and black is white and the sex isn't happening—neither is the crime. WHAT IS THIS BOOK EVEN? After the heartbreaking, albeit totally unsurprising, finale of FOURGY!, our leads find themselves in the arms of others while the fate of the whole universe hangs in the balance…ish!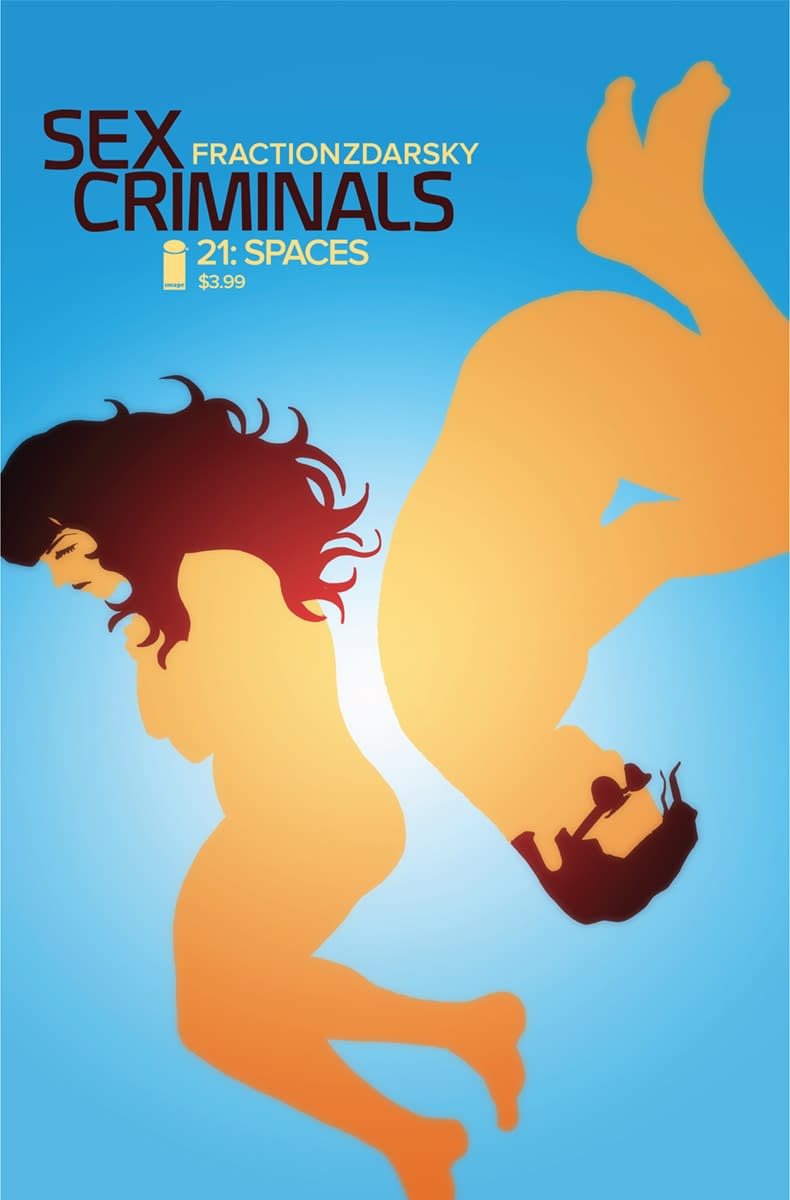 BIG HARD SEX CRIMINALS, VOL. 2 DELUXXXE HC
STORY: MATT FRACTION
ART / COVER: CHIP ZDARSKY
JANUARY 03 / 256 PAGES / FC / M / $39.99
When Jon and Suzie have sex, time stops—literally. What happens next? They rob banks, of course. Now they must try to stay out of trouble, too—and also love—but mostly trouble, yet everything keeps on complicating and getting all feelings-y and stuff.
Gathering together for the first time in full glorious color on oversized pages and almost entirely in the right order comes the pulse-quickening, pants-tightening, heart-pokening third and fourth arcs of the award-winning, bestselling, can't-believe-this-is-actually-our-jobs sex comedy SEX CRIMINALS, with bonus content (some created exclusively for this volume) and a modesty cover beneath the dust jacket to enable shame-free public consumption.
Collects SEX CRIMINALS #11-20 ANGELIC #5
STORY: SIMON SPURRIER
ART / COVER: CASPAR WIJNGAARD
JANUARY 24 / 32 PAGES / FC / T / $3.99
"HEIRS AND GRACES," Part Five
Time for one brave little girlmonk to meet her maker…. THE BEAUTY #19
STORY: JEREMY HAUN, JASON A. HURLEY
ART: THOMAS NACHLIK
COVER: JEREMY HAUN, NICK FILARDI
VARIANT COVER: BALDEMAR RIVAS
JANUARY 31 / 32 PAGES / FC / M / $3.99
Sometimes the hunt for the truth yields more than you bargain for. Coop is learning that the hard way. BIRTHRIGHT #30
STORY: JOSHUA WILLIAMSON
ART / COVER: ANDREI BRESSAN, ADRIANO LUCAS
JANUARY 10 / 32 PAGES / FC / T+ / $3.99
Can Mikey free himself from Lore once and for all? The fate of two worlds hangs in the balance! BLACK CLOUD #7
STORY: IVAN BRANDON, JASON LATOUR
ART: GREG HINKLE, MATT WILSON
COVER: GREG HINKLE
JANUARY 03 / 32 PAGES / FC / M / $3.99
"NO ESCAPE," Part Two
Retreating to Earth, Zelda has shut the door on her problems back home. But those problems are now her enemies. And they've decided to kick down the door…. BLACK MAGICK #10
STORY: GREG RUCKA
ART / COVER: NICOLA SCOTT
VARIANT COVER: TULA LOTAY
JANUARY 24 / 32 PAGES / FC / M / $3.99
"AWAKENINGS II," Part Five
In the wake of an officer-involved shooting, Rowan's lies are threatening to unravel. The Ascension threatens tragedy for those closest to Rowan. BONEHEAD #2
STORY: BRYAN HILL
ART / COVER: RHOALD MARCELLIUS
JANUARY 31 / 32 PAGES / FC / T+ / $3.99
With the city on the brink of disaster, Hideki must face his past life as a Bonehead and decide whether Aleph's experiment is a friend or foe. COPPERHEAD #18
STORY: JAY FAERBER
ART: DREW MOSS, RON RILEY
COVER: RON RILEY, SCOTT GODLEWSKI
JANUARY 17 / 32 PAGES / FC / M / $3.99
Clara's been shot, stabbed, and beaten. But nothing will stop her from being reunited with her son. COYOTES #3
STORY: SEAN LEWIS
ART / COVER: CAITLIN YARSKY
JANUARY 10 / 32 PAGES / FC / M / $3.99
The revenge fantasy continues! Faced with Abuela and the old women that originally warred with the Werewolves, Red and Coffey discover a history of this ancient war and of Red's lost sister, Maria. All the while, Adlin Industries continues to torture the werewolf Seff in pursuit of the greatest weapon imaginable. CURSE WORDS, VOL. 2: EXPLOSIONTOWN TP
STORY: CHARLES SOULE
ART / COVER: RYAN BROWNE
JANUARY 10 / 160 PAGES / FC / M / $16.99
The world has realized that dark wizards fighting epic battles in the skies above our cities might actually be a bad thing, and Earth's leaders have finally agreed on one thing: they want Wizord and Margaret gone. Meanwhile, the evil Sizzajee is still gunning for them, and Wizord's ex, the lovely Ruby Stitch, is striking out on her own path. Forget it, Jake…it's EXPLOSIONTOWN.
The second chapter of the dark, funny fantasy that's captured imaginations across the land and refuses to let them go. From CHARLES SOULE (Daredevil, Darth Vader) and RYAN BROWNE (GOD HATES ASTRONAUTS).
Collects CURSE WORDS #6-10, plus the CURSE WORDS HOLIDAY SPECIAL #1 DARK FANG #3
STORY: MILES GUNTER
ART / COVER: KELSEY SHANNON
JANUARY 17 / 32 PAGES / FC / M / $3.99
"EARTH CALLING," Part Three
Valla's campaign against the fossil fuel industry reaches the highest office of government (yes…that one). Now there's a storm coming for her, and it just might be more than she can handle. DESCENDER, VOL. 5: RISE OF THE ROBOTS TP
STORY: JEFF LEMIRE
ART / COVER: DUSTIN NGUYEN
JANUARY 10 / 120 PAGES / FC / T / $14.99
The first major DESCENDER event is here. This is what it has all been building to. The Robot Resistance rises up and tightens its iron grip in the universe as the origins of the Harvesters are finally revealed and the galaxy is thrown into all-out war!
A new chapter of the sci-fi epic begins here by superstar creators JEFF LEMIRE and DUSTIN NGUYEN.
Collects DESCENDER #22-26 EAST OF WEST #36
STORY: JONATHAN HICKMAN
ART / COVER: NICK DRAGOTTA
JANUARY 31 / 32 PAGES / FC / T+ / $3.99
"THINGS FATHERS DO WITH THEIR SONS"
We catch up with Death and Babylon. ETERNAL EMPIRE #6
STORY: JONATHAN LUNA, SARAH VAUGHN
ART / COVER: JONATHAN LUNA
JANUARY 10 / 32 PAGES / FC / T+ / $3.99
Tair and Rion learn about their origins and journey to the capital of Nifaal, the last free country, to seek aid in destroying the Empire. EVOLUTION #3
STORY: JAMES ASMUS, JOSEPH KEATINGE, CHRISTOPHER SEBELA, JOSHUA WILLIAMSON
ART / COVER: JOE INFURNARI, JORDAN BOYD
JANUARY 17 / 32 PAGES / FC / M / $3.99
Abe is the only one who seems to have noticed mankind's evolutionary leap. Meanwhile, Claire and Rochelle relive a sinister night in the Hollywood Hills, and Hannah disobeys the church in the pursuit of answers…. EXTREMITY #10
STORY: DANIEL WARREN JOHNSON
ART / COVER: DANIEL WARREN JOHNSON, MIKE SPICER
JANUARY 03 / 32 PAGES / FC / T+ / $3.99
Thea learns the hard way that peace never lasts.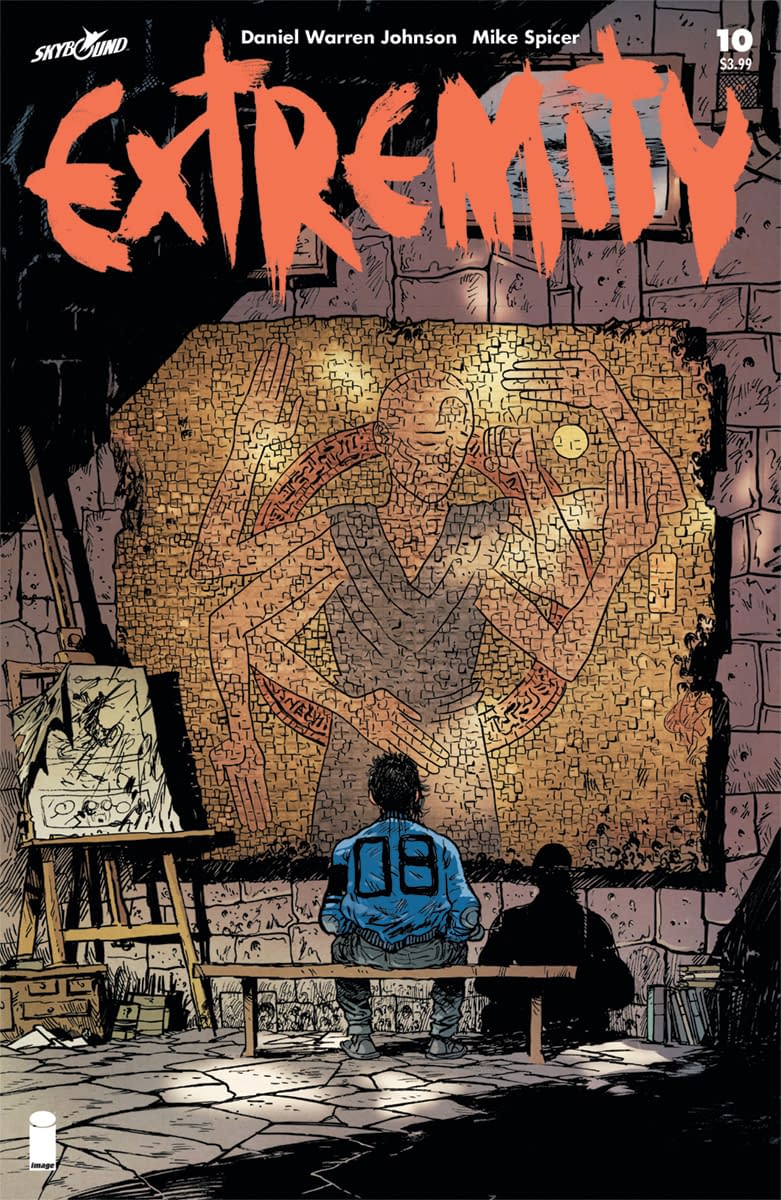 THE FAMILY TRADE #4
STORY: JUSTIN JORDAN, NIKKI RYAN
ART / COVER: MORGAN BEEM
JANUARY 17 / 32 PAGES / FC / T / $3.99
"THE FAMILY," Part Four
Jessa has been captured by her enemies. Berghardt has whipped the Float into a frenzy, and they're storming the streets. The Family doesn't know they've been targeted. Things could probably be going better. THE FIX #13
STORY: NICK SPENCER
ART / COVER: STEVE LIEBER, RYAN HILL
JANUARY 31 / 32 PAGES / FC / M / $3.99
Roy to the rescue. GASOLINA #5
STORY: SEAN MACKIEWICZ
ART / COVER: NIKO WALTER, MAT LOPES
JANUARY 24 / 32 PAGES / FC / M / $3.99
Fire and blood have awoken something ancient beneath the earth. It feasts on flesh, and no one can stop it. This is how the world ends. Grab a loved one. GOD COMPLEX #4
STORY: PAUL JENKINS, BRYAN LIE
ART / COVER: HENDRY PRASETYA
JANUARY 24 / 32 PAGES / FC / M / $3.99
It's the moment of truth. After his confrontation with the revolutionaries, Seneca is getting rebuilt by the Rulers in a desperate measure to find the missing God, Trinity. He is now more powerful and closer to Trinity than ever, but it also costs him more than he's willing to pay.
THE GRAVEDIGGERS UNION #3
STORY / COVER: WES CRAIG
ART: WES CRAIG, TOBY CYPRESS, NIKO GUARDIA
JANUARY 03 / 24 PAGES / FC / M / $3.99
What is the key that will release the Dark Gods?
Desperate to prove herself as the true prophet of the apocalypse, Morgan embarks on a darkly mystical journey that may tear her apart. Meanwhile, to find the location of Morgan and the Black Temple, the Gravediggers have to do battle with one of the strangest creatures they've ever encountered: the Yuppie-Vampire! HACK/SLASH: RESURRECTION #4
STORY: TINI HOWARD
ART: CELOR, K. MICHAEL RUSSELL
COVER: TIM SEELEY
VARIANT COVER: ARIST DEYN
JANUARY 31 / 32 PAGES / FC / M / $3.99
Cassie feels betrayed. Okay, not feels betrayed, is betrayed. So she's gonna put on a cute new outfit and take herself out dancing. Do, re, mi, motherf*cker. HORIZON #18
STORY: BRANDON THOMAS
ART: JUAN GEDEON, MIKE SPICER
COVER: JASON HOWARD
JANUARY 17 / 32 PAGES / FC / M / $3.99
Who is Counselor Rytell? And why did he back Zhia's military operation against Earth? Asking those questions could get a Valian killed. IMAGE+ #5
COVER: SANFORD GREENE
EDITOR: DAVID BROTHERS
DECEMBER 27 / 80 PAGES / FC / E / $1.99
Volume two of the Diamond Gem Award-winning comics magazine IMAGE+ continues with all the hard-hitting content you love. This issue features another 80 pages of interviews, previews, and in-depth features, plus exclusive comics content. IMAGE+ remains your number-one source for news and information about Image Comics, and now's the perfect time to get in on the ground floor. IMAGE+ is once again available for the low, low price of FREE for anyone already purchasing a copy of Diamond's Previews.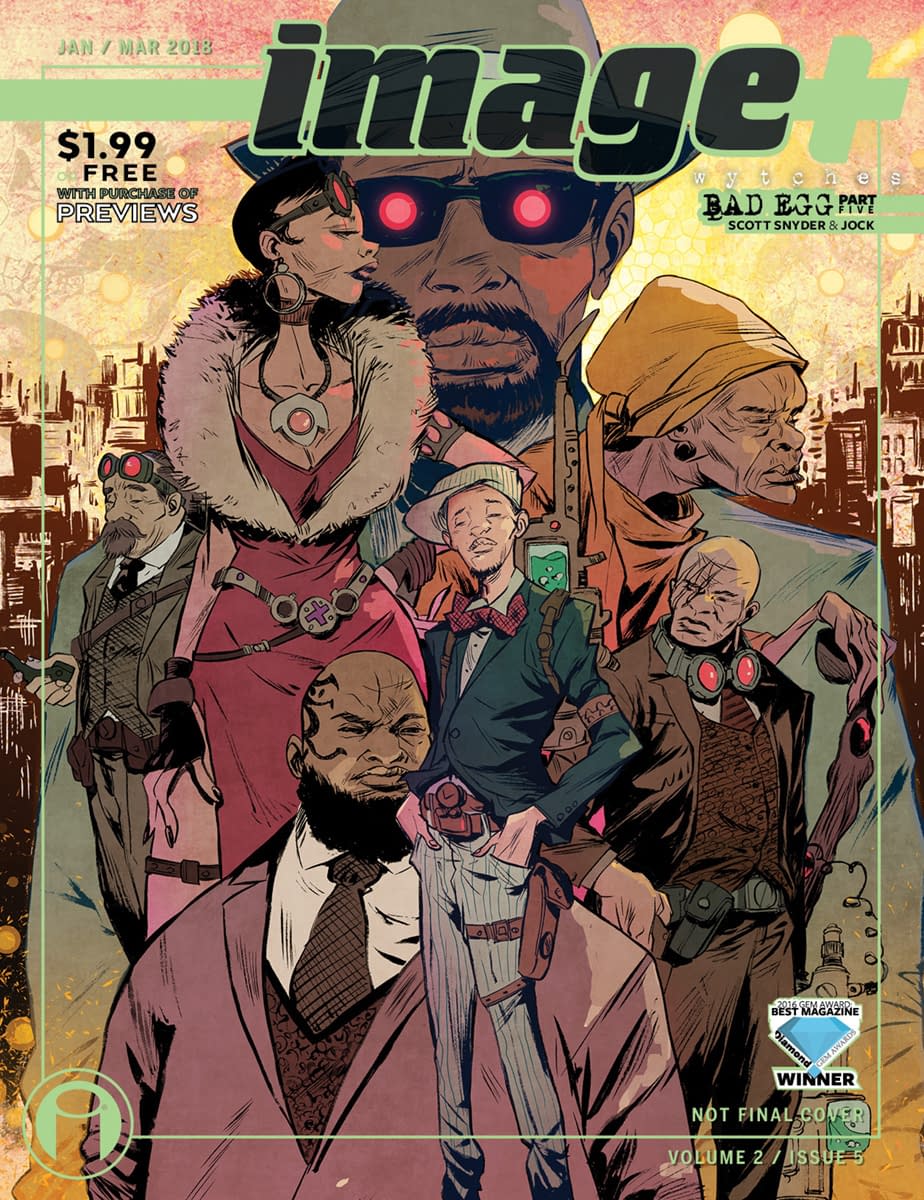 IMAGE GIANT-SIZED ARTIST'S PROOF EDITION: SEVEN TO ETERNITY #2
STORY: RICK REMENDER
ART / COVER: JEROME OPEÑA
JANUARY 31 / 48 PAGES / BW / M / $24.99
Back by popular demand, this oversized artist proof completes the first arc of SEVEN TO ETERNITY by showcasing the original inked pages of issues three & four in stunning 11"x17" format.
Collects SEVEN TO ETERNITY #3-4 KILL SIX BILLION DEMONS, VOL. 2 TP
STORY / ART / COVER: TOM PARKINSON-MORGAN
JANUARY 03 / 128 PAGES / FC / M / $14.99
In this collection of the second major arc of the popular webcomic KILL SIX BILLION DEMONS, woefully out-of-place sorority sister Allison Ruth and angelic lawman "82 White Chain" must struggle against their own fears in a fateful clash with one of the seven evil masters of creation. KINGSMAN: THE RED DIAMOND #5 (OF 6)
STORY: ROB WILLIAMS
ART: SIMON FRASER
COVER / VARIANT COVER: LEINIL YU
JANUARY 10 / 32 PAGES / FC / M / $3.99
Time is running out to stop Red Diamond from seizing the world's wealth and building an empire on jewels and material riches. Lurking in his lair at the bottom of the ocean, Red Diamond plots his global takeover while rolling around naked in mounds of jewels. All computers are wiped out, civilians are rioting in the streets, and Eggsy's Mum has been beaten and left for dead. Eggsy and Kwaito are stranded in China. How's our novice spy going to get himself—and the rest of the world—out of trouble this time? Issue number five of this unstoppable, action-packed miniseries contains full-frontal nudity, explosives, submarines, and DIAMONDS. MAESTROS #4
STORY: STEVE SKROCE
ART / COVER: STEVE SKROCE, DAVE STEWART
JANUARY 10 / 32 PAGES / FC / M / $3.99
With his enemies in pursuit, Willy travels to the Underworld in hopes of making an alliance with his father's greatest enemy. Meanwhile, his mother reflects upon the events that banished her and her son. Also, Loyal Backstabber's origins are revealed! MAGE: THE HERO DENIED #5 (OF 15)
STORY / ART / COVER: MATT WAGNER
JANUARY 17 / 32 PAGES / FC / T+ / $3.99
MATT WAGNER's classic saga of comics fantasy continues in the third and final part of his epic MAGE trilogy. More than a year has passed since Kevin Matchstick's nearly fatal encounter with an ancient Goddess of the Underworld. Kevin and his family have moved farther north in an effort to escape the notice of his enemies and are gradually settling into their new life once again. More than ever, the erstwhile hero is determined to forswear his role as the Pendragon and avoid calling on the power of Excalibur. But his determination is put to the test with the sudden and unexpected arrival of a familiar face from Kevin's adventuresome past.
MAGE: THE HERO DENIED is a 15-issue limited series climaxing in a double-sized finale. Considered by many to be creator MATT WAGNER's masterpiece, MAGE has been a perennial favorite with old and new readers alike for nearly three decades. MANIFEST DESTINY #34
STORY: CHRIS DINGESS
ART: MATTHEW ROBERTS, TONY AKINS, OWEN GIENI
COVER: MATTHEW ROBERTS, OWEN GIENI
JANUARY 10 / 32 PAGES / FC / M / $3.99
Sixty years before the Civil War, the Corps of Discovery is at war with itself! Choose a side…carefully.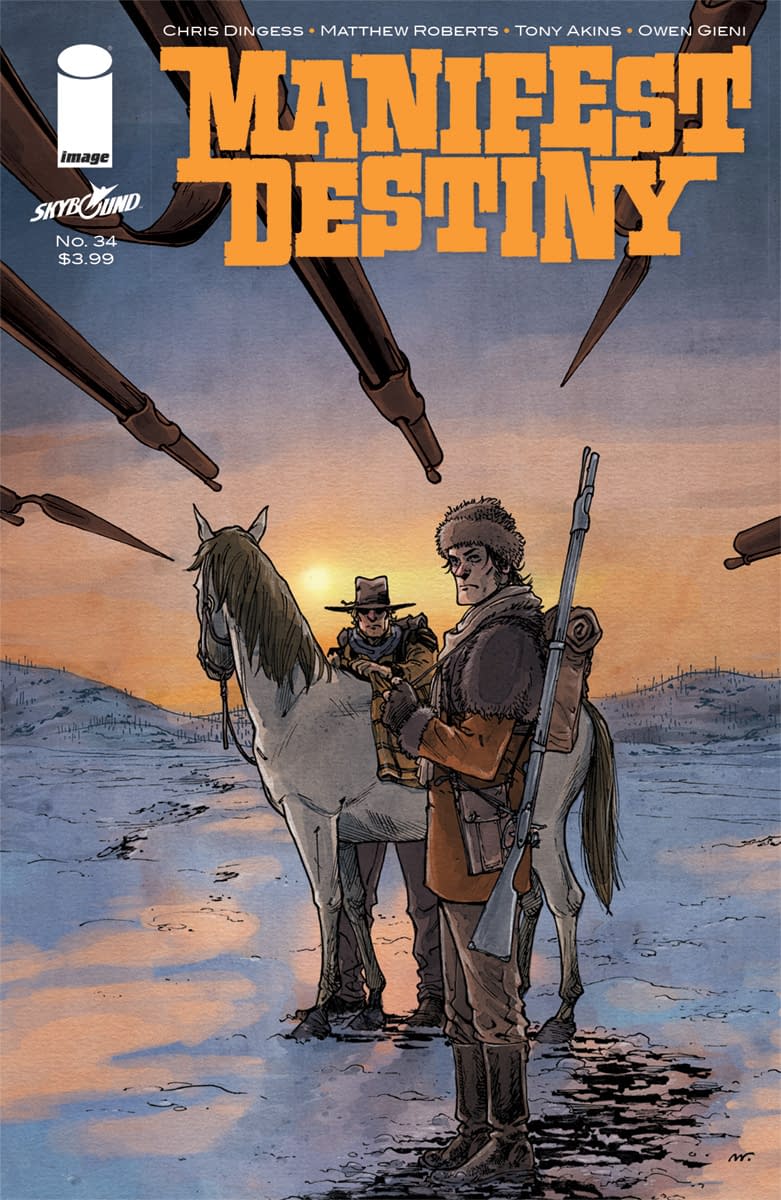 MONSTRESS #13
STORY: MARJORIE LIU
ART / COVER: SANA TAKEDA
JANUARY 24 / 40 PAGES / FC / M / $4.99
Hugo Award-winning MONSTRESS returns with a new arc and an oversized issue! Maika has spent most of her life learning how to fight, but how will she fare when the only way to save her life…is to make friends?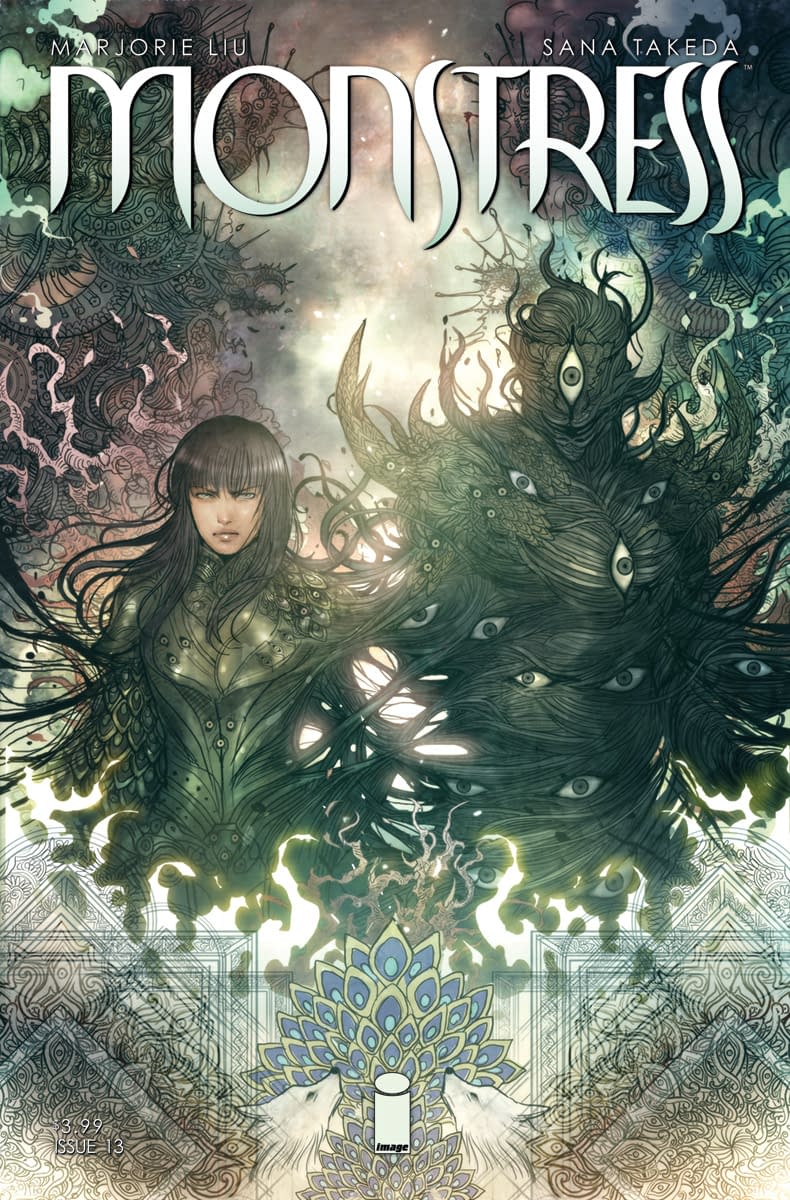 NO. 1 WITH A BULLET #3
STORY: JACOB SEMAHN
ART / COVER: JORGE CORONA
JANUARY 03 / 32 PAGES / FC / T+ / $3.99
Buckling under the stress, Nash's reality is rocked as an unexpected visitor and the Museum of Death await her with open arms.
OUTCAST BY KIRKMAN & AZACETA #33
STORY: ROBERT KIRKMAN
ART / COVER: PAUL AZACETA, ELIZABETH BREITWEISER
JANUARY 24 / 32 PAGES / FC / M / $3.99
"INVASION," Part Two
Things are getting worse in Rome, West Virginia. Much worse.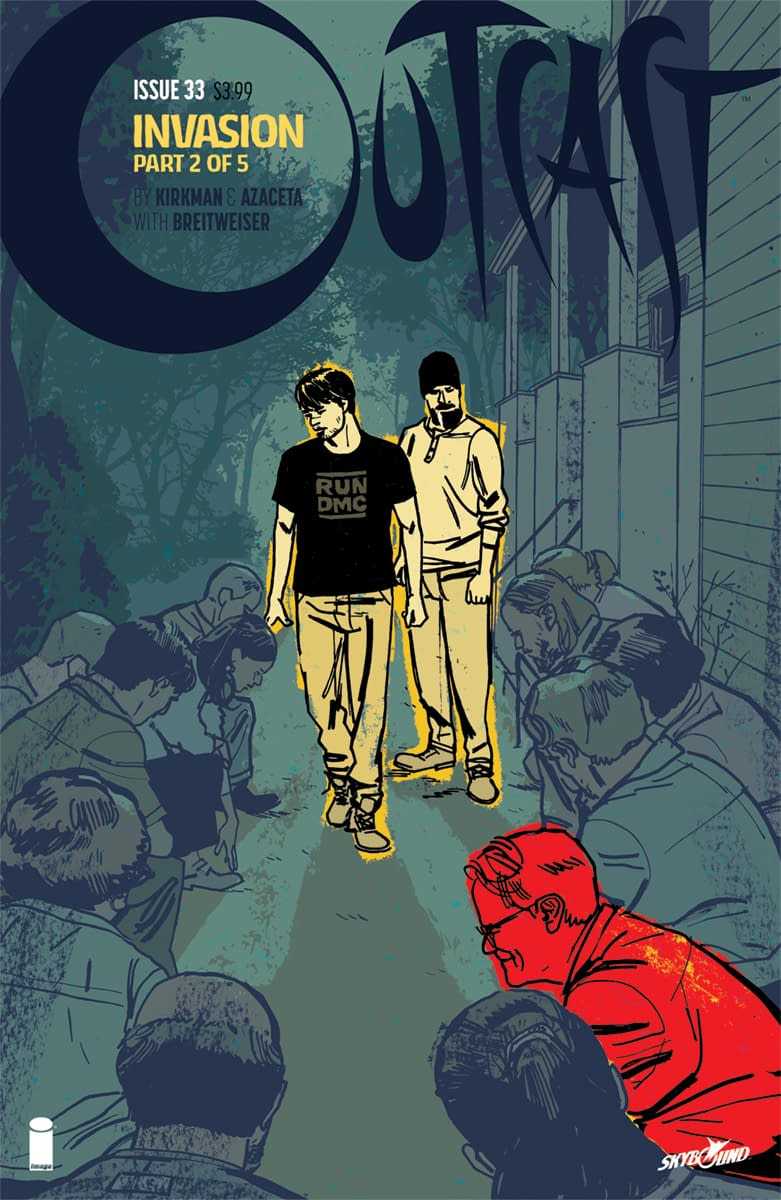 PAPER GIRLS #19
STORY: BRIAN K. VAUGHAN
ART: CLIFF CHIANG, MATT WILSON
COVER: CLIFF CHIANG
JANUARY 03 / 32 PAGES / FC / T+ / $2.99
The Battle of the Ages has begun, and Tiffany and her fellow Paper Girls are caught in its deadly crossfire.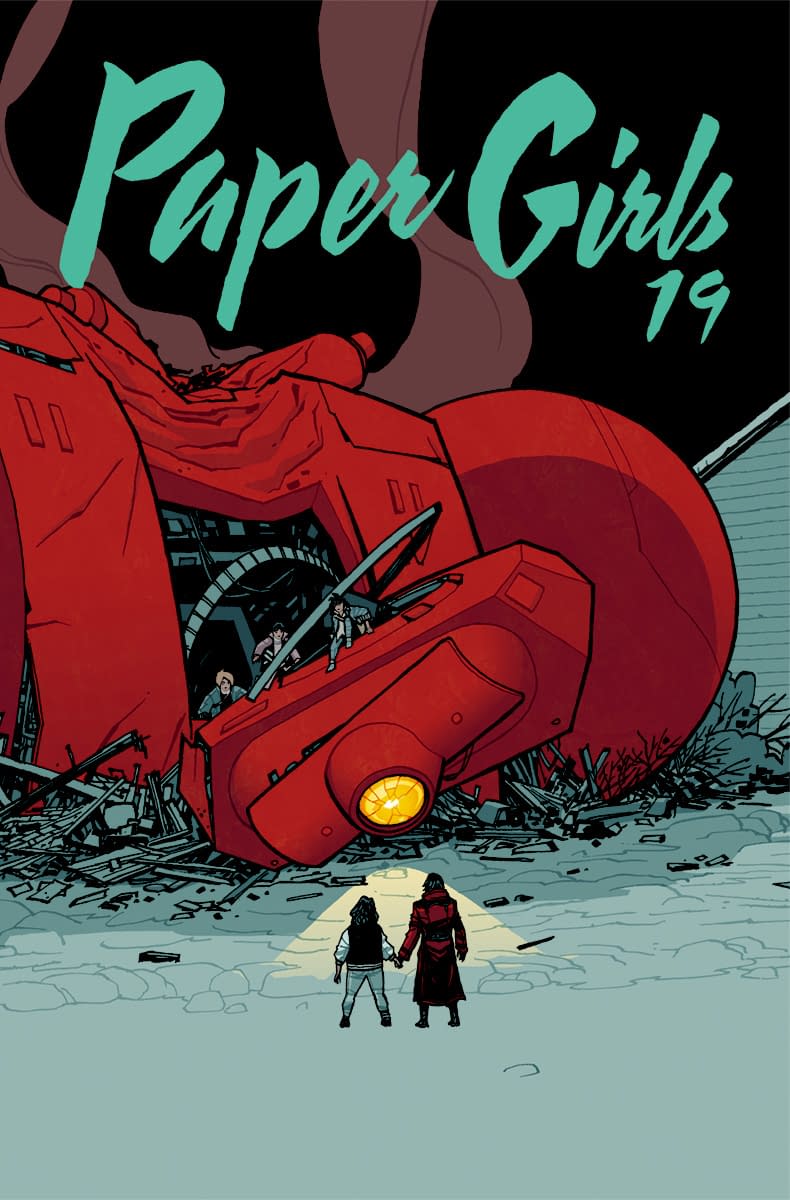 PARADISO #2
STORY: RAM V
ART / COVER: DEV PRAMANIK, DEARBHLA KELLY
VARIANT COVER: JOSAN GONZALEZ
JANUARY 10 / 32 PAGES / FC / M / $3.99
Whispers of the Pneumas have brought Hazard to Aquarius. Noira realizes that she's in deeper than she would have liked. And, in the aftermath of the attack on his transport, Jack tries to find a way into Paradiso but wanders into a close encounter of the weird kind. Powerful forces are on the move in Paradiso City, but to what end?
Yeah, there's one thing you'll learn about 'Diso soon enough. The stories you hear—especially the scary kind—tend to be true.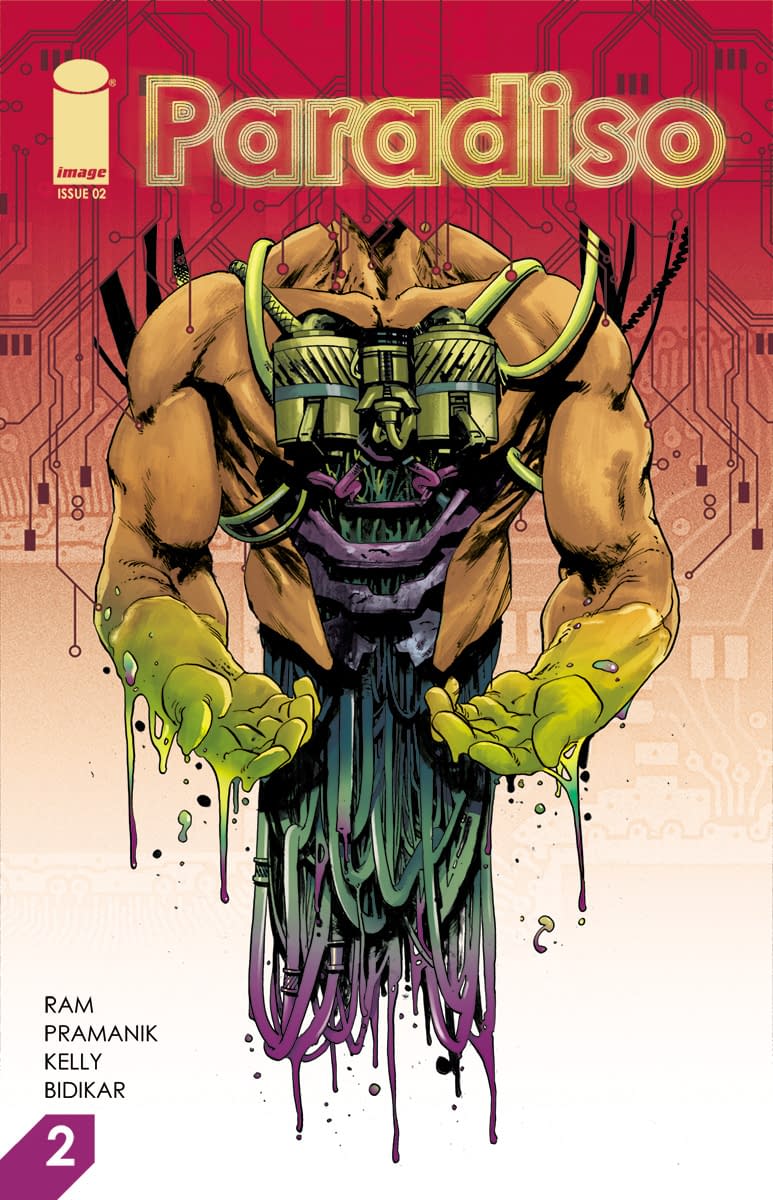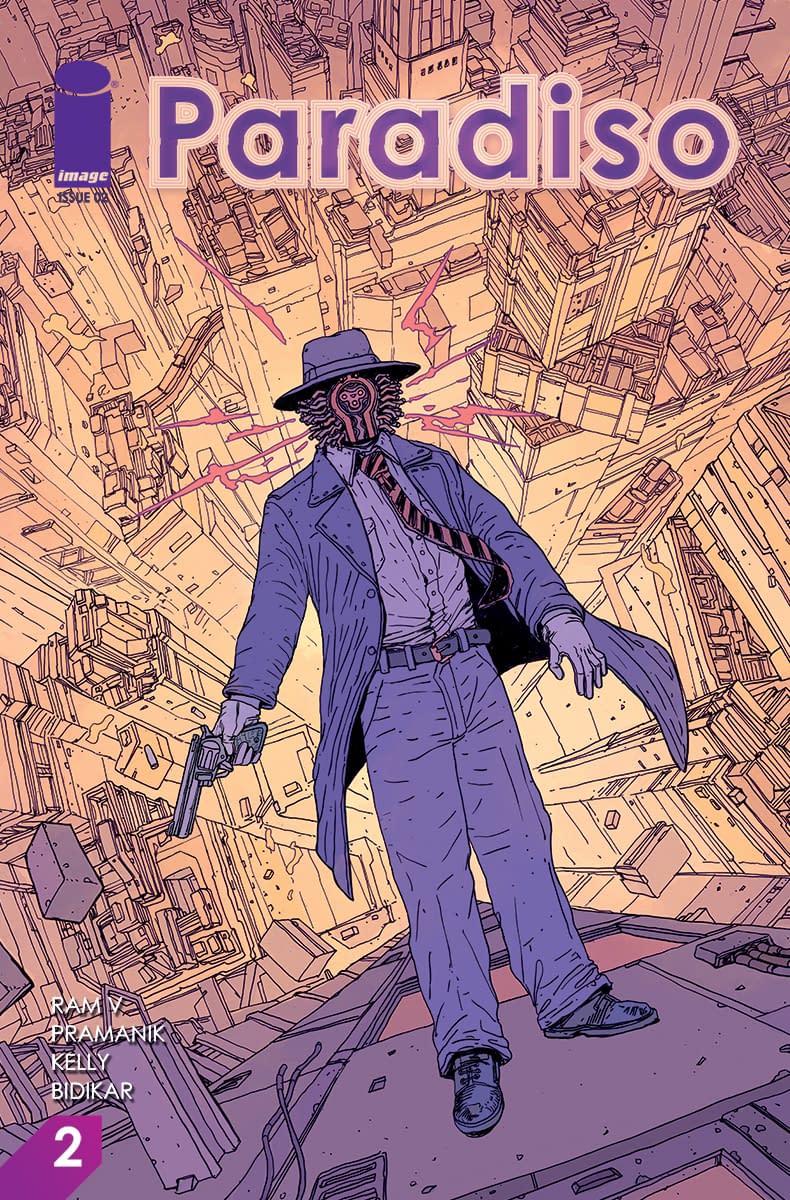 PORT OF EARTH #3
STORY: ZACK KAPLAN
ART / COVER: ANDREA MUTTI
JANUARY 10 / 32 PAGES / FC / T+ / $3.99
A deadly alien has broken travel restrictions and killed an innocent person on the California coast. While ESA Agent Rice is committed to following protocols and peacefully deporting our dangerous visitor back to Port, his partner McIntyre is determined to use lethal force regardless of the situation. Will these two agents be able to overcome their differences, avoid a galactic incident, and safely return the alien to the Port of Earth?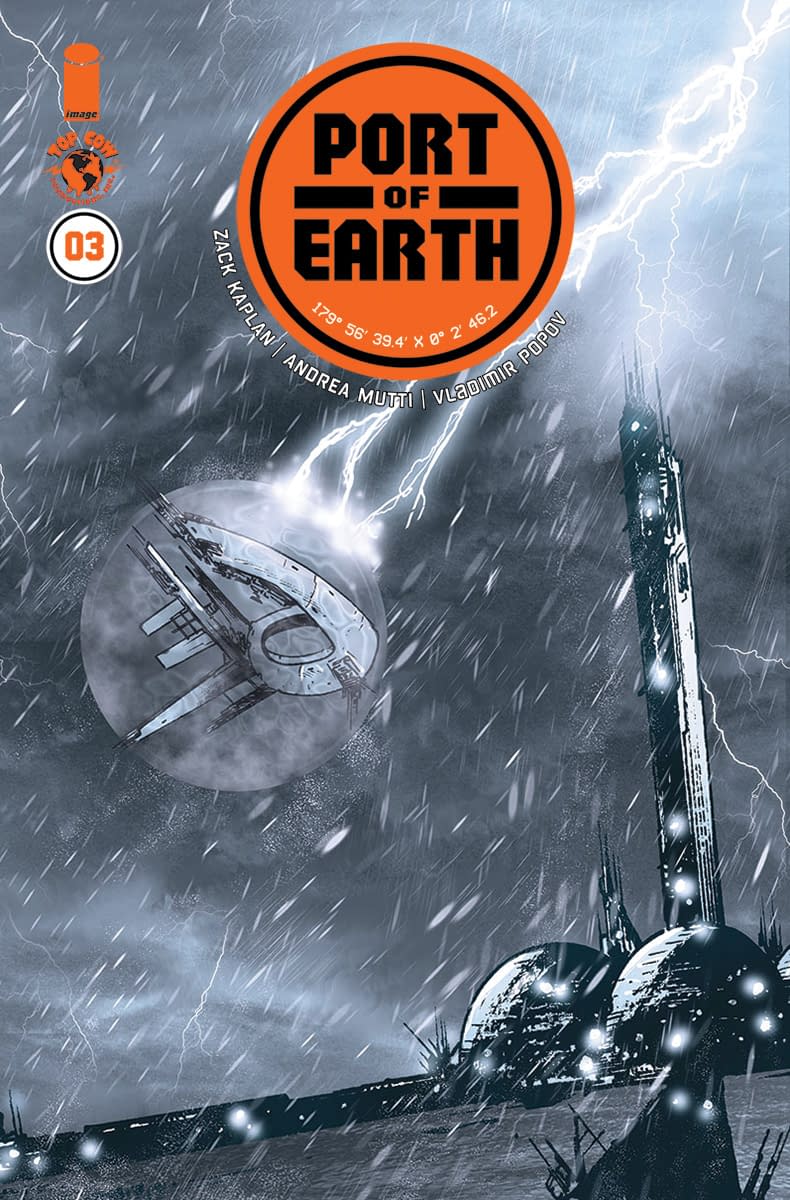 POSTAL #25
STORY: BRYAN HILL
ART / COVER: ISAAC GOODHART
JANUARY 17 / 48 PAGES / FC / M / $5.99
The war for Eden is over, but Laura faces the most important choice of her life: What to do with her son Mark's future.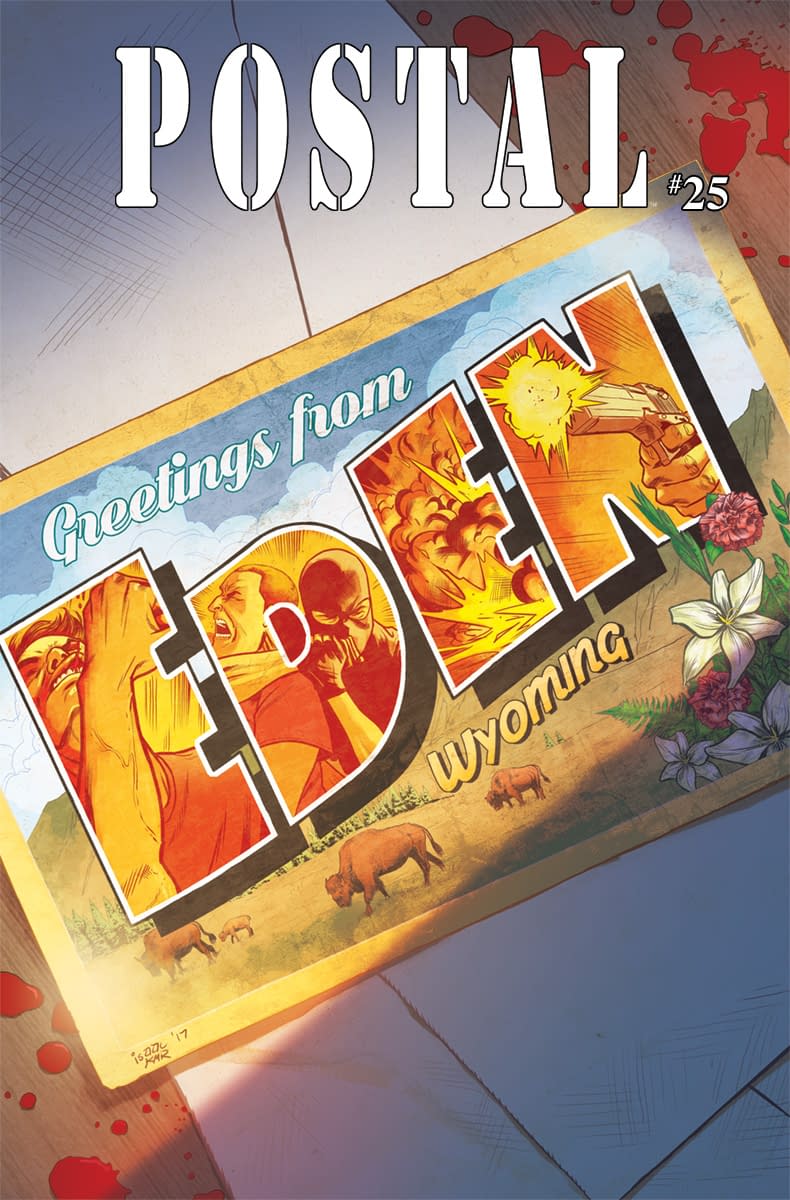 RAT QUEENS VOL.2 #7
STORY: KURTIS J WIEBE
ART / COVER: OWEN GIENI
VARIANT COVER: OWEN GIENI, JIM VALENTINO
JANUARY 03 / 32 PAGES / FC / M / $3.99
"THE COLOSSAL MAGIC NOTHING," Part Two
Even with all the random disappearances around Palisade, there's still a lot of work to do! A pack of ravenous, drunken monsters lurk in the woods outside of town, and the Queens are only partly to blame!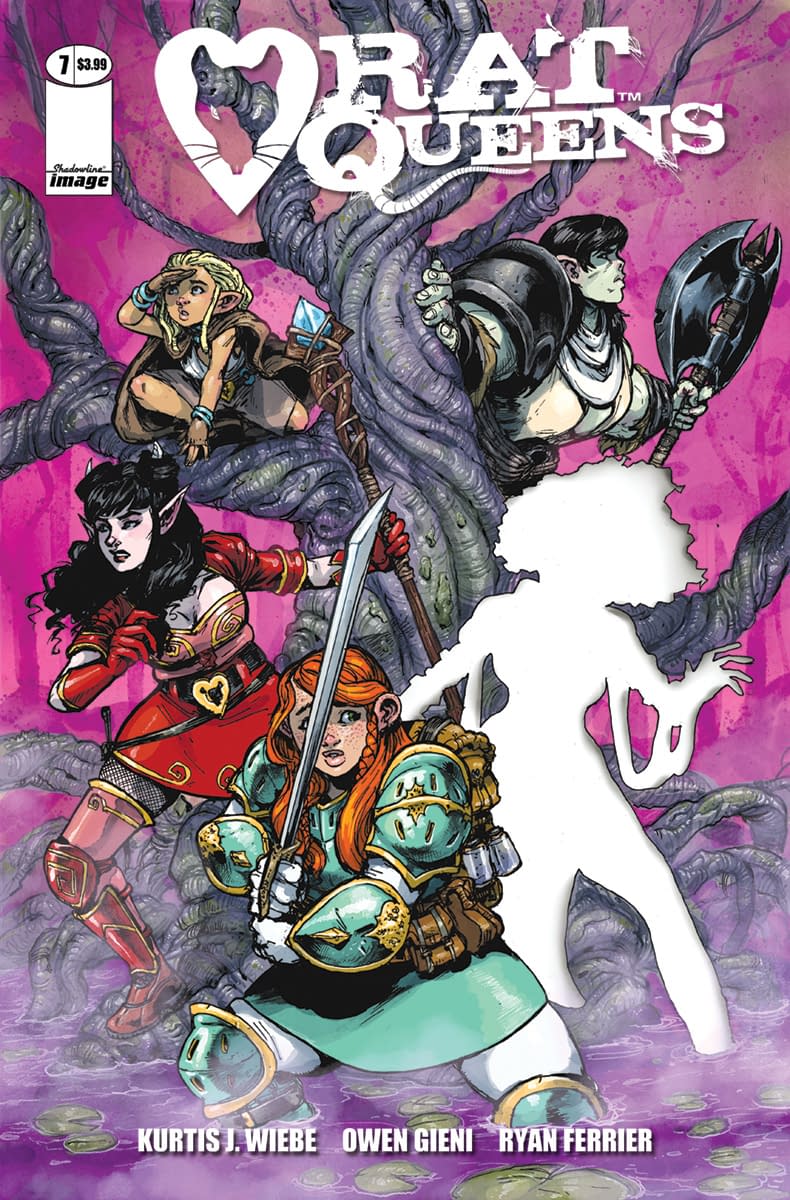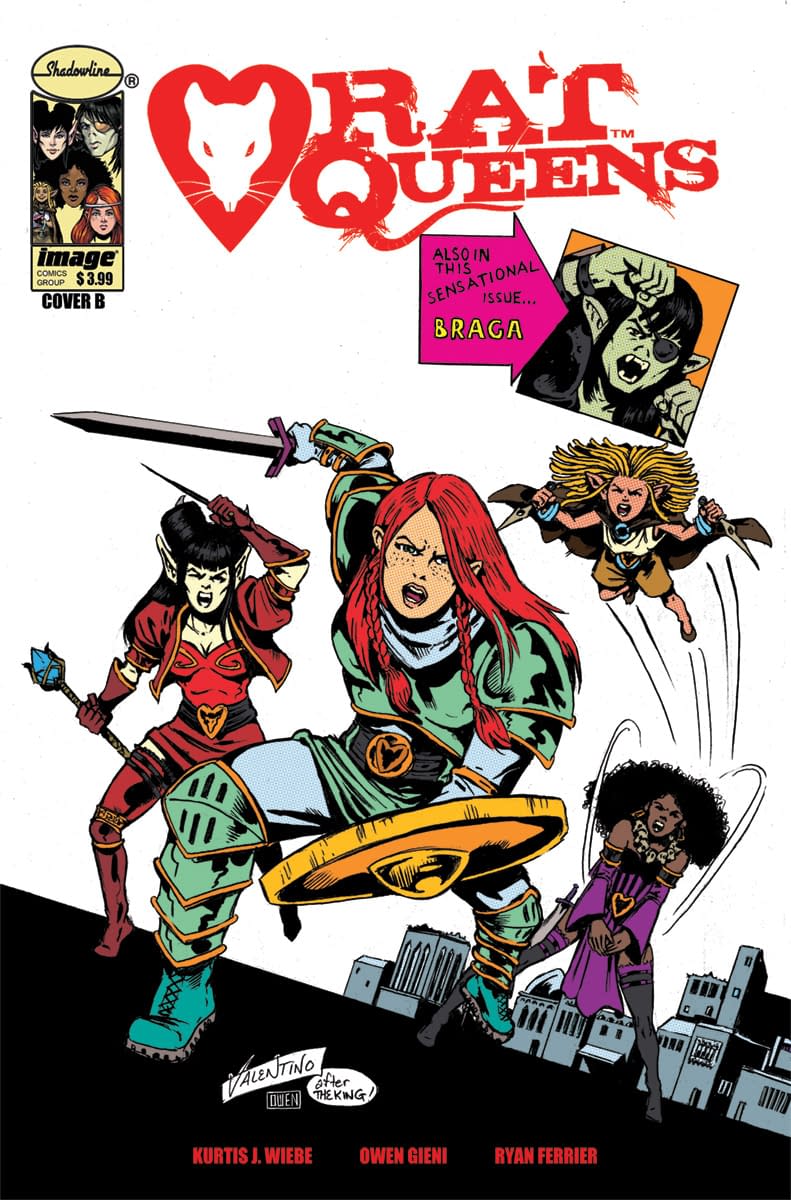 THE REALM #5
STORY: SETH M. PECK
ART: JEREMY HAUN
COVER: JEREMY HAUN, NICK FILARDI
VARIANT COVER: JENNY FRISON
JANUARY 17 / 32 PAGES / FC / M / $3.99
Everything comes to a head as the bloodthirsty orc horde descends on Will and his team, while help arrives from an unexpected source.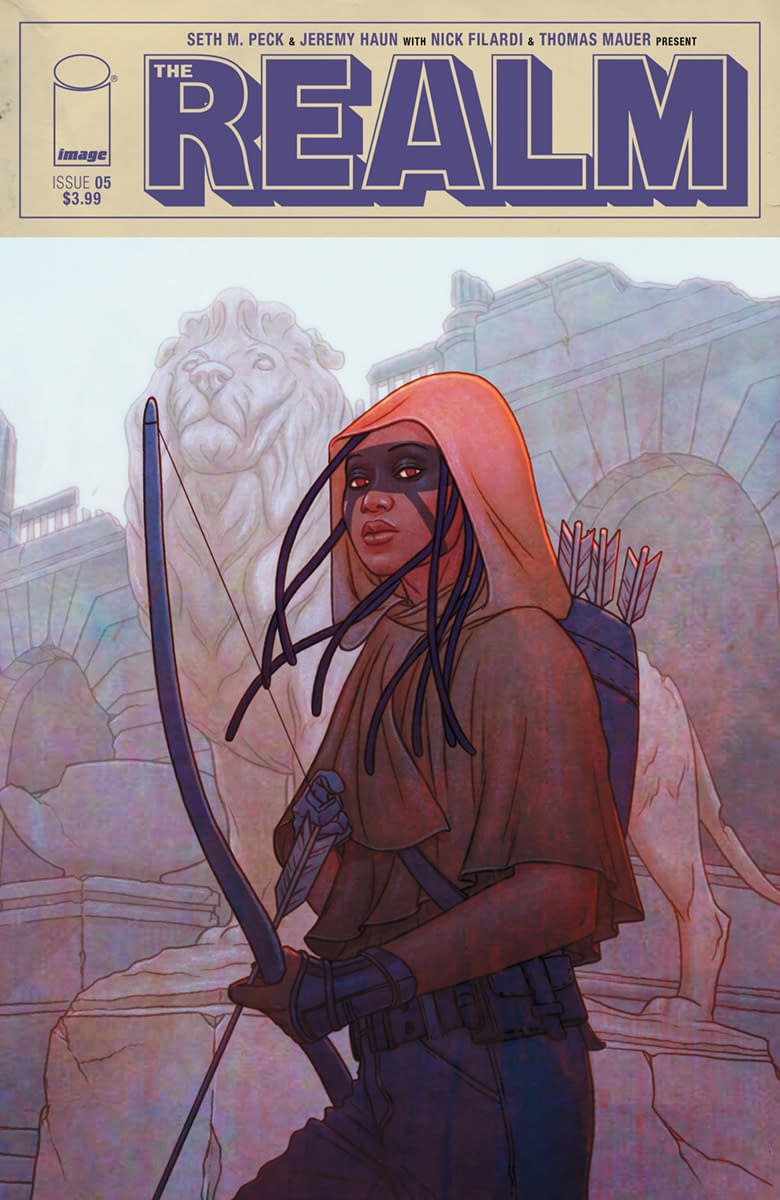 REDLANDS #6
STORY / ART: JORDIE BELLAIRE, VANESA DEL REY
COVER: VANESA DEL REY
JANUARY 24 / 32 PAGES / FC / M / $3.99
Nancy has discovered her fire, and in an all-out, claws-flying brawl, Casper discovers she's not who she seems. The town of Redlands greets an old friend of many names, but the witches call him by just one: Father.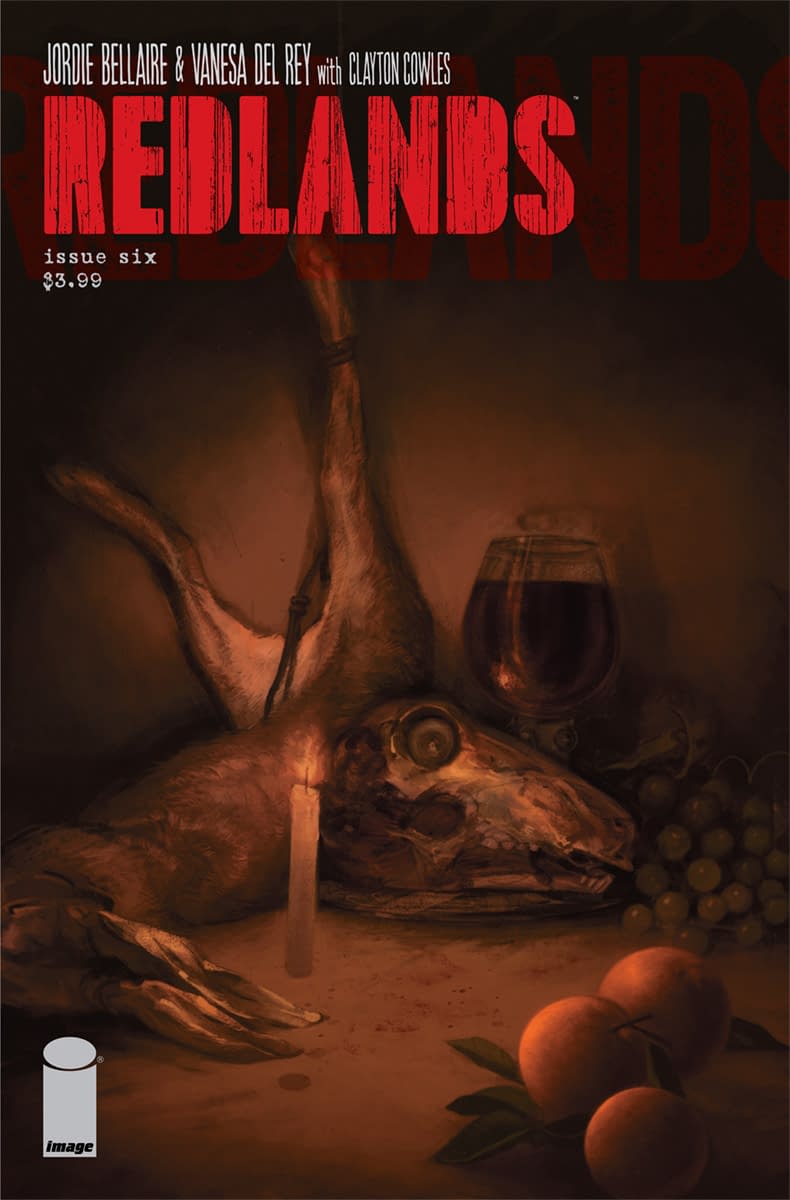 REDNECK #9
STORY: DONNY CATES
ART: LISANDRO ESTHERREN, DEE CUNNIFFE
COVER: NICK PITARRA
JANUARY 24 / 32 PAGES / FC / M / $3.99
The Bowmans are drowning in the flood of fresh blood. With the cops hot on their tail, can they survive the rising tide?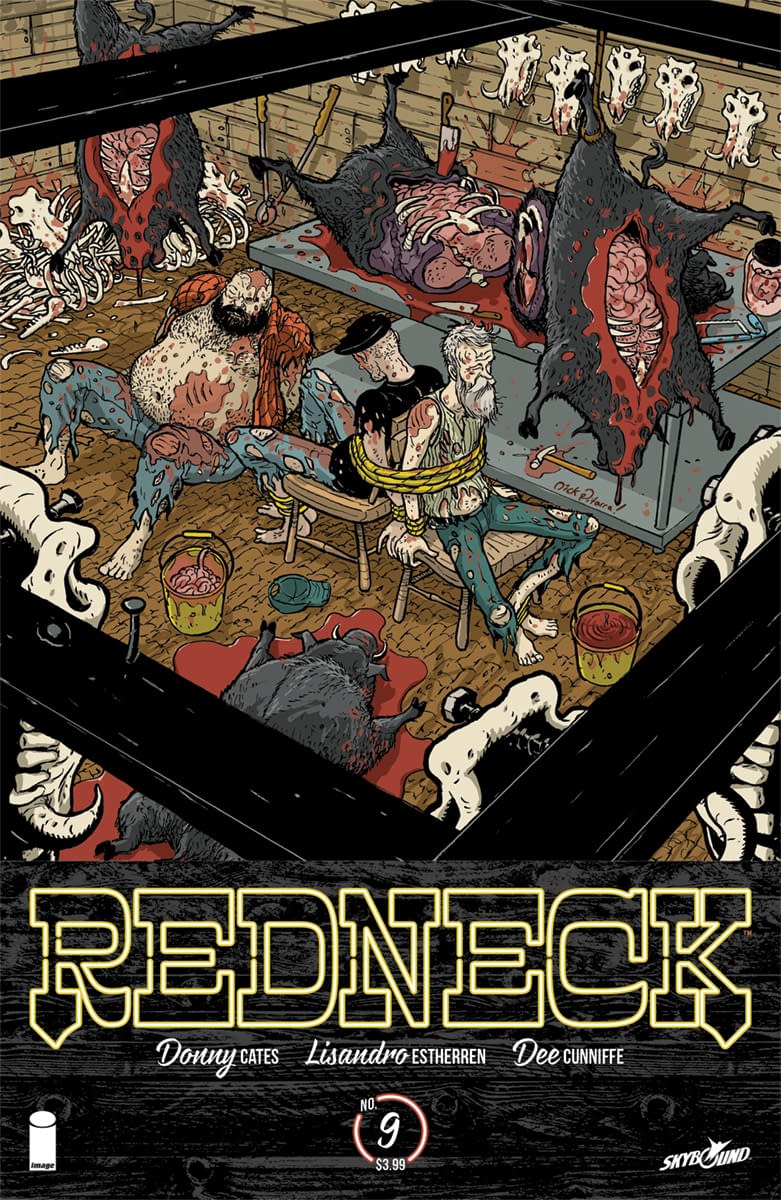 REGRESSION #6
STORY: CULLEN BUNN
ART: DANNY LUCKERT, MARIE ENGER
COVER: DANNY LUCKERT
JANUARY 24 / 32 PAGES / FC / M / $3.99
Detective Graymercy and Molly connect with an occultist in their attempt to track down the missing Adrian. Meanwhile, Adrian struggles to maintain his sanity as the extremists who hold him prisoner subject him to terrible mental torture. Their goal: to coax diabolical secrets from Adrian's past life.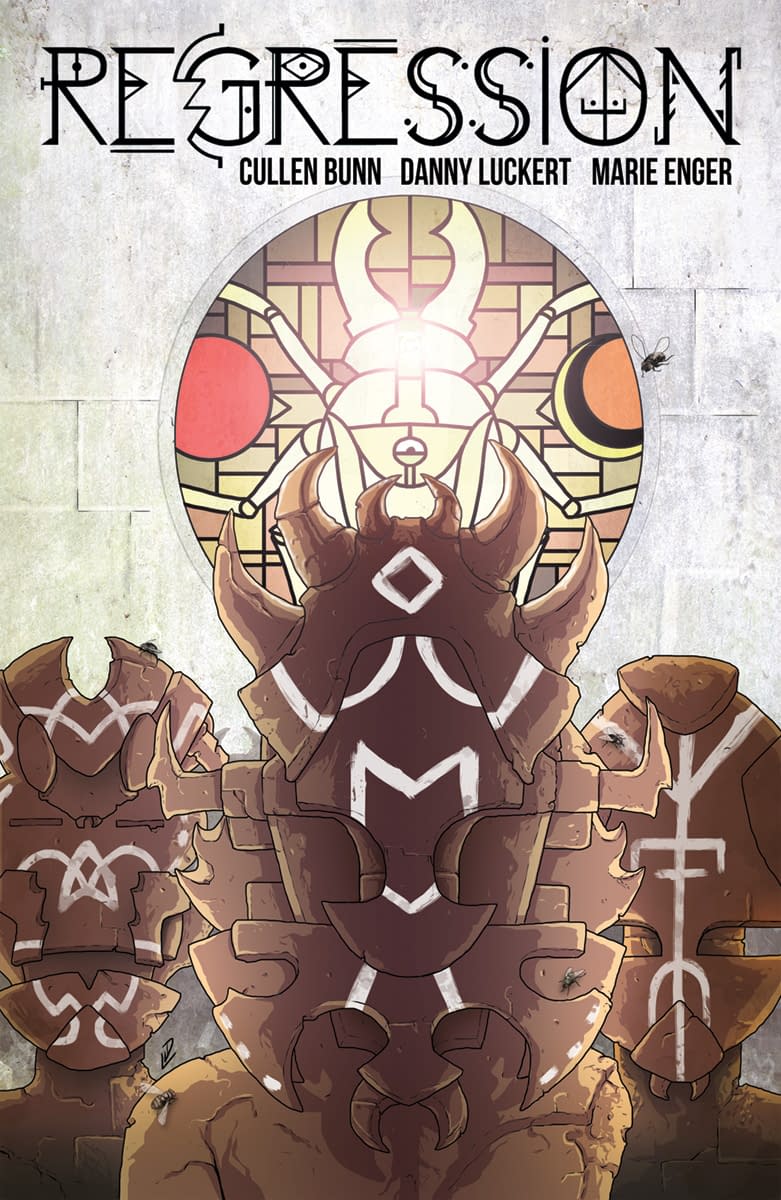 ROCK CANDY MOUNTAIN #7
STORY / ART / COVER: KYLE STARKS
JANUARY 03 / 32 PAGES / FC / M / $3.99
CHAPTER 7: "THE JUNGLE FIRES WERE BURNING" Old friends reunite and old enemies return as the World's Toughest Hobo finds himself in the final stretch of his journey for the mythical hobo heaven but faces his toughest challenges yet as the stakes continue to rise. I do suspect you've seen some wild things in your days, Dear Friends, but this issue finds us in a trainyard war—a hobo donnybrook like you've never imagined! So boil up your glad rags, and grab your bindle as we find out if Jackson and company find salvation or a one-way trip on that westbound train to the boneyard! Part one of the two-part series finale of ROCK CANDY MOUNTAIN.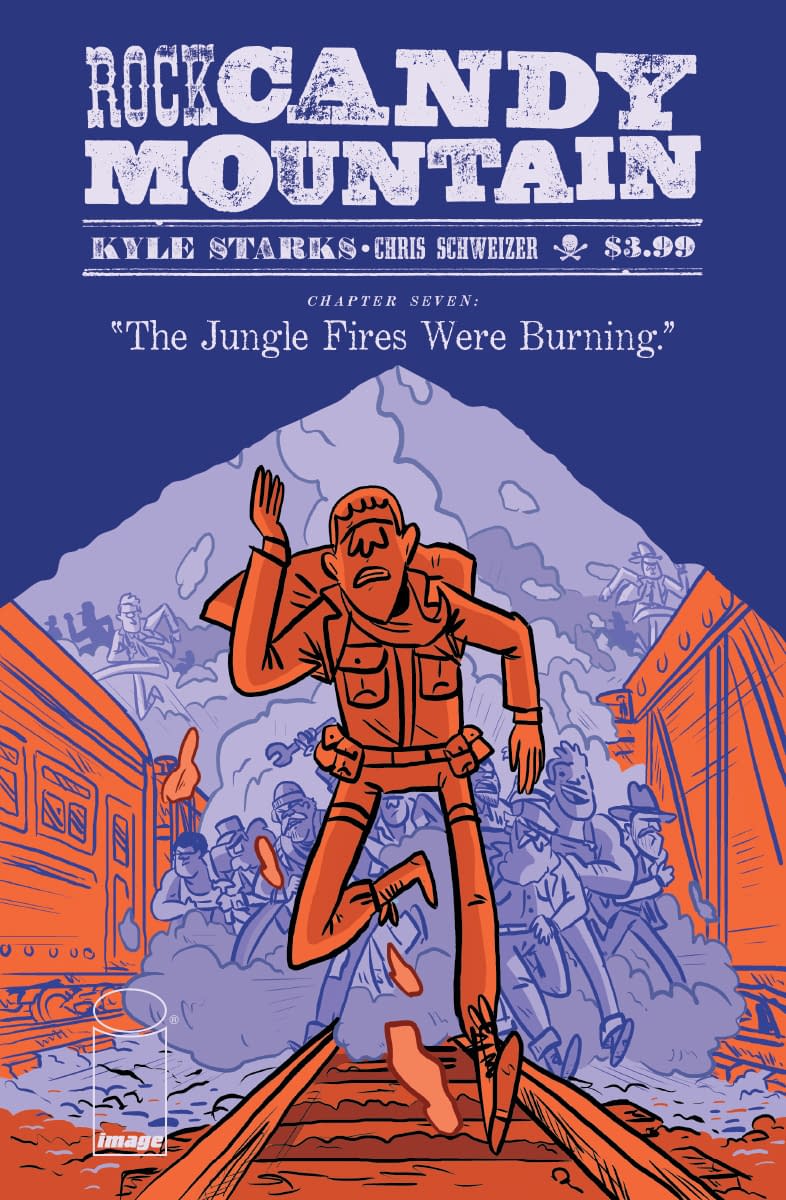 ROSE #7
STORY: MEREDITH FINCH
ART / COVER: IG GUARA
VARIANT COVER: LOOPYDAVE, ERIC BASALDUA
JANUARY 10 / 32 PAGES / FC / T / $3.99
With a fire raging in Millhaven, Rose is desperate to rejoin her companions. While Rose searches for her friends, Thorne struggles to accept Rose's new knight protector. A ghost from the past brings startling revelations, and Will's commitment to the rebellion is challenged with the news of Ila's loss. Secrets long hidden are finally revealed in the next exciting chapter of ROSE.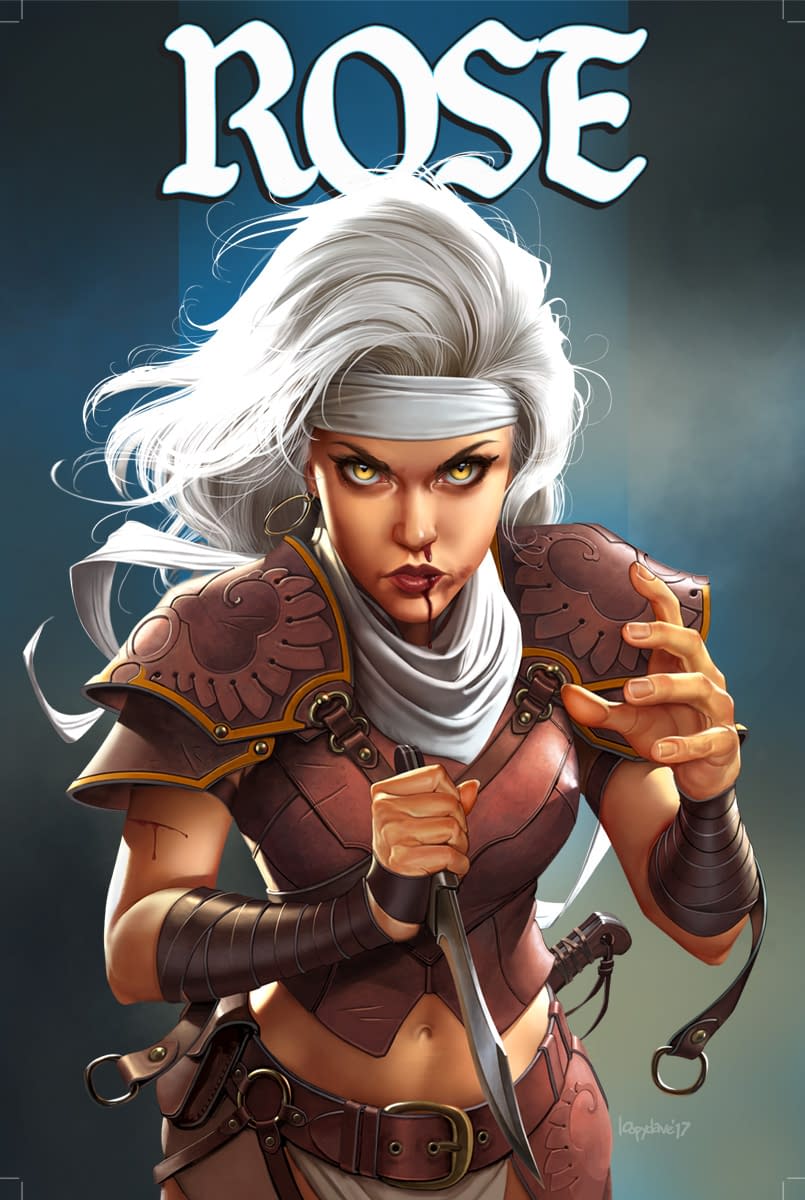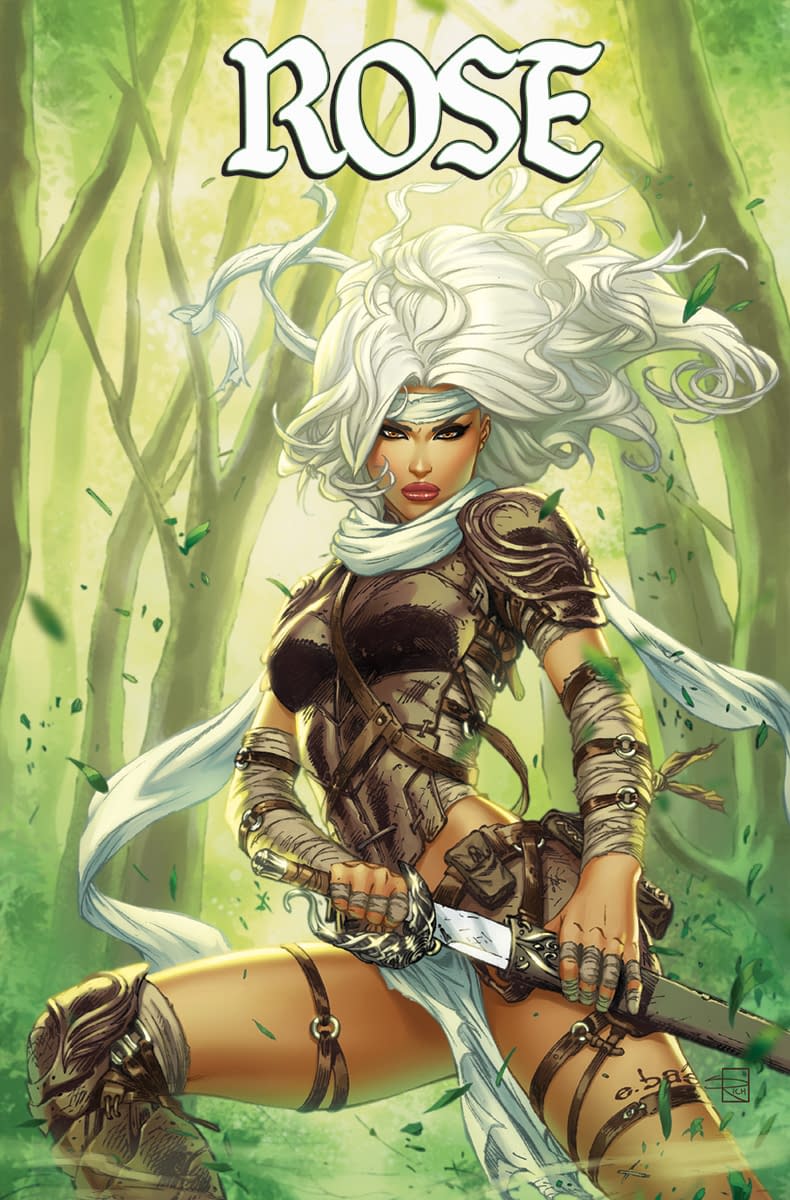 ROYAL CITY #9
STORY / ART / COVER: JEFF LEMIRE
VARIANT COVER: RAY FAWKES
JANUARY 10 / 32 PAGES / FC / M / $3.99
"SONIC YOUTH," Part Four Each issue in this arc will feature a special variant cover paying homage to some of the best indie rock albums of the 1990s, featuring stellar artwork by JEFFREY BROWN (Jedi Academy), EMI LENOX (PLUTONA), NATE POWELL (March), RAY FAWKES (UNDERWINTER), and DUSTIN NGUYEN (DESCENDER).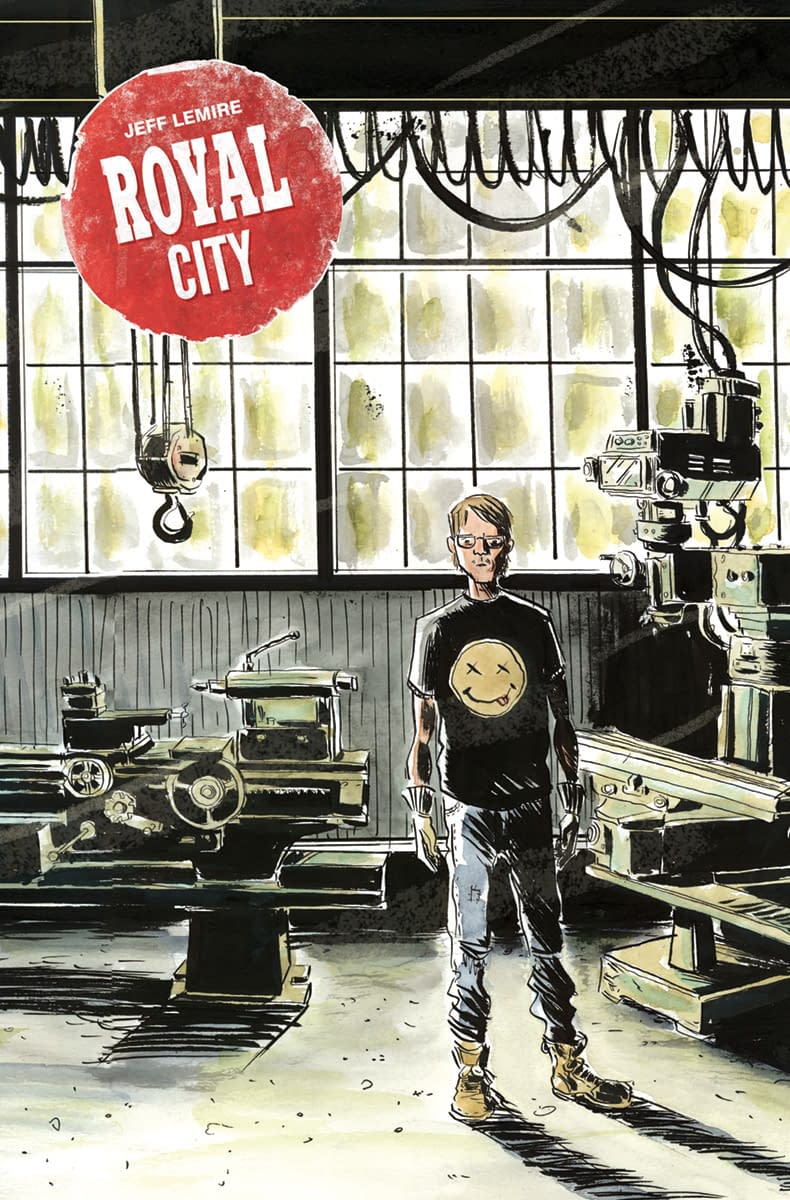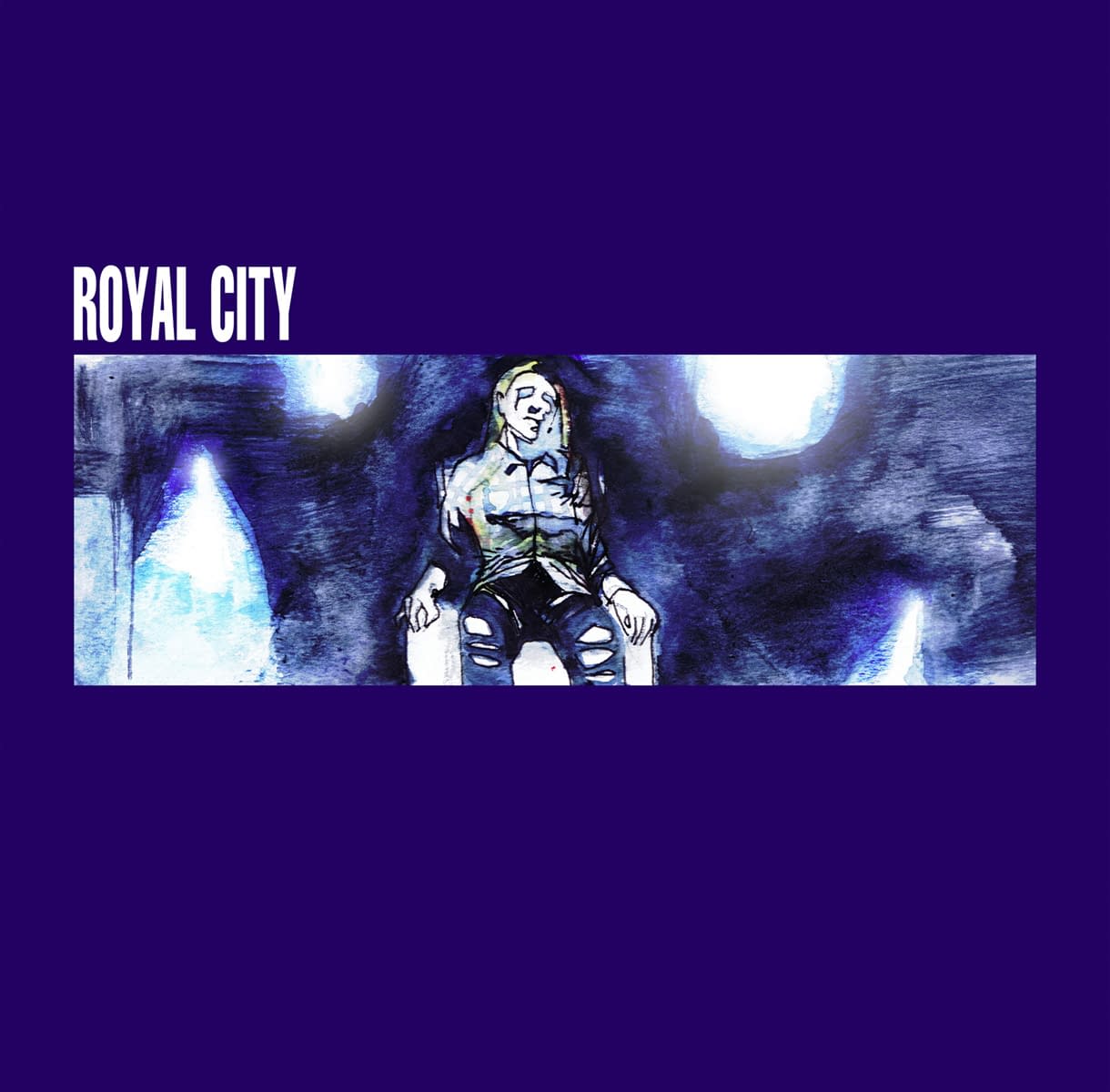 RUMBLE (2017) #2
STORY: JOHN ARCUDI
ART: DAVID RUBIN, DAVE STEWART
COVER: DAVID RUBIN
VARIANT COVER: DAVE STEWART, GERARDO ZAFFINO
JANUARY 17 / 32 PAGES / FC / M / $3.99
"SOUL WITHOUT PITY," Part Two
Rathraq is more brutal, more efficient, more bloodthirsty than ever, and nothing Del or Bobby or Timah can do seems to be able to stop him. Meanwhile, what's at the bottom of Lake Hurando?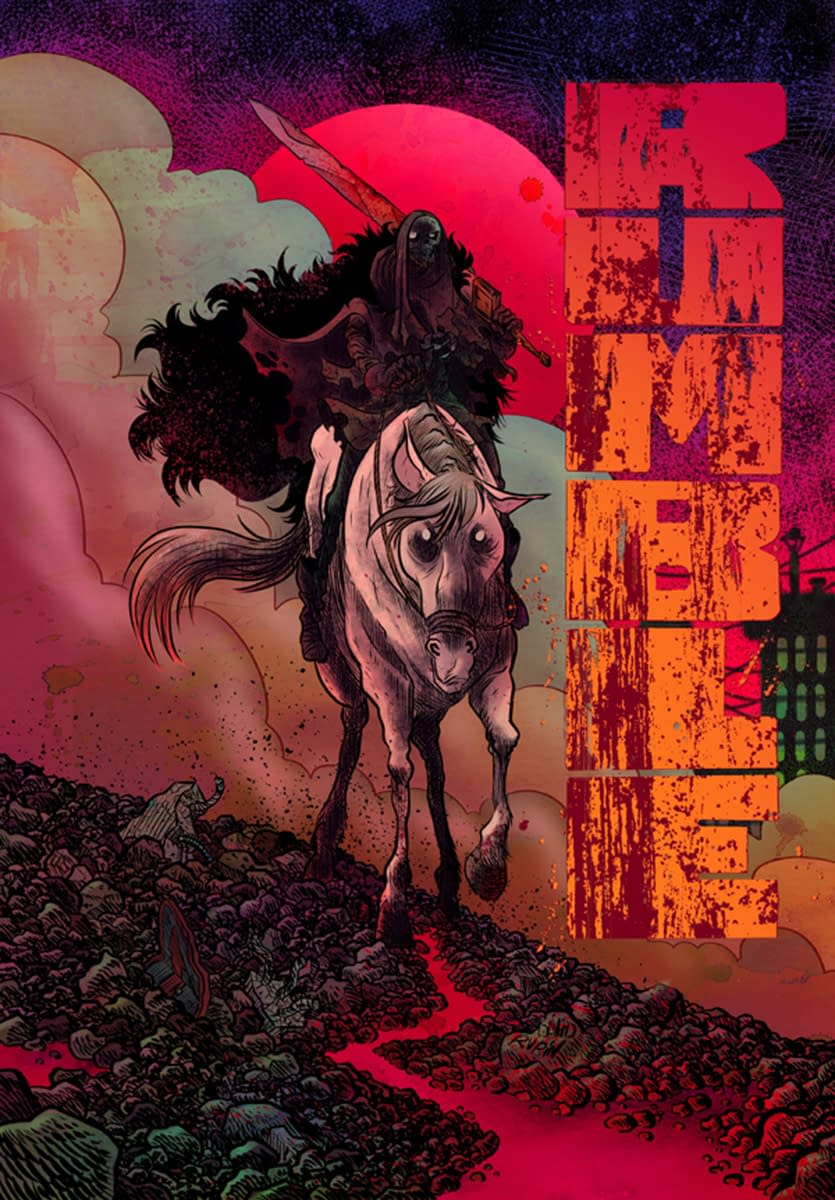 SACRED CREATURES #6
STORY / ART: PABLO RAIMONDI, KLAUS JANSON
COVER: PABLO RAIMONDI
VARIANT COVER: KLAUS JANSON, TOMMY LEE EDWARDS
JANUARY 31 / 56 PAGES / FC / M / $4.99
Leo follows the leads. Naviel gets even. Lucius takes a trip.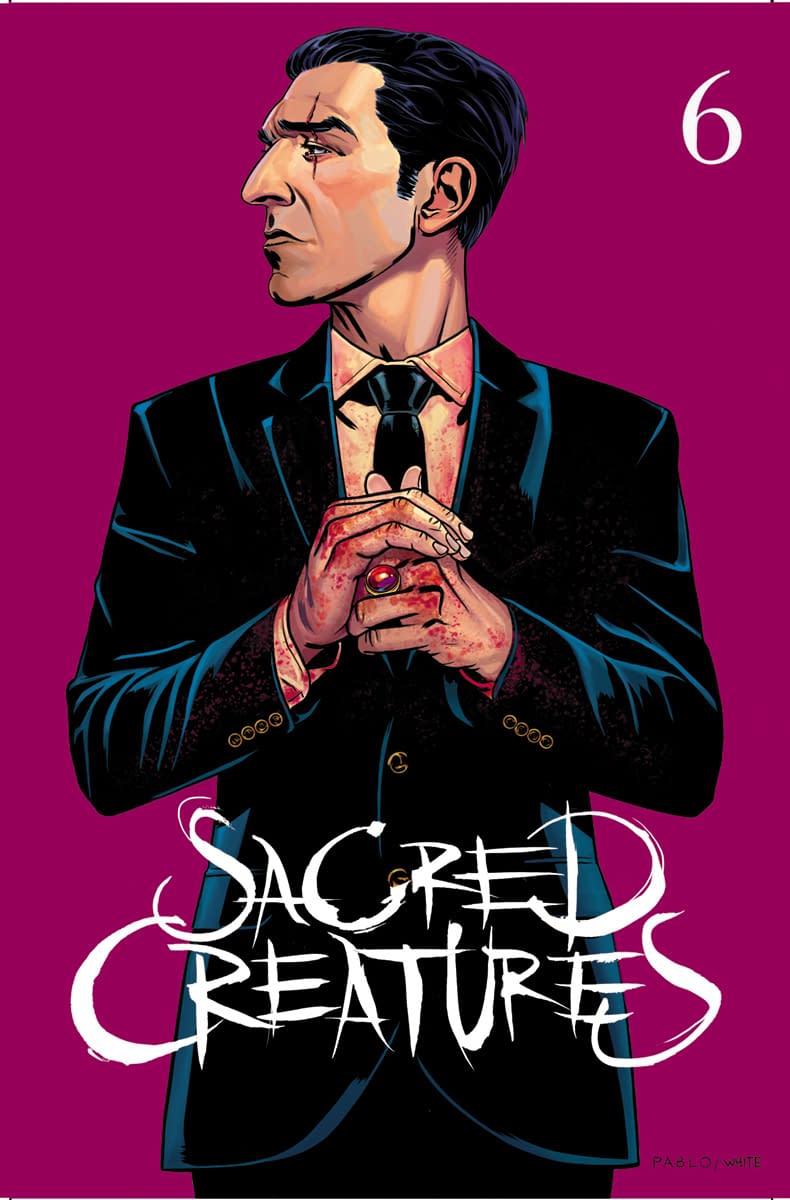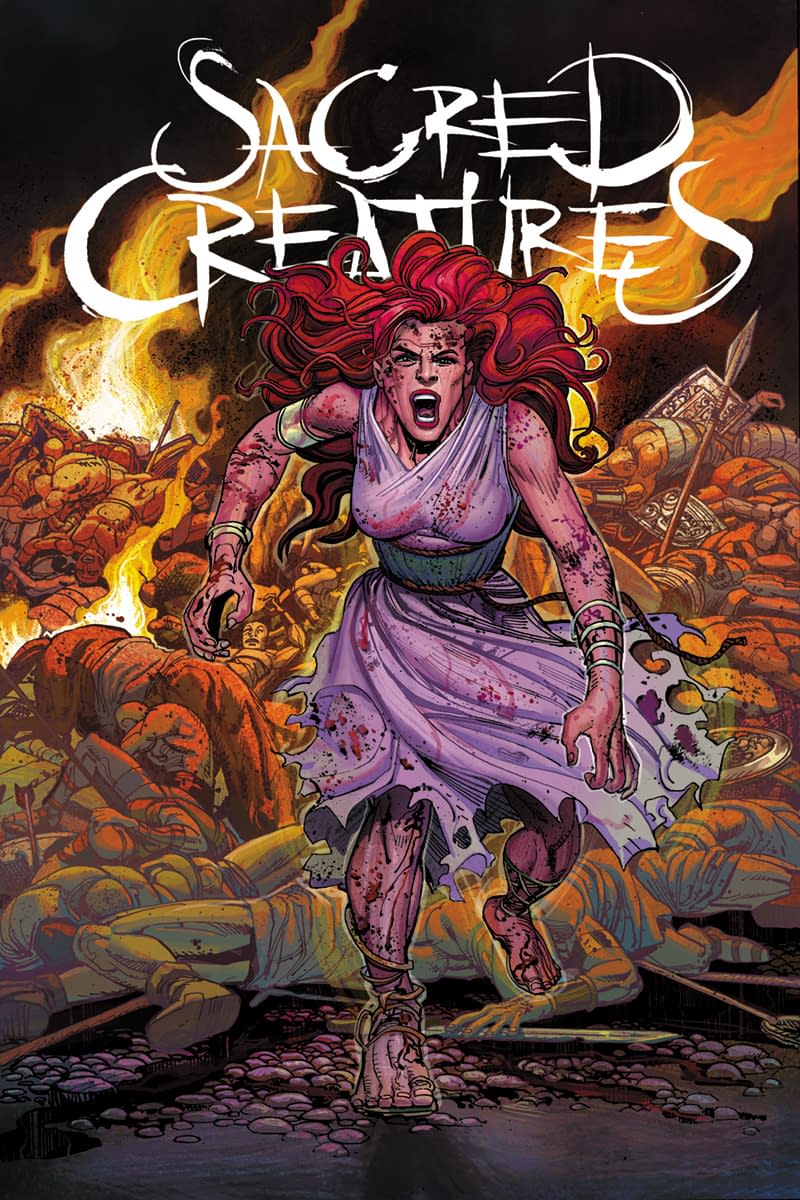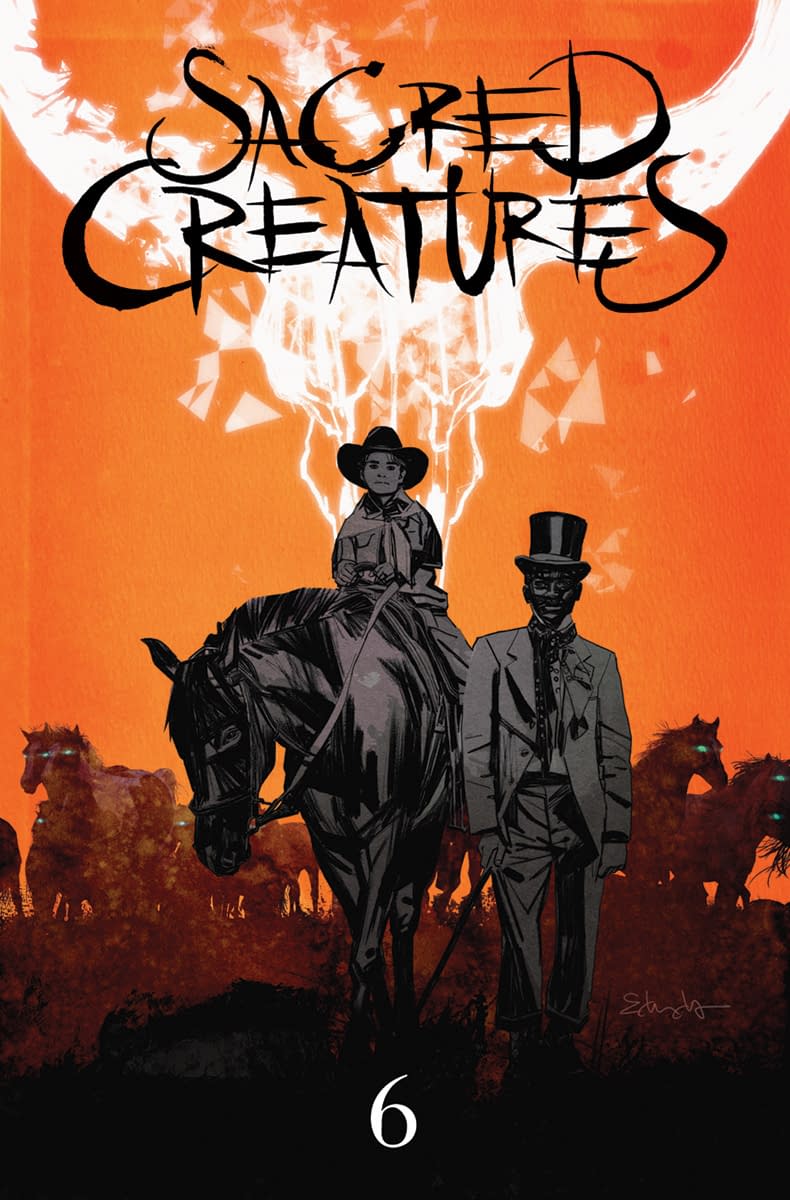 SAVAGE DRAGON ARCHIVES, VOL. 9 TP
STORY / ART / COVER: ERIK LARSEN
JANUARY 03 / 544 PAGES / BW / M / $24.99
SAVAGE DRAGON COLLECTED IN STUNNING BLACK AND WHITE! The notorious threesome! Mr. Glum's story! Into Dimension-X! Malcolm graduates high school! The showdown with Dart! Malcolm and Maxine tie the knot! Ant! Spawn! Malcolm joins the Chicago Police Dept.! Malcolm and Maxine become proud parents! The Merging of Multiple Earths! Death! Birth! Everything you loved and more in the generation-spanning saga from Inkwell Award-winning creator ERIK LARSEN! Featuring the awe-inspiring epic 225th issue! All collected in one massive volume! Collects SAVAGE DRAGON #201-225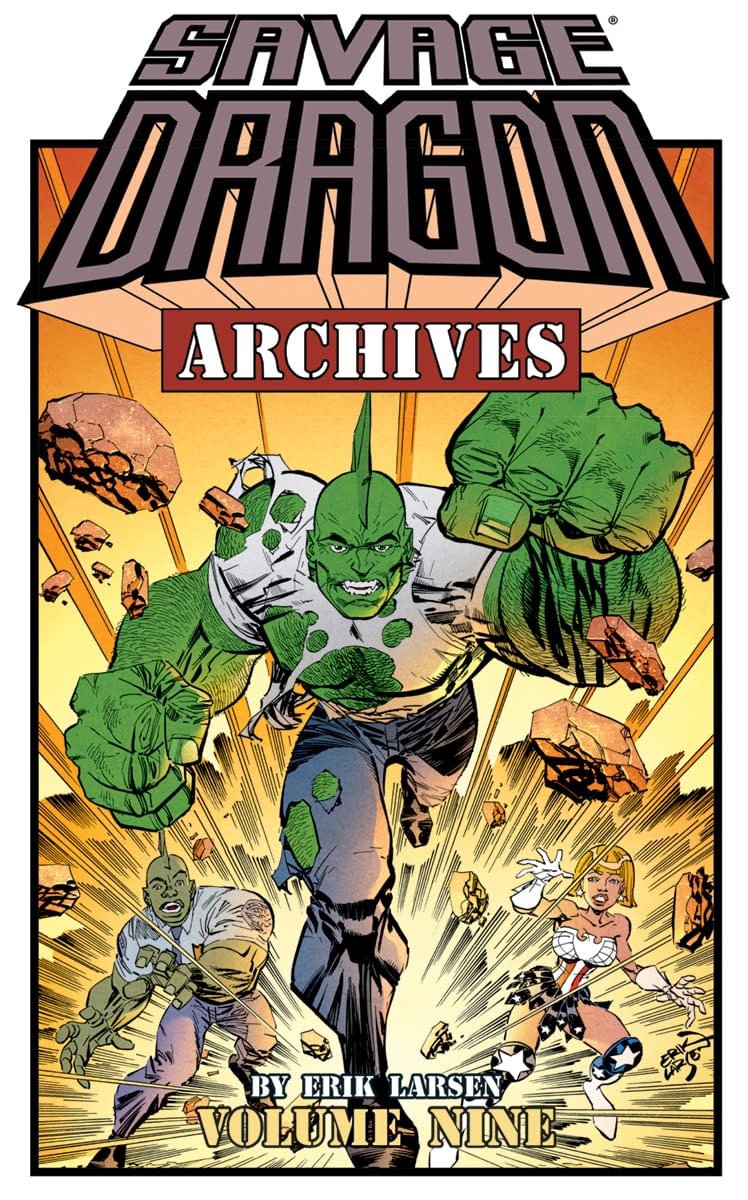 SCALES & SCOUNDRELS #5
STORY: SEBASTIAN GIRNER
ART / COVER: GALAAD
JANUARY 03 / 32 PAGES / FC / E / $3.99
Shipwrecked on an ocean miles below the surface, the scoundrels take shelter on a mysterious island. But what they find there is far from the gold and treasure legends spoke of….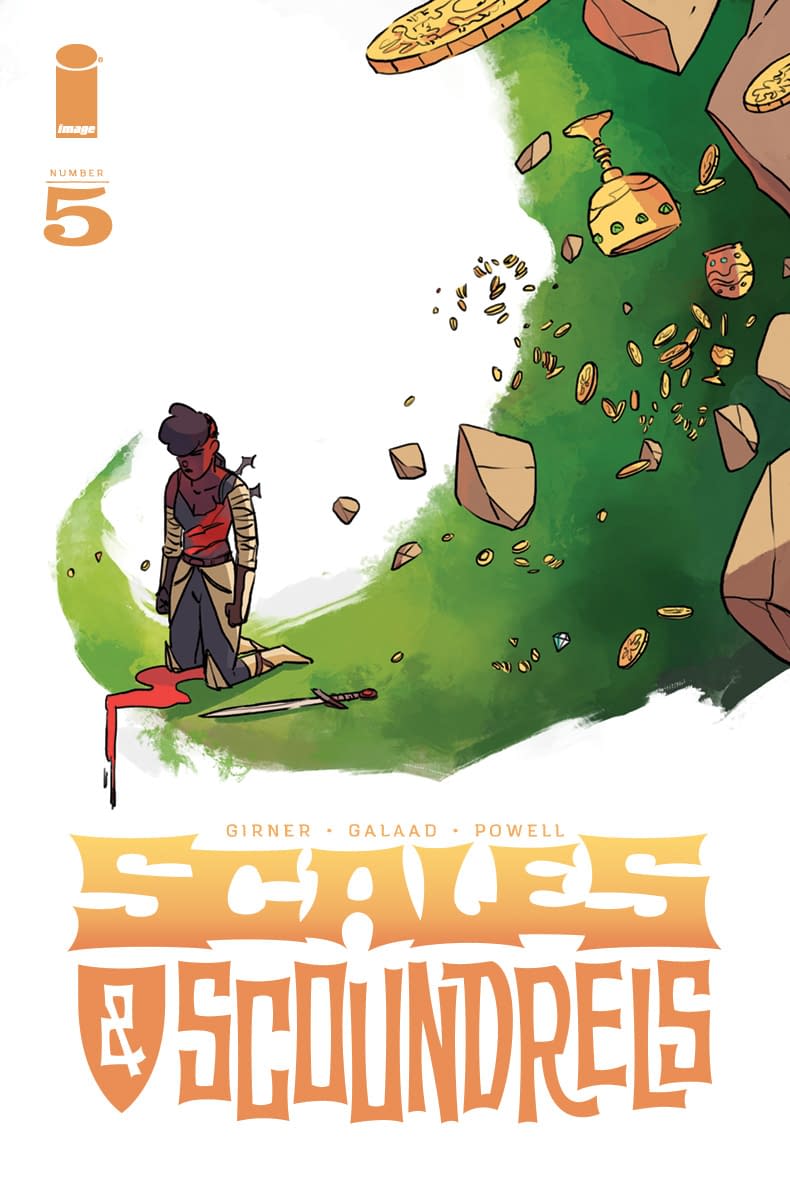 SLEEPLESS #2
STORY: SARAH VAUGHN
ART / COVER / VARIANT COVER: LEILA DEL DUCA, ALISSA SALLAH
JANUARY 10 / 32 PAGES / FC / T / $3.99
Poppy tries to figure out what steps to take after the attempt on her life, but nothing is going her way.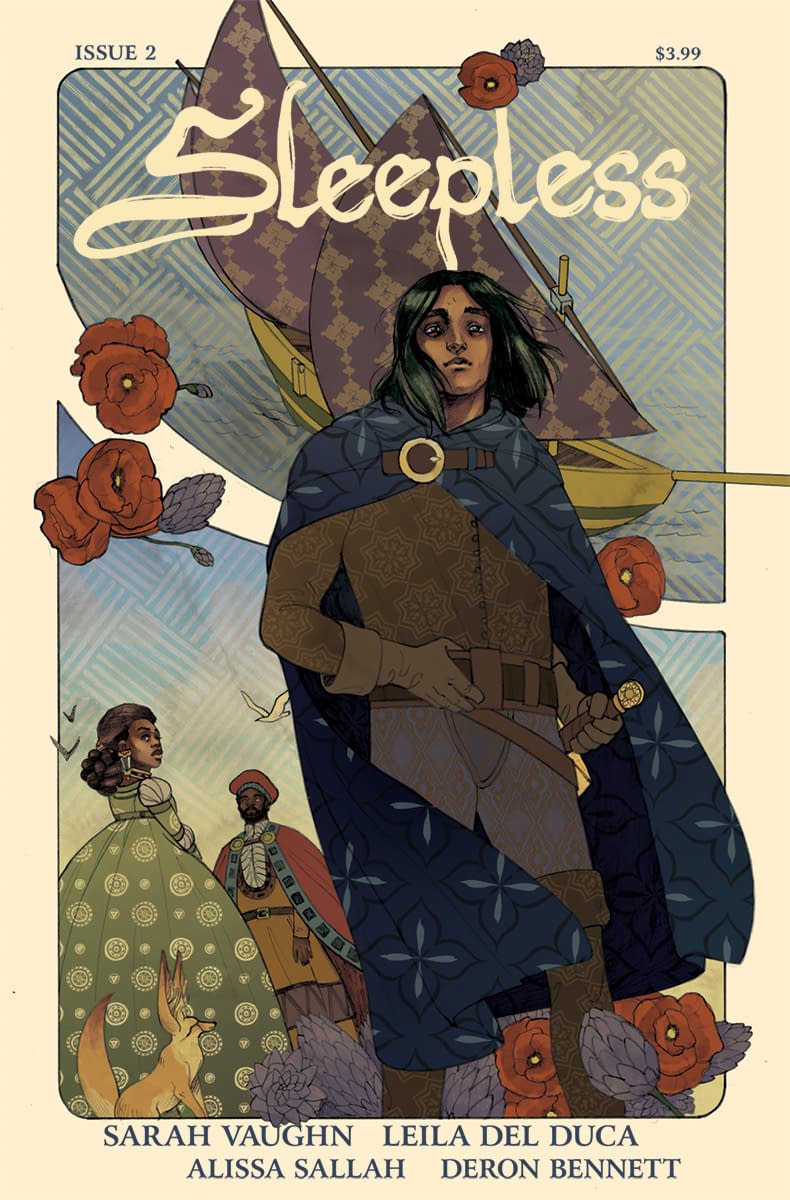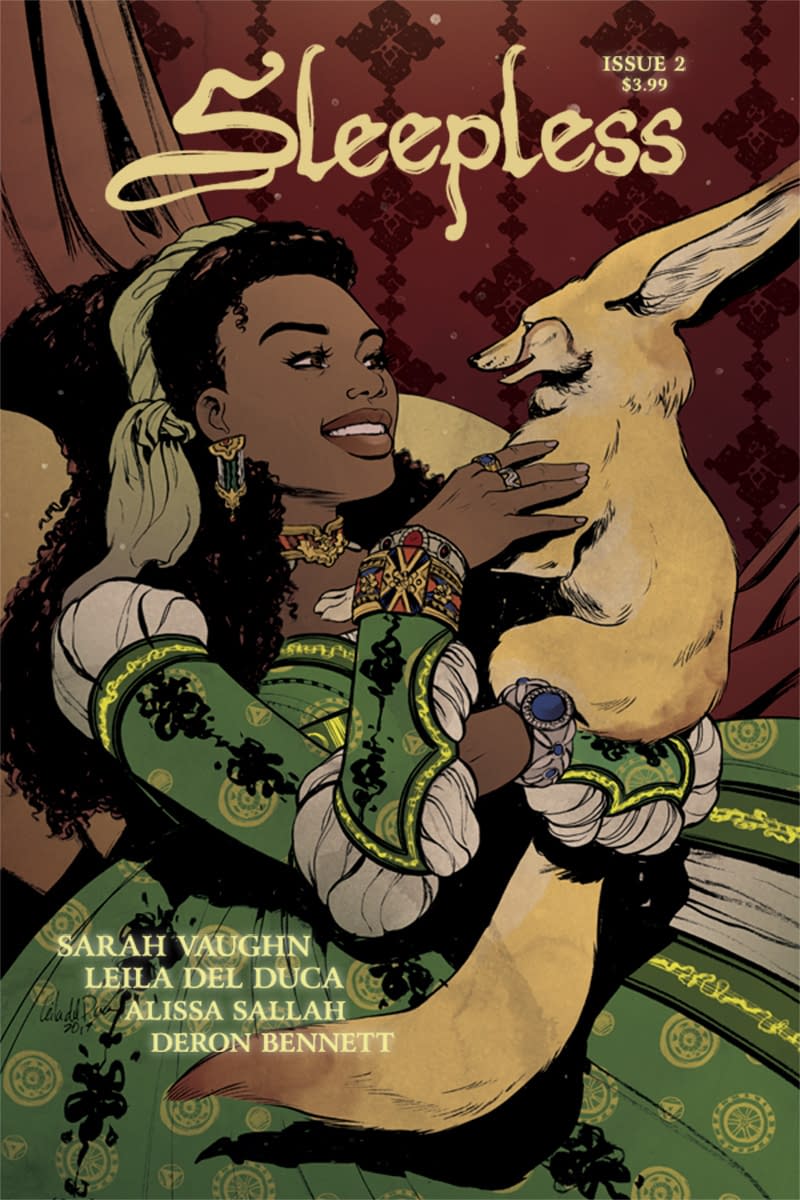 SLOTS #4
STORY / ART / COVER: DAN PANOSIAN
JANUARY 10 / 32 PAGES / FC / M / $3.99
With a deadbeat dad and a cruel stepfather, a boy named Lucy grew up quick and grew up mean…to everyone but a girl named Mercy.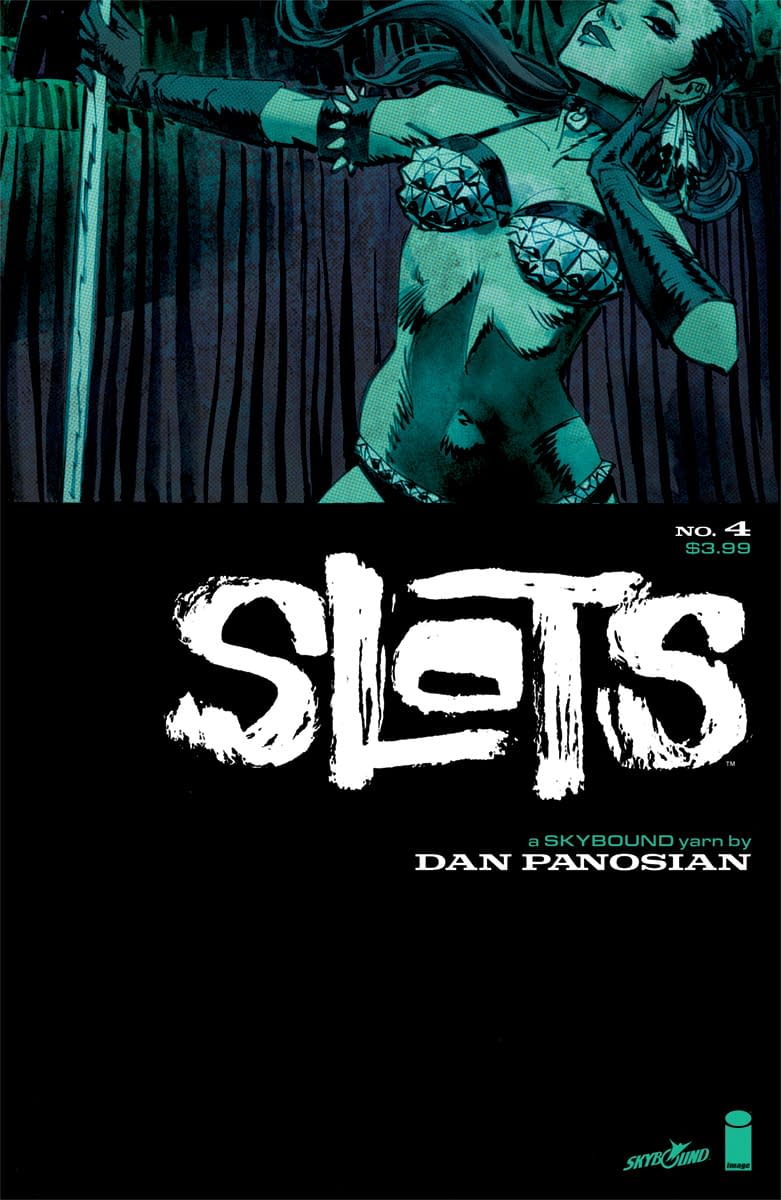 SNOTGIRL #9
STORY: BRYAN LEE O'MALLEY
ART / COVER: LESLIE HUNG
JANUARY 24 / 32 PAGES / FC / T+ / $3.99
From bestselling BRYAN LEE O'MALLEY (Scott Pilgrim, Seconds) and superstar LESLIE HUNG, it's SNOTGIRL! Lottie Person is a beloved blogger who just wants to live her life. Instead, she's getting engulfed in a messed-up mystery while secretly suffering from alarming allergies. THIS MONTH: Sun and fun at a fashion-influencer fest in the desert. The first part of a two-part adventure! It's "WEEKEND, PART ONE!" Don't forget your allergy pills!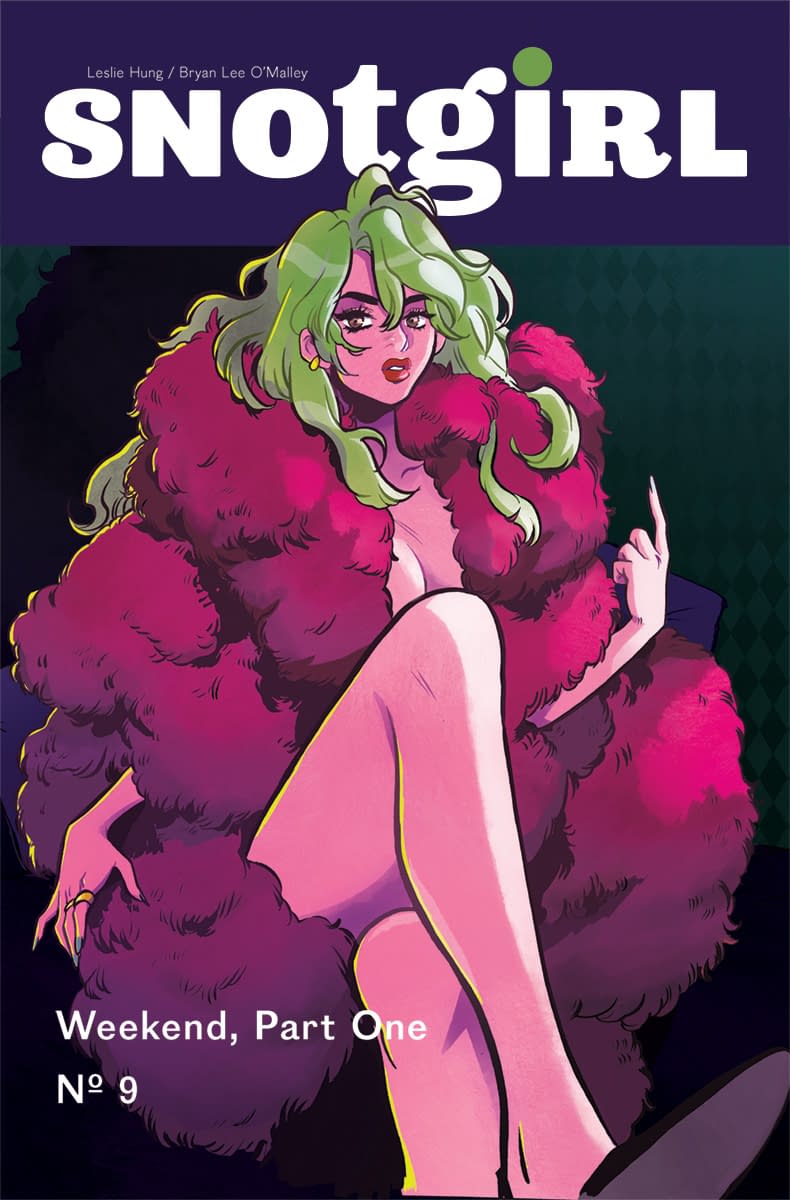 SOUTHERN BASTARDS, VOL. 4: GUT CHECK TP
STORY: JASON AARON, JASON LATOUR
ART / COVER: JASON LATOUR, CHRIS BRUNNER
JANUARY 31 / 160 PAGES / FC / M / $16.99
Coach Boss holds sway over Craw County for one reason: he wins football games. But after the biggest, ugliest loss of his career, the coach must become more of a criminal than ever before if he's gonna keep ahead of his enemies. Enemies like Roberta Tubb, who's come to town with a machine gun and some serious questions about how her daddy died. The 2015 Harvey Award-winning (Best New Series) and 2016 Eisner Award-winning (Best Continuing Series) southern-fried crime comic by JASON AARON & JASON LATOUR is back for another round of football, BBQ, and bloodshed! Collects SOUTHERN BASTARDS #15-20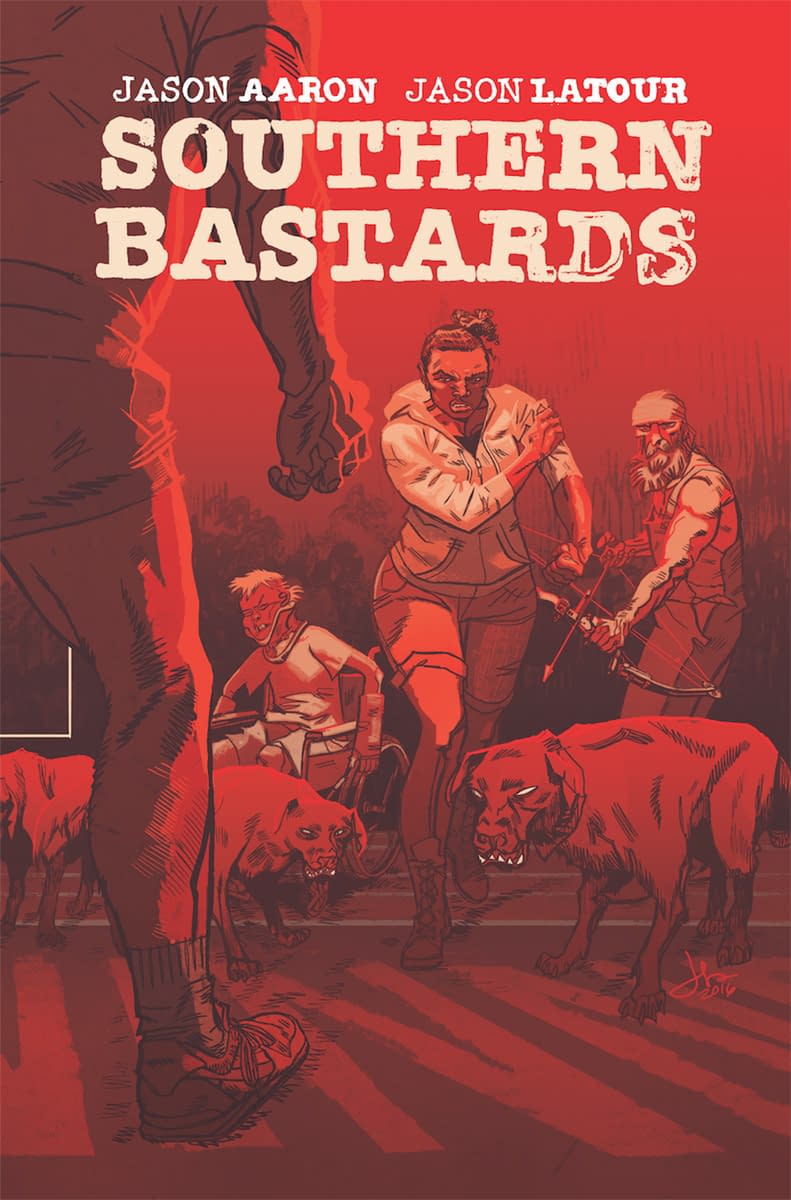 SPAWN #282
STORY: DARRAGH SAVAGE, JASON SHAWN ALEXANDER
ART / COVER / VARIANT COVER: JASON SHAWN ALEXANDER
JANUARY 24 / 32 PAGES / FC / T / $2.99
"DARK HORROR," conclusion THE EXCITING FINALE OF THE DARK HORROR STORY ARC! This issue marks the introduction of a NEW CHARACTER, soon to have its OWN Image comic book!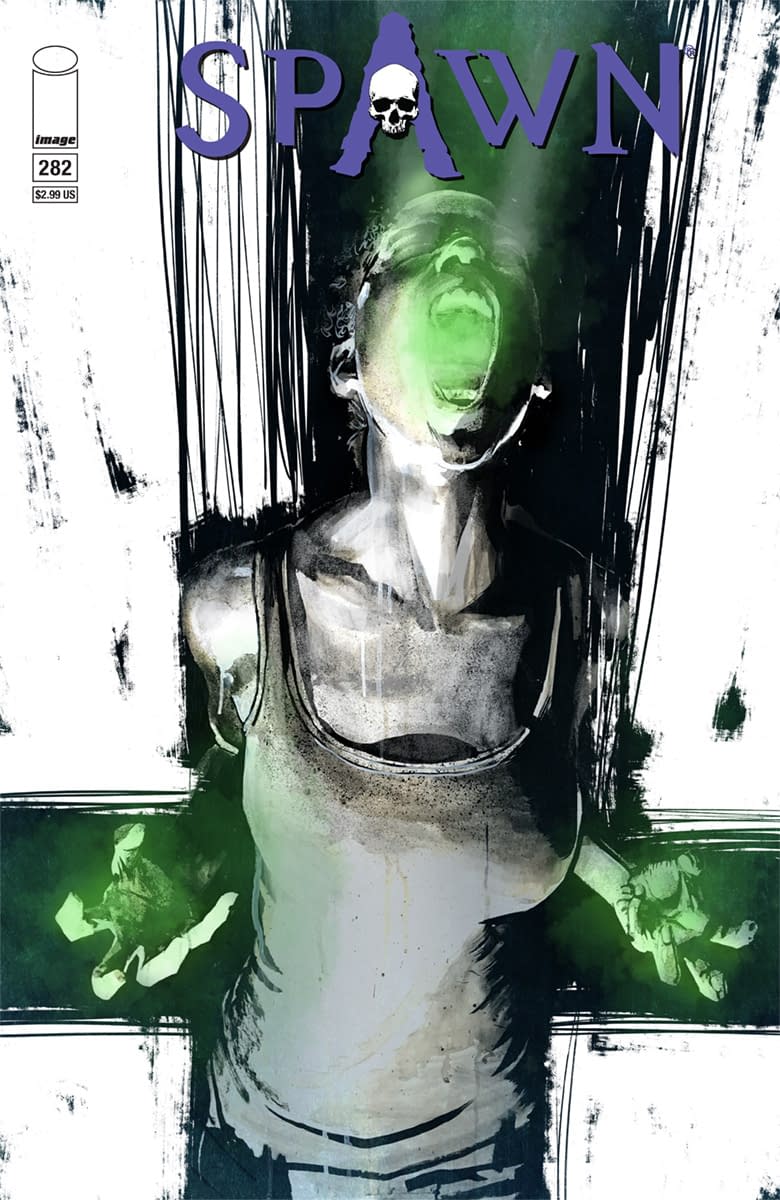 SPREAD #25
STORY: JUSTIN JORDAN
ART: KYLE STRAHM, JOHN BIVENS, FELIPE SOBREIRO
COVER: KYLE STRAHM, FELIPE SOBREIRO
VARIANT COVER: FELIPE SOBREIRO
JANUARY 17 / 32 PAGES / FC / M / $3.99
"DAMOCLES," Conclusion No versus the Spread. All of it.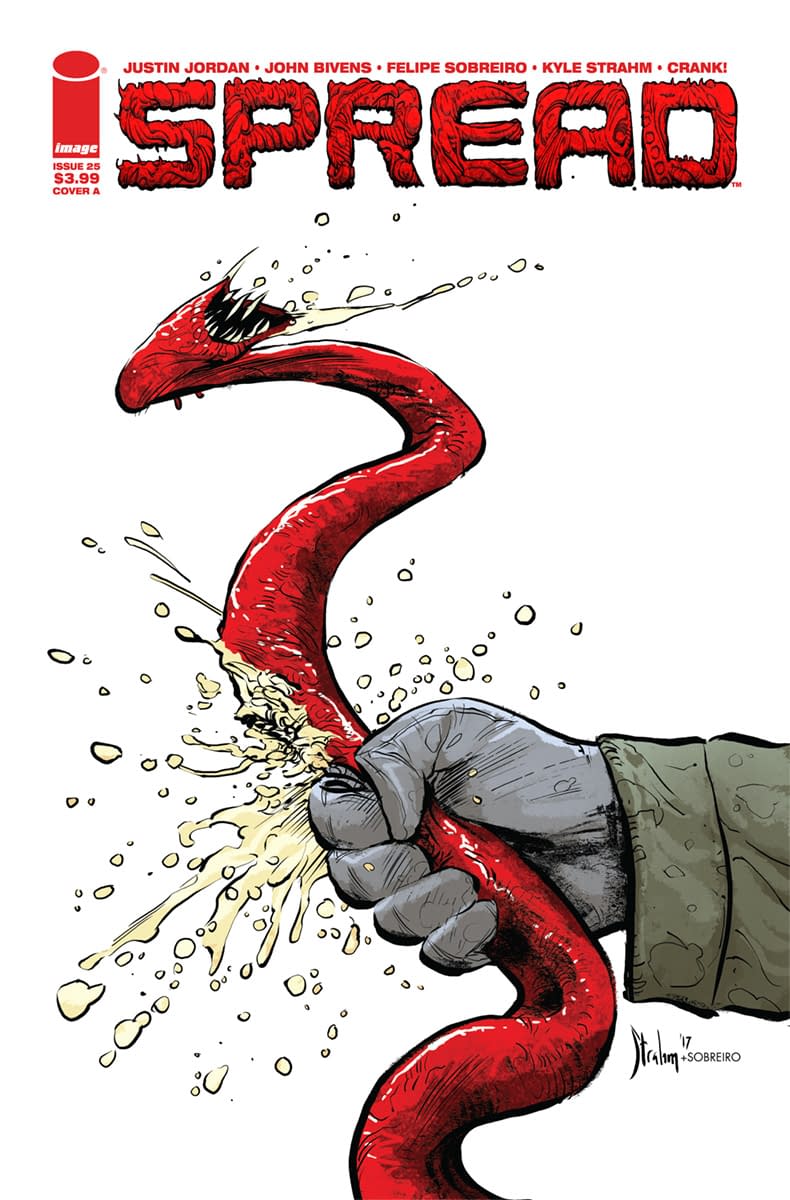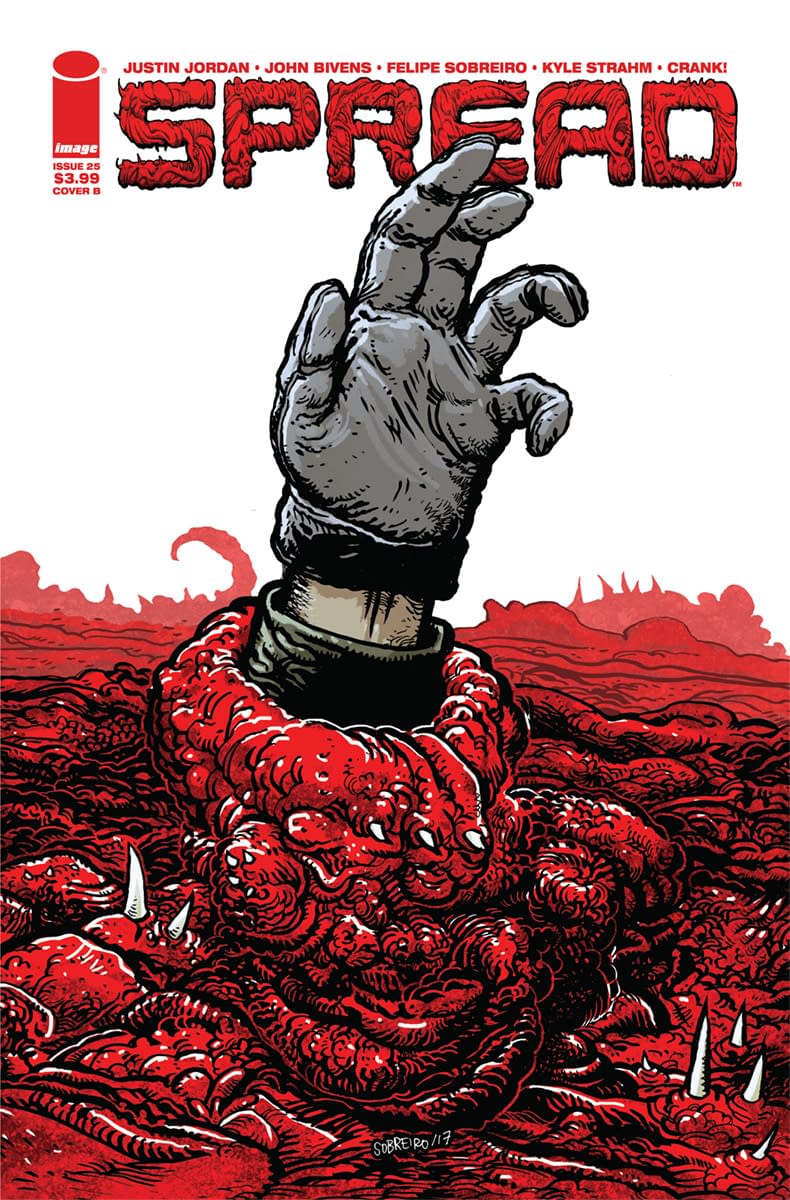 STRAY BULLETS: SUNSHINE & ROSES #32
STORY / ART / COVER: DAVID LAPHAM
JANUARY 17 / 32 PAGES / BW / M / $3.99
Kretchmeyer and Annie make a drastic decision after realizing that their lives just suck without enormous amounts of money and power.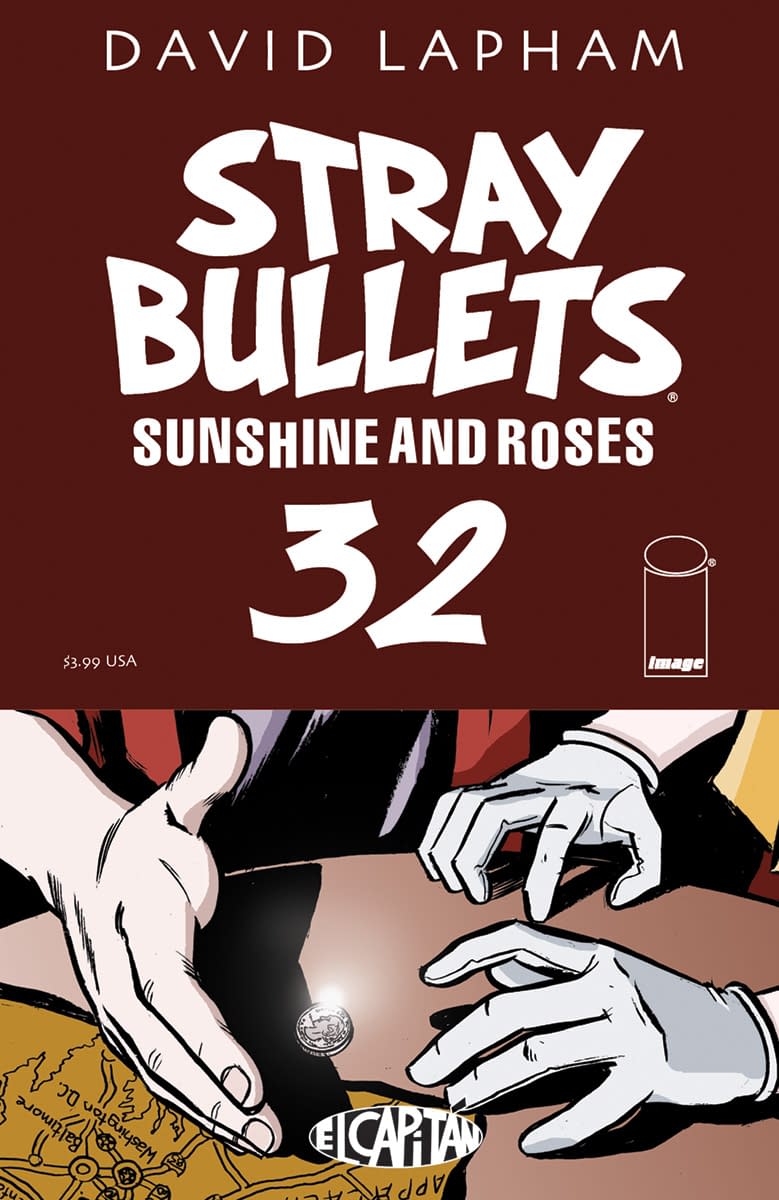 THROWAWAYS #11
STORY: CAITLIN KITTREDGE
ART / COVER: STEVEN SANDERS
JANUARY 03 / 32 PAGES / FC / M / $3.99
Abby and Kimiko go behind the public face of the mysterious Senator Ben Stark and witness his origins—and a glimpse of the dark future his presidency means for country. Meanwhile, Dean and Nadira are on the run, and Dean has to face some uncomfortable truths about what even those who purport to be on his side against ULTRA and Stark are capable of.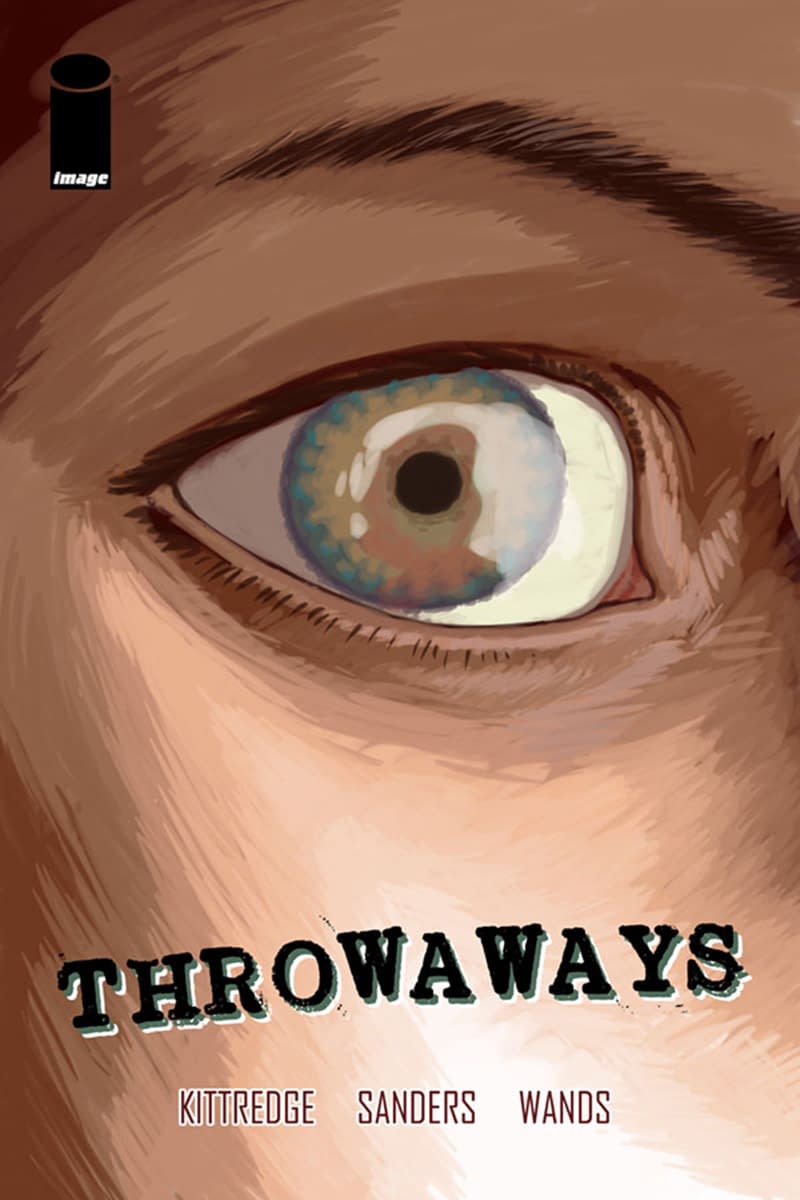 UNDERWINTER: A FIELD OF FEATHERS #4
STORY / ART / COVER: RAY FAWKES
JANUARY 31 / 32 PAGES / FC / M / $3.99
The children are trapped on the highway. There's no turning back. This is where father and mother stage their final battle. Magic is worse than a bullet.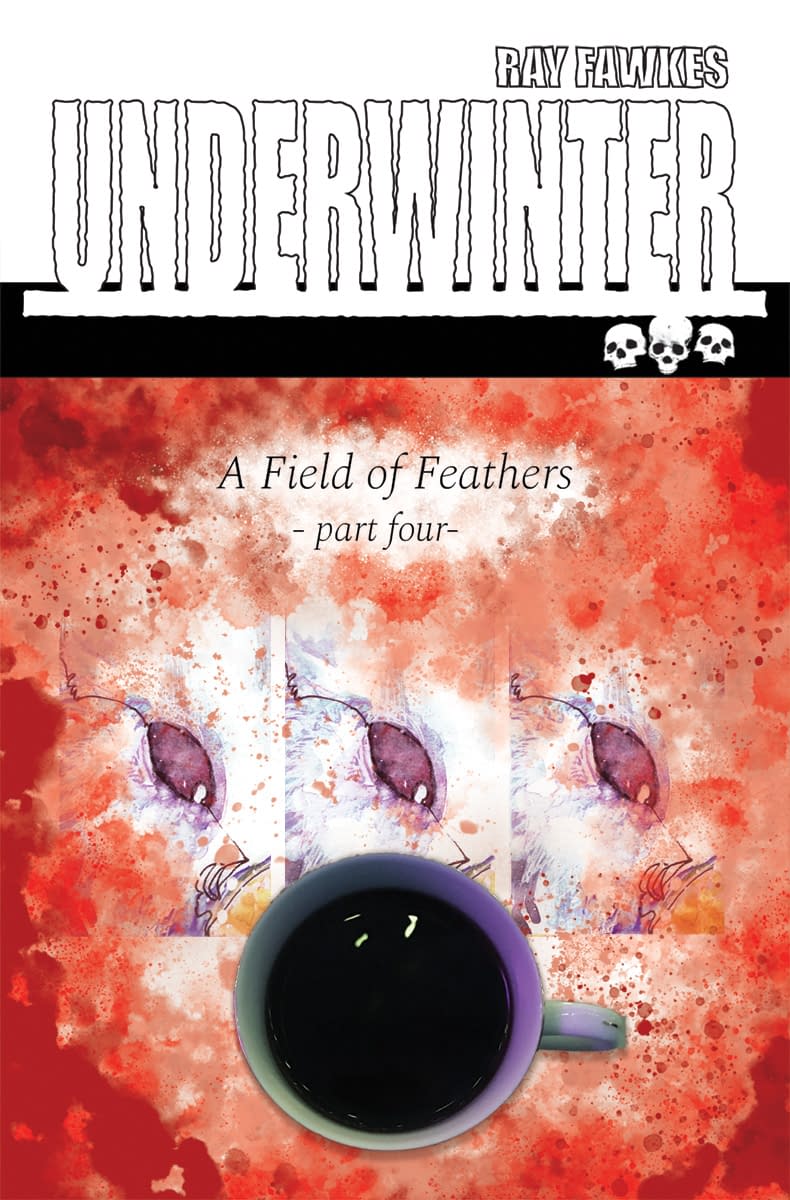 VIOLENT LOVE, VOL. 2: HEARTS ON FIRE TP
STORY: FRANK J. BARBIERE
ART / COVER: VICTOR SANTOS
JANUARY 17 / 144 PAGES / FC / M / $14.99
Daisy Jane and Rock Bradley's story of blood, bullets, and revenge comes to a thrilling conclusion. Collects VIOLENT LOVE #6-10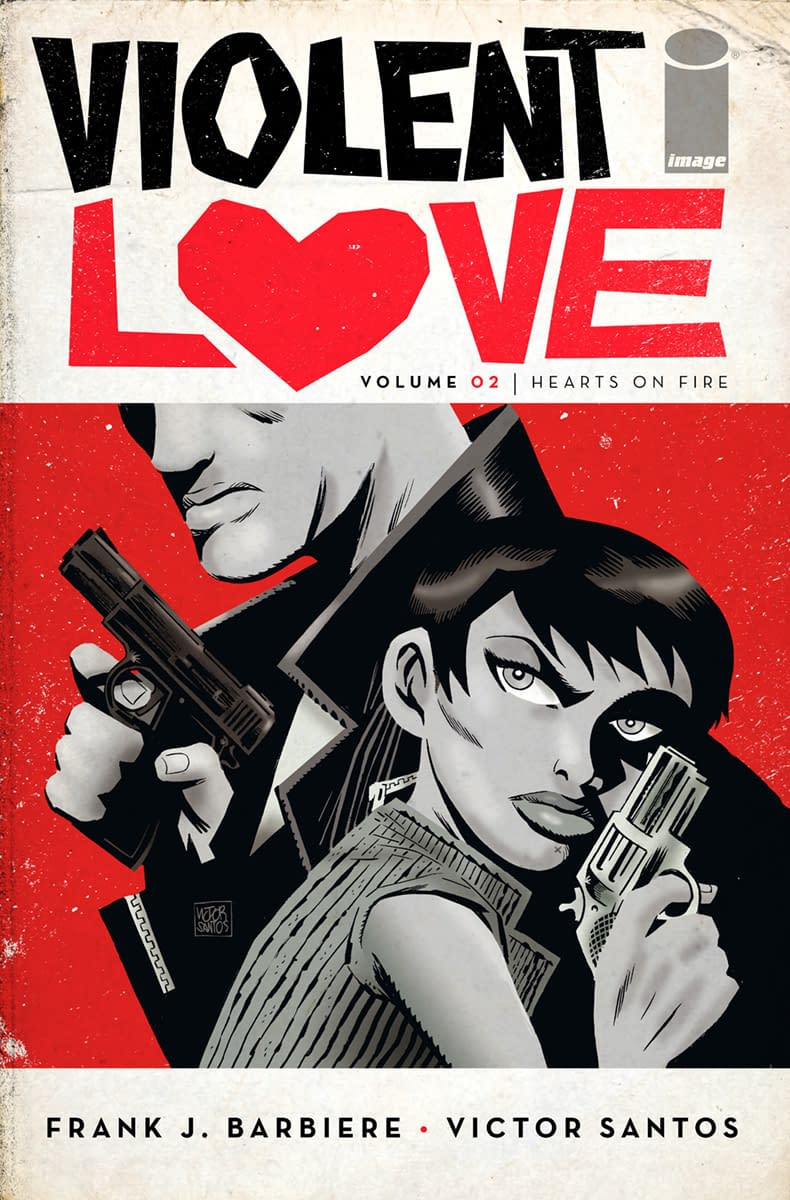 VOID TRIP #3 (OF 5)
STORY: RYAN O'SULLIVAN
ART / COVER: PLAID KLAUS
JANUARY 31 / 32 PAGES / FC / M / $3.99
Having now discovered the hippy-paradise super-planet Euphoria, our space hobos finally learn that age-old truth: the worst thing that can happen to a person is having their dreams come true.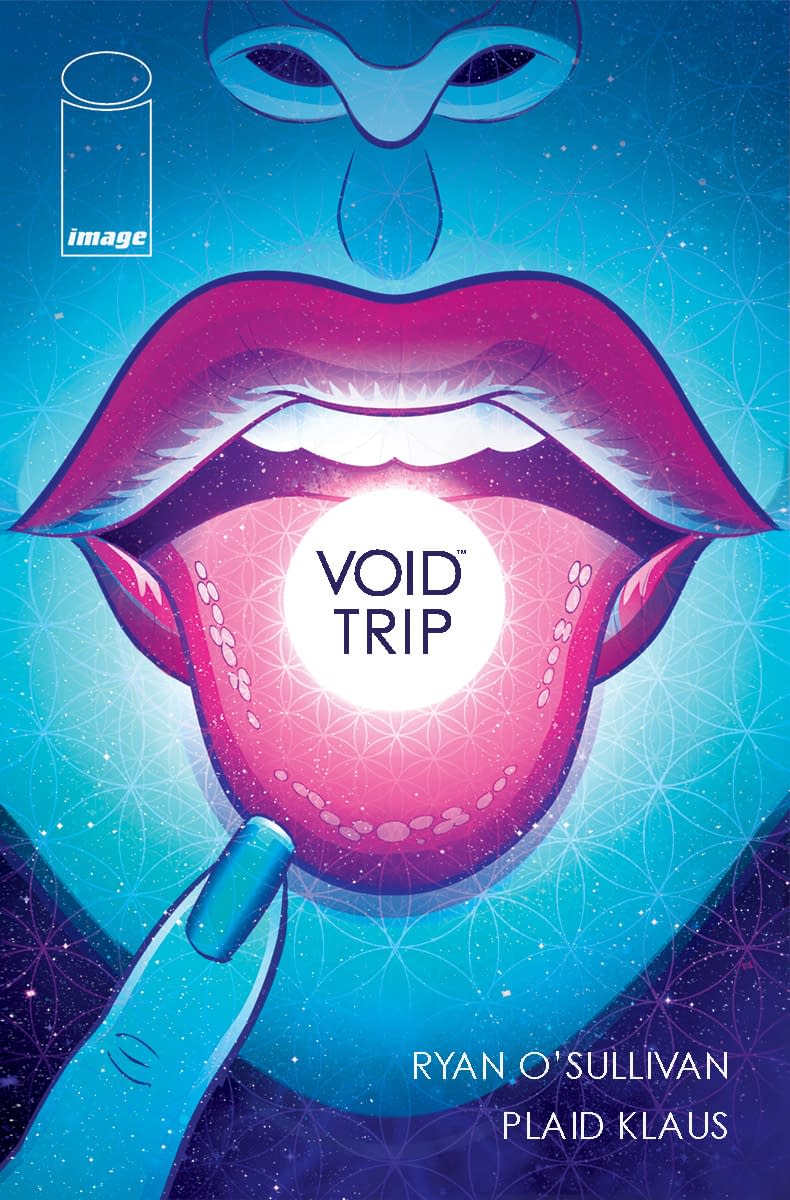 WARFRAME #4
STORY: MATT HAWKINS, RYAN CADY
ART / COVER: STUDIO HIVE
JANUARY 17 / 32 PAGES / FC / T+ / $3.99
On the other side of the Void Gate, the Lotus's Tenno and her allies discover Orokin secrets beyond their imagining. But they're far from alone on the vessel, as something horrible from the past awakens….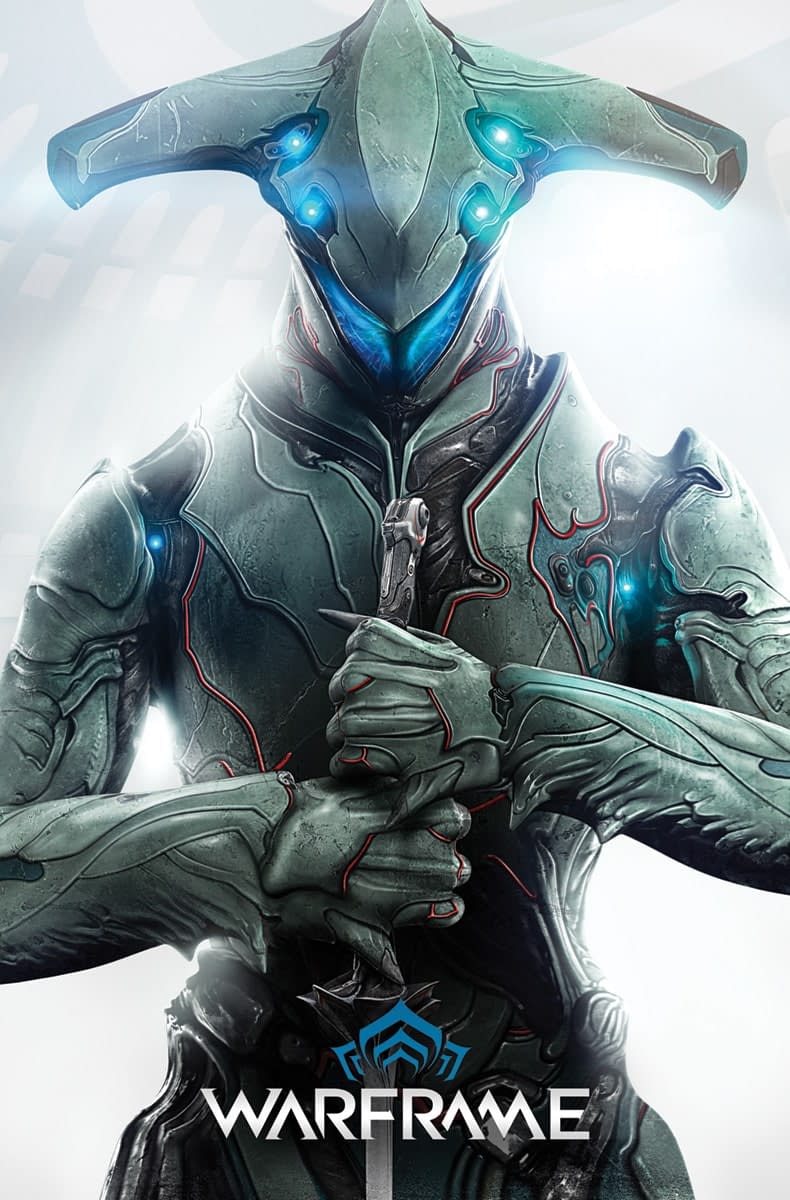 WAYWARD, VOL. 5: TETHERED SOULS TP
STORY: JIM ZUB
ART / COVER: STEVEN CUMMINGS, TAMRA BONVILLAIN
JANUARY 31 / 136 PAGES / FC / M / $16.99
Japan and Ireland are torn apart by conflict. The new power that defines the modern world rages out of control. JIM ZUB (Avengers, SKULLKICKERS) and STEVEN CUMMINGS (Deadshot, Legends of the Dark Knight) continue their supernatural spectacle that combines the camaraderie and emotion of shows like Buffy the Vampire Slayer with foreign cultures and fascinating mythological monsters. This volume includes design artwork by artist STEVEN CUMMINGS and profiles on mythical creatures by monster scholars ZACK DAVISSON and ANN O'REGAN not found in the single issues. Collects WAYWARD #21-25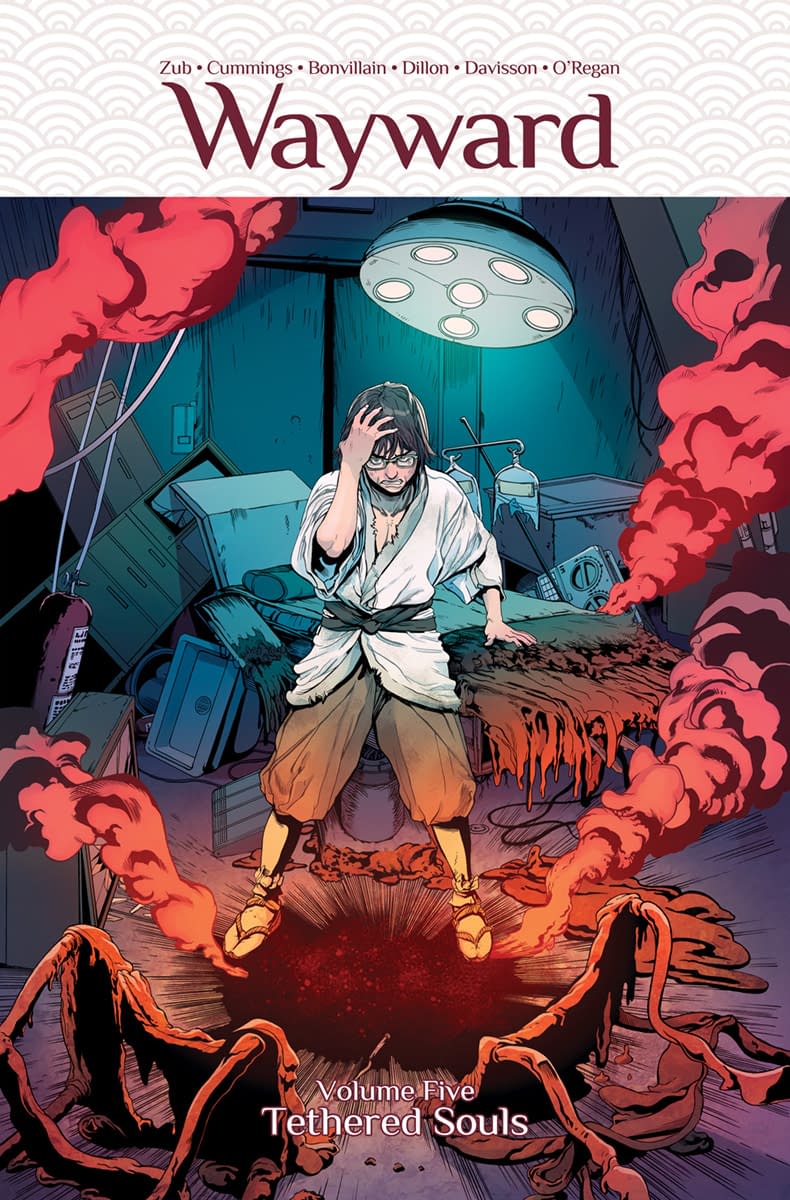 THE WICKED + THE DIVINE, VOL. 6: IMPERIAL PHASE, PART 2 TP
STORY: KIERON GILLEN
ART / COVER: JAMIE MCKELVIE, MATT WILSON
JANUARY 10 / 168 PAGES / FC / M / $16.99
When you're at the peak of your powers, there's only one way to go. The question becomes—how many people are you willing to drag down with you? The bestselling, critically acclaimed comic by KIERON GILLEN, JAMIE McKELVIE and MATT WILSON reaches its most dramatic arc yet. Collects THE WICKED + THE DIVINE #29-33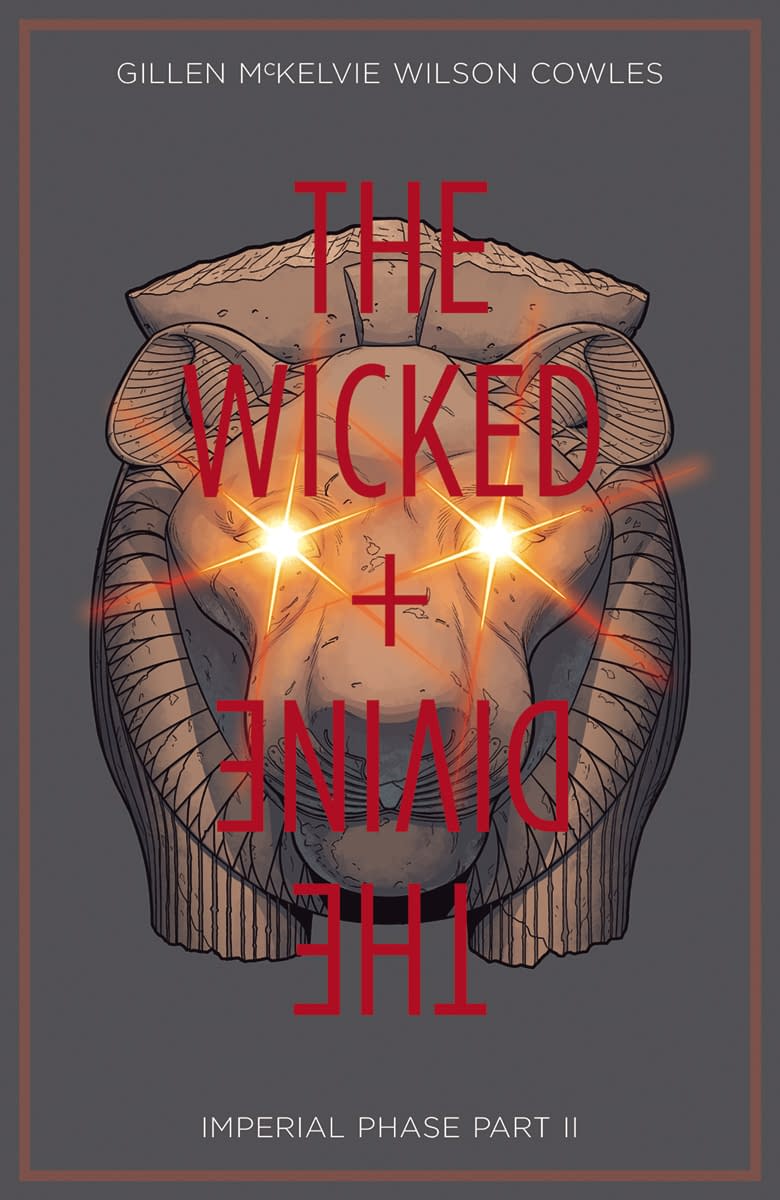 WITCHBLADE (2017) #2
STORY: CAITLIN KITTREDGE
ART / COVER: ROBERTA INGRANATA, BRYAN VALENZA
VARIANT COVER: ROB LIEFELD
JANUARY 10 / 0 PAGES / FC / E / $3.99
"LIFE AFTER," Part Two
Struggling to adapt to her new life as the Witchblade's host, Alex finds she's the prime suspect in the death of an NYPD detective—and that the dead cop had powerful and corrupt friends who will do anything to keep his shady business quiet. But in the world of the Witchblade, nothing is quite what it seems, and Alex soon learns that there's more than greed and graft at play inside the circle of corruption. The bent cops also have a supernatural backer, and Alex has just landed in his crosshairs.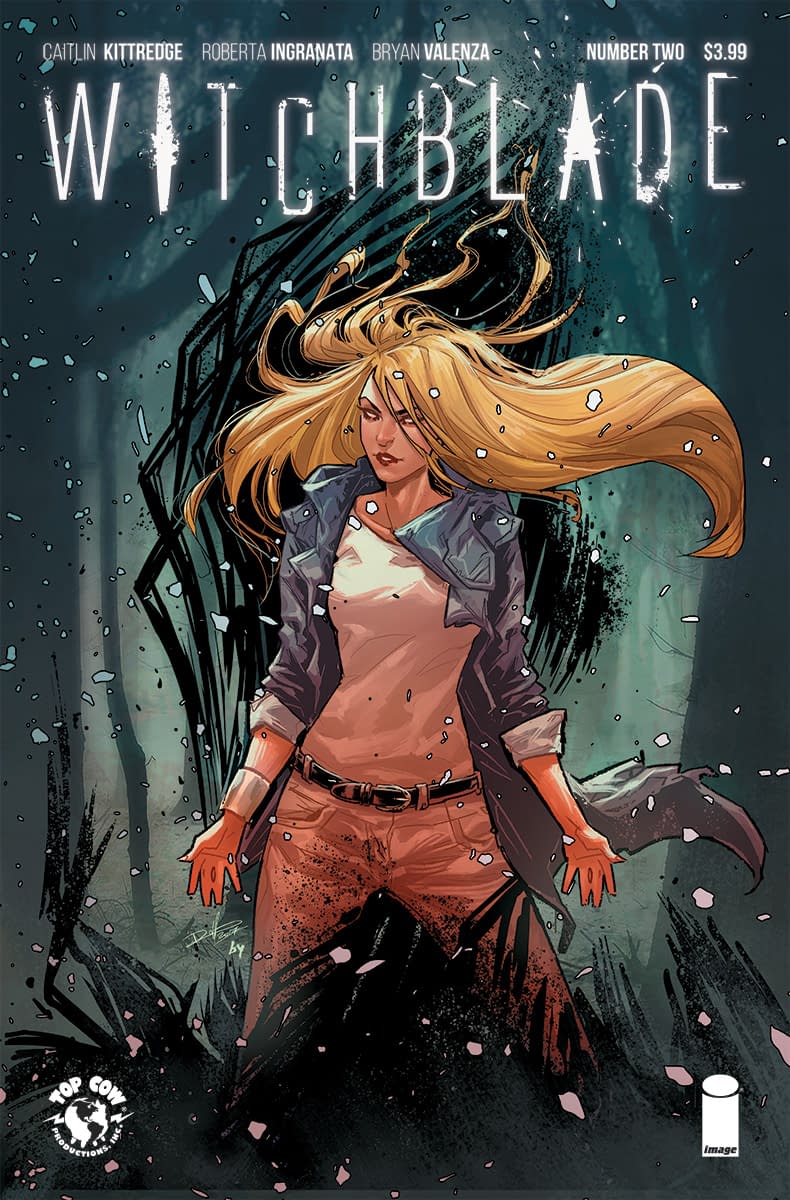 YOUNGBLOOD #8
STORY: CHAD BOWERS
ART / COVER: JIM TOWE
VARIANT COVER: ROB LIEFELD
JANUARY 10 / 32 PAGES / FC / T+ / $3.99
"TEAM YOUNGBLOOD" starts here! Youngblood crashes into the new year with a new recruit, and an all-new mission! Find out why fans and critics alike are calling Youngblood "the best new team book around" with this issue, the perfect jumping-on point for new readers!