Major Connective Tissue in Avengers #27 and Venom #20 Today (Major Spoilers)
Ah, the love that dare not shut up, between Donny Cates and Jason Aaron. But it seems that Jonathan Hickman has been drawn into the threesome. Major spoilers for today's Venom #20 and Avengers #27 below, you have been warned.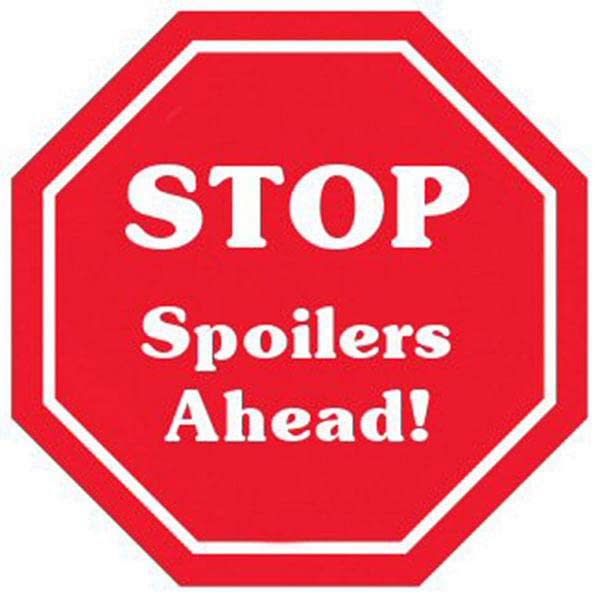 The Ultimate iteration of Venom was created by Brian Michael Bendis and Mark Bagley in Ultimate Spider-Man #33. In this version, Eddie Brock Jr. is Peter Parker's childhood friend and the Venom symbiote is not extraterrestrial but is the second stage of a genetically created "suit" designed by Richard Parker and Eddie Brock Sr as a cure for cancer meant to bond to the user and protect them from internal and external harm. The suit is tailored for a specific DNA, and the person to whom it belongs can control the suit more easily. If, however, someone uses a suit designed for somebody else, they are constantly damaged by the suit which requires nourishment, gained by feeding on organic flesh, to function. If bonded to an incompatible host the Venom suit begins consuming them almost immediately, forcing them to feed on others to sustain it or die themselves. When taking a host, the organic matter that comprises the suit completely envelops the host, regardless of resistance, temporarily blinding it, before encasing itself in a hard, purple casing, similar to a pupa, as it bonds further with the host. When the host emerges, the suit then shifts its appearance and function to assist its host, such as creating eyes for it to see through, or tries to take it over, inducing a homicidal rage and attempting to feed itself if bonded with an incompatible host. When bonded with a host and forcibly removed, the Venom suit leaves trace amounts of itself in their bloodstream, which attracts other samples of Venom to itself, and can overload Spider-Man;'s spider-sense. Venom's only known weakness is electricity, and larger amounts of the suit will need more electricity to kill, as varying amounts of the suit will be stunned or vaporized by electric shocks.
And now, courtesy of Jonathan Hickman's Ultimate Reed Richards, the Maker, appearing in Donny Cates' Venom, the Ultimate Venom, not part of the symbiote hivemind, os on the Marvel Earth.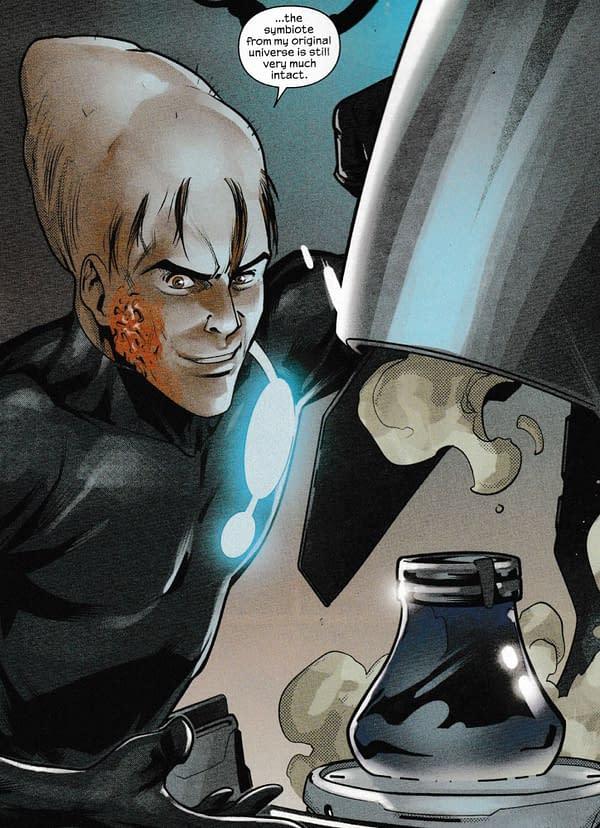 Before Donny Cates revived one of Jonathan Hickman's creations, The Council Of Reeds, showing that The Maker is very much a participant, with a mission to restore the Ultimate Universe in its entirety.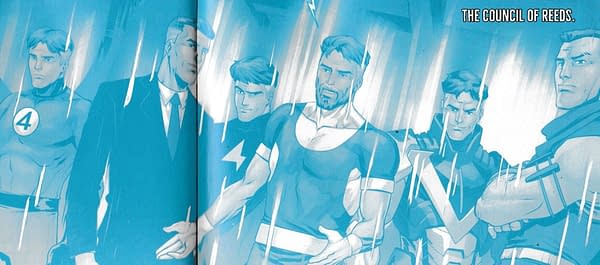 Maybe he should be talking to the Kingpin and the Marvel Universe version of Miles Morales, Ultimatum? While as we noted, Jason Aaron's Avengers has brought in an abandoned Starjammers ship…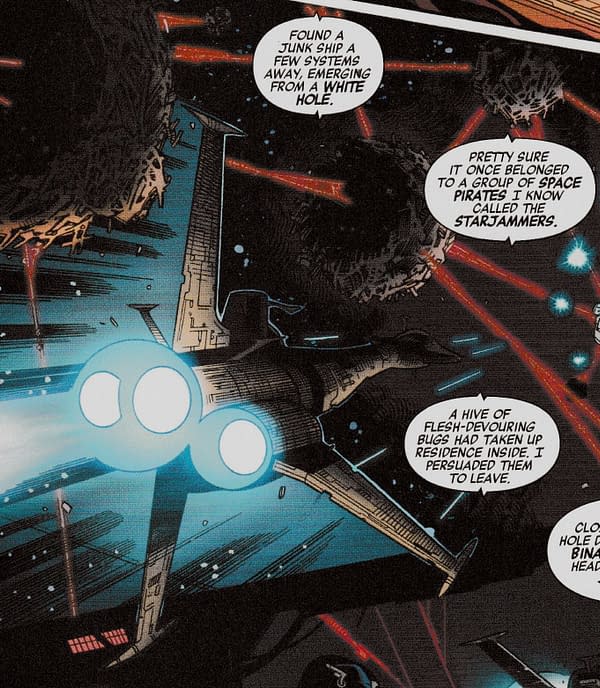 … last seen in today's New Mutants #2…

But ends with the arrival of a certain figure looking a certain way.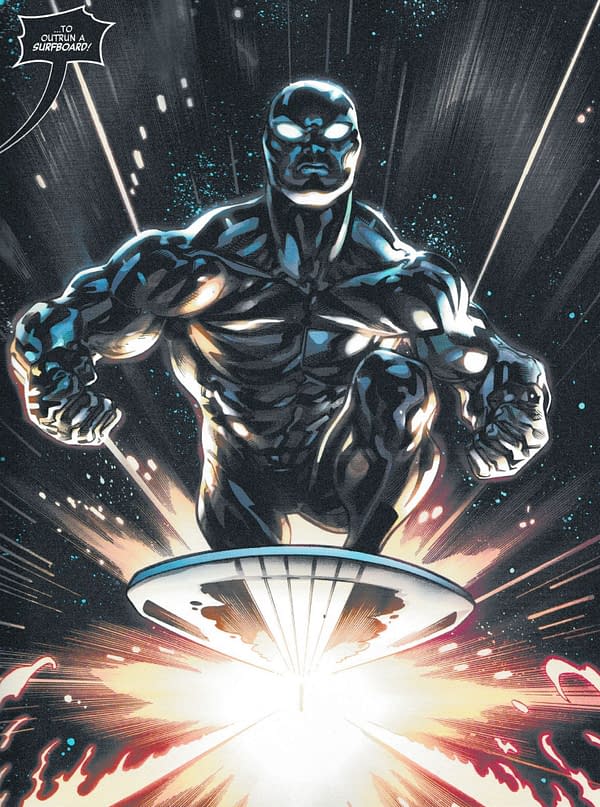 The Black Silver Surfer. As seen at the end of Donny Cates' Silver Surfer: Black and then again (in retrospect) in Donny Cates's Thanos. from the future, known as The Fallen One and having proven himself worthy to… well…
Well, there is a hammer going spare… just watch out for The Twin Titans…
Avengers #27, Venom #20 and New Mutants #2 are published by Marvel Comics today in all good comic shops. I bought mine from Piranha Comics in Kingston-Upon-Thames. Piranha Comics is a small south London comic store chain with a small south-east store in Kingston-Upon Thames's market centre, which runs Magic The Gathering nights on Fridays, and a larger south-west store in Bromley, which also runs Magic nights and has an extensive back issue collection and online store. If you are in the neighbourhood, check them out.

NEW MUTANTS #2 DX
(W) Jonathan Hickman (A/CA) Rod Reis
THE NEW GENERATION CLAIMS THE DAWN!
The classic New Mutants (Sunspot, Wolfsbane, Mirage, Karma, Magik, and Cypher) get together with a few new friends (Chamber, Mondo) to seek out their missing member and share the good news… a mission that takes them into space alongside the Starjammers!
Rated T+In Shops: Nov 27, 2019
SRP: $3.99

AVENGERS #27
(W) Jason Aaron (A/CA) Ed McGuinness
STARBRAND REBORN Part One: RIOT IN THE SPACE PRISON!
Artist Ed McGuinness returns for an epic space adventure that takes the Avengers into an alien prison the size of a galaxy, where a mysterious new wielder of the all-powerful Starbrand has suddenly appeared, unleashing cosmic chaos. Good thing the Avengers brought along their newest member, the Black Widow. Rated T+In Shops: Nov 27, 2019 SRP: $3.99

VENOM #20 AC
(W) Donny Cates (A) Iban Coello, Jose Carlos Silva (CA) Kyle Hotz
• It's the final tie-in to ABSOLUTE CARNAGE, but that doesn't mean superstars Donny Cates and Iban Coello are easing up off the gas!
• You want to know what happens in this one, True Believers? You're going to have to read it! Rated T+In Shops: Nov 27, 2019 SRP: $3.99