 What is it with Marvel and red-headed mutants? Jean Grey almost destroyed the universe and ate the asparagus people, the Scarlet Witch went all nutty and started killing Avengers, and Hope… well, we'll get to Hope.
USA Today is reporting this afternoon that Marvel's next big event is Avengers vs. X-Men, a 12-issue miniseries coming out this April involving all three of the above-mentioned women.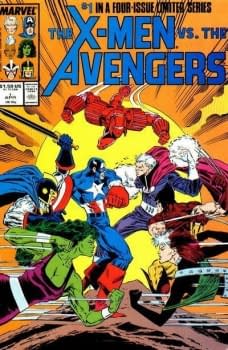 Rather than one lead writer, the event will feature five: Matt Fraction, Jason Aaron, Brian Michael Bendis, Ed Brubaker and Jonathan Hickman, with two writers, Bendis and Aaron, kicking things off in a prologue drawn by Frank Cho.
USA Today reports that,
Bendis takes on the Scarlet Witch, and for good reason: He was the Avengers writer when the mutant heroine, after being driven insane and thinking that her fellow Avengers took her children, lost control of her magical powers. …

"She's been on a road of almost impossible-to-perceive redemption over the last few years and now is going to come face-to-face with the Avengers," Bendis says.
As for Aaron and his portion, his focus is on Hope Summers, and USA Today tells us,
The prevailing theory among mutants is that she will be the next host of the Phoenix Force when it comes, and the fact that she has green eyes and red hair like the most famous Phoenix of them all, the late X-Man Jean Grey, causes some to feel she may even be Jean Grey reincarnated.

Hope and the Scarlet Witch will finally cross paths, though, because the Phoenix Force is coming and it's what kicks off the conflict in the first issue of Avengers vs. X-Men.

"The Phoenix Force is the spirit of destruction and rebirth," Alonso says. "It razes worlds to create something new. It's bad news if you happen to be living on the world about to be razed. It's great news if you're what's going to be the outcome of that world."

The X-Men want to protect Hope, and the Avengers want to retrieve her before the Phoenix arrives, but neither group is in a great place when the series starts.
And, with that, we can queue up the cries of misogyny on the boards in 5… 4….
Bleeding Cool told you that the events of Schism/Regenesis, Fear Itself and Children's Crusade would all come together at Marvel. This is that. And also Frank Cho's secret Marvel project, seen below… Enjoyed this article? Share it!