Spawn isn't the only Todd McFarlane comic book with a 300th issue hitting stores in August. Hell, it's not even the only one with that cover! Revealed in Marvel's August solicitations, the House of Ideas has unveiled the next comic book to get the 3D treatment: McFarlane and David Michelinie's Amazing Spider-Man #300, featuring the debut of Venom.
So to be sure we've got this right, we've got a Rob Liefeld and Eric Stephenson in Major X #0 in the August solicitations. Erik Larsen in Marvel #1000. Whilce Portacio is on the cover of the Uncanny X-Men trade paperback. And now Todd McFarlane. Anyone got their Image Comics bingo card?
AMAZING SPIDER-MAN: VENOM 3D #1 (POLYBAGGED)
Written by DAVID MICHELINIE • Penciled by TODD MCFARLANE
Cover by TODD MCFARLANE
Spider-Man's first encounter with his deadliest foe leaps off the page like never before! The lethal Venom looks a lot like Spidey's black costume — only bigger, stronger and with a killer smile! Worse still, thanks to the symbiotic suit, Eddie Brock knows all of Peter Parker's secrets! Venom has already terrorized Mary Jane — so it's just a matter of time before he comes face-to-face with Spidey. And Eddie knows just the right place to battle the wall-crawler! Can Peter figure out a way to survive? And if he does, maybe it's time to go back to a more friendly neighborhood outfit! It's one of the greatest issues of David Michelinie and Todd McFarlane's fan-favorite run, with the superstar artist's stunning pages presented for the first time in eye-popping 3D! Reprinting AMAZING SPIDER-MAN (1963) #300.
48 PGS./Rated T …$7.99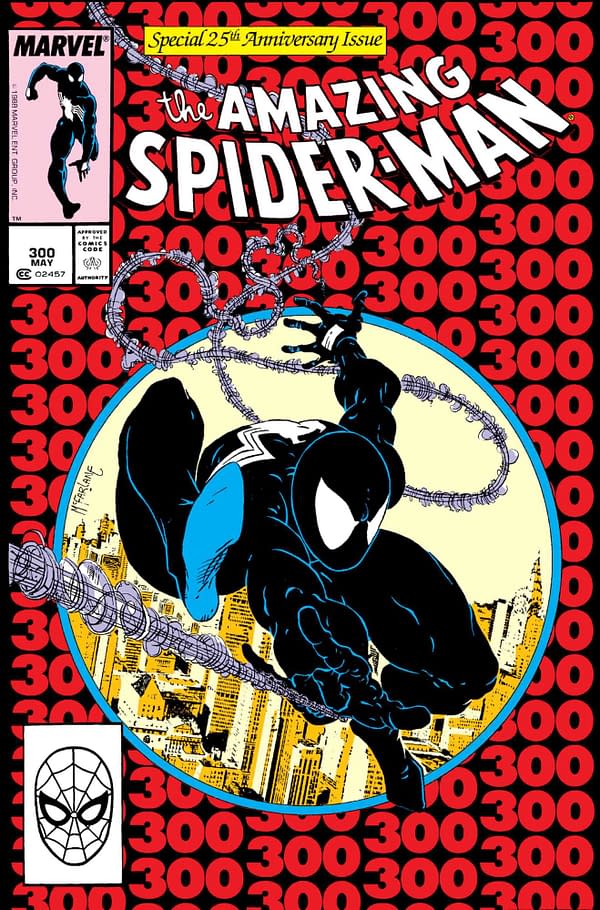 And Spawn from the Image solicitations: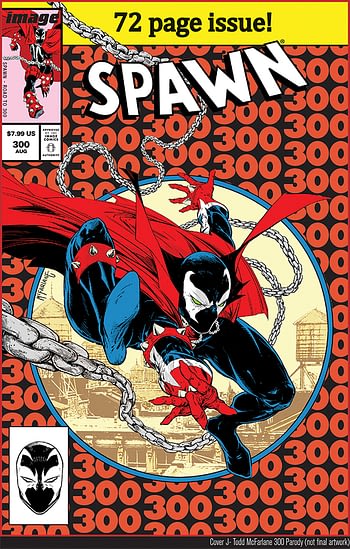 SPAWN #300
WRITER: TODD McFARLANE & SCOTT SNYDER
ARTIST: TODD McFARLANE, GREG CAPULLO, JASON SHAWN ALEXANDER, J. SCOTT CAMPBELL & JEROME OPEÑA
COVER A: TODD McFARLANE
COVER B (BW): TODD McFARLANE
COVER C: GREG CAPULLO
COVER D (VIRGIN): GREG CAPULLO
COVER E: GREG CAPULLO & TODD McFARLANE
COVER F (BW): GREG CAPULLO & TODD McFARLANE
COVER G: J. SCOTT CAMPBELL
COVER H: JEROME OPEÑA
COVER I: JASON SHAWN ALEXANDER
COVER J (300 PARODY VAR): TODD McFARLANE
COVER K: GREG CAPULLO & TODD McFARLANE (VIRGIN E)
COVER L: TODD McFARLANE (VIRGIN A)

AUGUST 28 / 72 PAGES / FC / T+ / $7.99

SPAWN MAKES HISTORY!
With this 300th issue, SPAWN becomes the longest-running independent series in comic book history. To celebrate, legendary artists TODD McFARLANE and GREG CAPULLO return with ALL-NEW interior pencils, with additional art provided by JASON SHAWN ALEXANDER, J. SCOTT CAMPBELL, and JEROME OPEÑA, a cavalcade of celebratory covers, and additional writing by SCOTT SNYDER!

And next month, RECORDS WILL BE BROKEN with SPAWN #301!
Enjoyed this article? Share it!