Marvel Two-in-One #5 Review: The Series Just Continues to Get Better
[rwp-review-recap id="0"]
The Thing takes issue with the Mr. Fantastic of the alternate Earth. Before things go too far, Invisible Woman, head of S.H.I.E.L.D on this Earth, arrives on the scene, and we get a Fantastic Four reunion of sorts. It may be cut short, as the hybrid Doctor Doom/Galactus is on his way back to Earth and will consume everyone if Mr. Fantastic can't think of a way to stop him. On top of that, Doom's heralds arrive to wreak havoc amongst the heroes of this world.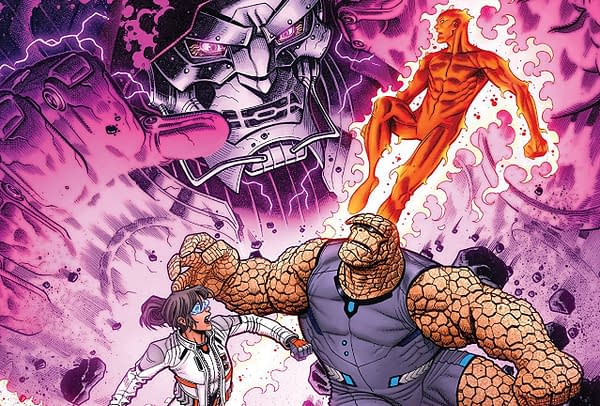 Marvel Two-in-One keeps getting better as this issue brings together a touching mishmash reunion of the FF. Both halves of the team have watched the other half die, and this makes for some pain and stress between the members of this ad-hoc family of heroes.
It's an emotionally dense installment, and it triumphs through Chip Zdarsky's ability to keep that in balance. Plus, the threat of a Galactic Doom brings an immensely dangerous threat that is all at once familiar and new (apart from the original Secret Wars technically).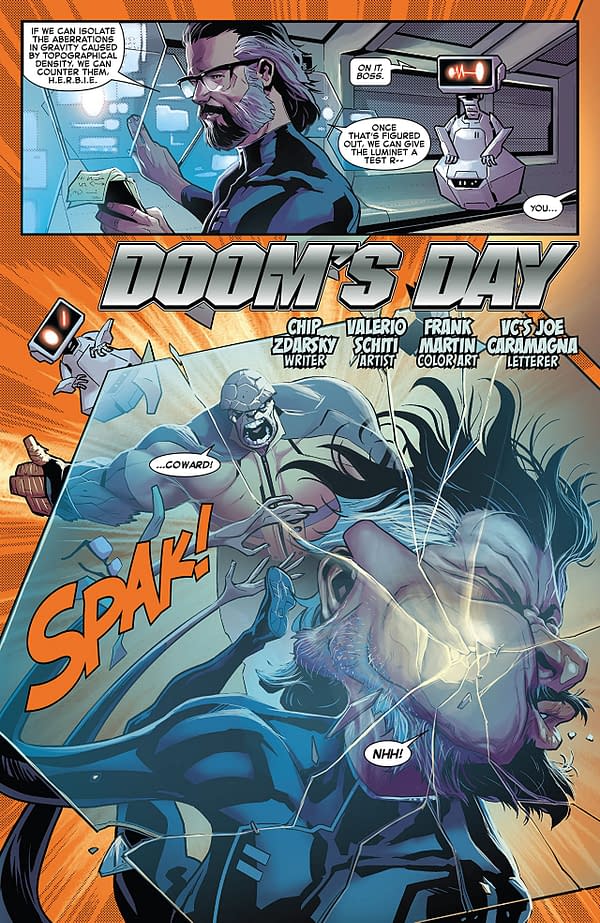 Valerio Schiti is given room to get creative with the visuals in this issue, and it makes for some memorable panels. Ben slugging Reed at the beginning of the comic is a scene that will stick in my mind, and the Silver Surfer-inspired heralds of Doom look great. The S.H.I.E.L.D twists on the costumes of this world's superheroes look cool too. When the Doom of this world finally arrives, we only get a silhouette, but it leaves a nice tease for nest issue.
Frank Martin brings strong color work to this issue with some dynamic color contrasts which make each page look all the better. The extreme contrasts match the tone quite well too.
Marvel Two-in-One #5 continues to improve the series with an emotionally taut and narratively absorbing issue which brings together a Fantastic Four from disparate worlds to battle a threat more immense than anything they could previously imagine. Between Zdarsky's competent storytelling and Schiti and Martin's excellent artwork, this one definitely earns a recommendation. Give it a read.
[rwp-review-ratings id="0"]
[rwp-review-form id="0"]