A New Origin Twist For Cletus Kasady in Today's Absolute Carnage #3 (Spoilers)
Cletus Kasady, created by David Michelinie and Erik Larsen, first appeared in Amazing Spider-Man #344 and became the first and most well-known host of the Carnage symbiote, spawn of Venom. Portrayed by Woody Harrelson in the Venom movie, Kasady's origin story has been getting some updates of late, and today's Absolute Carnage #3 takes that further.
A serial killer, sociopath and homicidal sadist, as a child, he killed his grandmother by pushing her down a flight of stairs, tried to murder his mother by throwing a hair dryer into her bathtub, and tortured and killed his mother's dog with a drill. After the latter, his mother then tried to kill Kasady, and was apparently beaten to the brink of death by Kasady's father. As an orphan, Kasady was sent to the St. Estes Home for Boys, where his antisocial behavior made him the target of abuse from both the other orphans and the staff. Kasady gained revenge by murdering the disciplinarian administrator, pushing a girl (who laughed at him for asking to date her) in front of a moving bus, and burning down the orphanage. It was during his brutal years at St. Estes that Kasady acquired his philosophy that life was essentially meaningless and futile, that "laws are only words", and came to see the spreading of chaos through random, unpatterned bloodshed as "the ultimate freedom" and thinking that he was actually "freeing" people.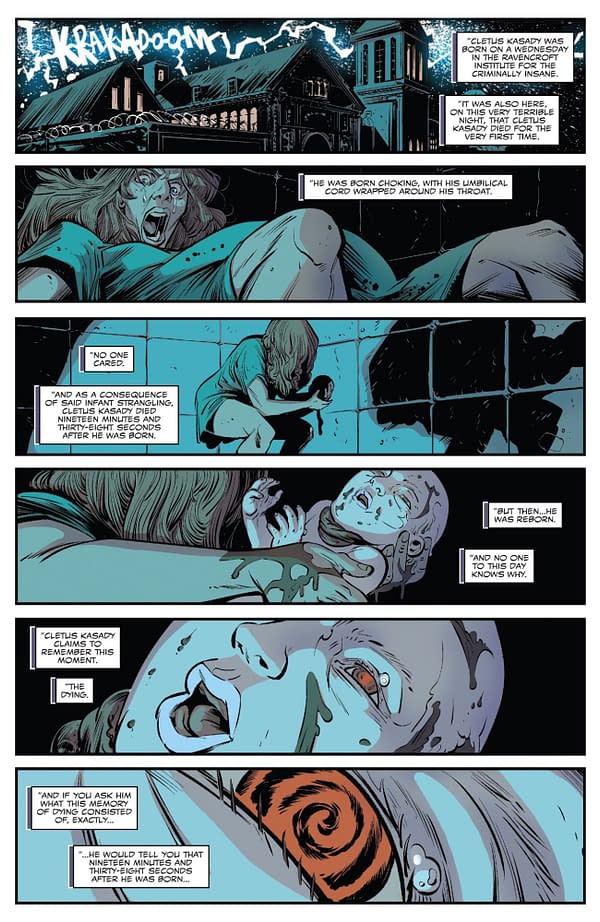 Recently in Web of Venom: Carnage Born #1 we have learnt that Kasady was born at the asylum Ravencroft, where his heart stopped for a few minutes, until he was revived by the symbiote god Knull to be the one to free Knull from his symbiotic imprisonment on the planet Klyntar.
UPDATE:
Yeah, yeah, Donny, wait till Jonathan Hickman writes Absolute Carnage II. Anyway…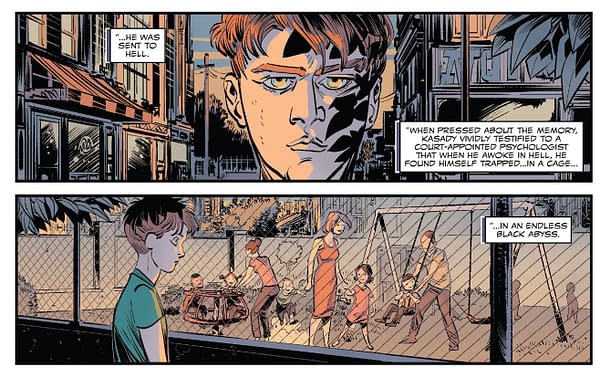 Today, in Absolute Carnage #3, we get a few more notches on his history.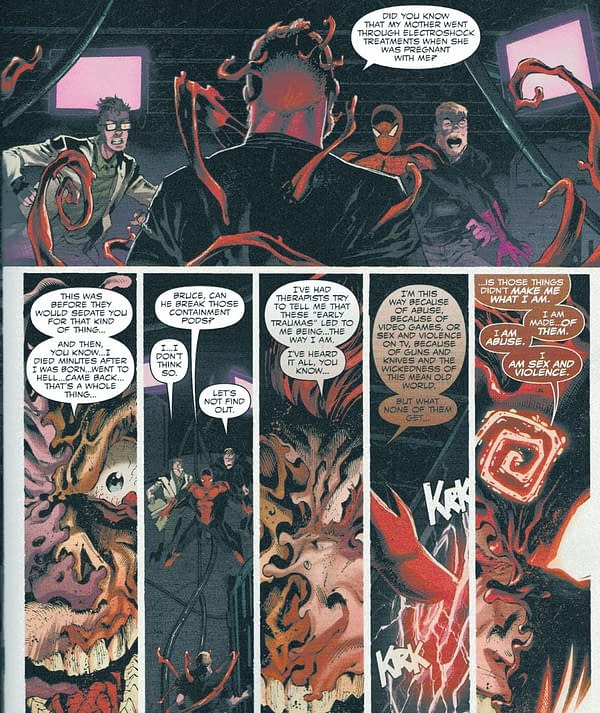 Was electrocuted in the womb. Died and went to hell as a newborn baby (what had he done that was Hell-worthy?) It does seem like the dice were loaded against him… but Cletus and the Carnage symbiote operate together as one. Not something that can be said regarding Eddie Brock and Venom…

I mean, they'd make a great double act with comic timing like that… still have you seen how Miles Morales is looking right now?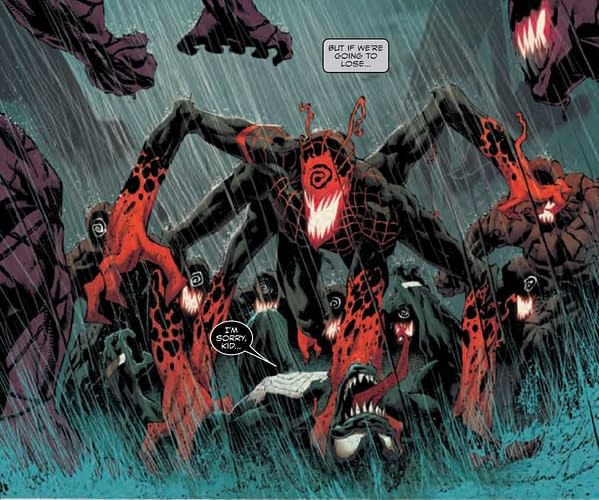 He's seen better days, right?
Absolute Carnage #3 is published today, or last night for midnight release parties…
ABSOLUTE CARNAGE #3 (OF 5) AC
(W) Donny Cates (A/CA) Ryan Stegman
THE SUMMER OF SLAUGHTER CONTINUES!
• After the harrowing events at the end of ABSOLUTE CARNAGE #2, Venom and Spider-Man have to deal with the hard truth that not everybody will make it out of this conflict in one piece… if they make it out at all, that is.
• As Carnage continues to amass strength and allies, Venom and Spider-Man realize that the only way to beat him is to do the same…
Rated T+In Shops: Sep 18, 2019 SRP: $4.99