Pestilence: A Story of Satan #1 Advance Review – Cheesy but Still Gory Fun
[rwp-review-recap id="0"]
Fiat Lux has split up since the quelling of the Black Death years ago. Shaw continues his trek across Europe to cure the Black Death wherever it strikes. Sir Richard Moore now leads a ministry for those cured with the Holy Grail. Roderick Helms himself is now living a quiet life in Southern France with a family. However, a new threat arrives, and the Fiat Lux may be needed to take up arms again.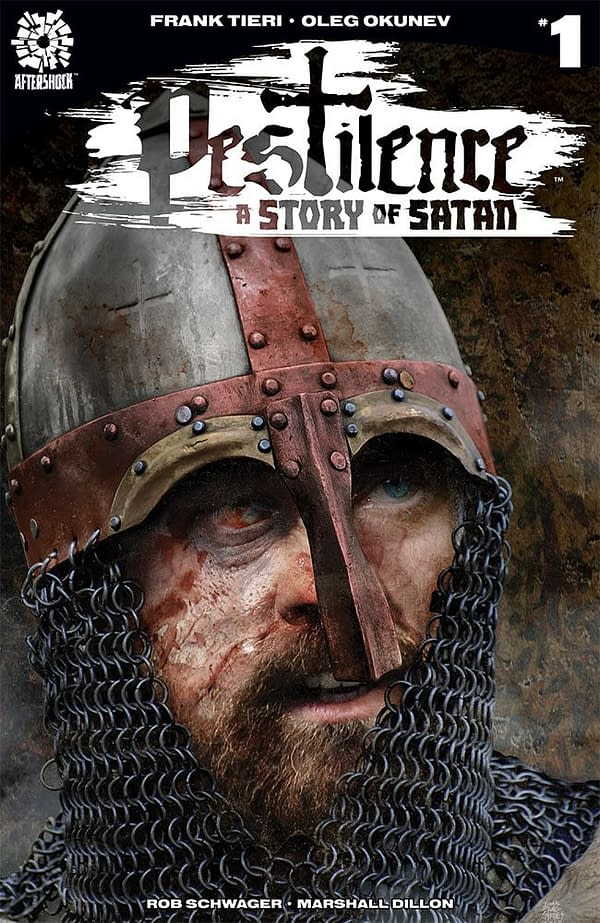 Pestilence: A Story of Satan #1 sets up the world in which this next volume will take place, and it does so by going through each member of Fiat Lux and where they are now. Things go south quickly, allowing for some tension and a quickening pace as the next big threat approaches.
As you could guess from the name, Satan or something Devil-adjacent does show up in this book. That's where the biggest flaw in the book lies, as this character is ridiculously cheesy. From bad one-liners, the now-clichéd "not God" line, and the laughable use of obscenities, it's hard to take this Lucifer seriously.
The slightly too frivolous use of swearing is another sticking point in the book, as it does become just silly at times.
That aside, Fiat Lux is a likable motley crew, and, when they are on the panel, they are easy to follow and root for.
Oleg Okunev takes charge of the art once more with Pestilence volume two, and the work is quite solid. The Devil figure has a great and unique visual design, and the gore and action look solid. There is an argument to be made that the style is a little too cartoonish for the subject matter, and that is a valid complaint. However, the art largely works well for me. Rob Schwager will be providing the art to the comic, but the review copy I read does not yet have the color work.
Pestilence: A Story of Satan #1 is a solidly entertaining read. Satan himself is a little too much, but the overall story is enjoyable. Plus, Fiat Lux is a likable bunch, and Okunev's artwork is solid. As such, I can recommend this one. Check it out on May 30th.
[rwp-review-ratings id="0"]
[rwp-review-form id="0"]