BOOM! Studios has announced a brand new mini-series from the creative team of writer Phillip Kennedy Johnson and artist Flaviano which takes place in a post-apocalyptic America, with five refugees of a "war-torn East Coast" fleeing Westward. The announcement of Low Road West was an EXCLUSSSIVE to CBR, in case you were wondering how super cool they are at our rival comic book website (cool enough to get a sweet EXCLUSSSIVE, baby). Here's the official description of the series:
When the young refugees are stranded in an irradiated Oklahoma wasteland, they take shelter in a ghost town that is much more than it seems. The strange, unnatural threats they face there will make them question what they think they know about death, about reality, and especially about family as they learn to rely on each other to survive.
Additionally, CBR secured some quotes from the creative team and BOOM! editor Eric Harburn. Gosh, it's almost exactly like a press release!
Said Johnson:
Thematically, Low Road West grew out of my earlier BOOM! Studios series, Last Sons of America and Warlords of Appalachia. Fans of those stories will see familiar elements in Low Road West, but the cast is bigger, the stakes are higher, and when the story veers into sci-fi and the supernatural, it veers hard. Half of the story takes place in an American ghost town which is itself a mystery the characters have to solve, and as for the other half… you'll have to read it to find out, but Flaviano and I are incredibly stoked for readers to see where Low Road West leads.
And Flaviano:
The world of Low Road West is dynamic and stimulating, as nothing is what it seems and you never know what's about to happen next. Each script from Phillip is so exciting, giving me a chance to go deeper into each characters and see how they clash with each other, along with the world around them.
And Harburn:
Surviving your teenage years is hard enough without a post-apocalyptic crisis to make things really difficult. In Low Road West, Phillip, Flaviano, Miquel, and Jim deftly capture the whirlwind experience of becoming yourself amidst a chaotic world that feels frighteningly close to the one we live in today.
Fine work, CBR. Fine work. Look for Low Road West in stores in September, with a variant cover by David Lafuente.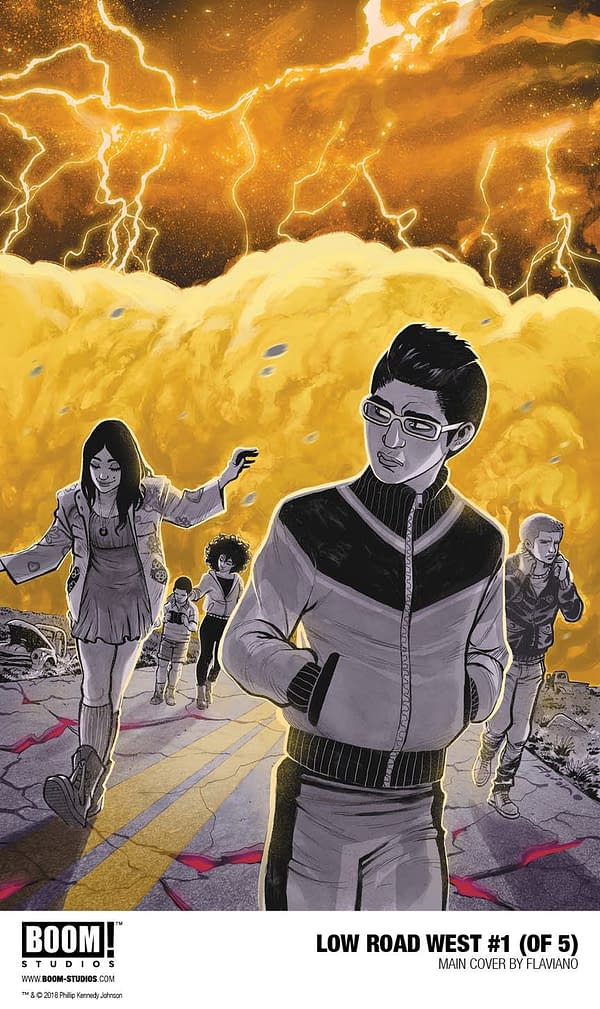 Enjoyed this article? Share it!