Pulp FIction Comics Hosts Jules Winnfield Festival To Celebrate Black Creators
At the close of Black History Month, Culver City retailer Pulp Fiction will launch their first annual celebration of Black creators of comics and pop culture called the Jules Winnfield Festival.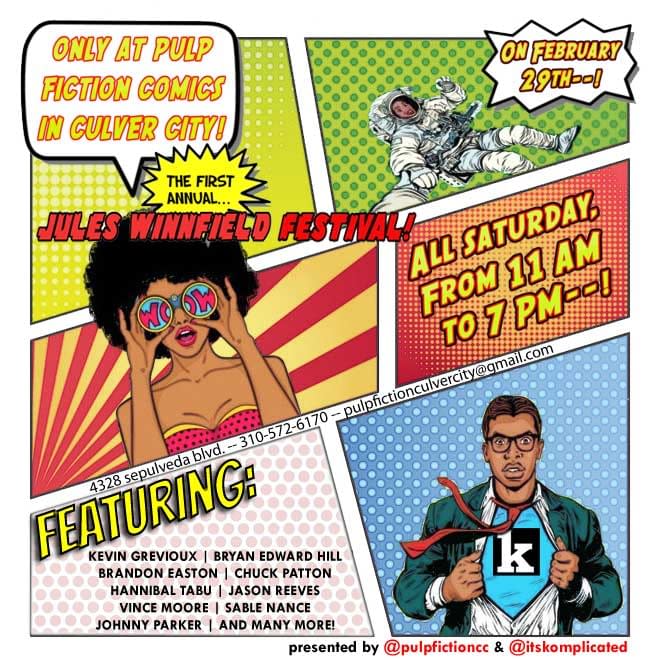 Verified guests who will be on hand include Kevin Grevioux (Underworld, New Warriors, Adam: Legend of the Blue Marvel), Bryan Edward Hill (Batman and the Outsiders, Fallen Angels, Postal), Brandon Easton (Transformers: War for Cybertron, Marvel's Agent Carter, M.A.S.K.), Chuck Patton (Justice League of America, Who's Who: The Definitive Directory of the DC Universe, Teen Titans), Jason Reeves (One Nation, Changa and the Jade Obelisk), Vince Moore (Total Recall), Doselle Young (The Monarchy), Hannibal Tabu (Bleeding Cool, Time Corps, Aspen Universe Sourcebook) and more.
In addition to sketches, commissions and signing books, there's will be a large selection of Black owned and Black created books available for sale. Tabu will moderate a panel discussion with Easton, Hill and Grevioux who have worked in multiple forms of media at 2PM.
The Jules Winnfield Festival takes place Saturday, February 29th from 11AM-7PM at Pulp Fiction Comics, 4328 Sepulveda Boulevard in Culver City, CA. For more information, there is a Facebook event page or follow the Twitter page. Flyer artwork by Adam Kuppersmith.