Reaver #8 Review: Trying To Be The Shepherd
Two members of a team pressed into saving the world meet again on the edge of it, covered in blood and surrounded by fire. No, it's not the second act of Avengers: Endgame but a fantasy yarn about bad deeds and the lengthy quest for redemption.
Essen Breaker is normally a natural disaster of a man sweeping through combatants like they were blades of tall grass. Here, thanks to an unexpected alchemical enhancement, he's on a level playing ground, and he doesn't really know how to handle that. Luckily, as noted, he's got some unexpected backup from a diminutive bloodthirsty torturer called Rekala who's got a mission that aligns with his own — to save children taken from the streets and sent into a life of horror.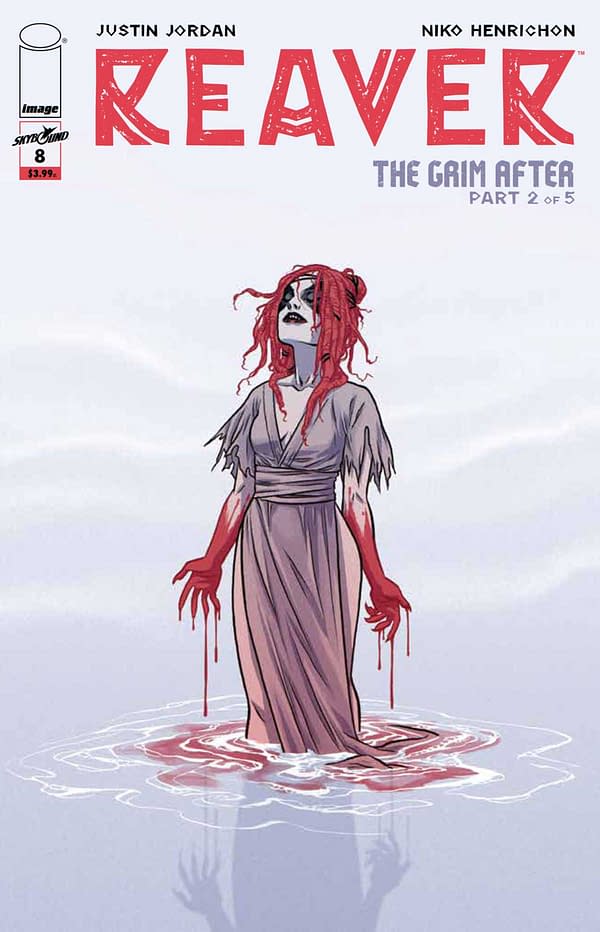 There's a lot to enjoy in Justin Jordan's script here, as he shows a man like Julius in the last act of Pulp Fiction, trying to be the shepherd after such an illustrious career as the tyranny of evil men. Likewise, the gritty, mean medieval settings of the town of Haas Haaden are rendered with sharp, crisp, almost digital detail by Niko Henrichon and Clayton Cowles.
What went wrong? Well, arguably, with the exception of the new player on the field, this echoed very many things that happened in the previous issue. The struggle with being "better," the abductions, all of it needed to escalate and not stay so close to the status quo. Given how quickly Jordan's scripts have escalated in the past, clearly, this can't happen again next month, but it chafes a bit here.
This will be a section providing great nuance and tension when reading the entire story collected. Right now, alas, Reaver #8 is more of a tease than it needs to be. RATING: HONORABLE MENTION.
Reaver #8
Breaker and Rekala are on the verge of finding out what's happened to the lost children of Haas Haaden, but the truth is far worse than they could have ever dreamed.