BAT Cons – The Pros And Cons Of Wondercon: Third Show Of 2014, Plus Multiple Photo Galleries
By B. Alex Thompson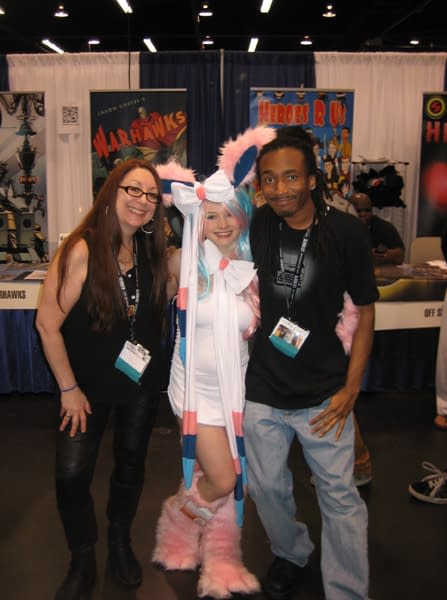 Welcome back, friends! The convention season is still pretty fresh, exciting, and new so I hope you're enjoying the initial part of this year's ride like I am!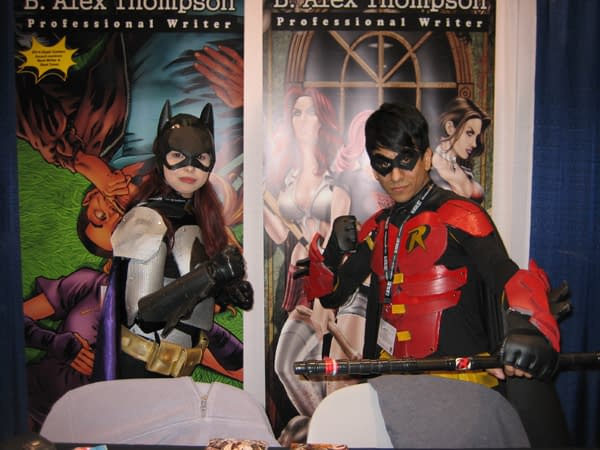 So I'm here to tell you about my first experience in exhibiting at WonderCon Anaheim! This isn't my first time visiting this particular venue, just my first time exhibiting here. Let me explain a little bit.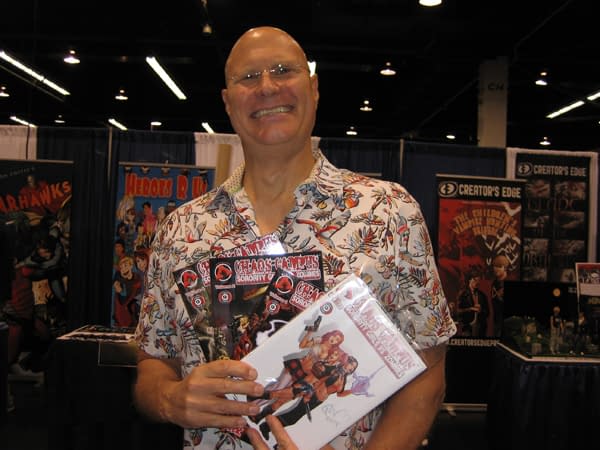 I had heard about Wondercon for years, but the original San Francisco Bay Area location was too far for me to travel. Then they came down to Southern California right around the time I moved back to the area. "Is it fate? Is it meant to be?" Hearing it was just a temporary thing for 2012, I went as a visitor (with a professional badge) to experience this "SDCC Jr." show. Right off the bat, I loved it. Though it might be smaller than its SDCC larger brother, it makes up for its stature in charm while hitting all of the major beats of a strong convention. 2013 came around and Wondercon was still in Anaheim, so I attended again. It's only an hour drive away, plus I enjoyed the first year. The second year I enjoyed it just as much as the first year, if not more.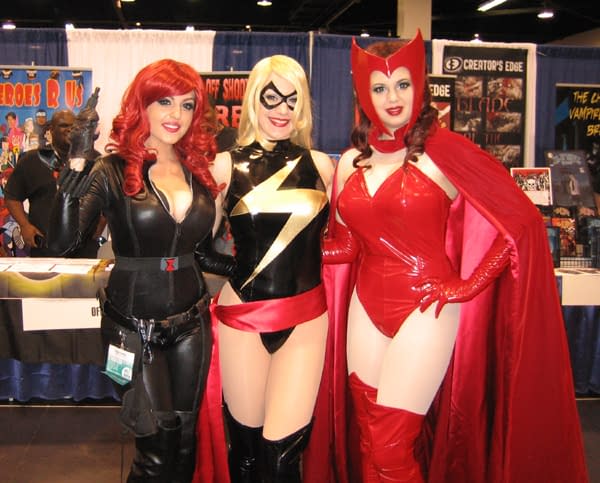 They say the third time's the charm, so learning that Wondercon would still be in Anaheim I climbed aboard the train. How did participating differ from being a visitor? Let's dive right into the Wondercon Anaheim 2014 experience!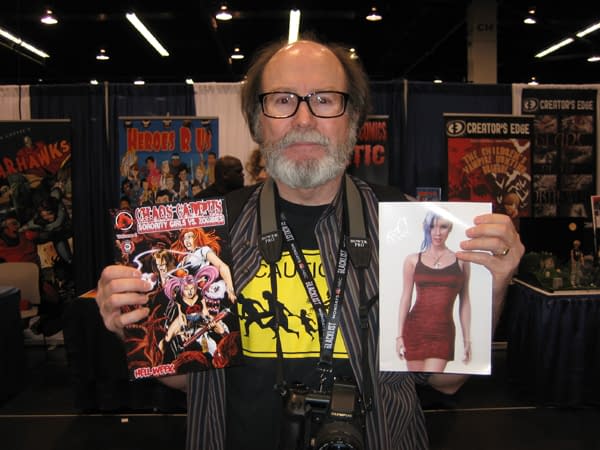 THURSDAY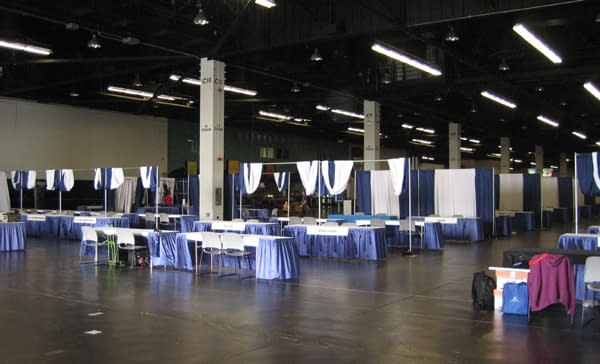 Usually at shows there's a mad scramble for badges and setting up a few hours before the show starts on that first day. Since Anaheim is so close, I drove down a day prior for badges and set up.
That leads us into a bit of Pro vs. Con.
Pro: The signs directing traffic to the badge pick up areas, parking lots, and set up areas were pretty well marked. I figured I would have to pick up my badge first, so I went that direction first. I asked the attendant about it and he directed me to the exhibitor drop off area so off I went.
Con: Having to pay the full day parking charge of $12 for an hour of set up. Shouldn't this be free for exhibitors or at least prorated somehow?
Pro: The parking lot attendants were curious and helpful. Also instead of having to use my hand cart and lug heavy boxes of printed material myself, a free service was provided to shuttle everything to my booth. Alright, I'll pay $12 for that service.
Con: After having to park my car in the garage, I walked up expecting I could go in the way the shuttle did. I was informed that NOW I need a badge after already proving my identity to the lot crew and shuttle guy. I was informed that I would have to walk from section C to section A to pick up my badges.
Pro: I expected section A to be much further from section C than it really was. There wasn't much of a line and badge pick up was easy.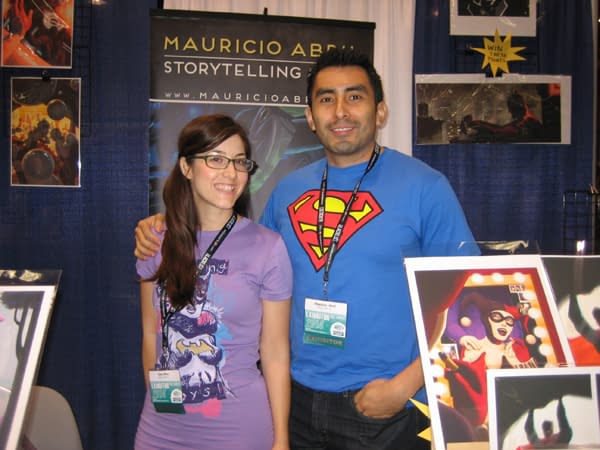 Finally arriving at my booth, I met my neighbors Mauricio Abril and Cara Pico who were also setting up. Set up was pretty quick and easy. Like I said previously, in under an hour it was over and done with.
FRIDAY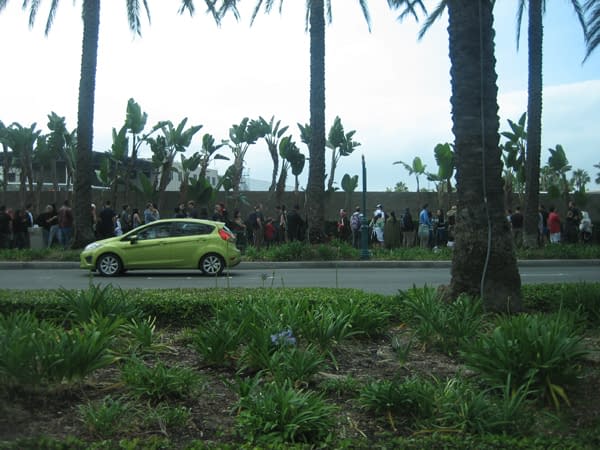 We arrived decently early Friday morning and were surprised to see the line of attendees wrapped around the block. We hoped this was a sign of good things to come, but I was worried that only a fraction would make it to the far neither realms of the show where Small Press was placed. Parking went without a hitch, so I hoped that we'd be pleasantly surprised like we were with Wizard Sacramento.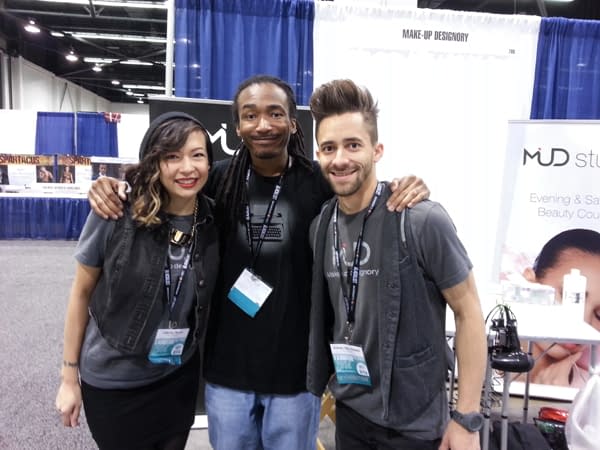 On the way back from picking up the guest badges I met Niko and Cat from Face Off. I'm going to try and keep focus on this article and will try not to go on a side rant about how much I love that show and all the talented practical effects artists on that show. Both Cat and Niko were great people to do quick chats with during the length of the show.
In the half hour before the doors opened (and a little while after) I was able to meet many of my neighbors including Walter Bryant, David Clarke (Off Shoot Comics), Doug Cohen (Jason Coffee's Warhawks), David Lucarelli (The Children's Vampire Hunting Brigade), and Chris Callahan (RoboChuck). So many great people with a lot of great work, so take a few moments to check out their stuff if you haven't already.
I made a few sales during the first day, but most of those were repeat customers from the previous shows buying the newly released books. It's always great to see familiar faces that enjoy your work so much they come back for more. Thank you all so much!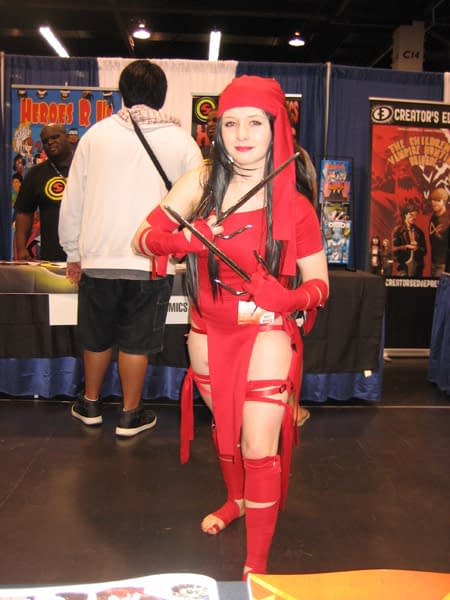 Most of the day was spent passing out flyers to people who just window shopping. In-between promotion I was able to speak more with my neighbors and take pictures of cool cosplayers like Tia (in the Marvel's Electra costume) and Angi Viper (in the Disney's Frozen costume).
Months prior to the show I signed up for a thing called the Creator Connection. It's pretty much "speed dating" between writers and artists. It was a really fun experience and I met a lot of cool writers and artists.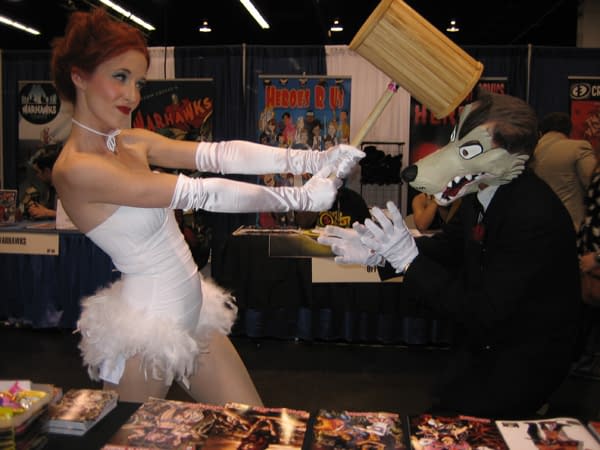 While I was away, Denise ended up making most of the major sales for the day. Since she was the M.V.P. seller of the show so far I decided I would take a little time Saturday to check out more of the floor. We had dinner with artist Liston Morris and afterwards we headed back home for the night to try and get some rest before the second day of the show.
SATURDAY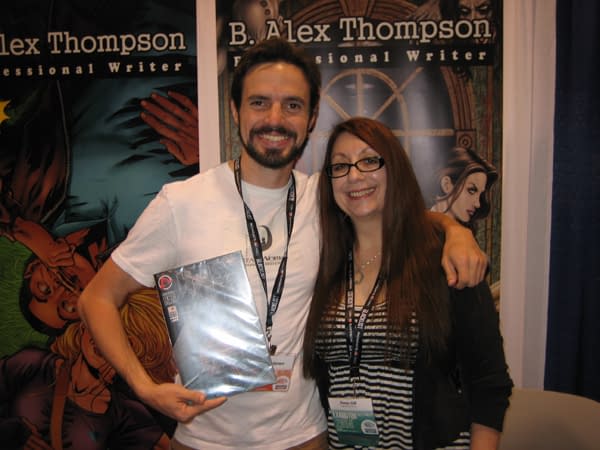 As I planned the night before, I escaped the table a few times to see a few things here and there on the show floor. This is where I made a lot of my purchases (Note to dealers: I have a weakness for 50-75% off graphic novels and TPBs).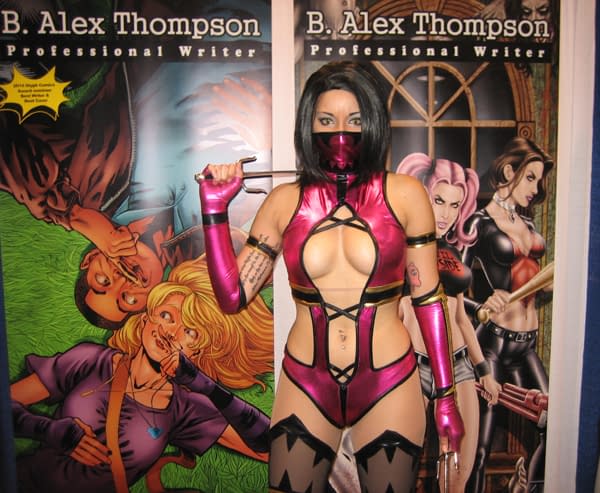 During my show exploration, I noticed that the majority of the convention attendees stayed at the front of the show building and didn't even bother to make it to the rear where the Small Press section has been banished.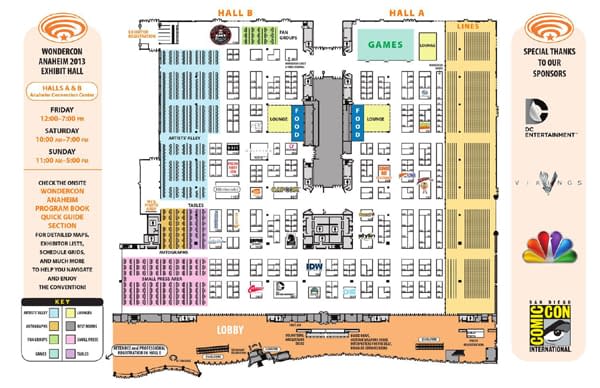 Last year, Small Press was up front close to the entrance making it easy to see for people to browse and make purchases of indy comics. As smaller press, we need this boost in availability and access to people who wouldn't otherwise know we exist. Being banished to the wastelands of the show is counter productive for everyone.
Some of the other discussions we had concerning the show included:
Confusing opening times – The official program book had times that the show would be open, but I remembered the times given in the exhibitor notes being an hour earlier. I made a point to try to make it in at the earlier time and it turned out that those were the correct times. Many exhibitors came late to their tables/booths because of that listing confusion.
Parking woes – Many people had problems with having to pay the $12 parking fee every day, even as exhibitors. Why wasn't this complementary with a table/booth purchase? Nobody knew. Some exhibitors had problems even finding parking.
Air Conditioning Freeze Out – Actually this is something Denise has noticed at pretty much all of the major shows. Friday tends to be warm as if they're turning on the A/C for the first time. Saturday is cool as if they left the A/C on all day and night. Sunday tends to be frigid as the A/C has been running day and night all weekend.

Sales at the table were decent and slightly better than Friday. The sales were more spread out during the day instead of the two major bursts we had the day before. A huge thank you to everyone who stopped by the table on Saturday!
SUNDAY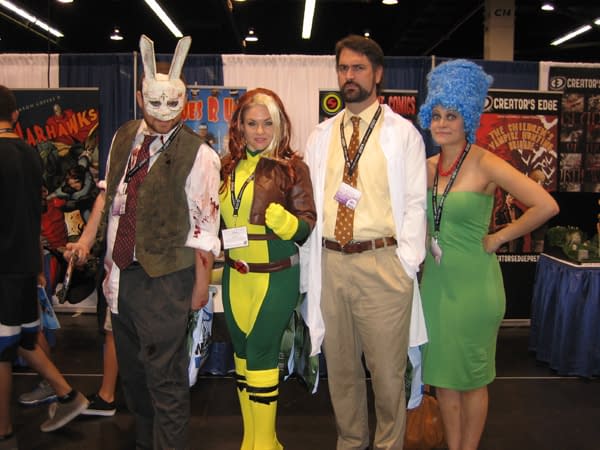 Having experienced Friday and Saturday, I realized that this crowd was working under traditional convention going routines- Friday is to see things, Saturday is to possibly buy or just make notes of things to possibly purchase, and Sunday is the day to spend money.
Today our friend Viktor came as our guest. Since I saw pretty much everything I wanted to see Saturday, Denise was able to escort him around the show so they could enjoy the event.
At the table I was able to have more discussions with my neighbors, pass out more promotional postcard flyers, and I ended up making the best sales of the weekend. Bottom Line: Wondercon Anaheim is still a great show to attend with a lot to see and do but with only a third of the SDCC crowd. If you're a fan or professional in the Southern California area (or any areas nearby) this is a show you should attend every year! As an exhibitor, it's worth doing the show if you're able, but there's still a few tweaks that need to be made and solidified before it becomes a mandatory showcase show. To the Wondercon organizers I'd say that attendees will go to the larger company booths no matter where they are placed. The Small Press and Artist Alley NEED better placement and availability to survive. Please keep that in mind when making the show floor layout for 2015 and beyond. With all that out of the way, I say bring on next year!
Los Angeles born and Midwest raised, B. Alex Thompson is a comic book writer, screenwriter, and letterer who has done work for Alias Enterprises, Approbation Comics, Arcana Studios, Lion Forge Comics, and Graphic Planet. Thompson is mostly known for his experimental humor/horror title Chaos Campus: Sorority Girls vs. Zombies which has over twenty-five issues released and more in the works. Discover more via www.AlexThompsonWriter.com and Tweet him directly @ApproBAT