Here's a look through some comic store Black Friday 2017 deals being planned. If you are such a store or know of such a sale, send your flyer and details to richjohnston@gmail.com pretty sharpish… Part One ran yesterday. We'll do a final post tomorrow…
ARIZONA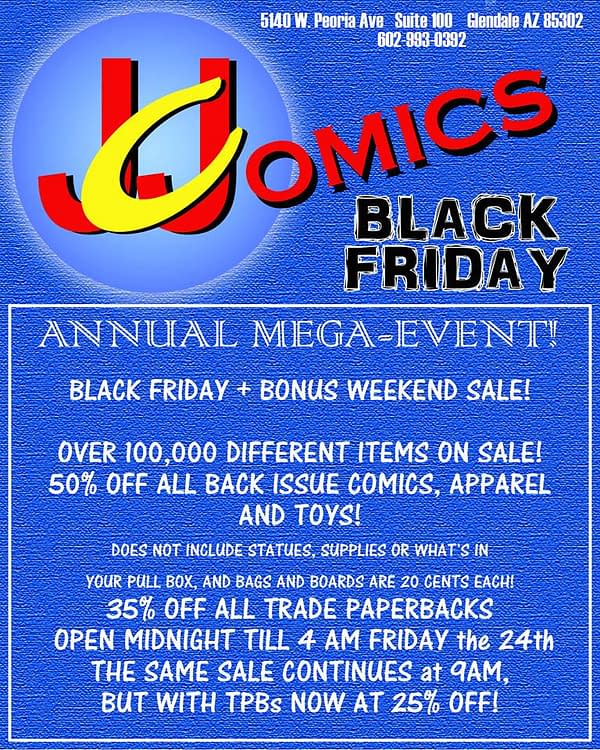 Cab Comics 1471 S Milton Rd, Flagstaff
For 2 hours EVERYTHING in the store will be 40% off! Magic booster boxes $99.99!
Samurai Comics (Phoenix) 1602 E. Indian School Rd, Phoenix
Fantasy Comics Tucson Arizona 2595 N 1st Ave, Tucson
70% off trade paperbacks and hardcovers from Oni, Fantagraphics, IDW, AIT Planetlar, Drawn & Quarterly, Top Shelf and more! We'll also have back issues for 50%! Kids comic books 70% off! Marvel, DC, Image, Dark Horse trade paperbacks for 25% off! Most Funko Pops for 70%! DC action figures for 50% off! All Select action figures for 25% off! Statues for 50% off! Novelties (stickers/wallets/banks/ glasses) for 50% off! Funko Mystery Minis for $1 off! All Heroclix for 85% off! Showcase comics for 25% off!
CALIFORNIA
Empire's Comics Vault 1120 Fulton Ave, Ste K, Sacramento, 
Treasure Island Comics 5018 Mowry Ave, Fremont
ALL TPs & HCs are 25% OFF!
ALL STATUES, BUSTS & TOYS are 35% OFF!
ALL "REGULAR" BACK ISSUES are 50% OFF!
ALL 50¢ BOOKS are 5-for-$1!

Be sure to get the ADDITIONAL 10% OFF by bringing in 2 CANS OF FOOD…
Illusive Comics & Games 1270 Franklin Mall, Santa Clara,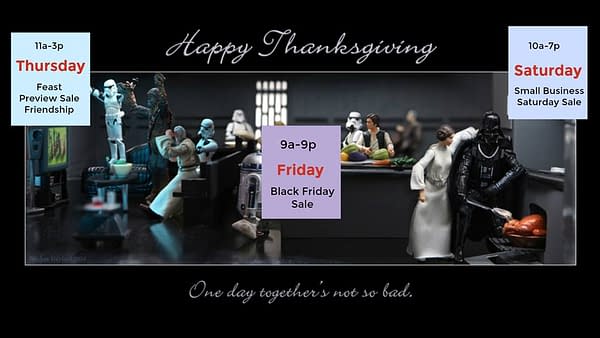 Blastoff Comics 5118 Lankershim Blvd, North Hollywood
10% – 50% OFF EVERYTHING IN THE STORE!
Alakazam Comics and Games 17777 Main St, Irvine,
– 25 Cent Comics in the back room
– Most Manga $2
– Table of $3 to $5 graphic novels
– Toys and Action Figures 25% off
– Selected Vintage and Modern Comics 30% off
– Magic, Pokemon, Yu-Gi-OH 20% off
 Hi De Ho Comics 1431 Lincoln Blvd, Santa Monica, Gryphon's Nest – Gaming & Comics100 Brown St, Ste 110, Sebastopol,
Time for the first ever Gryphon's Nest Black Friday Sale!
You'll be able to pick from either a
store wide **20% discount —OR— Buy one get one 50 % off.
Sky High Comics 625 S Rancho Santa Fe Rd, San Marcos,

Hypno Comics 1803 E Main St, Ventura,
Meltdown Comics and Collectibles 7522 W Sunset Blvd, Los Angeles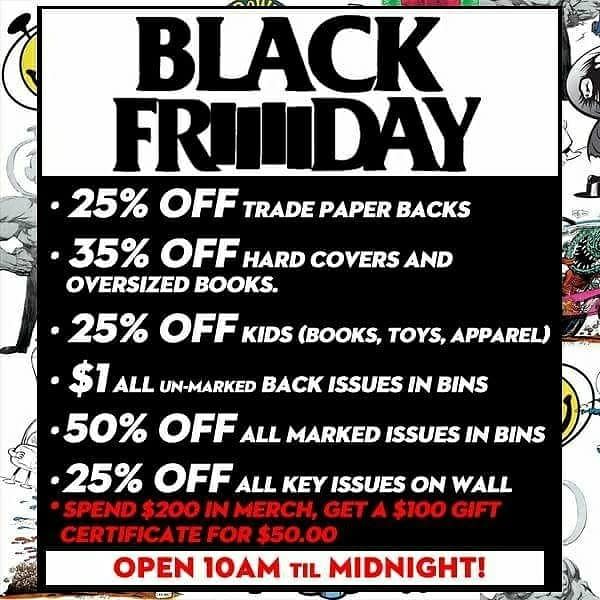 A-1 Comics 5361 Auburn Blvd Sacramento or 818 Sunrise Ave Roseville
Black Friday SALE – ALL locations
November 24th – 25th
Doors open at 10:00 AM
So-Cal Comics 8280 Clairemont Mesa Bl # 124, San Diego and Winchester Rd, Temecula,
Travis, Rodney, and Andi will all be at the shop, selling copies of the 2017 anthology, comics, and prints. The store will be having a big sale, with 40% off graphic novels, half off dollar comics, and a raffle.
Knowhere Games & Comics744 Grand Ave, Ste 102, San Marcos
We're opening extra early at 10am just to fit all these sales!
Check out all the incredible discounts, offers, and freebies we'll be giving out below. And don't think that's all, as we'll be announcing even more every day up until opening on Black Friday!
COLORADO
KaPow Comics & Coffee 4239 N. Nevada Ave. Suite 100, Colorado Springs
KaPow opens at 6:00 AM for Black Friday Deals! Our Door Buster Deal this year is a box of comics valued over $400 for just $100 – while supplies last! That's at least 75% off!!
CONNECTICUT
Wonderland Comics – Putnam, CT160 Main Street, Putnam,
 Visit the shops and restaurants in downtown Putnam for Open Houses, Sales, Live Music, and Holiday Cheer! The downtown will be decorated with "Sled Art" installations and beautiful Holiday lights throughout Main Street. PLUS….you can purchase tickets to see the NUTCRACKER Show at The Complex Performing and Creative Arts Centre, and watch The Annual Holiday Dmiazzle Light Parade on Sunday night!
FLORIDA
Windu's Comics 194 US HWY 27 SUITE A, Clermont,
9am to 12pm: Everything in the store is 25% off! (Excludes statues and consignment items).

12pm to 7pm: Everything in the store is 15% off! (Excludes consignment items).

9am to 7pm: All statues are 15% off.
Vibranium Comics 2801 SW 20th Street Unit #201, Ocala,
Korka Comics 7641 Pines Blvd, Pembroke Pines, and 10538 SW 8th St, Miami
Lauderdale Comics 1929 S Federal Hwy, Fort Lauderdale, 
15% off Wall Comics
25% off Graphic Novels
20% off Statues, Toys & Collectibles
Buy 1, Get 1 Free Comic Back Issues
Buy 1, Get 1 Free on Select POPs
$5 and Under Sale Table!
Buy 1, Get 1 50% off Bubble Teas!
Emerald City Comics 4902 113th Ave N, Clearwater
SAVE 25% ON ALL MERCHANDISE IN THE STORE from 11am – 3pm!!!

PLUS, 20% OFF BACK ISSUES!!! (New Comics and Consignment items not included. Back Issue sale is from 11am-9pm.)
Yancy Street Comics 9636 US 19 – Embassy Crossing Shopping Center, Port Richey, Take a break from all the craziness of Black Friday & stop by Yancy Street to meet our special guests! Elliot Fernandez, Martin Dunn & Jeramy Hobbs will be here from 12PM to 3PM signing & sketching away!
Living Dead Comics 3227 Curry Ford Rd, Orlando
Buy one get one half off on all pop vinyls
Buy one get one Free on select back issues
Buy one get one half off on new comics, graphic novels, and select variants.
Buy one get one free on all dollar bins
20% off on all toys, statues, silver age and Bronze Age back issues and wall books.
Plus mystery boxes filled with over 100$ in merchandise and collectibles for 50$. Bearded Browncoat Comics & Games500 sw 10th st suite 105, Ocala,
Clarks Comics, 11803 e Martin Luther King Blvd.Seffner
Biggest sale of the year starting at 10 PM Thanksgiving evening 50 grab bags for the first 50 customers door prizes food truck up to 75% off
GEORGIA
1st Edition Comics 2826 Highway 54, Peachtree City,
We will be running *HOURLY* sales which will be announced 5 minutes prior to the top of the hour all day on Friday. Be sure to stay posted on Facebook, Twitter, and Instagram for all the savings and deals you can only find at 1st Edition Comics!
Kapow! Comics 655 Atlanta Road, Ste 201B, Cumming,
Buy 2 get 1 Free Video game of equal or lesser value.
Buy 2 get 1 Free Trade Paper Back of equal or lesser value.
Buy 2 get 1 Free Comic of equal or lesser value.
Comics and Cards Inc  705 3rd St W, Tifton and Albany 2401 Dawson Rd Ste T1
Bunjee's Comics McDonough 561 Jonesboro Rd, McDonough
50% OFF BACK ISSUES, 25% OFF TRADES, 20% OFF TOYS/FIGURES/STATUES, $1 COMICS FOR $.25, PLUS GIVEAWAYS!!!
Dave's Comics & Collectibles 107 Rainbow Way, Fayetteville
ILLINOIS
Geek Inc. Comics 994 W. Army Trail Road, Carol Stream
Amazing Fantasy Books and Comics Frankfort 20505 S La Grange Rd, Frankfort
Zone Comics and Games 18107 Dixie Hwy, Homewood
Jay's Comics 34185 N US Highway 45, Grayslake
Top Cut Comics – South Rockford2430 S Alpine Rd, Rockford and (Loves Park)5600 N 2nd St, Loves Park
30% OFF ALL TRADE PAPER BACKS & BOOKS!
30% OFF ALL NEW COMICS!
20% OFF ALL TRADING CARD GAME SINGLES!
20% OFF ALL BACK ISSUE COMICS!
CHALLENGERS Comics + Conversation 1845 N Western Ave, Chicago G-Mart Comics 2641 N Kedzie Ave, Chicago
Doorbusters (11am-noon):
Plush toys – 50% off
Select omnibuses – 75% off
AlleyCat Comics 5304 N Clark St, Rear, Chicago
Work off that Thanksgiving turkey by carrying piles of books out of the store. But wait! There's more! Spend $100 and receive a free $20 gift card.
Fox Comics and Games 108 East Paradise Alley, Marion
Trade Paperbacks, Action Figures, Board Games, Card Games, Supplies… everything you need for the gamers in your life.
Zeek's Comics and Games 2263 Washington Plaza, Washington
Graphic Novels 20% OFF
POPs Buy 1 Get 1 30% OFF
Comics 25% OFF
Role-playing Game Items 10% OFF
INDIANA
Comic Relief Comics 3312 E Main St, Richmond, Indiana
Comic Relief's first ever BLACK FRIDAY SUPER SALE!!! And YOU are invited! (Don't you feel special?!)
IOWA
In This Issue Comics 3796 State Street, Bettendorf,
Spend Black Friday with us! We will be drafting Iconic Masters. $35 entry with 1 pack per person for prize support. This event will count towards earning your standard showdown packs from wizards of the coast.
KANSAS
Prairie Dog Comics 4800 W Maple St, Ste 122, Wichita
Buy one get one bin (back) issues.
20% Case books, Trades, HC, Toys, cards, and games
KENTUCKY
Heroes Comics & Gaming 361 Baxter Ave, Louisville,
*All regular back issues Buy One, Get One Free
*Trade paperbacks Buy One, Get One Free
*Premium back issues 25% Off
*Board Games and Miniatures 35% Off
*T-Shirts 50% Off
*All toys 35% Off
*Magic singles 50% Off
*Card game supplies 25% Off
*Heroes & Villains Mystery Box $20
MARYLAND
Chuck's Comics 530 Eastern Blvd, Essex
MASSACHUSETTS
Rubber Chicken Comics 15 NORTH MAIN STREET(RT 126), Bellingham, 
9am-8pm
25% Off everything instore!

Early Chicken Doorbusters
MICHIGAN
Hollow Mountain Comics and Games611 E Grand River Ave, East Lansing
20% off graphic novels!
20% off board games!
10% off Magic singles!
Detroit Comics 23333 Woodward Ave, Ferndale, 
We'll have some sales runnung all weekend! 50% of the back issue bins, 30% off kids graphic novels, 10% of action figures, 10% off Variant covers
MINNESOTA
Source Comics & Games 2057 Snelling Ave N, Roseville,
 Bring your unused non perishable foods (or cash donation) and combined with your Adventure Club Card, we'll get you that sweet sweet 20% off!
MISSISSIPPI
Van's CCG – Comics, Cards & Games398 U.S. 51 #202, Ridgeland
20% off whole store
MISSOURI
Distant Planet Comics and Collectibles 601 Business Loop 70 W, Ste 263, Columbia

We will be open from 11am-2pm on Black Friday. We will begin our Small Business Saturday sale early for those of you who want to brave the streets on Black Friday!
Buy 1 Get 1 Free action figures
Buy 1 Get 1 Free Marvel trades
Buy 3 Get a 4th Free Funko POP!s and Funko Rock Candy figures
Free Captain America News Strips collection, Castle hardcover or Marvel Zombie Christmas hardcover with min purchase of $40, while supplies last
NEBRASKA
Rainbow Comics, Cards & Collectibles – Lincoln 1501 Pine Lake Rd #17, Lincoln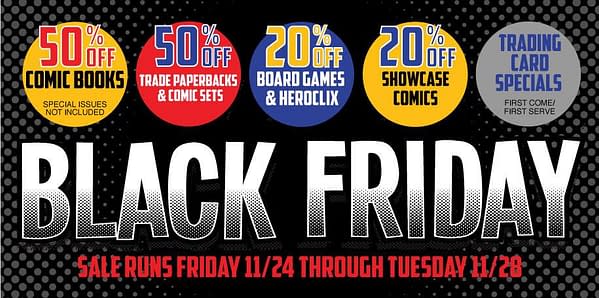 Legend Comics & Coffee 5207 Leavenworth St, Omaha,
Stranger Things Standee Raffle! For every $50 you spend you will receive three entries in the raffle. Extra tickets are $3 each with proceeds going toFood Bank for the Heartland.
Sale details:
50% off Back Issues and variants in the drawers!
25% off trade paperbacks, graphic novels & collections!
25% off board games, banks, coffee merch & stocking stuffers!
*INDOOR COMICS SIDEWALK SALE*
Coffee shop will be open at 6am for your caffeine & snack needs before hitting your early morning door busters!
Comic shop opens at 10am and will be closing at 6pm as usual on Black Friday to allow our staff to shop & spend time with their families.
NEVADA
 
FandomVerse Comics 790 Coronado Center, Henderson,
First 100 people receive a FREE Trade Paperback
Select Trades 75% off
Trade Wall 25% off
Back Issue Comics 50% off
Statues 25% off (not including Sideshow)
Select Mystery Boxes and Bags 25% off
Select DC Collectible Figures 25% off
MaximuM Comics 5130 s Ft Apache, Las Vegas, 
DOORBUSTER: First 25 People in line receive a FREE 5-Comic Mystery Pack
50-75% OFF SELECT Comics, Graphic Novels, Toys, Statues, & Apparel
25% OFF Toys, Statues, Gaming, & Apparel
20% OFF Comics, Graphic Novels, and Comic Supplies
***ADDITIONAL 5% OFF FOR CURRENT PULL BOX CUSTOMERS***
Cheese Boy Comics LLC 8060 South Rainbow, Suite 125, Las Vegas Comics (new and old) – 25% off
Graded Comics – 25% off
Statues and Figures – 25% off
Graphic Novels – 25% off
Clearance Tagged Graphic Novels – additional 25% off
(thats up to 75% off)
Cosmic Comics 3830 E Flamingo Rd, Ste F-2, Las Vegas
Black Friday 2017 Doorbuster:
The first 50 customers in line when we open the doors will get a FREE box of 100 comics!*
Celestial Comics 9440 W Sahara Ave, Ste 170, Las Vegas
All day Black Friday you could save 25% off back issues, action figures, and statues and 50% off our dollar bins! Doors open at 11am!
NEW HAMPSHIRE
Double Midnight Comics 245 Maple St, Manchester,
NEW JERSEY
Stormwatch Comics 449 N Route 73, West Berlin, 
We open at Midnight and offer up the greatest selection of comics, toys, action figures, statues, busts, trades and hardcovers at deals up to 90% OFF!
Conquest Comics 659 Route 9, Bayville, 
This WEEKEND we are doing our annual BLACK FRIDAY WEEKEND SALE !! It starts Friday November 24th at 9am and ends Sunday November 26th at 5pm ! This one of our biggest SALES OF THE YEAR !
 A Little Shop of Comics 387 Park Ave, Scotch Plains,
Our annual sale is now all weekend long!
Deep Discounts, up to 90% off.
NEW YORK
POW Card Games & Comics 175 Broadway, Port Ewen
50% off all Back Issues
Golden Memories Comics & Toys 235 Middle Country Rd, Selden, 
November 24th: 20% OFF ALL TOYS
November 25th: 25% OFF ALL BOOKS (Softcover and Hardcover, Trades & Graphic Novels)
November 26th: 20% OF STATUES & MUGS
Anyone Comics 1216 Union Street, Brooklyn
Everything on our Source Wall will be 50% off, including Graphic Novels, Shirts, games collectibles etc
Furthermore there will be gifts like
J Scott Campbell's Artbooks!
Code Orange is with every purchase $100 or more
additionally, Monster Green for every purchase of $150 or more
And Blue Beauties AND White Hot for $200 or more (while supplies last)
NORTH CAROLINA
Capitol Comics of Raleigh 5212 Hollyridge Dr, Raleigh,
50% off selected overstocked trade paperbacks & hardcovers in the front of the store!
25% off all other trades and hardcovers!
25% off T-shirts, posters, action figures, toys and statues!
20% off all back issues in the bins!
10% off all collectible wall books, including ones behind the counter!
Time Tunnel Comics and Toys 1734 US Highway 70 SE, Hickory
50% off all Back Issues. (includes the silver age priced as marked box!)
Graphic Novels Buy One Get One Half Off
All normal priced pops are $9.00 each
Statues 25% Off
Ssalefish Comics 3232 Silas Creek Pkwy, Winston-Salem
Beginning at 8 AM, take 60% OFF all regular back issues (excludes silver age, keys and all usual subscription discounts and back issue deals)!

But act fast, because we'll be lowering the discount by 10% every hour between 8 and 11 AM, settling at 30% OFF for the remainder of the day!

Also for the doorbusters out there, all standard Funko Pops will be just $7 and Marvel Omnibus editions will be 60% OFF!
Ultimate Comics Durham/Chapel Hill 6120 Farrington Rd, Chapel Hill
FRIDAY-SUNDAY EVERYTHING IN STORE* BUY 2 GET 1 FREE! Mix and match!

Not enough to get you out of bed before 7pm? Okay! For Every $50 you spend, you get a FREE BONUS GIFT, just cause!
OHIO
Maverick's Cards and Comics 2312 E Dorothy Ln, Kettering
B & L Comics Cards & Nostalgia5591 Ridge Rd, Parma,
50% off all back issues! 10% off all new comics!
Capital City Comics 1915 State Route 256, Reynoldsburg,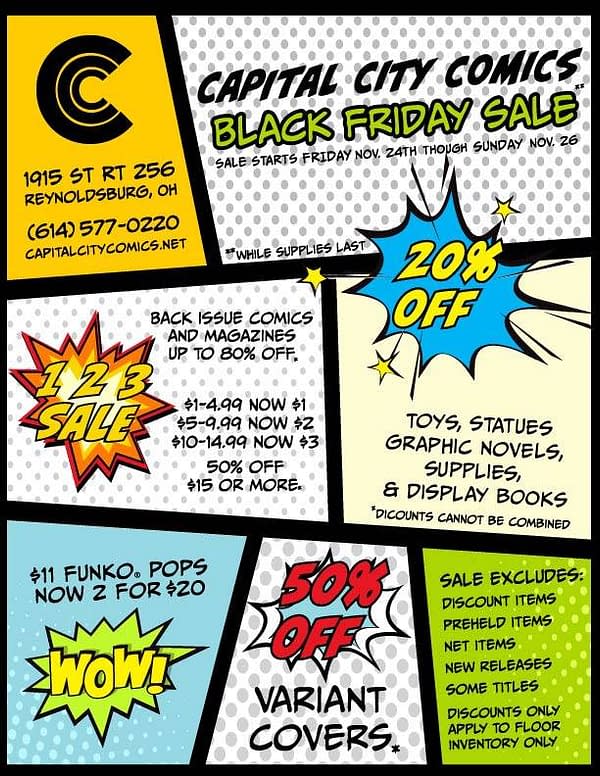 Packrat Comics 3864 Lattimer St, Hilliard
It's the season of giving and we're glad to give you more than ever before with our FOURTH ONE'S FREE sale.

Spend $50 and get free a free Marvel Munny!
Cameron's Comics & Stuff BG175 N. Main Street, Bowling Green
– 25% off all Trades, Graphic Novels and Board Games.
– $3.99 Comic Mystery Packs.
– 50% off all dotted back issues.
– Buy 3 get 1 Free Comics
Alter Ego Comics 230 N Main St, Lima
25% off Funko POPs or Buy 3, Get 1 Free
25% off Action Figures & Statues
50% off Recent Back Issues
Buy 1, Get 1 Free on Half-Off Graphic Novels
OKLAHOMA
Wizards Asylum Comics & Games 7165 S Mingo Rd, Tulsa, 
ALL BACK ISSUE COMICS ONLY $1.00!
*All Wall Comics only $5.00!*
Heroclix Singles 50% to 80% off!
Role-Playing & Board Games 20% to 90% off!
TPBs/Graphic Novels 20% to 90% off!
Magic Singles 4pm til 6pm only, 50% off!
All other merchandise at least 10% off!
Speeding Bullet Comics 614 N Porter Ave, Norman
$5 Marvel Essentials
Other selected trades at $5-$10
Buy one get one free statues
Back issues under $25 are buy one get one free
Supplies 25% off (only time discounted this year!)
All-Star Comics 6900 N May Ave, Ste 10A, Oklahoma City
Back Issues 70% off
Siver Age 50% off
Show Case 40% off
Trades 20%off
Action Figures/Toys 35% off
CGC 10% off
OREGON
Oregon Coast Comics 1142 Main, Tillamook
Comics Adventure 455 Portland Ave, Gladstone
10% off supplies

-20% off back issues and CGCs except spendy ones which are 10% off

-30% off trade paperbacks including discounted ones in back room.

-30% off recent releases

-30% off All-Ages books and, general merchandise* (toys, glasses, coffee cups, t-shirts, tin signs, prints, posters, etc.)
PENNSYLVANIA
Big Bang Comics and Collectibles 437 Broad St, Sewickley
Statues & Busts 50% off!
Sideshow & Hot Toys 10% off!
Toys, Graphic Novels, Dungeons & Dragons 20% off!
Walking Dead Action Figures $5!
Funko POPS $5!
Games 20% off!
Bagged/Boarded Back issues and $1 stock 75% off!
Phantasm Comics 26 North Main Street, New Hope,
25 CENT DOLLAR BINS! – ALL DAY ONLY ON BLACK FRIDAY!
30% OFF GRAPHIC NOVELS!
30% OFF CURRENT BACK ISSUES!
15% OFF ACTION FIGURES!
15% OFF STATUES!
$9.99 FUNKO POPS!
15% OFF APPAREL!
10% OFF ALL MEDIA!
EVERYTHING WILL BE DISCOUNTED
THESE SALES ARE INSANE!
X-Ray Comics & Records 112 East Baltimore Street, Greencastle, 
Brave New Worlds Comics Games Toys 433 W Moreland Rd, Willow Grove
Golden Eagle Comics & Cards3050 N 5th Street Hwy Ste C11, Reading, 
Black Friday Only: All day – 20% off any regular price item of your choice
Black Forest Games and Comics 1656 Rt 209 Pleasant Valley Plaza, Brodheadsville
HUGE D20 BLACK FRIDAY and Small Business Saturday sale!
Pick out all your favorites… for gifts or for yourself, then roll the
D20 dice. Receive anywhere from 5%-20% you entire purchase!!
Good luck! Meet me at the Forest.
Comics World 624 Chambersburg Mall, Chambersburg
New Dimension Comics – Cranberry 20550 Route 19, Cranberry Township, Butler County, 
25% off your purchase from open until noon*
50% off dollar books
Alchemist's Cove Games & Comics 25 West Main St Suite 4, Schuylkill Haven
New Dimension Comics – Butler 108 S Main Street, Butler
25% off your purchase from open until noon*
AA Comics And Cards 610 Cumberland street, Lebanon
Banks 25% off, Board Games 25% off, WarHammer 40K 35% off, Coloring Books 15% off, T-shirts 25% off, Select back issues buy 3 get 2 free, select trade paperbacks and Hardcovers 70% off. Buy 2 Pop! figures get 1 at 50% off. Special pack pricing on Pokemon and Magic the Gathering.
PHILADELPHIA
Games Comics Galore 231 Exton Square Pkwy, Exton,
 Save at our Exton Kiosk or online at gamescomicsgalore.com 20% off everything. Members get an additional 10%. Enter to win a free Pop Vinyl Figure.
SOUTH DAKOTA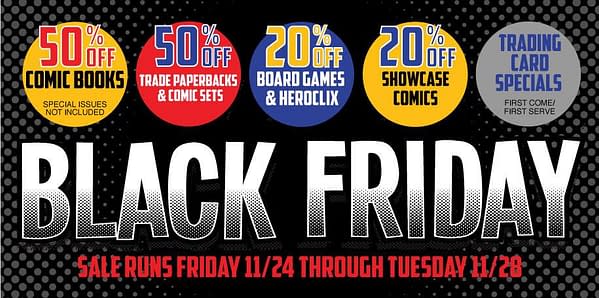 Rainbow Comics, Cards and Collectibles 3310 S Minnesota Ave, Sioux Falls
TENNESSEE 901 Comics 2162 Young Ave., Memphis
TEXAS
Frontrunner Comics 9660 Audelia Rd Ste 105, Dallas
We'll be opening at 10am Friday and the sale runs through Saturday night at 11pm.

1/2 off ALL BACK ISSUE COMICS in boxes and file drawers

20% off ALL COLLECTIBLES (Funko, Plush, Statues, and more!)

EXTRA 10% off already discounted Trades and Graphic Novels
The Multiverse Comics, Collectibles, & Games 431 West Bedford Euless Road #B, Hurst,
 On Black Friday, we're throwing open our doors EARLY (see also: 8:00am) and inviting the first 50 customers to take advantage of 30%p OFF most items in the store (some exclusions may apply).
All-Star Comics 3520 Highway 365, Nederland,
EVERYTHING in the store will be on sale!
50% off Back Issues & Complete Sets
25% off TPB's & HC's
25% off Magic the Gathering
25% off all Toys, Posters & Statues
25% off all Games and Gaming Supplies
10% off New Comics & Wall Books
Phase 1 Comics & Games 28301 SH 249 Business, Suite 500, Tomball, 
Generation X Comics and Games 3504 Harwood Rd, Ste 304, Bedford,
Mayhem Toyz & Comics 2200 N Lee Trevino Dr Suite B3B, El Paso
Manabolt Comics & Games 931 W. Washington, Stephenville
Current Comics $1 off Cover Price
Comic Back Issues 25% off List Price
Trade Paper Backs 25% off Cover price
Current Booster Packs $3.33 (MTG) (Pokemon)
Pokemon Sun and Moon Guardians Rising Starter Decks $9.99 ea.
Used Paperbacks 50-75% Off Cover Price
VIRGINIA
Dragon Fire Comics 5359 Main St, Stephens City,
Cavalier Comics 189 Ridgeview Rd SW, Wise
It's that time of year again! We will open an hour earlier at 9 AM and have a 20% off sale! Some items will be 1/2 off. And that Saturday is Small Business Saturday and we'll run the same sale too.
Trilogy Comics 5773 Princess Anne Road, Virginia Beach
Black Friday we will be open 8AM – 8PM

Black Friday only doorbusters 8- 11am

Graphic novels under 39.99 are BOGO (doesn't include manga)
Magic card packs/decks buy 2 get 1 free
T-shirts are buy one get one free!
Comics between $20.00 and $99.99 are 30 % off on Friday only!
Almost 3000 silver age books in this group!
WASHINGTON
Comics Place 105 E. Holly St., Bellingham
Subspace Comics 3333 184th St SW, Ste G, Lynnwood
A tiered sale on Games, Shirts, Statues, Toys, & TPs throughout the day!

11am to 1pm – 50% Off
1pm to 4pm – 40% Off
4pm to 8pm – 30% Off
Comics Dungeon 319 NE 45th St, Seattle
Time to clear some more space for new inventory!
-$1 comic bins!
-50% TP/GN/HC boxes!
-$10 Hard Cover boxes!
Arcane Comics 15202 Aurora Ave N, Seattle, 
WISCONSIN
Kowabunga Comics 102 N Main St, Oconomowoc
In addition to the hundreds of items we'll have on sale, we'll also be giving a raffle ticket (to be drawn the following day) to the first 20 shoppers to win a $50 gift card!
YORKSHIRE
Wakefield Comics-6163 The Springs, WF1 1PU Wakefield
Deals are in store only and won't be posted online untill Friday morning
Ka-Pow Comics 6a, St Peters Street, HD1 1DH Huddersfield
Get 15% off purchases for one day only! *Does not include comic books, but does include everything else in store! T-shirts, #Manga, Graphic novels, action figures, statues, #Funko pops, door mats, badges, keyrings, and anything else we've forgotten to mention!
FRANCE
Central Comics, The New Margen's Pub 65 rue Mouffetard, 75005 Paris
ITALY
J.C. Action Figures & Comics Via Monte San Michele, 13/c, 28100 Novara
Nerd Comics Romavia Ascanio Fenizi 19, 00149 Rome,
CRAZY COMICSVia Carrobbio, 15, 21100 Varese, SPAIN
Moria Comics C/Cid Campeador nº 8'-1, 46702 Gandía
En Portada Comicscalle Nosquera 10, 29008 Málaga
SWITZERLAND
Dadix Comics & Manga Shop La Fumetteria a LuganoVia dei Gorini 4, 6900 Lugano, 
DALLE ORE 10:30 ALLE ORE 18:30
VIENI A TROVARCI
CERCA IL BOLLINO PER SCOPRIRE LO SCONTO
!! SCONTI FINO AL 40% !!
SU QUASI TUTTI I PRODOTTI IN NEGOZIO .. COMICS … MANGA … FUNKO POP …. T.SHIRT …. ACCESSORI …. DVD …
OFFERTA VALIDA SOLO VENERDÌ 24.11.2017
ONTARIO
Paradise Comics 3278 Yonge St, Toronto
30% OFF ALL Graphic Novels

20% OFF ALL Gaming
20% OFF ALL Action Figures
50%- 70% OFF ALL Silver Age Bin Stock
10%-50% OFF ALL Silver and Golden Age Comics
40% Off ALL New Rack Books
L.A. Mood Comics & Games 350 Richmond St, London
All Pokemon gift boxes 50% off! All super hero socks & wallets 50% off! Jeff Lemire's Secret Path $25!! Spider-Man 12 inch Marvel Legends Action Figure $30!!! and more!

25% off all toys and statues!
20% off all records!
20% off all graphic novels including discounted items!
10% off all board games including discounted games!
NORWAY
Zoo Comicsdrangedalsveien 20, 3920 Porsgrunn
Black friday er tilbake!! Vi åpner salget med stil og har 25% på alle tegneserier,tpb,hc,singler  og bøker, tshirts,jakker,gensere,bre ttspill,figurer,funko pop,plush,statuer,lego og mye mer. Dette gjelder ikke gamle varer som støver ned men alt av både nytt,gammelt og ja you name it. Its that good, yeah were awesome! Så løp ned til zoo comics og få med deg fete nyheter til gamle godsaker.Dette gjelder både fredag og lørdag så gjør julegaveshoppinga hos oss, om det er til deg eller andre. Magic har en egen spesial tilbud! Single tilbud er en d20= % i avslag så maks rabatt er -20% hvis du får en "critical hit" :)De som handler for 250kr er med på loddtrekning av foil elspeth the suns champion theros versjonen (5stykk blir trekt ut) verdi 28$. Handler du for 500kr eller mer så får du en black friday treasure chest booster (har 30stykk) hvor du kan få alternativ art flipkort som kun finnes i denne boosteren samt mange andre bra rares. Se video og bilder for mer info nedenfor.
Vi har også fate reforged/conspiracy display til 900kr ( så lenge beholdningen varer)og da får du også treasure chest booster og er med i trekning på elspeth, suns champion. Kjøper du iconic masters display så får du 1 elspeth, suns champion foil (theros) samt 2 treasure chest boosters!Velkommen til black friday!!!
SOUTH AFRICA
Comics Explorer – PO Box 11249, TRAMSHED, 0126 Pretoria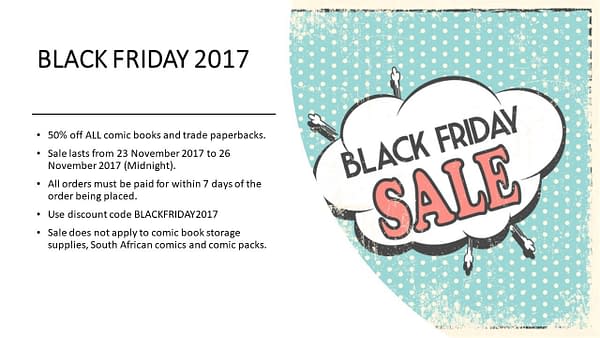 ON-LINE DC March To Black Friday on ComiXology with graphic novels up to $16.99 discounted to $4.99
Original artwork by Squarriors' Ashley Witter.
Enjoyed this article? Share it!