CULT Classic – The CULT Party At Orbital Comics in London Was 'Iggy Pop Meets The Damned'
By Alasdair Stuart
April was a good month to be a Ghost. The comic creator collective took over Orbital Comics for a hugely successful, ultimately extended run of signings, exhibitions and, rather splendidly, a live punk set by Vince Paradise & The Kittelbach Pirates.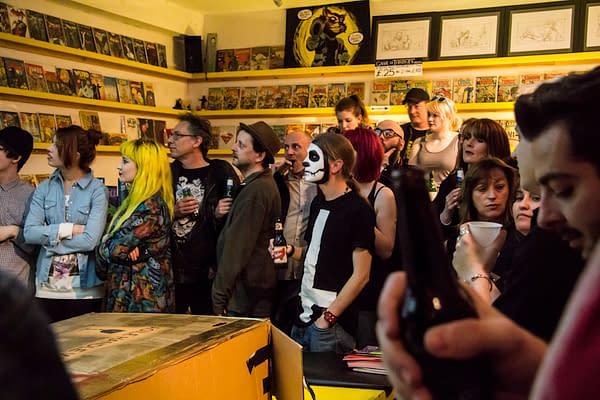 Ghosts are an Ocean's Eleven esque group of incredible talent including Nich Angell, PM Buchan, Owen Michael Johnson, James Lawrence, Jon Lock, Mark Penman and Andrew Tunney. Separately they've all done, and continue to do, vastly impressive things on the UK indie scene. Together, as those who visited the exhibition know, they're an extraordinarily talented group of creators defined as much by their individuality as their fundamental decency. There are no rock stars in this group, no tedious declarations or pompous, empty feuds. Just seven of the best comic creators on the planet making some of the best comics they can.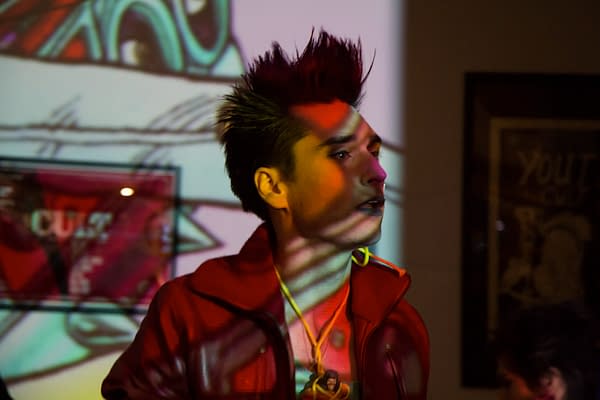 Owen Johnson, of Raygun Roads, had this to say:
Our goal from the beginning was to do something different. To produce and celebrate original work, to bring back the spirit of the underground, and to have a criminal amount of fun doing it. I think we achieved exactly that.

A huge thank you to everyone who was present on Saturday, who took photographs, who worked on making the show spectacular, who drank with us and celebrated in style. We had the time of our lives and are forever grateful!
Visitors were just as happy with the show as the Ghosts themselves. Andy Oliver of Broken Frontier described it as:
An animatedly anarchic evening of interactive comics-based celebrations. Endearingly disturbing!
Meanwhile, Liz de Jager, author of the excellent supernatural adventure novel, Banished, said:
The CULT exhibit fulfilled the hype and promise of its enthusiastic team of creators. The art was darkly evocative and thoughtful, leaving a sense of disquiet behind. Overall, a very strong showing for a brilliant bunch of up and comers.
Finally David Hine, of Bulletproof Coffin, The Man Who Laughs and Stormdogs described The Vince Paradise & The Kittelbach Pirates performance as:
Iggy Pop meets The Damned. Great night at Orbital. Congratulations to the entire CULT collective!
Doesn't it sound ace? That's because it was. And now, thanks to youtube, you can get a flavor of just how fun the whole thing was:
Copies of every comic from the Ghosts Collective are available in Orbital Comics, London, as well as exclusive prints and artwork from the exhibition, and the CULT official program. They also have work available online so, if you like what you see, go check out Raygun Roads, Matinee, Blackout II & La Belle Dame Sans Merci, Dangerine, Afterlife, Cat & Meringue, Tabby & Trout, 7 String, The Waste & Girl & Boy now. Because the GHOSTS are going to be haunting comics for a long time and comics are all the better for it.
And here's a lovely photogallery of the event:
Alasdair Stuart is a freelance journalist and hosts Pseudopod. He's currently writing the 10th Doctor Sourcebook for the Doctor Who RPG and is pleasantly surprised by how a lot of the dodgy bits of the 10th's run are actually much better in hindsight. Follow him on twitter at @AlasdairStuart