Peter Dinklage Responds to 'My Dinner with Hervé' Whitewashing Claims: "Hervé Wasn't Filipino"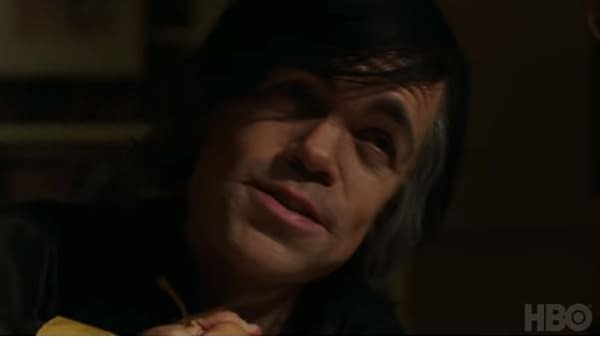 This fall, the life of Fantasy Island actor Hervé Villechaize (Peter Dinklage) and the circumstances that led to his story being told will be on display in HBO Films' My Dinner with Hervé. Directed by Sacha Gervasi with a screenplay by Gervasi and story by Gervasi & Sean Macaulay, the film unfolds over one night in Los Angeles and tells the true story of the unlikely friendship between Villechaize and journalist Danny Tate(Jamie Dornan) — a friendship that had life-changing consequences for both men.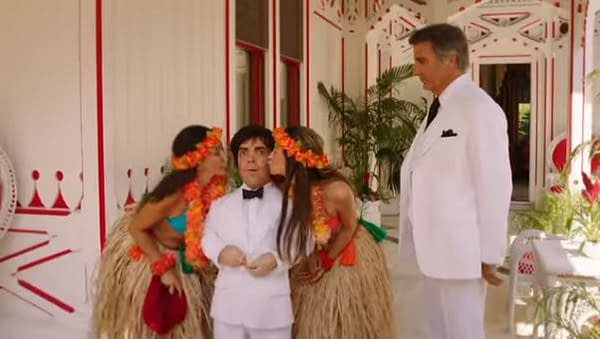 In a rare interview ("I only talk about projects that are dear to me.") exclusive to Entertainment Weekly that touched upon a number of subjects, Dinklage addressed head on the "whitewashing" claims being levelled at the film.
● While Dinklage understands and respects fighting against Hollywood's practice of "white-washing" (casting a white actor in a non-white role), there's one basic but extremely important fact about Villechiaze that he wants everyone to know: he wasn't Filipino:
"The internet is the best thing and the worst thing. The funny thing about the backlash is it addresses what we address in the film about not judging a book by its cover. Hervé was judged by how he looked, and cast and perceived to be who he is accordingly. It says [Villechiaze was half-Filipino] on Wikipedia. Family members can't change information on there. My daughter's name was 'Zelig' on Wikipedia for a long time. Her name is not Zelig. I don't know who is able to put information up, but there are so many things on there that aren't true.

There's this term 'whitewashing.' I completely understand that. But Hervé wasn't Filipino. Dwarfism manifests physically in many different ways. I have a very different type of dwarfism than Hervé had. I've met his brother and other members of his family. He was French, and of German and English descent. So it's strange these people are saying he's Filipino. They kind of don't have any information.

I don't want to step on anybody's toes or sense of justice because I feel the exact same way when there's some weird racial profile. But these people think they're doing the right thing politically and morally and it's actually getting flipped because what they're doing is judging and assuming what he is ethnically based on his looks alone. He has a very unique face and people have to be very careful about this stuff. This [movie] isn't Breakfast at Tiffany's. Personally, I would never do that, and I haven't done that, because he wasn't. People are jumping to conclusions based on a man's appearance alone and that saddens me."
● So where did the idea of Villechiaze being Filipino come from? Dinklage believes it's a classic case of confusing reality with what we see on the screen:
"Maybe people were thinking of The Man with the Golden Gun, which was shot in Southeast Asia, and Fantasy Island, where he's on an island, and that, compounded with how he looked, made some think he must be from that part of the world. But that's also part of the mystery and fun of this movie. He was so many things and he was proud of the myth of himself as well. Everybody I met — his brother, his girlfriend, people who worked with him — said he was 'so proud.' If [being Filipino] was part of his heritage he would have been very proud of that. Hervé would be laughing at this right now, and part of me is too. But when I start to be accused of things that are not truthful and not real, that's when you want to say, 'Okay, calm down.'"
An unlikely friendship evolves over one wild night in LA between a struggling journalist (Jamie Dornan) and actor Hervé Villechaize (Peter Dinklage), resulting in life-changing consequences for both.
HBO's My Dinner with Hervé also stars Mireille Enos as Hervé's longtime girlfriend, Kathy Self; Harriet Walter as Danny's newspaper editor, Fiona Baskin; Oona Chaplin as Danny's girlfriend, Katie Nielson; David Strathairn as Villechaize's longtime agent, Marty Rothstein; and Andy García as Ricardo Montalbán, Villechaize's Fantasy Island co-star.
My Dinner With Hervé debuts on HBO on Saturday, October 20th, 8 p.m. ET/PT. Villechaize (born Hervé Jean-Pierre Villechaize) was a French actor and painter who achieved worldwide recognition for various film and television roles. His role as Nick Nack in the James Bond film The Man with the Golden Gun in 1974 was a particular standout, though it would be his role as Mr. Roarke's assistant, Tattoo, on the television series Fantasy Island from 1978-1984 that would catapult him into the pop culture lexicon with his line, "Ze plane! Ze plane!" In 1993, Villechaize's girlfriend would discover the actor's body in the backyard of his Northern Hollywood home: victim of a self-inflicted gunshot wound. Villechaize was 50 years old.
You can check out the rest of Dinklage's exclusive interview with Entertainment Weekly here.