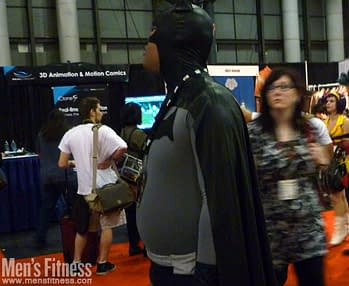 AuctionWatch: The "name the lead supervillain" in Mark Millar, Dave Gibbons and Matthew Vaughn's comic/movie The Secret Service charity auction has reached $1825…
FatWatch: Men's Fitness shames week-looking male cosplayers at New York Comic Con.
HalloWatch: The Just 1 Page comics charity presents 'Horrific', a three day exhibition and art sale starting today at Orbital Comics in London, including original artwork by Mike Carey and Charlie Adlard, signed prints by Tim Bradstreet, Shaun of the Dead sculptures designed by Jesse Farrell and lots more. All art in the exhibition will be for sale and some additional items will be available to view via their Facebook and Flickr pages and all money raised will go to Macmillan Cancer Support. And on Sunday 23rd, when the main exhibition closes, Mike Carey will be giving a public reading, starting at 3pm.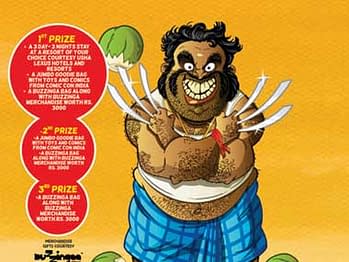 IndiaWatch: Mumbai's Comic Con Express kicks off this weekend. Anyone going?
TintinWatch: Tintin fan and Guardian reviewer Nicholas Lezard sees the new Tintin film as… well…
Coming out of the new Tintin film directed by Steven Spielberg, I found myself, for a few seconds, too stunned and sickened to speak; for I had been obliged to watch two hours of literally senseless violence being perpetrated on something I loved dearly. In fact, the sense of violation was so strong that it felt as though I had witnessed a rape
…
As it is, the film has turned a subtle, intricate and beautiful work of art into the typical bombast of the modern blockbuster, Tintin for morons, and the nicest things one can say about it are that there's a pleasing cameo of Hergé himself in the opening scene, the cars look lovely, indeed it is as a whole visually sumptuous, and (after 20 minutes or so of more or less acceptable fidelity; and the 3D motion-capturing transference of the original drawings is by far the least of the film's problems) it usefully places in plain view all the cretinous arrogance of modern mass-market, script-conference-driven film-making, confirming in passing that, as a director, Spielberg is a burned-out sun.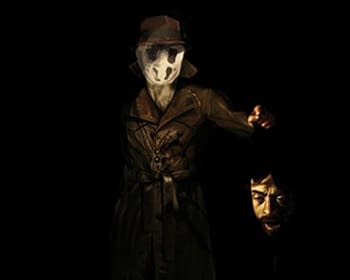 WatchmenWatch: Artist Clotilde Viannay has created a full facsimile of the fictional New York Times from 1985 that fits into the world of Watchmen, and an accompanying exhibition, on display at the Palais De Tokyo in Paris until the end of the month.
RichWatch: Fortune lists Marvel's Kevin Feige as number 16 on their 40 Under 40 list. We're the same age. He's President of Marvel Studios.
However I have more hair, therefore I win
StarWatch: Family Guy and Robot Chicken's Seth Green is working on a Lucasfilm-approved Star Wars based sitcom.
It will be based, in part, on the French And Saunders Phantom Menace sketches from a decade ago. This is Computo the Comic Link Conqueror speaking. I come for your women. But for now I merely collate comic-related bits and pieces online. One day I will rule. Until that day, read on.
They say I am a work in progress. The fools.
'The Drops of God' drops on the U.S. – latimes.com
Cross two of the most virulently geeky topics on Earth — wine and Japanese manga comic books — and you wind up with "The Drops of God," an almost psychedelically beautiful work by Tadashi Agi (the pseudonym for brother-and-sister team Yuko and Shin Kibayashi) and illustrator Shu Okimoto.
DC Universe: The Source » Blog Archive » Exclusive Preview of LEGION: SECRET ORIGIN #1
In the new 6-issue miniseries, LEGION: SECRET ORIGIN, industry legend and LEGION OF SUPER-HEROES writer Paul Levitz and artists Chris Batista and Marc Deering answer these questions–and more.
Neil Gaiman's photo "SNEAK PREVIEW. It'll be broad…" on WhoSay
Why does this barman have a knife to my throat?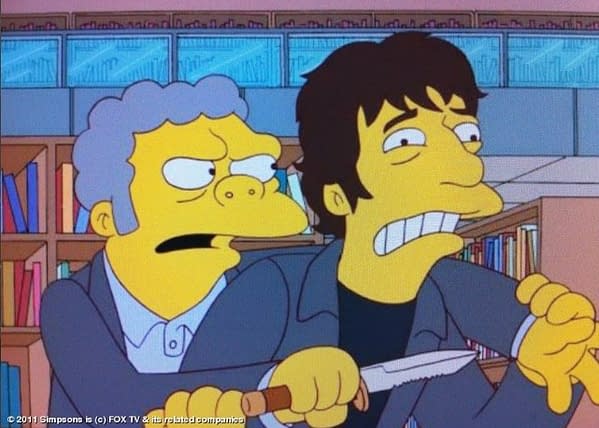 Ben McCool's 'Memoir' Heads To Television
Publisher's Marketplace announced the news yesterday that Warner Bros. Television have acquired "Memoir" as a TV series, though at this time, no further details are known about the project's development, the key talent involved and other kinds of specifics. But here's one thing we do know: McCool is very, very excited.
Fox Buys 'The Punisher' Series Adaptation From Ed Bernero & Marvel With Put Pilot – Deadline.com
In one of the last big drama deals this buying season, Fox has handed a put pilot commitment to The Punisher, a series based on the Marvel comic from Ed Bernero and ABC Studios. This is one of two high-profile sales for former Criminal Minds showrunner Ed Bernero. He also has high-concept Western spec The Eye set up at ABC.
Enjoyed this article? Share it!