CONTEST: Win Playmobil's Ecto-1 or Stay Puft Marshmallow Man to Celebrate Ghostbusters Day!
Ghostbusters Day is today, and we are celebrating by giving away some toys! Our good friends at Playmobil are giving two of our readers an opportunity to recieve their very own Playmobil Ecto-1 car or their super awesome Staypuft Marshmallow Man sets from their uber-popular Ghostbusters line.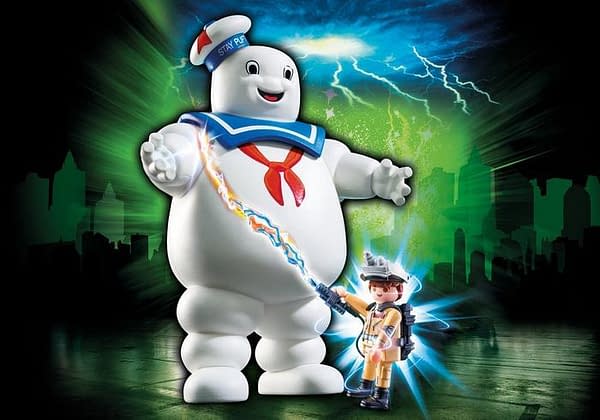 He may look fluffy and cute, but Stay Puft is ready to scare the city! With movable arms, there is no stopping him as he stomps along the streets. Stand back as Ghostbuster Ray Stantz uses his proton pack on the larger-than-life ghost and covers the city in marshmallow! Set also includes Ecto-Goggles and other accessories. Recommended for ages six years and up. Stay Puft Dimensions: 6.3 x 3.3 x 7.5 in (LxWxH).Warning. Choking Hazard. Small parts. Not for children under 3 years.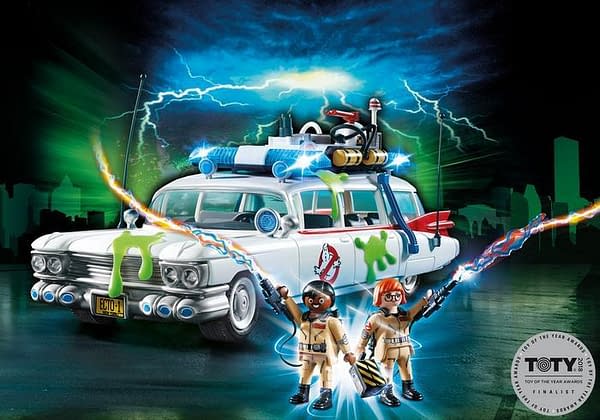 Speed through the city in the iconic Ecto-1! This legendary action vehicle has plenty of space for proton packs and ghost traps thanks to the detachable roof. With original sounds and functioning lights, this vehicle is set for ghostbusting action. Set also includes Ghostbusters Winston Zeddemore and Janine Melnitz in their official uniforms with two detachable proton packs and proton lasers, ghost trap, PKE meter for measuring psychokinetic energy, and silicone slime splatters that stick to smooth surfaces. 3 x AAA batteries required. Recommended for ages six years and up. Dimensions: 13 x 4.9 x 5.1 in (LxWxH).Warning. Choking Hazard. Small parts. Not for children under 3 years.
How do you win these toys? Why, it's simple! Below there are three Ghostbusters questions. In the comments, leave your answers for all three, or tweet the answers at me on Twitter @jeremyohio and on Monday, June 11th I will pick the winners. Good luck, everyone, and have a great Ghostbusters Day!
Question 1: Finish this quote: "Ray, if someone asks you if you are a god, you say____!"
Question 2: Who was originally going to be cast in the role of Peter Venkman instead of Bill Murray?
Question 3: In The Real Ghostbusters, what handle did Janine use when calling the Busters over the radio?