Krakoa Takes Another Step Towards Creating Chimera
In House Of X, as part of the ninth timeline, we learnt about Chimera.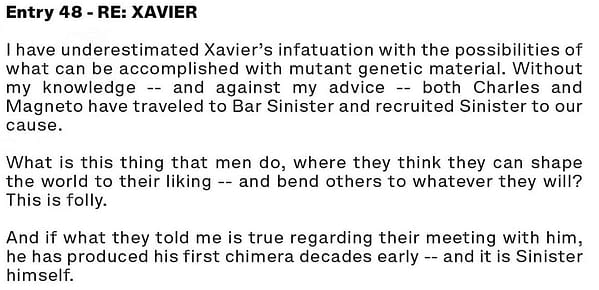 Mister Sinister, a chimera created using the body of Thunderbird? In the House Of X/Power Of X series, we learn that Mister Sinister creates the chimera, combining DNA of mutants to create new individuals.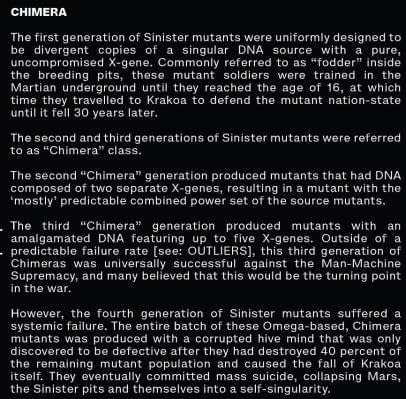 And we get a break down of one future chimera's DNA sources, Rasputin.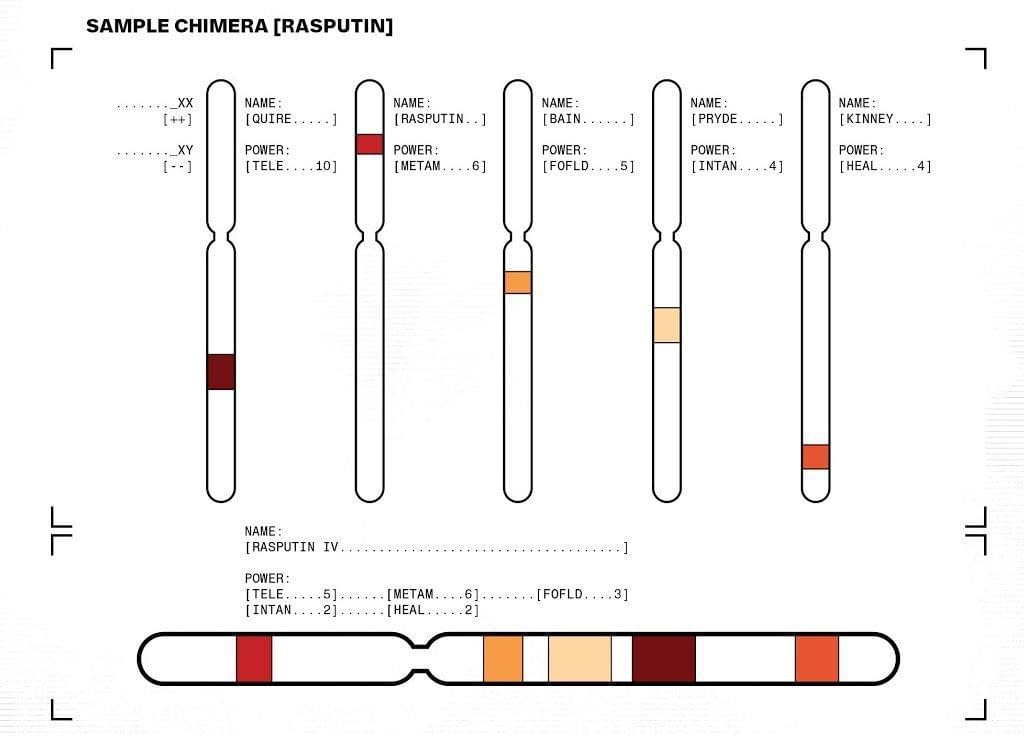 A combination of Quentin Quire, Nightcrawler, Kate Pryde, X-23 and Unus The Untouchable. And giving us her in Power Of X…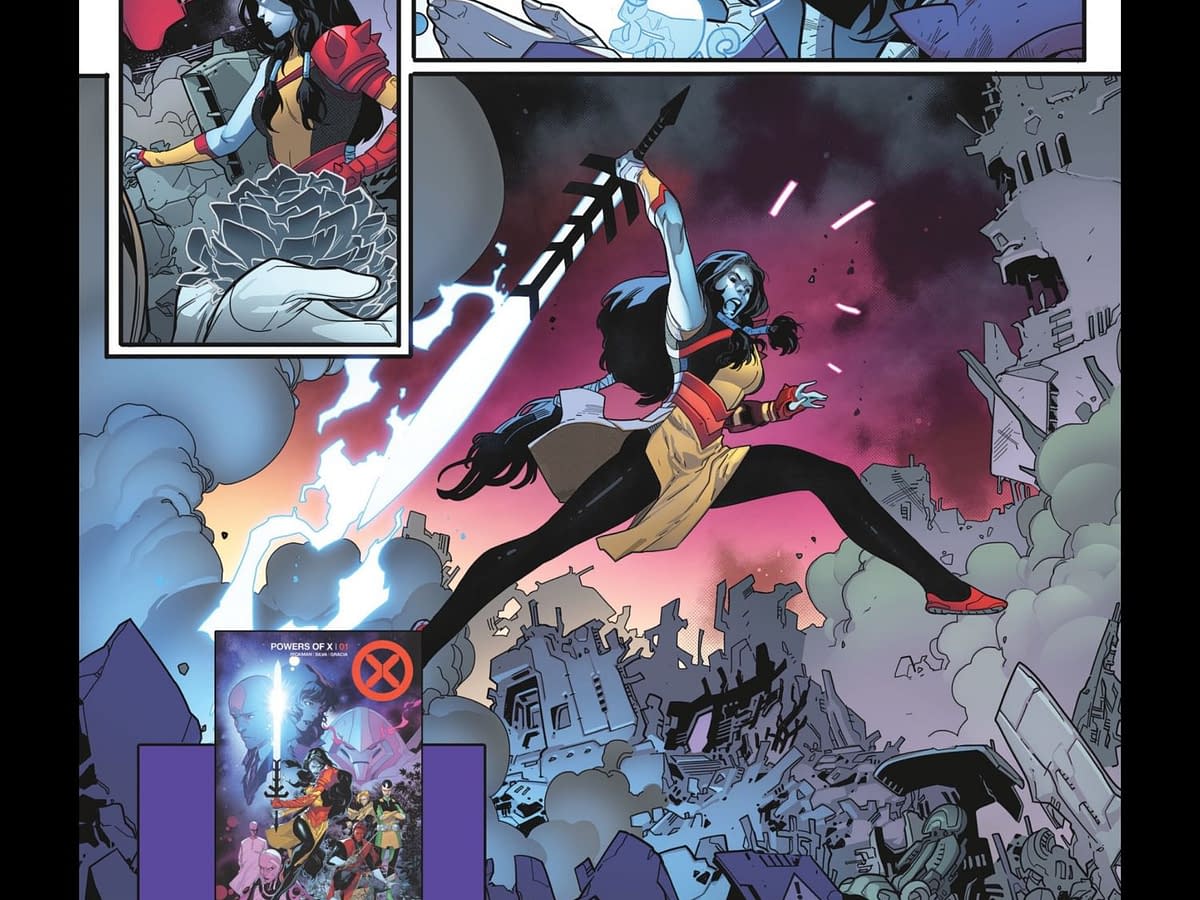 With the Krakoan system of resurrecting mutants, with the five creating new bodies and Charles Xavier bringing back their souls, there have been questions and suggestions as to what would happen if mutant minds were put into other bodies, or what if the process was carried out when a mutant was alive, creating duplicates. But it seems that Xavier has thought of this… and has forbidden Sinister from making copies of mutants, as he did creating Madelyne Pryor from Jean Grey.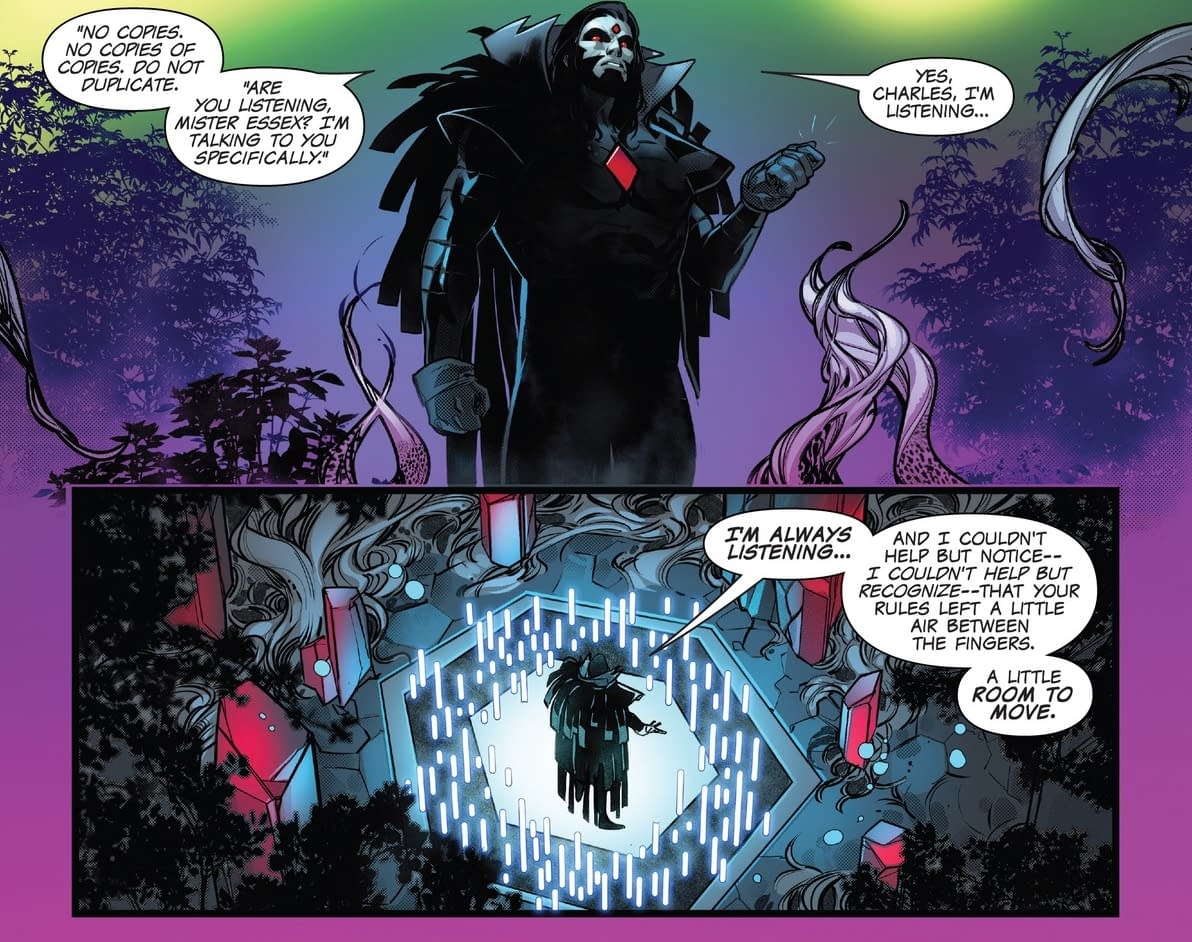 So he's not allowed to make copies, what can he do?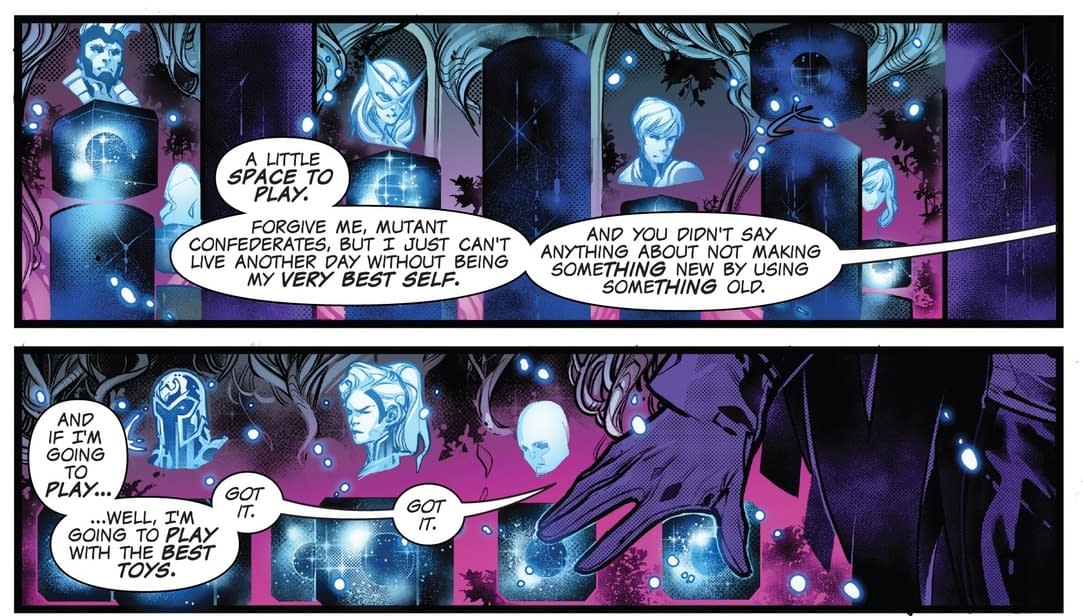 Making something new from something old. Chimeras on Krakoa now, not a hundred years hence. And what materials does he need?
He's on the wat, Mister Sinister. Still on Doom's own mutant island right now…
Oh yes, Doctor Doom has his very own mutant island, away from Latveria. Krakoa has competition. But in X-Men #7, the concept that will feed into chimera are beginning. As mutants leave wills before they die -and are then resurrected, requesting such chimera possibilities.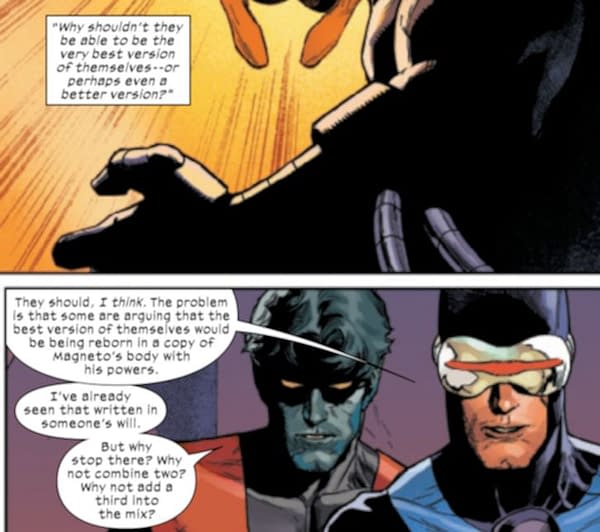 Why not indeed, Nightcrawler.

Colossus is already talking about coming back… better in -Force #8.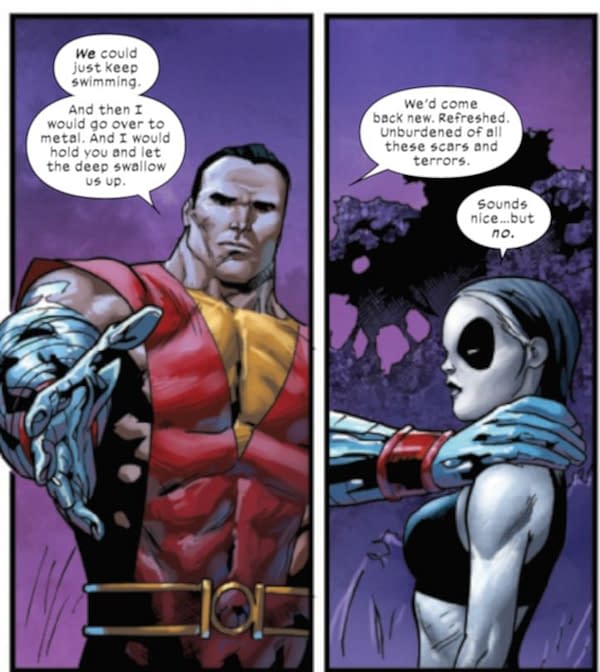 And Domino encounters the results of, well, a very crude version of a chimera as well…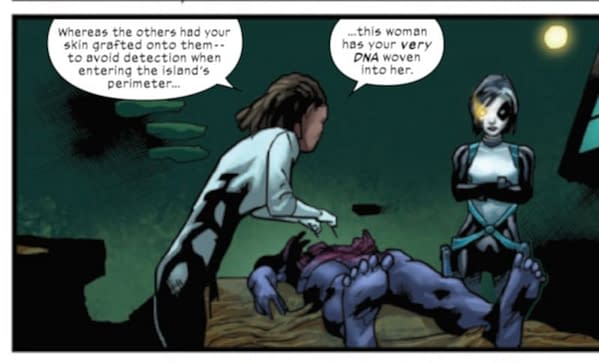 And if they need a little hands-on action, why not ask Armor do to her impression of The Sentry and Ares, God Of War, in today's New Mutants?

X-MEN FANTASTIC FOUR #2 (OF 4)
(W) Chip Zdarsky (A/CA) Terry Dodson
The world has been re-shaped by the X-MEN. But you can't reshape a world without encountering its true master … DOOM..
Rated T+In Shops: Feb 26, 2020
SRP: $3.99

X-MEN #7 DX
(W) Jonathan Hickman (A/CA) Leinil Francis Yu
MUTANTS ARE FOREVER!
The Resurrection Protocols have changed everything for Mutantkind. NO MORE can humans' hate and fear take their lives from them. But… what ELSE has it changed?
Rated T+In Shops: Feb 26, 2020
SRP: $4.99

NEW MUTANTS #8 DX
(W) Ed Brisson (A) Marco Failla (CA) Rod Reis
Deep in Shi'Ar space, the NEW MUTANTS have found themselves dead in the middle of an intergalactic power struggle. They're probably equipped to handle that, right? And back on Earth, the young mutants of Krakoa look forward to the future…whatever it may hold.
Rated T+In Shops: Feb 26, 2020
SRP: $3.99

X-FORCE #8 DX
(W) Ben Percy (A) Oscar Bazaldua (CA) Dustin Weaver
MISS FORTUNE STRIKES!
Domino's luck seems to be changing… Can she find the source of her misfortune before it costs lives all over the world? And has Colossus healed enough to help her… or even himself?
Parental AdvisoryIn Shops: Feb 26, 2020
SRP: $3.99

GIANT SIZE X-MEN JEAN GREY & EMMA FROST #1 DX
(W) Jonathan Hickman (A/CA) Russell Dauterman
The first of five essential X-tales specially designed to showcase some of Marvel's best artists! First up, Russell Dauterman, superstar artist of THOR and WAR OF THE REALMS! When Storm is in danger, it's going to take two of the most powerful telepaths on Earth working together to make things right. Jean Grey and Emma Frost, together again for the good of Krakoa!
Rated T+In Shops: Feb 26, 2020
SRP: $4.99
Giant-Size X-Men Jean Grey & Emma Frost #1, X-Men #7, New Mutants #8, X-Force #8 and X-Men/Fantastic Four #2 are out today from Marvel Comics… I bought mine from Piranha Comics in Kingston-Upon-Thames. Piranha Comics is a small south London comic store chain with a small south-east store in Kingston-Upon Thames's market centre, which runs Magic The Gathering nights on Fridays, and a larger south-west store in Bromley, which also runs Magic nights and has an extensive back issue collection and online store. If you are in the neighbourhood, check them out.