Live(ish) From The Games Shop – The Stick of Truth, The Walking Dead, Yearwalk, Awesomenauts
By Jared Cornelius
Its business time and business is good here at Bleeding Cool. Along with my Typing on The Dead recaps (plug plug) I'm going to do a quick rundown of the week's big video game releases. Our dear EIC gave me permission to use the "Live From" branding, so a special thanks to Hannah. While Hannah does her weekly column from Conquest Comics in Bayville New Jersey. The local games retailers are all owned by a big company so let's just pretend a little.
It's the first week of March and the first big releases of the year are here. You've had to suffer through January and February with your pile of shame to keep you warm and a few 2014 releases like Strider and Donkey Kong to fill in the gaps. As spring is almost upon us we close out our time indoors with a good mix this week, as serious and silly clash head on. South Park: The Stick of Truth has taken a long road to get here. Originally to be released by the now defunct THQ, Ubi Soft acquired the rights to publish and added a few extra months of development to ensure quality. Assuming the role of a player created new kid in South Park, you'll adventure with Cartman, Stan, and Kyle to rescue Princess Kenny and the titular stick of truth. Stick of Truth features RPG elements taken to a natural absurdity by the people who made man bear pig. Special attacks range from Mr. Hanky's poo wave, charging unicorns, and hand cupped farts. The graphics look like they were taken from South Park blu-rays, while Trey Parker and Matt Stone seem to be fully behind the effort, lending their voices to the animated adventure. My only concern being the game is made by Obsidian Entertainment who've been known to release buggy games in need of patching. South Park: The Stick of Truth was available from this Tuesday onward for the Xbox 360, PC, and PlayStation 3.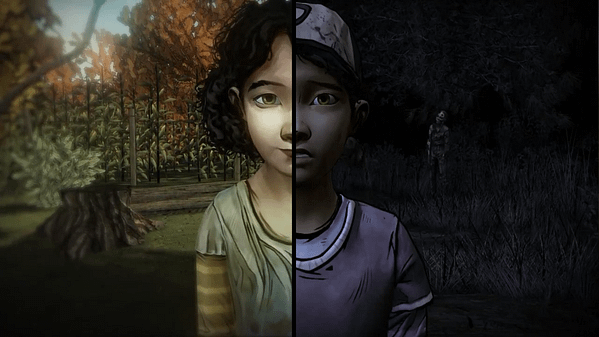 The Walking Dead: Season 2, Episode 2 is an embarrassment for me, as I haven't played episode 1 yet. The original season of The Walking Dead was one of my favorite games of 2012. It was a game full of pulled heart strings and difficult choices leading to an oppressively bleak experience. Taking place after the original Walking Dead game, players are again tasked with guiding Clementine in some fashion. No spoilers on this one, and I might just wait for all five episodes, as no one knows how long between releases. The Walking Dead Season 2 Episode 2 was available from this Tuesday onward on PC and PlayStation 3, and Wednesday on Xbox 360. Year Walk, a supernatural puzzle game released last year on the app store hit Steam on Thursday. I didn't play this on the IPad, but I'm looking forward to playing it as I've heard nothing but good things. Describing Year Walk is difficult and I've also been told the less you know going in the better, so here's the hard sell from the Steam page, "Venture out into the dark woods where strange creatures roam, on a vision quest set in 19th century Sweden. Solve and decipher cryptic puzzles, listen for clues, and learn about mysterious folklore creatures in the built-in encyclopedia as you seek to foresee your future and find out if your loved one will ever love you back." Awesomenauts Assemble comes straight out of an 80's Saturday morning cartoon and onto your PlayStation 4 from this Tuesday onward. A 2D MOBA, (Multiplayer Online Battle Arena) players are given a colorful cast of characters with unique special abilities to take on other players in 3 on 3 skirmishes while battling your opponents computer controlled creeps. Anyone who's been interested in DOTA 2 or League of Legends should check out this interesting take on the genre. It's also got a great 80's inspired theme song.
For all you Xbox Live Gold users, Sid Meier's Civilization Revolution is available for free till March 16th. While PlayStation Plus users will see the 2013 Square Enix Tomb Raider go free as its big release. Indie titles get some attention with simply designed block puzzler/narrative platformer Thomas Was Alone and pixilated horror game Lone Survivor. PlayStation 4 users will get a dose of horror with twin stick shooter Dead Nation Apocalypse Edition on Tuesday. I'm not exactly sure when all the PS Plus games drop, I hope to figure it out a little better as we go along. Thanks for reading and keep those thumbs ready because we've still got a bunch of big releases ahead of us like infamous: Second Son and Titanfall.
Jared Cornelius is some guy from New Jersey's coast who thinks he's smart. If you'd like to discuss the merits of socialized medicine or make fart GIF's, contact him @John_Laryngitis on Twitter.