Lone Wolf & Cub Will Continue In New Sequel LOOK! IT MOVES NYCC SPECIAL Series Dark Horse officially confirmed that they are currently translating the sequel to classic Samurai manga series Lone Wolf & Cub for release in 2014.
New Lone Wolf & Cub, or Shin Kozure Okami, is written by original series creator Kazuo Koike and drawn by Hideki Mori. The artist of the original series Goseki Kojima having passed away in 2000. Koike is also the creator of other classic manga series like Lady Snowblood and Crying Freeman.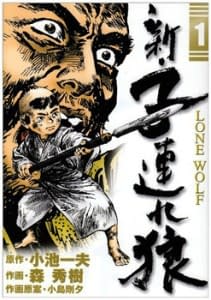 While this announcement was original made in July, I'm surprised it hasn't been picked up and talked about more comics news sites. The original Lone Wolf & Cub has cast a big shadow over the US comics scene and industry, its storytelling techniques having been a huge influence on Frank Miller and many more mainstream comics artists ever since. It also helped open up the manga industry and market back in the 1980s when First Comics originally brought it to the US. The original manga series, along with Katsuhiro Otomo's Akira, and Mamoru Oshii's anime movie of Masamune Shiro's Ghost in the Shell (and on the pervy end, hentai demon tentacle rape stories) defined manga and anime fandom in the West in the 1980s and 1990s. Back then, the manga/anime fan scene in the West was defined by Science Fiction, the Samurai genre and then Dragonball and Sailor Moon for younger audiences.
Since then, those younger fans in the West have grown up and their taste for teen fantasy series, high school comedies and romance with a sideline of Moe have largely overtaken Science Fiction and authentic period Samurai manga, with Dark Horse's publications of Hiroki Endo's epic Cyberpunk geopolitical thriller Eden: It's an Endless World and classic samurai series Satsuma Geshiden placed on hiatus due to low sales. Back in the 1990s, those two series would have been strong sellers, but the market has shifted to younger readers now in their teens and twenties more interested in the teen drama and teen fantasy and supernatural genres. Despite all this, Kazuo Koike's impact on comics and pop culture history cannot be underestimated. Lone Wolf & Cub and Lady Snowblood became classic live action movies that made its leads into stars, with Koike occasionally co-writing the screenplays. The Lone Wolf & Cub movie series was produced by Shintaro Katsu, who also played Zatoichi in movie series and starred his brother Tomisoburo Yakayama. Lone Wolf & Cub, of course, first came to be known in the West in 1980, before the manga was published in English, due to Roger Corman's then-company New World Pictures having bought up the first two movies and re-editing them and adding a new English voiceover into a movie called Shogun Assassin, the title changed thus to cash in on the popularity of the TV adaptation of Shogun, James Clavell's novel about medieval Japan. Shogun Assassin still has a major cult following amongst fans of samurai and martial arts movies in the West, and the Lone Wolf & Cub movies are considered classics in Japan. Both John Woo and Wong Kar Wai have lifted wholesale moments from Lone Wolf & Cub for their own movies.
Koike is a giant in the Japanese manga industry, still active and writing manga today, and has run a manga training university whose alumni include the creators of Inuyasha, Vampire Hunter D, Fist of the North Star, even the designer of the Dragon Quest video games, to name but a small number of his former students. His influence on the manga world is immense.
That's why I'm perplexed that the comics world here in the West isn't more excited that the official sequel to Lone Wolf & Cub, which picks up right after the end of the original series. It's the gold standard by which all samurai series have come to be judged, and responsible for so many careers and other comics both in the US and Asia.
There is no way New Lone Wolf & Cub won't be an essential manga when its English publication comes along next year.
Wishing for a katana at lookitmoves@gmail.com
Follow the official LOOK! IT MOVES! twitter feed at http://twitter.com/lookitmoves for thoughts and snark on media and pop culture, stuff for future columns and stuff I may never spend a whole column writing about.
Look! It Moves! © Adisakdi Tantimedh