Having once again defeated several other entertainment journalists in contests of bravery and cunning to maintain her place in the legendary SDCC Hall H Thunderdome cage, Kaitlyn Booth brings us the latest word about Marvel Games. I will tell you what she tells me, in realtime, via the wonders of advanced BC realtime blogging technology. Here we go…
An inside look at the latest and greatest console, mobile, and VR content from Marvel Games! Hosted by Kinda Funny's Greg Miller, the creative minds and teams at Marvel Games, along with Sony Interactive Entertainment, Insomniac Games, Oculus Studios, Nexon, FoxNext Games, and more, will give you the latest updates and looks at "Marvel Powers United VR," "Marvel's Spider-Man," "MARVEL Strike Force," "MARVEL Future Fight", "Marvel Contest of Champions," "Spider-Man Unlimited," and "Marvel Puzzle Quest"! Joining Greg Miller on-stage, the Marvel Games panel includes Marvel Games' very own Bill Rosemann (Executive Creative Director and Your Mann @ Marvel) and Mike Jones (VP and Executive Producer) as well as Insomniac Games' Bryan Intihar (Creative Director, Marvel's Spider-Man).
<div id="LB24_LIVE_CONTENT" data-url="https://embed.24liveblog.com/" data-eid="2040079888863925907"></div><script src="https://v.24liveblog.com/24.js"></script>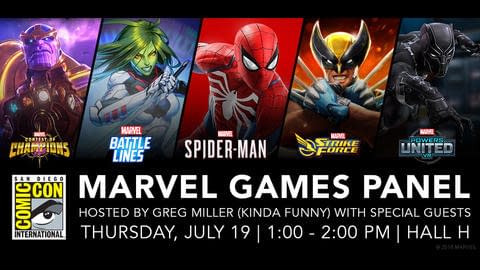 Enjoyed this article? Share it!